The global canned salmon market size was valued at $3,199.4 million in 2020, and is projected to reach $5,431.2 million by 2030, registering a CAGR of 5.1% from 2021 to 2030. The farmed segment led in terms of canned salmon market share in 2020 and is expected to retain its dominance throughout the forecast period.
Canned salmon is a processed fish, which is sealed in an airtight container such as a sealed tin can. Canning is a method of preserving food that has a shelf life of one to five years on average. The rise in health benefits of salmon consumption, such as proteins, minerals, and fatty acids are projected to create attractive prospects for worldwide market players. Furthermore, increased disposable income and change in consumer lifestyle are expected to raise demand for canned salmon industry in the forecast period.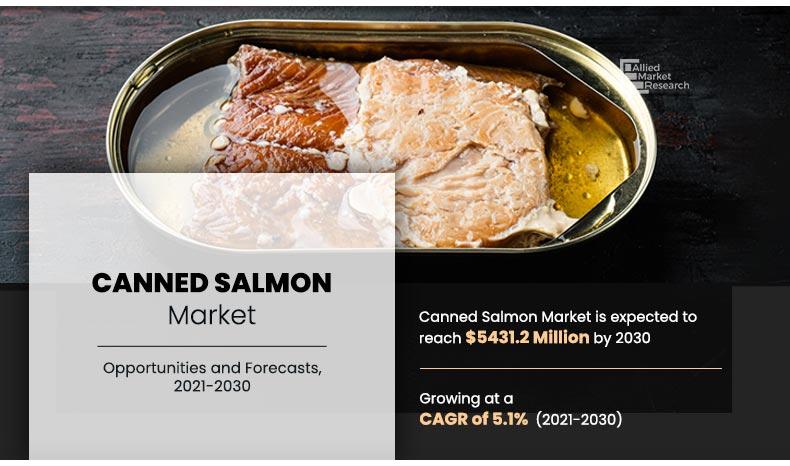 Consumers are more aware of the health benefits of consuming salmon and salmon products. Growth in market trends of consuming nutrient dense seafood products further drives the market share. Salmon is a nutrient-dense fish that is high in micronutrients, minerals, marine omega-3 fatty acids, high-quality protein, and a variety of vitamins. It is an important part of a diverse and healthy diet. "Fish is a great nutritional food that offers high-quality protein and a wide array of vitamins & minerals, including vitamins A & D, phosphorus, magnesium, selenium, and iodine," according to the FAO.
Canned Salmon Market

---
By Nature
Farmed was the fastest growing market.
Segment review
The global canned salmon market is segmented on the basis of nature, type, sales channel, and region. By nature, the global market is bifurcated into wild and farmed. By type, the market is classified into fillet, chunk, and minced. By sales channel, the market is segmented into hypermarket/supermarket, specialty stores, online stores, and others. Region wise, the market is studied across North America, Europe, Asia-Pacific, and LAMEA.
On the basis of nature, the market is divided into wild and farmed. Farmed segment is the major contributor in nature. Salmon consumption is now three times higher than it was in 1980 all over the world. Salmon, which was formerly considered a delicacy, is now one of the most popular fish species in the U.S., Europe, and Japan. According to World Wildlife, salmon aquaculture is the world's fastest expanding food production system, accounting for over 70% (2.5 million metric tons) of the market. As a result, farmed canned salmon products production is expected to be the leading segment during the forecast period.
Canned Salmon Market

---
By Type
The Chunk segment was the fastest growing segment.
On the basis of type, the market is divided into fillet, chunk, and minced. Most consumers prefer salmon fillet as it can be utilized in a variety of cuisines and has a pleasing appearance when served. But chunk style canned salmon is growing fastest in the coming years, owing to the reasons such as use of chunk style in different cuisines and also chunks are being used in pet food more recently. Also chunk style canned salmon is better for preparing different salads. All these above factors lead to the growth of fillet segment during the forecast period.
On the basis of sales channels, market is divided into hypermarkets/supermarkets, specialty stores, online channels, and others. Customers easily get the product in the hypermarkets/supermarkets market. In hypermarkets/supermarkets distribution, customer shopkeeper loyalty is very important and getting genuine goods is always a priority. Owing to rise in consumers' purchasing power, this market is likely to increase significantly in developing countries. Furthermore, the vast customer base in developing nations is likely to have a significant impact on segment growth.
Canned Salmon Market

---
By Sales Channel
The online channels segment was the fastest growing segment.
The analysis focuses on the canned salmon market growth prospects, restraints, and opportunities of the global market. The study provides Porter's five forces analysis to understand the impact of various factors such as competitive intensity of competitors, bargaining power of suppliers, threat of substitutes, threat of new entrants, and bargaining power of buyers of the canned salmon market.
Some of the major players profiled for in the canned salmon market analysis include Thai Union Group PCL, Maruha Nichiro Corporation, Tassal Group Limited, Bumble Bee Foods, LLC, Austevoll Seafood ASA, Crown Prince, Inc., Wild Planet Foods, Inc., Mitsubishi Corporation, Vital Choice Seafood & Organics, SPC, Trident Seafoods Corporation., Nippon Suisan Kaisha, Mowi (Marine Harvest), Dongwon Enterprise, Red Chamber Group, SkrettingCargill Aqua Nutrition, Kyokuyo, Charoen Pokphand Foods, Marubeni Corporation, Pacific Seafood, Cooke Aquaculture Inc., Schouw Co., Tri Marine Group, SalMar ASA.
Canned Salmon Market

---
By Region
Asia-Pacific was the most prominent regional segment.
Covid-19 Impact Analysis
The market saw positive growth across North American and European region. As the countries were imposed with lockdown measurements, consumers purchased more food products with shelf life, thus raising the sales of canned salmon for certain period. 
The COVID-19 pandemic disrupted the sales of canned salmon industry via brick and mortar stores, which resulted in shift of consumers toward online sales channels to purchase seafood products, thus driving the growth of online sales in seafood products.
However, with ease in lockdown restrictions and improved logistics considering the preventive measures for COVID-19, the seafood industry is expected to grow that is anticipated to increase the sales of fish products during the forecast period.
Key Benefits For Stakeholders
The report provides an extensive analysis of the current and emerging canned salmon market trends and opportunities.
The report provides detailed qualitative and quantitative analysis of the current trends and future estimations that help evaluate the prevailing canned salmon market opportunities in the market.
The canned salmon market forecast is offered along with information related to key drivers, restraints, and opportunities.
The market analysis is conducted by following key product positioning and monitoring the top competitors within the market framework.
The report provides extensive qualitative insights on the potential and niche segments or regions exhibiting favorable growth.
 Canned Salmon Market Report Highlights
Aspects
Details
BY NATURE
BY TYPE
BY SALES CHANNEL

Hypermarkets/Supermarkets
Specialty Stores
Online Channels
Others

BY REGION

North America (U.S., Canada, Mexico)
Europe (UK, Germany, France, Italy, Russia, Spain, Rest of Europe)
Asia-Pacific (China, Japan, Australia, South Korea, Rest of Asia-Pacific)
LAMEA (Chile, Brazil, Argentina, South Africa, Rest of LAMEA)

Key Market Players
AUSTEVOLL SEAFOOD ASA, BUMBLE BEE FOODS, LLC., CROWN PRINCE, INC., MARUHA NICHIRO CORPORATION, MITSUBISHI CORPORATION (PRINCES LIMITED), THAI UNION GROUP PCL., TASSAL GROUP LIMITED, TRIDENT SEAFOODS CORPORATION, VITAL CHOICE WILD SEAFOOD & ORGANICS, SPC, WILD PLANET FOOD