The global carotenoids market size was valued at $1.8 billion in 2021 and is projected to reach $2.7 billion by 2031, growing at a CAGR of 3.9% from 2022 to 2031.
The market is expanding as a result of the increased use of carotenoids as a food coloring and nutritional supplements due to their antioxidant benefits and vitamins, as well as significant R&D efforts to accelerate the production of high-quality carotenoids.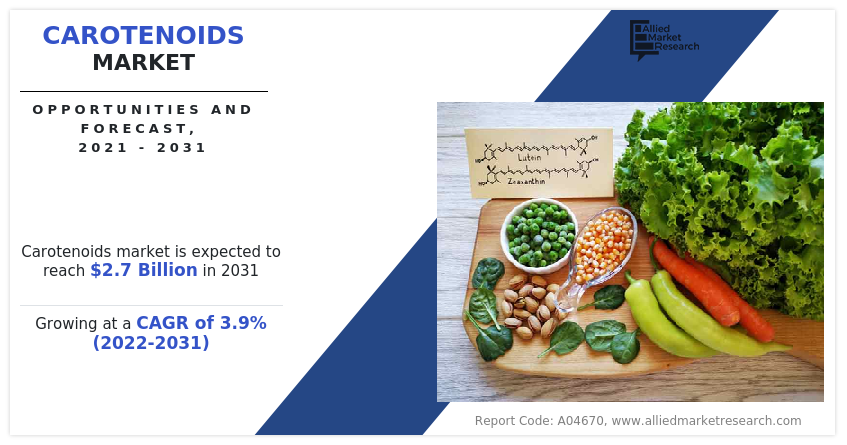 The carotenoids market is segmented into Product, Source, and Application.
The senior citizen segment constitutes a major portion of the population in the developed world and is the largest user of preventive and predictive medication. Health problems faced by the geriatric population such as vision damage is often associated with insufficient intake of vitamins. This is anticipated to boost the demand for carotenoids, thereby, driving market growth. In addition, the rise in demand for natural colorants and growth in end-user applications further drive the global carotenoids market growth.
According to the Department of Economic and Social Affairs, the global population aged 60 years was 962 million in 2017, which is expected to double by 2050, reaching nearly 2.1 billion. The senior citizen segment constitutes a major portion of the population in the developed world and is the largest user of preventive and predictive medication. Health problems faced by the older population such as vision damage is often associated with insufficient intake of vitamins. This is anticipated to boost the demand for carotenoids, thereby driving the growth of the carotenoids industry.
Despite the fact that carotenoids provide a number of health advantages, their usage is prohibited in many nations due to strong regulatory control. For instance, the U.S. Food and Drug Administration (USDA) has authorized astaxanthin as a food color only for particular usage in animal and fish meals. Lycopene is widely used as a food coloring agent. It is produced preferably from tomatoes. Moreover, annatto is used to give color to meals and drinks with neutral pH, such as flavored milk and drinks, but not to those with low pH due to precipitation. Its usage is more limited in European nations than it is in the U.S. as a food colorant. The expansion of the worldwide market for carotenoids is thus hampered by strict regulatory and approval standards.
Consumers, these days, are looking for food and food ingredients that address specific health concerns. Thus, demand for naturally fortified food & beverages is on the increase as customers have become aware of the advantages of vitamins and cell reinforcement. Natural food colors obtained from carotenoids are being widely adopted by the food processing industry. Carotenoids such as lycopene offer a credible option for pink, red, and orange tints at different pH and temperatures. Similarly, beta-carotene is the preferred choice for yellow/orange tones for manufacturers in human food, dietary supplements, and cosmetic products as it also grants various medical advantages.
Aquaculture is a rapidly growing industry across the globe, which comprises the cultivation of various freshwater and marine species of finfish, mollusks, ornamental fish, and shellfish. By 2020, up to 20% of the global production of fish will be based on aquaculture. Thus, appropriately formulated feeds would play a significant part in a successful aquaculture market. Pigmentation is one of the significant quality attributes of the aquatic animal for consumer acceptability as consumers subconsciously relate product color to nutritive value, healthiness, freshness, and taste. Thus, carotenoid is anticipated to play a major role in commercial aquaculture, thereby driving the market growth during the carotenoids market forecast
According to the market analysis, the global carotenoids market is segmented into product, source application, and region. Based on product, the market is divided into astaxanthin, capsanthin, lutein, beta-carotene, lycopene, and others. Based on source, the market is divided into natural and synthetic. Based on application, the market is divided into animal feed, human food, dietary supplement, and others. Region-wise, the market is analyzed across North America (the U.S., Canada, and Mexico), Europe (Germany, France, Italy, Spain, and the rest of Europe), Asia-Pacific (China, Japan, India, South Korea, Indonesia, and rest of Asia-Pacific), and LAMEA (Brazil, South Africa, Saudi Arabia, Argentina, and rest of LAMEA).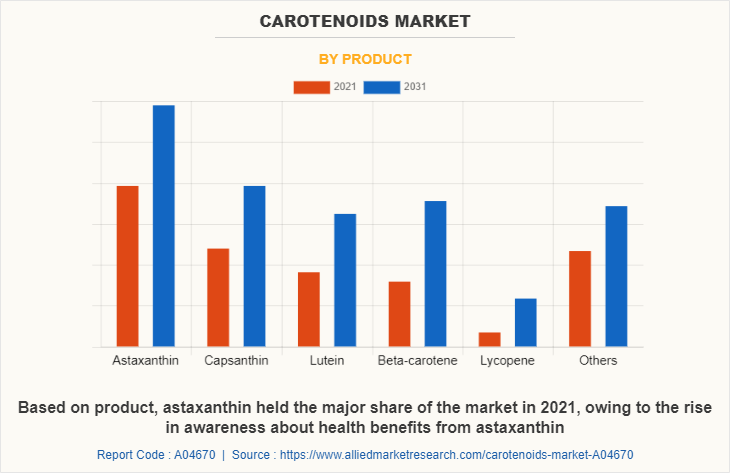 In 2021, astaxanthin accounted for the highest market share in the market in terms of value. Astaxanthin, which was earlier used only for imparting a rich pink color to farmed salmon, has recently gained attention in the dietary supplement for joint, skin, and eye health. An increase in spending on personal care and cosmetic products is growing awareness regarding natural ingredients, which is expected to drive the demand for algae-based astaxanthin. Furthermore, numerous health benefits such as maintenance of skin glow, brain health improvement, and healthy vision drive customer preference toward algae-based astaxanthin products, thus supporting the growth of the global market. In addition, changes in consumer preference have forced various wellness spa service providers and personal care & cosmetic manufacturers to develop and produce astaxanthin-based products. In addition, the approval of the FDA for the application of astaxanthin as a color additive in fish and animal food applications boosts the carotenoids market demand.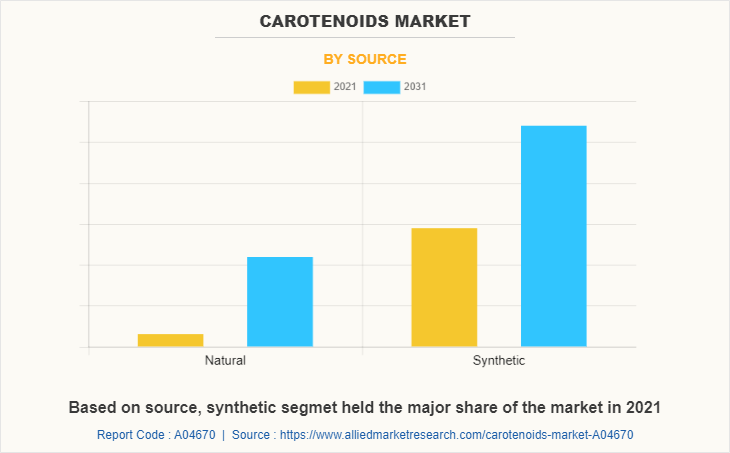 By source, the synthetic segment held the major carotenoids market share. The penetration of synthetically manufactured carotenoids has increased as a result of lower pricing. Nonetheless, due to rising customer desire for goods with organically derived ingredients, it is projected that this category will develop slowly over the course of the forecast period.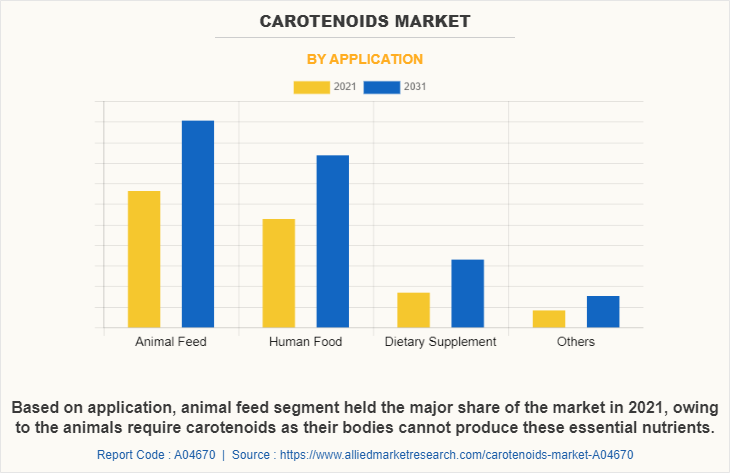 In 2021, animal feed was the prominent segment and accounted for the highest share of the global carotenoids market. Dietary supplements application witnessed significant gains and is expected to grow at the highest CAGR during the forecast period owing to a rise in health consciousness and changes in the lifestyles of the consumers.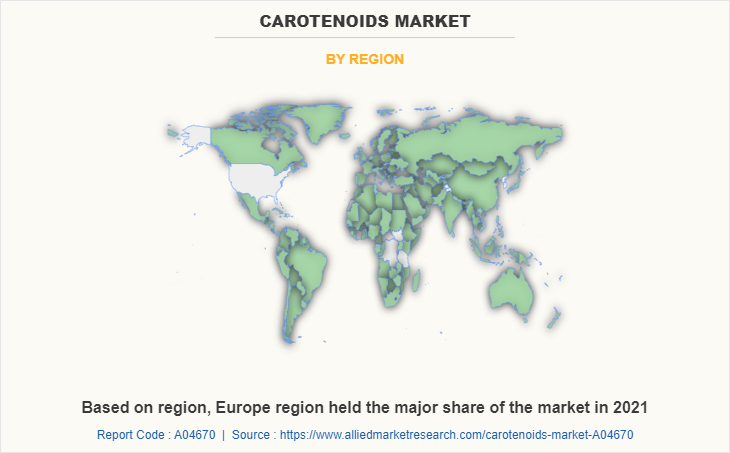 In 2021, Europe was estimated to be the largest market for carotenoids and is projected to witness steady revenue growth from 2022 to 2031 owing to the large animal feed industry and the rise in demand for health supplements. Moreover, the highly established cosmetics industry owing to the presence of key manufacturers such as Unilever, Beiersdorf, L'Oral, and Henkel, is anticipated to supplement the growth of the carotenoids market in the region.
The key players in the market have focused on acquisitions, collaborations, and expansions as their key strategies to gain a significant share in the market. Some of the major players analyzed in this report are BASF SE, Koninklijke DSM N.V., Chr. Hansen A/S, FMC Corporation, Cyanotech Corporation, Kemin Industries Inc., DDW The Colour House, Döhler Group, Allied Biotech Corporation, and Excelvite.
Key Benefits For Stakeholders
This report provides a quantitative analysis of the carotenoids market segmntation, current trends, estimations, and dynamics of the carotenoids market analysis from 2021 to 2031 to identify the prevailing carotenoids market opportunities.
Market research is offered along with information related to key drivers, restraints, and opportunities.
Porter's five forces analysis highlights the potency of buyers and suppliers to enable stakeholders to make profit-oriented business decisions and strengthen their supplier-buyer network.
An in-depth analysis of the carotenoids market segmentation assists to determine the prevailing market opportunities.
Major countries in each region are mapped according to their revenue contribution to the global market.
Market player positioning facilitates benchmarking and provides a clear understanding of the present position of the market players.
The report includes an analysis of the regional as well as global carotenoids market trends, key players, market segments, application areas, and market growth strategies.
 Carotenoids Market Report Highlights
Aspects
Details
Market Size By 2031
USD 2.7 billion
Growth Rate
CAGR of 3.9%
Forecast period
2021 - 2031
Report Pages
310
By Product

Lutein
Beta-carotene
Lycopene
Others
Astaxanthin
Capsanthin

By Source
By Application

Animal Feed
Human Food
Dietary Supplement
Others

By Region

North America (U.S., Canada, Mexico)
Europe (UK, Germany, France, Italy, Spain, Rest of Europe)
Asia-Pacific (China, India, Japan, Indonesia, South Korea, Rest of Asia-Pacific)
LAMEA (Brazil, Argentina, South Africa, Saudi Arabia, Rest of LAMEA)

Key Market Players
DDW, Inc., Dohler Group, Kemin Industries, Inc., ExcelVite Sdn. Bhd., Allied Biotech Corporation, BASF SE, Cyanotech Corporation, Koninklijke DSM N.V., Divis Laboratories Limited, Chr. Hansen Holding A/S
Analyst Review
Based on the interviews of various top-level CXOs of leading companies, health benefits associated with carotenoids has led to their increased application in animal feed, human food, dietary supplement, cosmetics, pharmaceuticals, and the aquaculture industry. For instance, carotenoids as a preventive healthcare and nutraceuticals have led to their higher consumption of human food and dietary supplement. Changes in lifestyle, food preferences, and increase in awareness have led to the growth in demand for natural colors in food processing, beverages, and cosmetics industry, which is projected to open new avenues for carotenoid manufacturers. CXOs are optimistic about the growth of the carotenoid market in Asia-Pacific. Owing to the emergence of massive Chinese manufacturers with high-quality carotenoid products, products across all types of formulations and origins have seen a big drop in price. Rapid economic growth, technological advancements, industrial growth, and low cost of production in countries such as China and India are further anticipated to drive market growth. However, stringent regulations on the use of carotenoids in human food, threats of adulteration, and higher cost of naturally sourced carotenoids as compared to synthetic carotenoids hamper the growth of the market.