The global catechin market size was valued at $14,825.2 thousand in 2020, and is projected to reach $21,099.9 thousand by 2030, registering a CAGR of 3.8% from 2021 to 2030. 
Catechin is a natural phenol and antioxidant. The growth of the market is being driven by an increase in the benefits associated with catechin extraction. The most common and popular raw material for catechin extraction is green tea. The growing consumer health consciousness and an outlook toward a healthier lifestyle is what intrigues the consumer base to change their dietary habits and adapt a sound and healthy food consumption.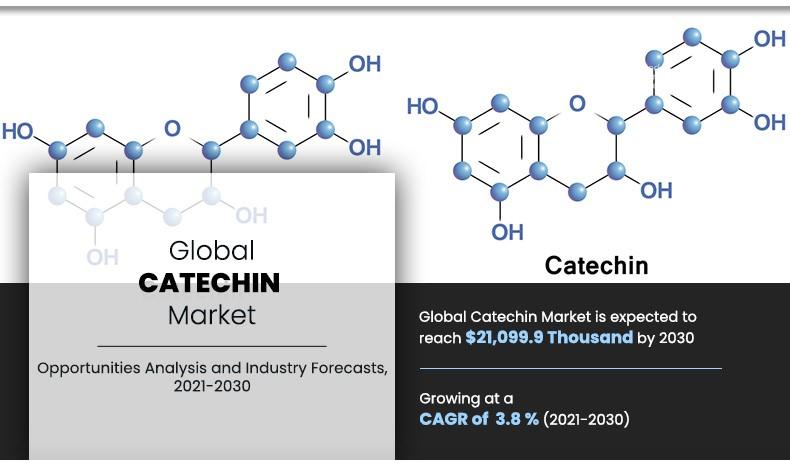 The undeniable benefits of catechin drive the global market growth. It is widely used in the pharmaceutical industry. The shift in consumer lifestyle is a critical factor driving market growth. Though lack of awareness about the health benefits among the lower middle class around the world continues to be a barrier to market growth, key marketers are committed to not only the production however also promote the catechin extraction that includes health benefits. Thus, catechin has gained popularity in the food & beverage industry due to technological advancements. 
The consumers all across the world have become more aware of their health and take precautions to protect against infections and diseases. As people become more conscious, they are expected to be able to transition from a carefree lifestyle to one that is fit and healthy. The rise in population is linked to internet & social media, and among the consumer base, the demand for health and fitness is rising. Functional food and beverages have gained popularity among consumers globally. These foods are not only nutritious; however they also contain compounds that help to prevent illness and diseases. The need for functional foods has increased, which encourages people to consume catechin.
The food and beverage industry growth due to increased consumer spending and favorable government support is expected to be a major driver factor in market growth. Catechin market growth is anticipated to be driven by rise in demand for fortified foods among health-conscious consumers. However, the stringent government regulations in the industry are projected to impede market growth. 
The growth in awareness of the health benefits of catechin, combined with an ageing population, is expected to provide a significant growth opportunity. The catechin market is anticipated to grow due to surge in the number of working women and rise in consumers' purchasing ability of healthy food products.
Catechins Market

---
By Source
Fruits segment is expected to grow at highest CAGR of 4.8% during the forecast period
COVID-19 had a moderate impact on the market for catechin. The manufacturing operations and catechin extraction have been halted as a result of the unexpected production shutdown, causing a disturbance in the product's supply chain. This has not only caused a demand-supply discrepancy, however it also had an influence on the company's revenue. 
A major factor that influences market growth is rise in consumer preference for natural products. Consumers' growing concerns about preventive healthcare and the efficacy of catechin on health drive market growth. Catechin market demand has increased due to surge in functional food consumption, which, in addition to providing basic nutrition, has the potential to improve health.
Epigallocatechin (EGC) segment is expected to grow at highest CAGR of 4.3% during the forecast period.
The health advantages and disease-prevention qualities of catechin are predicted to drive greater demand in the future. Consumers have developed a huge demand for healthy foods, which encourages them to buy catechin-based foods and beverages. 
According to catechin market analysis, the catechin market is segmented on the basis of source, type, application, and region. On the basis of source, it is categorized into tea, fruits, and others. According to type, the catechin market is fragmented into Epigallocatechin (EGC), Epigallocatechin-3- Gallate (EGCG), and others. As per application, it is divided into pharmaceuticals, food & beverages, dietary supplements, and others. Region-wise, the catechin market is analyzed across North America, Europe, Asia-Pacific, and LAMEA. 
Catechins Market

---
By Application
Food & Beverage segment is expected to grow at highest CAGR of 4.3% during the forecast period.
By source, the tea segment garnered the highest catechin market share in 2020 due to rising consumer awareness of the benefits of consuming green tea catechin in the diet, such as the prevention and treatment of obesity & diabetes. By type, the Epigallocatechin-3-gallate (EGCG) segment led the market in 2020. This is due to the fact that EGCG has been shown to regulate dozens of disease-specific molecular targets with wide application in pharmaceutical industry. On the basis of application, the pharmaceuticals segment is anticipated to have the highest market share during the catechin market forecast period. This is attributed to the growth in application of catechin owing to its therapeutic and functional properties.
The prominent catechin industry players include Arjuna Natural Extracts Ltd., BiosynthCarbosynth, Botaniex Inc., Cayman Chemical Company, Chengdu Wagott Bio-tech Co. Ltd, Hunan Sunfall Bio-tech Co. Ltd, Indena, INDOFINE Chemical Company Inc., Infré SA, and Taiyo International. All these market players have implemented marketing strategies such as business expansion and agreement, to increase the consumer reach globally. 
Catechins Market

---
By Regions
Asia-Pacific dominates the market and is expected to grow at highest CAGR of 4.3% during the forecast period.
Key Benefits For Stakeholders
This report provides a quantitative analysis of current catechin market trends, estimations, and dynamics of the global catechin market from 2021 to 2030 to identify the prevailing catechin market opportunities.
Porter's five forces analysis highlights the potency of the buyers and suppliers to enable stakeholders to make profit-oriented business decisions and strengthen their supplier–buyer network.
In-depth analysis of the market segmentation assists to determine the prevailing market opportunities.
Major countries in each region are mapped according to their revenue contribution to the global industry. The market player positioning segment facilitates benchmarking while providing a clear understanding of the present position of the key market players.
The report includes analyses of the regional as well as global market, key players, market segments, application areas, and growth strategies.
 Catechins Market Report Highlights
Aspects
Details
By Source
By Type

Epigallocatechin (EGC)
Epigallocatechin-3- Gallate (EGCG)
Others

By Application

Pharmaceuticals
Food & Beverages
Dietary Supplements
Others

By Region

North America (U.S., Canada, Mexico)
Europe (UK, Germany, France, Italy, Spain, Netherlands, Rest of Europe)
Asia-Pacific (China, Japan, India, South Korea, Australia, Rest of Asia-Pacific)
LAMEA (Brazil, South Africa, Argentina, Saudi Arabia, Rest of LAMEA)