The chicken flavor market size was valued at $629.26 million in 2018, and is projected to reach $1,008.44 million by 2026, growing at a CAGR of 5.6% from 2019 to 2026. 
The global chicken flavor market has constantly witnessed high demand for ready-to-eat (RTE) and other convenience food products. Changing lifestyle and less time for household chores such as cooking fuel the demand for quick service restaurants. This is attributed to its advantages such as time saving and convenience. Furthermore, they can be carried anywhere in frozen form without losing their nutritional values. Thus, surge in demand for RTE meals boots the growth of the chicken flavor market. There is a growing demand for chicken flavors, especially in the Asia-Pacific and Latin America regions, owing to wide range of chicken flavor food products. Flavorists are capable of creating natural flavors at economical prices due to application of advanced technologies. Therefore, the cost of producing chicken flavors has reduced with the advent of advanced technologies.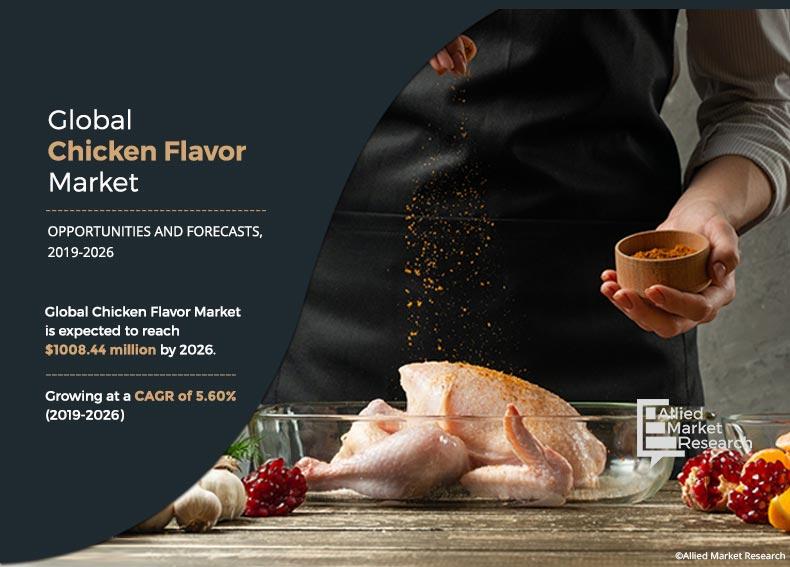 In the last decade, the global chicken flavor market has constantly witnessed high demand for RTE and other convenience food products. The application of advanced technologies helps innovate and produce new and interesting tastes in food. Technological strides make it possible to cater to the changing customer taste and help make chicken flavors and food products that meet the needs. Rise in income levels especially in the developing countries have triggered the demand for tastier and healthier food products. Furthermore, consumption of costly food products, such as chicken pizza and pasta, have increased due to increase in purchasing power. Moreover, rise in income levels improve the quality of life, which further adds to the demand for healthy and tastier food products. In addition, sustainable technology is preferred in the manufacturing of liquid-based chicken flavor products. Thus, all these factors together are expected to offer lucrative chicken flavor market opportunity for expansion. However, there are some regulatory aspects regarding addition of ingredients, which hamper the chicken flavor market growth.
The global chicken flavor market is segmented on the basis of form, end user, and region. Based on form, the market is bifurcated into liquid and powder. Depending on end user, it is segmented into B2B and B2C. Among these, the powder segment accounted for a higher chicken flavor market share in 2018, owing to growth in chicken flavor market trends of health consciousness and consumer preferences toward taste. Along with urbanization, increase in disposable income of the global population and easy availability of flavors in powdered form due to retailers' strong command in supply chain fuel the growth of the chicken flavor market forecast. Fostering consumption of meat products and ready-to-eat foods globally, especially in developing economies is likely to increase the chicken flavor market demand for powder form of flavors.
Chicken Flavor Market

---
By Form
Liquid segment would exhibit the highest CAGR of 6.50% during 2019-2026.
North America and Europe are known to be the dominant regions in the chicken flavor market. North America has witnessed higher rate of traction for powder-based chicken flavor, owing to their increased demand from B2B chicken flavor market segment. Some of the key macroeconomic factors such as changing lifestyle, surge in per-capita, and preference of healthy food products also contribute to the overall growth of the market
Chicken Flavor Market

---
By End User
B2C segment would exhibit the highest CAGR of 6.30% during 2019-2026.
However, Asia-Pacific is expected to exhibit significant growth in the future, owing to rise in demand of introduction of various chicken flavor-based products in the region. In addition, the region has witnessed considerable surge in the number of millennials, who are the forefront consumers of food. Therefore, rise in millennial population is anticipated to offer remunerative opportunity for the growth of the market. 
Chicken Flavor Market

---
By Region
Asia-Pacific would exhibit the highest CAGR of 7.50% during 2019-2026.
Some of the key companies profiled in the chicken flavor industry report  include Kerry Group plc, Koninklijke DSM N.V., Sensient Technologies Corporation, Cargill, BASF, International Flavors & Fragrances Inc., Symrise, Givaudan, Innova, and Trailtopia Adventure Food.
Key Benefits for Stakeholders:
The report provides an extensive analysis of the current and emerging market trends and opportunities in the market.
The report provides detailed qualitative and quantitative chicken flavor market analysis of current trends and future estimations that help evaluate the prevailing market opportunities.
A comprehensive analysis of the factors that drive and restrict the growth of the market is provided.
An extensive analysis of the market is conducted by following key product positioning and monitoring the top competitors within the market framework.
The report provides extensive qualitative insights on the potential segments or regions exhibiting favorable growth.
 Chicken Flavor Market Report Highlights
Aspects
Details
By Form
By End User
By Region

North America (U.S., Canada, Mexico)
Europe (UK, France, The Netherlands, Spain, Germany, Rest of Europe)
Asia-Pacific (China, Japan, India, South Korea, Australia, Rest of Asia-Pacific)
LAMEA (Latin America, Middle East, Africa)

Key Market Players
Sensient Technologies Corporation, KERRY GROUP, PLC, Cargill Inc, Takasago International Corporation, BASF SE, Firmenich SA, Symrise AG, Givaudan International SA, INTERNATIONAL FLAVORS & FRAGRANCES INC., T. HASEGAWA CO., LTD