The global connected rail market was valued at $86.8 billion in 2021, and is projected to reach $143.8 billion by 2031, growing at a CAGR of 5.4% from 2022 to 2031.
COVID-19 has presented the world with an unprecedented economic, humanitarian, and healthcare challenge. Lockdown measures have helped to contain the spread of coronavirus, but exacted an immense economic toll. On the business side, the railway sector is one of the hardest hit sectors. Following the pattern witnessed in countries where COVID-19 spread earlier, lockdown measures and other restrictions have impacted the railway industry. Furthermore, coronavirus has introduced unexpected challenges within the railway sector. However, with the relaxation of lockdown measures and the consequent opening of markets across the world, the demand for connected rail is anticipated to grow considerably in the near future.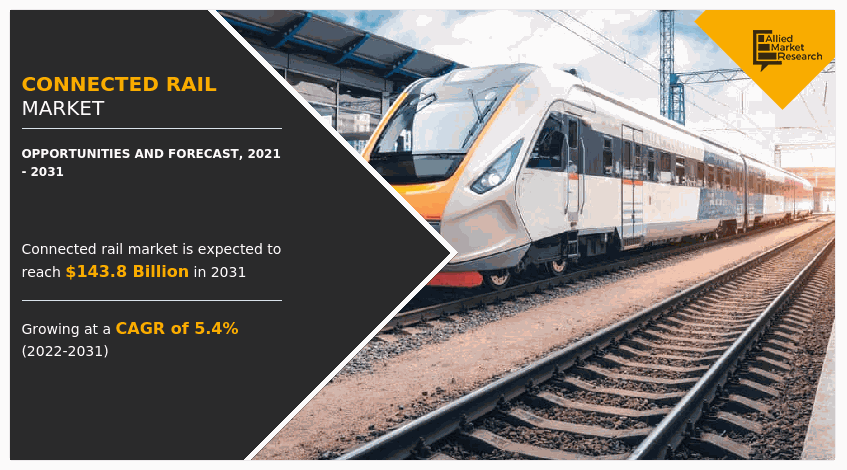 The connected rail market is segmented into Service, Rolling Stock and Safety and Signaling System.
Connected rail can be defined as an advanced approach to efficiently manage railway operations through sharing railway data across rail infrastructure components, such as passengers, control centers, ticketing department, and freight. Connected rails are effective integration of the latest technologies such as Internet of Things (IoT), big data, cloud, analytics, artificial intelligence (AI), global positioning system (GPS), and machine learning (ML) to improve efficiency and accuracy of rail operations. Growth of the global connected rail market is driven by rise in penetration of digital infrastructure and increase in demand for automated & autonomous rail operations. Majority of railways are operated by government authorities, and procurement and installation of such smart technologies are done through contracts and agreements, which are key strategies adopted by market players in the global market.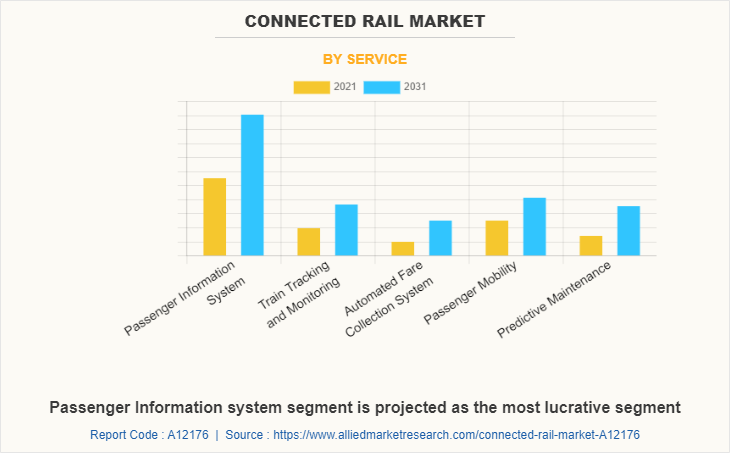 In addition, factors such as growth in integration of the Internet of Things (IoT) in the railway industry, along with increase in demand for safety and compliance in rail transit, passenger, and freight capacity are expected to drive the connected rail market growth. However, lack of technological infrastructure and consistency in developing countries and infrastructure changes in existing systems are expected to hamper the market growth. Furthermore, technological advancements in autonomous rail & green transportation and increase in reliance on computing systems are anticipated to offer remunerative opportunities for the market expansion during the forecast period.
The connected rail market is segmented on the basis of service, rolling stock, safety & signaling system, and region. By service, the market is divided into passenger information system, train tracking & monitoring, automated fare collection system, passenger mobility, and predictive maintenance. By rolling stock, it is classified into freight wagons, passenger wagons, diesel locomotive, electric locomotive, and light rail & trams. By safety & signaling system, it is classified into positive train control, communication-based train control, and automated train control. Region wise, the connected rail industry is analyzed across North America, Europe, Asia-Pacific, and LAMEA.
Increase in adoption of the Internet of Things (IoT) in the railway sector
Use of IoT in railways is increasing as it improves infrastructure reliability and safety in trains. IoT sensors generates data that supports analysis and understanding of conditions that were not possible in past. A large quantity of data can be utilized to enhance train schedules and maintenance of equipment, with the help of IoT. In addition, the IoT has the potential to improve work productivity of railway operations. It also fills gaps in communication and control systems by connecting networks to cloud-based applications.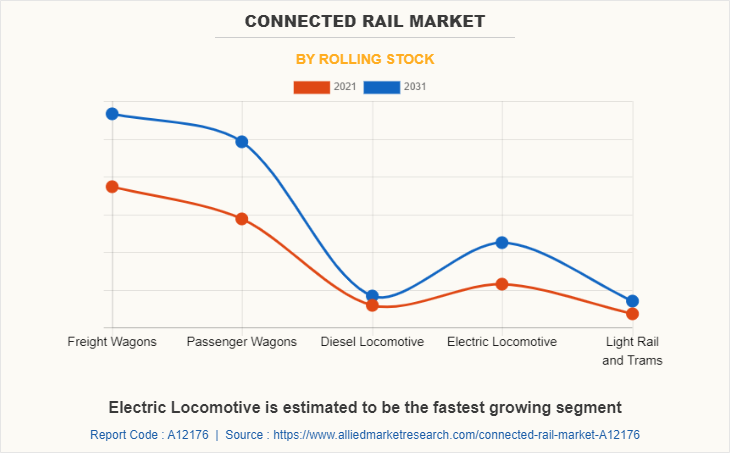 Furthermore, railways of many countries are adopting IoT to improve their productivity and enhancement services. For instance, in 2021, the UK network rail started the use of IoT, AI, and deep learning to improve its railway system. Similarly, in 2019, the network rail launched Intelligent Infrastructure (II) program to try data into intelligent information that can effectively deliver improved services for passenger and freight customers. The program uses data captured by its sensors, high-definition aerial imagery & 3D LiDAR, footage from inspection trains, information from the train operators, additional video from drones & helicopters, and other sources. Data consolidated by workstreams on Network Rail's cloud platform is uploaded to Microsoft's Azure Cloud, where AI algorithms turn information into actionable predictive maintenance schedules. Through this program, the UK network rail solved many problems such as monitoring of assets, analysis of the previous task, efficiency of workers, and up-gradation in services.
Moreover, railway operators are collaborating with connected rail companies to enhance network connectivity. For instance, in March 2022, Alstom, signed a contract with Santiago, Chile to provide its Urbalis CBTC signaling system for 20 years of maintenance and 37 Metropolis trains. Therefore, increase in use of IoT in railways drive the connected rail industry growth for diversity in digital railway solutions and telecommunication technology.
Growth in demand for safety and compliance in rail transit
Growth in demand for safety and compliance in rail transit, such as theft protection and hygienic stations has increased significantly in recent years. This has led to rise in demand for safety and compliance in rail transit, which provides better infrastructure for railway. For instance, in June 2022, the Federal Railroad Administration (FRA) announced over $368 million in Consolidated Rail Infrastructure and Safety Improvements (CRISI) grant program funds to 46 projects in 32 states and the District of Columbia. These investments are expected to play a crucial role in modernizing rail infrastructure and supply chains in the region, helping to reduce crowding and getting people and goods where they need to go quickly and more at a reasonable cost.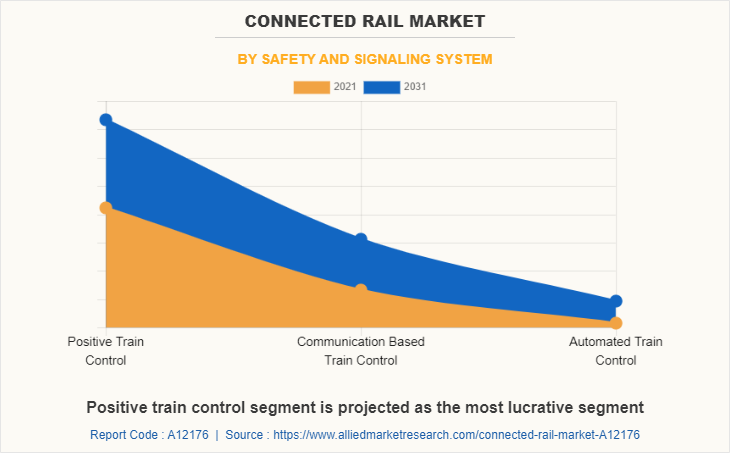 In addition, to improve infrastructure of railway, governments of various countries are collaborating with connected rail companies to increase connectivity and expansion of railway transit including overhaul, deployment of cloud-based applications, automatic vending machines, and monitoring of trains. For instance, in November 2021, Alstom signed an agreement with Metrolinx to overhaul 94 BiLevel commuter rail cars for GO Transit, a regional public transit service for Greater Toronto and Hamilton Area (GTHA) in Ontario, Canada. Through this agreement, Metrolinx expanded its rail service and reduced crowding on its stations. Therefore, rise in demand for safety and compliance in rail transit is expected to support growth of the connected rail market.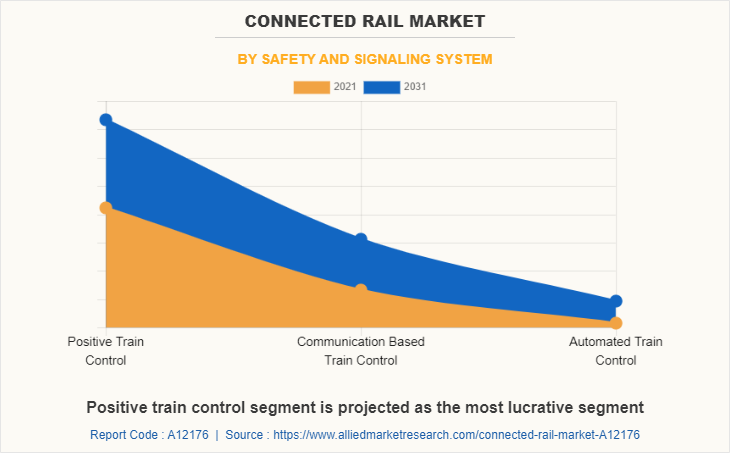 Key Benefits For Stakeholders
This report provides a quantitative analysis of the market segments, current trends, estimations, and dynamics of the connected rail market analysis from 2021 to 2031 to identify the prevailing connected rail market opportunities.
The market research is offered along with information related to key drivers, restraints, and opportunities.
Porter's five forces analysis highlights the potency of buyers and suppliers to enable stakeholders make profit-oriented business decisions and strengthen their supplier-buyer network.
In-depth analysis of the connected rail market segmentation assists to determine the prevailing market opportunities.
Major countries in each region are mapped according to their revenue contribution to the global market.
Market player positioning facilitates benchmarking and provides a clear understanding of the present position of the market players.
The report includes the analysis of the regional as well as global connected rail market trends, key players, market segments, application areas, and market growth strategies.
 Connected Rail Market Report Highlights
Aspects
Details
By Service

Predictive Maintenance
Passenger Information System
Train Tracking and Monitoring
Automated Fare Collection System
Passenger Mobility

By Rolling Stock

Freight Wagons
Passenger Wagons
Diesel Locomotive
Electric Locomotive
Light Rail and Trams

By Safety and Signaling System

Positive Train Control
Communication Based Train Control
Automated Train Control

By Region

North America (U.S., Canada, Mexico)
Europe (U.K., Germany, France, Russia, Rest of Europe)
Asia-Pacific (China, Japan, India, South Korea, Rest Of Asia Pacific)
LAMEA (Latin America, Middle East, Africa)

Key Market Players
Cisco Systems Inc., Bombardier Inc., Wabtec Corporation, IBM Corporation, Hitachi Limited, Robert Bosch GmbH, Huawei, Siemens AG, Nokia Corporation, Alstom SA