Digital Twin Market Research, 2030
The global digital twin industry was valued at $6.5 billion in 2021, and is projected to reach $125.7 billion by 2030, growing at a CAGR of 39.48% from 2022 to 2030. A digital twin is a dynamic representation of a virtual machine that provides a real-time online equivalent of a physical object or process. It profiles, predicts, and optimizes the performance of industrial assets using simulation models and data intelligence. Digital twin is an important component of the Industrial Internet of Things because it enables automatic vehicle control and monitoring of industrial assets and processes such as product development, design & manufacturing planning, investment performance management, business & operation optimization, and others.
The worldwide digital twin market is anticipated to benefit from the novel COVID-19 epidemic. Major manufacturers employed a range of tactics to boost their market share in the broader marketplace during the pandemic, including product releases, product improvements, and R&D spending.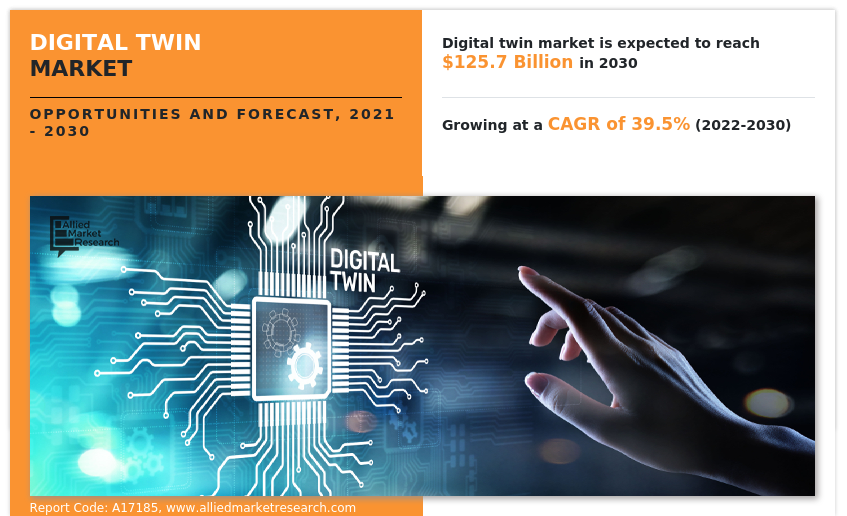 Digital technologies like the cloud, big data, IoT, and artificial intelligence are increasingly being implemented in different areas of business. The creation of digital twin entails the virtualization of the physical twin using a variety of IoT sensors and digital technologies. The benefits of using digital twin technology are well known, despite the fact that it is still in its infancy. With further research and development, the systems might soon play a significant role in many current robotics systems.
The aerospace industry as well as other industries employ digital twin technology in a number of applications. Due to its extremely high level of dependability and accuracy, the digital twin technology is particularly helpful in the robotics industry. Military, aeronautical, biomedical, automotive, and maritime applications are among other fields where digital twin technology is widely used.
With growing connectivity, the risk of data protection, cyber-attack, and compliance has also increased. This is one of the prominent factors impeding digital twin market growth. Also, the risk of misrepresenting the system or object they wish to copy with the help of this technology is the main worry shared by most business owners who are interested in digital twin technology. Since there isn't any reliable proof on how exact the digital twin technology is in comparison to its physical counterpart, many businesses refrain themselves from using the technology.
The combination of digital twin technology with IoT, machine learning, and cloud computing is expected to accelerate market growth even further. Companies are deploying Internet of things and artificial intelligence (AI) technologies to collect and process behavioral data from IoT devices and connected products, which can then be applied to the digital twin model to replicate the performance and usage of the existing device.
Some of the leading digital twin market players are ABB Group, ANSYS Inc., Accenture plc, Autodesk Inc, bentley systems, AVEVA Inc., bosch rexroth ag, Oracle Corporation, Siemens AG, Rockwell Automation Inc. and Schneider Electric.
The global digital twin market is segmented on the basis of type which has been divided into system digital twin, product digital twin, and process digital twin. By industry, market has been divided into aerospace & defense, automotive & transportation, home & commercial, healthcare, energy & utilities, oil & gas, agriculture, telecommunication, and others. By region, the market is analyzed across North America, Europe, Asia-Pacific, and LAMEA.
The digital twin market is segmented into Type and Industry.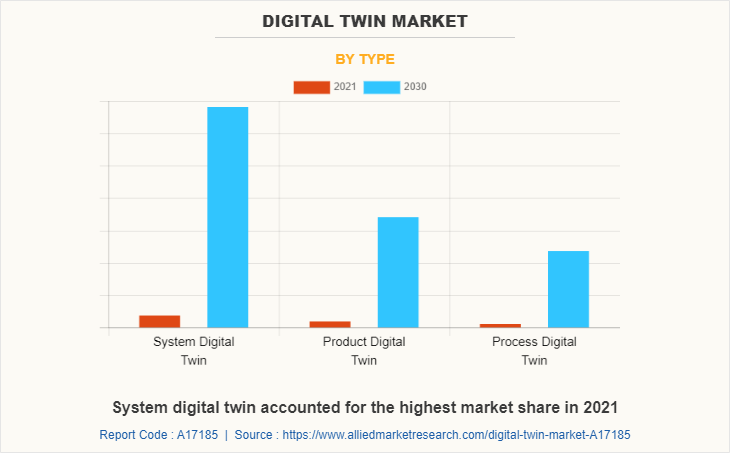 By type, system digital twin sub-segment is expected to have the dominant share during the forecast period. This dominance is primarily due to the widespread use of system digital twins by several industries, including automotive, manufacturing, oil & gas, energy & utilities, and others, to identify new revenue-generating opportunities through cost reduction and customer service enhancement. These are predicted to be the major factors affecting the digital twin market size during the forecast period too.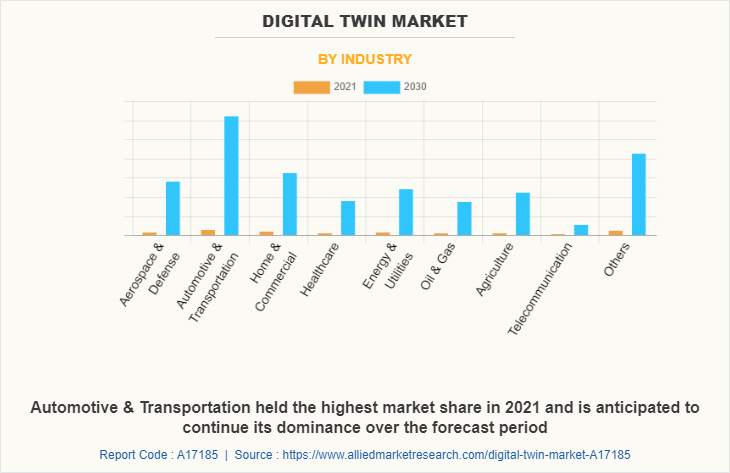 By industry, the automotive & transportation industries had the largest digital twin market share in 2021 and is expected to grow by 2030. This dominance in the overall market is largely due to the widespread use of digital twin technologies in the automotive & transportation sectors for creating digital models of connected vehicles.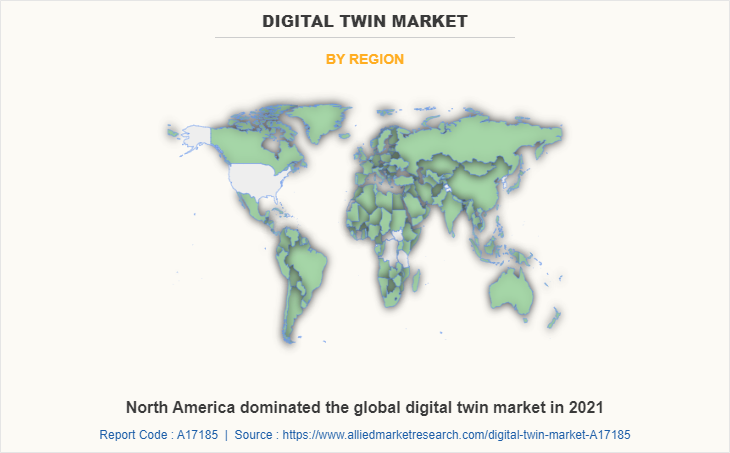 By region, Asia-Pacific market is forecasted to be the fastest growing region market during the forecast period. There is an increasing demand for digital twins in several industries, including automotive, manufacturing, and other verticals, in order to reduce labor costs. The emergence of different software as well as the deployment of automation solutions in the manufacturing companies has improved manufacturing lines and down - stream operations in recent years. Because of the strong economic growth and the large presence of vendors offering digital twins, these advancements have positively affected the growth of digital twin market in Asian region. Furthermore, increased R&D inside the IoT and intelligent systems fields, as well as increased demand for effective and expense technologies for production process, is supporting regional market growth.
IMPACT OF COVID-19 ON THE GLOBAL DIGITAL TWIN MARKET
The novel COVID-19 pandemic is expected to have a positive impact on the global digital twin industry. During the pandemic, major manufacturers used a variety of strategies, including product launches and product enhancements, as well as R&D investments, to increase their market share in the overall marketplace.

Because of the rapid spread of the novel coronavirus, the health and pharmaceutical industries are on the front lines of COVID-19 combat. A digital twin can be used to track a patient's condition, the impact of tablet devices, and other variables. Some industry players have taken advantage of the coronavirus disease outbreak by offering a variety of solutions.
Key Benefits For Stakeholders
This report provides a quantitative analysis of the market segments, current trends, estimations, and dynamics of the digital twin market analysis from 2021 to 2030 to identify the prevailing digital twin market forecast.
The market research is offered along with information related to key drivers, restraints, and digital twin market opportunity.
Porter's five forces analysis highlights the potency of buyers and suppliers to enable stakeholders make profit-oriented business decisions and strengthen their supplier-buyer network.
In-depth analysis of the digital twin market segmentation assists to determine the prevailing market opportunities.
Major countries in each region are mapped according to their revenue contribution to the global digital twin market outlook.
Market player positioning facilitates benchmarking and provides a clear understanding of the present position of the digital twin market trends that are being followed by the players.
The report includes the analysis of the regional as well as global digital twin market outlook, key players, market segments, application areas, and market growth strategies.
 Digital Twin Market Report Highlights
Aspects
Details
Market Size By 2030
USD 125.7 billion
Growth Rate
CAGR of 39.5%
Forecast period
2021 - 2030
Report Pages
260
By Type

System Digital Twin
Product Digital Twin
Process Digital Twin

By Industry

Aerospace & Defense
Automotive & Transportation
Home & Commercial
Healthcare
Energy & Utilities
Oil & Gas
Agriculture
Telecommunication
Others

By Region

North America (U.S., Canada, Mexico)
Europe (Germany, United Kingdom, France, Spain, Italy, Rest of Europe)
Asia-Pacific (China, Japan, India, South Korea, Australia, Rest Of Asia Pacific)
LAMEA (Brazil, Saudi Arabia, UAE, South Africa, Rest of LAMEA)

Key Market Players
Accenture plc, AVEVA Inc., Siemens AG, Schneider Electric, Rockwell Automation Inc., ANSYS Inc., bosch rexroth ag, Oracle Corporation, Autodesk Inc, ABB Group, bentley systems