EV Motor Market 2022-3031
:
The global electric vehicle motor market was valued at $5.5 billion in 2021, and is projected to reach $34.4 billion by 2031, growing at a CAGR of 20.3% from 2022 to 2031.
The electric motor is an important part of electric vehicle powertrain, as it converts electricity to torque to move the vehicle. The power delivered by the battery pack is supplied to the motor which converts this electrical energy into mechanical energy thus resulting in the movement of the vehicle. Electric vehicles have motors that use regenerative braking which means that the motors start generating power and start delivering the power back to the battery pack when not consumed.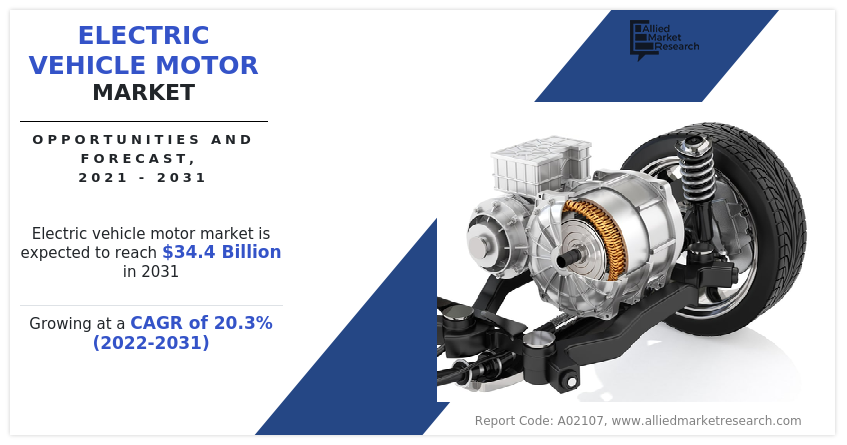 The global electric vehicle motor market is experiencing growth, due to rise in demand for electric vehicles, and stringent safety regulations set by government for automotive industry. However, high manufacturing cost is the factor hampering the growth of the market. Furthermore, wide number of applications employing the use of electric motors is the factor expected to offer growth opportunities during the forecast period.
The electric vehicle motor market is segmented on the basis of motor type, vehicle type, application, and region. By motor type, it is bifurcated into AC motor, and DC motor. By vehicle type, it is classified into battery electric vehicle, hybrid vehicle, and plug-in hybrid vehicle. By application, it is fragmented into passenger cars, and commercial vehicles. By region, the report is analyzed across North America, Europe, Asia-Pacific, and LAMEA. 
Some leading companies profiled in the electric vehicle motor market report comprises Borgwarner Inc., Buhler Motor GmbH, Continental AG, Denso Corporation, Inteva Products, LLC, Johnson Electric Holdings Limited, Mabuchi Motor Co., Ltd, Magna International Inc, Meritor, Inc., Mitsuba Corporation, Nidec Corporation, and Robert Bosch GmbH.
Electric Vehicle Motor Market

---

By Type
AC motor is projected as the most lucrative segment
Rise in demand for electric vehicles
Increase in global concerns regarding the negative effect of climate change and alarming pollution levels recorded in the major cities have created a significant demand for electric vehicles. The demand for fuel-efficient vehicles has increased recently, owing to rise in price of petrol and diesel. Depletion of fossil fuel reserves and growth in tendency of companies to gain maximum profit from these oil reserves also contribute to the increase in demand. Therefore, these factors give rise to the need for advanced fuel-efficient technologies, leading to surge in demand for electrically-powered vehicles for travel, which generates the demand for electric motors. Traction motors are mostly common in electric vehicles. Therefore, increase in sale of electric vehicle boosts the growth of the electric motors. Further, though electric motors are already prevalent throughout ICE-propelled vehicles, the increase in popularity of electric vehicles gives rise to many innovations in automotive electric motors, which drive the growth of the market.
Electric Vehicle Motor Market

---

By Electric Vehicle Type
Battery electric vehicle is projected as the most lucrative segment
Stringent safety regulations set by government for automotive industry
The automotive market is positively affected by safety regulations implemented by government for installation of power window, airbags, and anti-lock braking systems (ABS) in every vehicle. Europe and North America have been witnessed to follow these regulations more stringently as compared to Asia-Pacific and the rest of the world. However, in developing countries, OEMs are providing key less entry and anti-lock braking system (ABS) as standard features in vehicles, supporting the government to improve safety measures, thereby boosting the sales of electric motors. These safety systems need separate motors to function smoothly and to communicate with other components of vehicle to provide complete safety to passengers. Therefore, as the incorporation of safety features has been made obligatory, the demand for electric motors is anticipated to grow, which fuels the growth of the market.
Electric Vehicle Motor Market

---

By Application
Commercial vehicles is projected as the most lucrative segment
High manufacturing cost
Electric vehicles are advantageous over conventional vehicles; however, their cost is higher than traditional vehicles. In addition, the electric vehicle motor market is expected to face challenges in the form of procurement of rare earth metals used in permanent magnets for synchronous motors, as the metals used in these motors are subject to export restrictions and supply risks. In addition, purchase of e-powertrain vehicles is expected to cost around twice the cost of traditional gasoline-powered vehicles. This large price difference between internal combustion and electric vehicles has made many fleet owners about making investment as there are lot of unknown variables present in determining total cost of ownership of electric vehicles.
Thus, high initial cost of electric vehicles hinders growth of the electric vehicle motor market. According to a report on Forbes by energy innovation, the manufacturing cost of an electric vehicle is much higher currently compared to diesel or petrol trucks, but by 2030, it is anticipated to be 50% cheaper compared to diesel and petrol variants with falling battery prices. Thus, high cost of electric vehicles challenges the growth of the electric vehicle motor industry. 
Electric Vehicle Motor Market

---
By Region
Europe would exhibit the highest CAGR of 21.3% during 2022-2031
The impact of the COVID-19 pandemic has resulted in supply-chain disruptions causing low sales of passenger cars and temporary suspension of production of vehicles across the globe. The global automotive production has witnessed decline by 16% in 2020 as compared to automotive production in 2019. Moreover, the global sales of automotive has witnessed drop by around 14% (Y-o-Y) from 90.42 million units in 2019 to 77.97 million units in 2020. However, there was a surge in sale of electric vehicles in Europe in 2020. In the second half of 2020, when lockdowns were lifted or relaxed for some time, there was high growth in EV sales during the pandemic, as governments across the globe progressively encouraged people to switch to low-emission fuel vehicles. As per the data released by Society of Electric Vehicle Manufacturers (SMEV), new EV registration of all types of electric vehicles during FY21 dropped by 20 percent compared with the number of new EV registrations in FY20. Several automobile manufacturers faced shortage of components such as semiconductor chips, and others, which resulted in delay in production of automobiles, thereby resulted in decreased demand for electric vehicle motor systems.
Key Benefits For Stakeholders
This report provides a quantitative analysis of the market segments, current trends, estimations, and dynamics of the electric vehicle motor market analysis from 2021 to 2031 to identify the prevailing electric vehicle motor market opportunities.
The market research is offered along with information related to key drivers, restraints, and opportunities.
Porter's five forces analysis highlights the potency of buyers and suppliers to enable stakeholders make profit-oriented business decisions and strengthen their supplier-buyer network.
In-depth analysis of the electric vehicle motor market segmentation assists to determine the prevailing market opportunities.
Major countries in each region are mapped according to their revenue contribution to the global market.
Market player positioning facilitates benchmarking and provides a clear understanding of the present position of the market players.
The report includes the analysis of the regional as well as global electric vehicle motor market trends, key players, market segments, application areas, and market growth strategies.
 Electric Vehicle Motor Market Report Highlights
Aspects
Details
Market Size By 2031
USD 34.4 billion
Growth Rate
CAGR of 20.3%
Forecast period
2021 - 2031
Report Pages
294
Type
Electric Vehicle Type

Battery Electric Vehicle
Plugin Hybrid Vehicle
Hybrid Vehicle

Application

Passenger Cars
Commercial Vehicles

By Region

North America (U.S., Canada, Mexico)
Europe (UK, Germany, France, Italy, Rest Of Europe)
Asia-Pacific (China, Japan, India, South Korea, Rest Of Asia-Pacific)
LAMEA (Latin America, Middle East, Africa)

Key Market Players
Borgwarner Inc., Buhler Motor GmbH, Continental AG, Denso Corporation, Inteva Products, LLC, Johnson Electric Holdings Limited, Mabuchi Motor Co., Ltd, Nidec Corporation, Magna International Inc., Meritor, Inc., Mitsuba Corporation, Robert Bosch GmbH