The fermented milk market size was valued at $264.77 billion in 2018, and is projected to reach $396.87 billion by 2026, growing at a CAGR of 5.1% from 2019 to 2026.
Fermented milk products enhance digestibility, provide new and unique flavors, added probiotics, vitamins, minerals, and act as preservation products for food that normally has a very short shelf life. These above-mentioned properties of fermented dairy products offer an array of health benefits. Fermented dairy products  are major source of probiotic bacteria. It is prepared through inoculation of culture and enzymes, which convert lactose to lactic acid. This inoculation and fermentation process of milk offers various range of products such as butter, cheese, yoghurt, and Kefir. The most common bacterial strains used for fermentation process are Lactobacillus and Bifidobacterium. During the conversion process, various substances are released such as diacetyl, acetic acid, and acetaldehyde, which helps to impart characteristic taste and aroma to the products. During fermentation process of kefir and koumiss, ethyl alcohol is also produced. These fermented dairy products not only impart taste but also provides texture and consistency to certain products such as dips and sauces.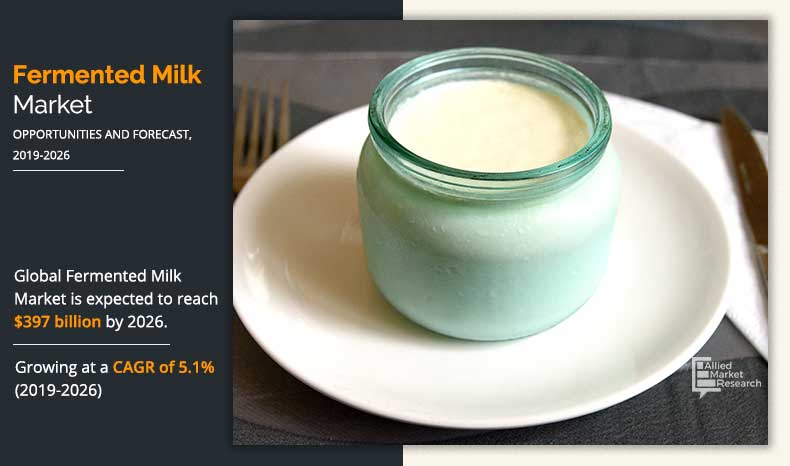 Consumers that are intolerant to lactose prefer fermented dairy products as they are easy to digest compared to unfermented milk. Hence, demand for fermented dairy products is on the rise among the people suffering from lactose intolerance. Changing consumption pattern among consumers toward healthy products contributes to the growth of the fermented milk market. Fermented milk products contain probiotic bacteria that offer a broad spectrum of health benefits. The most significant health benefits offered by these products is improved digestibility. Probiotic bacteria present in these products help suppress certain pathogens through their antibacterial properties, thereby, propelling the market growth. Fermented milk and milk products are also considered to have anti-carcinogenic effect, which may protect against certain cancers. Apart from health benefits, fermentation process helps to prolong the shelf life of dairy products and enhances their taste and aroma. Hence, versatile properties exhibited by fermented dairy products is attributed to the significant growth of the market. Rise in number of product launches is also anticipated to drive the global fermented milk market during the forecast period. Development of new products with improved taste and versatility, along with high marketing support, has led to the launch of several new products in the recent past. Kefir drinks in organic fruit flavors, non-Greek yogurt products, single serve cups of cottage cheese in various fruit flavors, and protein kefir are some of the products launched in the past few years by major industry players. With the launch of several new products during the fermented milk market forecast period, the market outlook is expected to be positive.
Fermented Milk Market

---
By Type
Others segment would exhibit the highest CAGR of 7.3% during 2019-2026.
However, selection of appropriate culture required for fermentation process of dairy products is a severe problem faced by fermented dairy products manufacturers. As not all cultures help extend the shelf life, thus restrains the fermented milk market growth. In addition, government regulations in certain countries regarding permissible culture used for fermentation process hampers the growth of fermented milk market.
Fermented Milk Market

---
By Distribution Channel
Online Stores segment would exhibit the highest CAGR of 10.0% during 2019-2026.
North America and Europe are known to be the dominant regions in the fermented milk market. North America has witnessed higher rate of traction for different types of fermented milk products, owing to their increased demand from consumers. Some of the key macroeconomic factors such as rise in health awareness, surge in per-capita income also plays an important role in the overall growth of the fermented milk market.
Fermented Milk Market

---
By Region
Asia-Pacific would exhibit the highest CAGR of 7.1% during 2019-2026.
However, Asia-Pacific is expected to exhibit significant fermented milk market share in the future, owing to rise in demand for different types of fermented milk products such as butter and cheese consumed in fast food products. In addition, the region has witnessed considerable surge in the number of millennials, who are the forefront consumers of fermented milk products. Therefore, rise in millennial population is anticipated to offer remunerative fermented milk market opportunities.
Some of the key companies profiled in the fermented milk industry include Danone, Nestle, Parmalat S.p.A., Yakult, Chobani LLC, Yoplait , Arla Foods, Muller, Britannia Industries Limited,  and FrieslandCampina
Key Benefits for Stakeholders
The report provides an extensive analysis of the current and emerging market fermented milk market trends and opportunities in the market.
The report provides detailed qualitative and quantitative fermented milk market analysis of current trends and future estimations that help evaluate the prevailing market opportunities.
A comprehensive analysis of the factors that drive and restrict the growth of the market is provided.
An extensive analysis of the market is conducted by following key product positioning and monitoring top competitors within the market framework.
The report provides extensive qualitative insights on the potential segments or regions exhibiting favorable growth.
 Fermented Milk Market Report Highlights
Aspects
Details
By Type

Cheese
Yogurt
Butter
Sour cream
Others

By Distribution Channel

Specialty Stores
Supermarket & Hypermarket
Online Stores

By Region

North America (U.S, Canada, Mexico)
Europe (UK, France, Netherlands, Germany, Spain, Rest of Europe)
Asia-Pacific (China, Japan, India, South Korea, Australia, Rest of Asia-Pacific)
LAMEA (Brazil, South Africa, United Arab Emirates, Rest of LAMEA)

Key Market Players
Arla Foods amba (Arla), Britannia Industries Limited, Chobani, LLC, Danone, GENERAL MILLS, INC. (YOPLAIT), Muller UK & Ireland Group LLP, Nestle S A, Parmalat S.p.A., Royal FrieslandCampina N.V., Yakult Danone India Pvt Ltd