The global feta cheese market size was valued at $10.5 billion in 2019, and is anticipated to reach $15.6 billion by 2028, with a CAGR of 5.7% during the forecast period. The market is expected to exhibit an incremental revenue opportunity of $5.0 billion from 2019 to 2028.      
Feta cheese is a Greece origin cheese made from either sheep milk or a combination of sheep and goat milk. Traditional feta cheese consists of sheep milk and goat milk in a proposition of 70:30, with specific diet given to the animal. The texture of the cheese is creamy, grainy, and soft with a fat content of 21 g per 100 g. It has a fully flavored salty and tangy taste with nutty, strong aroma to it. The curing time is minimum of three months, and is kept in a briny solution. The texture depends on the aging of the cheese, which can be extremely creamy to crumbly. The texture and flavor slightly vary from region to region, owing to the difference in the diet in farm animals. Feta is used both as a table cheese and as a cooking cheese, and is used in Greek salads, spanakopita, pizza, or pie. It can be eaten raw with olive oil, roasted nuts, and chili pepper.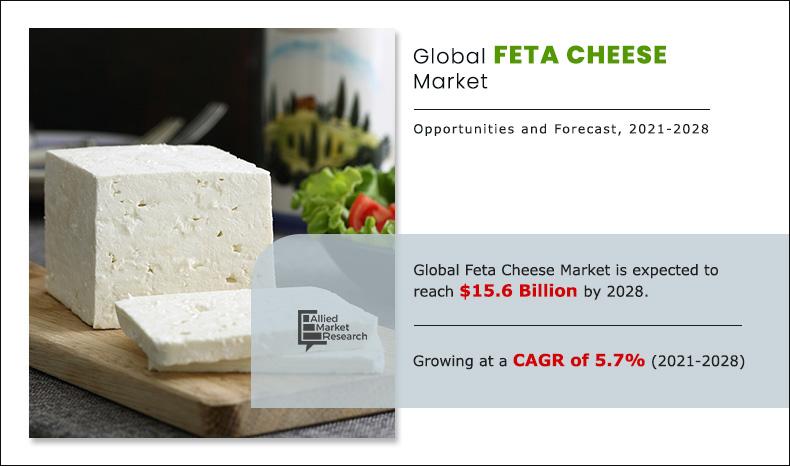 Get more information on this report : Request Sample Pages
Feta cheese serves as an ideal dietary source for various nutrition and health-promoting compounds, which help the body function properly. Along with the luscious flavors of cheese, it provides a larger number of nutritional supplements in concentrated form. Protein, calcium, phosphorus, zinc, vitamins A & B12, and sodium are most essential nutrients found in every type of cheese. As the body cannot synthesize them, they are required to be consumed from external sources. Hence, feta cheese acts as a suitable source in which such nutrients are present in concentrated form. 
The demand for feta cheese is high in Germany because it is included in almost every diet and loved by everyone, especially the health-conscious people. It is a very healthy food product because it contains calcium, fiber, vitamin, zinc, phosphorous, protein, and carbs. People can consume feta cheese before and after a workout as it contains very few carbohydrates. Health-conscious people prefer variation in food, which can be found by using feta cheese in a variety of products such as brown bread and whole wheat base. It also comprises fatty acids that help in making the body lean and decreases the chances of breast cancer. However, in pregnancy, doctors advise women not to consume the feta cheese because it is formed with unpasteurized milk.
Germany is the prominent exporter of feta cheese, and it exports a large quantity of feta cheese to other countries. American consumers have adopted feta cheese in their diet after becoming aware of the health benefits of feta cheese. However, in India, the feta cheese is mostly available in big star hotels due to less preference of the low fat and salty cheese. In addition, the demand for goat milk is lesser in India because of the high demand for cow or buffalo milk.
Corona virus has spread all over the world and most of the countries are adopting lockdown measures to control the spread of the virus for securing public health. All business and production activities are fully shut down except food and medical sector or other, leading toward economic crisis in the country. Manufacturing and production functions are stopped which has slowed down the business and inactive trade and transportation has fully disrupted the supply chain because of which companies can face big losses in near future.  
According to the global feta cheese market analysis, the feta cheese market is segmented into source, type, distribution channel, and region. By source, it is categorized into cow milk, sheep milk, and goat milk. Based on type, it is segmented into Bulgarian feta, German feta, French feta, and others. On the basis of distribution channel, it is segregated into B2B and B2C. Further, B2B is sub-segmented into full-service restaurants, fast food outlets, catering services, and other. B2C is sub-segmented into hypermarket/supermarket, food specialty stores, convenience stores, and others. Region wise, it is analyzed across North America (the U.S., Canada, and Mexico), Europe (Germany, France, the UK, Spain, Italy, Greece, and rest of Europe), Asia-Pacific (China, Japan, India, Australia, South Korea, Indonesia, Singapore, and rest of Asia-Pacific), and LAMEA (Brazil, Argentina, United Arab Emirates, Nigeria, Turkey, South Africa, and rest of LAMEA).   
Based on source, sheep milk segment holds the major share in the feta cheese market. The demand for sheep milk is on rise due to its superior qualities as compared to cow, goat, and buffalo milk. Shift in preference toward the sheep milk for production of high-quality and high yielding cheese significantly drives the feta cheese market growth.  
Feta Cheese Market

---
By Source
The
Sheep Milk

segment held the major share of 60.1% in 2019
Get more information on this report : Request Sample Pages
Based on type, German feta cheese leads the feta cheese market and is likely to remain dominant throughout the feta cheese market forecast period. The demand for German feta cheese among consumers is growing rapidly. This is attributed to evolving taste preference of consumers and living healthy lifestyle, which boosts the demand for healthy food products. With increased knowledge and understanding of product benefits, consumers have become more conscious of the food's flavor they eat. Hence, the German feta cheese is expected to increase with a considerable growth rate.
Feta Cheese Market

---
By Type
The
German Feta

segment helds the higest market share of 39.2% in 2019
Get more information on this report : Request Sample Pages
Depending on distribution channel, B2B distribution channel dominated the market. The B2B distribution channel includes the food services. It serves meals and snacks for immediate consumption on site and take away. It includes full-service restaurants, fast food outlets, caterers, cafeterias, and other places where food is prepared, served, and sold to the general public for a profit. Surge in demand for various fast foods from the leading food chains such as Burger King, KFC, McDonalds, and Dominos is anticipated to boost the demand for cheese through B2B distribution channel. 
Feta Cheese Market

---
By Distribution Channel
The
B2B

segment helds the higest market share of 59.9% in 2019
Get more information on this report : Request Sample Pages
Europe is likely to hold the major feta cheese market share. Feta cheese is majorly produced in Europe, and exported all over the globe from European countries. Germany and the Netherland are the largest feta cheese market in Europe due to increase in demand from millennial and increase in demand for fresh and ready-to-eat food with changes in lifestyle. Furthermore, rise in awareness about the benefits of cheese, its easy affordability, and increase in applications areas drive the Europe feta cheese market.
Feta Cheese Market

---
By Region
The
Europe

region helds the higest market share of 55.8% in 2019
Get more information on this report : Request Sample Pages
The key players operating in the feta cheese market include following companies Arla Foods amba, Lactalis American Group, Inc., Fonterra Co-operative Group, Saputo Inc, The Kraft Heinz Company, Dodoni S.A., Kolios S.A. Mevgal, SADAFCO, and Clover Leaf Cheese Ltd. 
Key benefits for stakeholders  
The report provides quantitative analysis of the current feta cheese market trends, estimations, and dynamics of the market size from 2019 to 2028 to identify the prevailing feta cheese market opportunities. 
Porter's five forces analysis highlights the potency of buyers and suppliers to enable stakeholders to make profit-oriented business decisions and strengthen their supplier–buyer network.
The feta cheese market demand is rising in the western countries. 
In-depth analysis and the market size & feta cheese market segment assist to determine the market potential.
The major countries in each region are mapped according to their revenue contribution to the market.    
The market player positioning segment facilitates benchmarking and provides a clear understanding of the present position of the market players in the feta cheese industry. 
 Key Market Segments
BY SOURCE

Cow Milk
Sheep Milk
Goat Milk

BY TYPE

Bulgarian Feta
French Feta
German Feta
Others

BY DISTRIBUTION CHANNEL

B2B

Fast Food Outlet
Catering Services
Others

B2C

Food Specialty stores
Convenience Stores
Others

BY REGION

North America
Europe

Germany
France
UK
Italy
Spain
Greece
Rest of Europe

Asia-Pacific

China
Japan
India
Australia
South Korea
Indonesia
Singapore
Rest of Asia-Pacific

LAMEA

Brazil
Argentina
United Arab Emirates
Nigeria
Turkey
South Africa
Rest of LAMEA
 
Key Market Players
Arla Foods amba
Lactalis American Group, Inc.
Fonterra Co-operative Group Limited
Saputo Inc.
The Kraft Heinz Company
Dodoni S.A.
KOLIOS S.A.
Mevgal
SADAFCO
Clover Leaf Cheese Ltd