The flip chip market size was valued at $24.76 billion in 2019, and is projected to reach $39.67 billion by 2027, growing at a CAGR of 6.1% from 2020 to 2027.
Flip chip, also known as controlled collapse chip connection (C4), consists of conductive bumps deposited on chip pads on the surface of wafer, followed by mounting semiconductor devices by flipping the chip. The adoption of flip chip has increased in the electronic industry due to its numerous advantages such as lower cost, high packaging density, improved reliability of circuits, and compact dimensions. Thus, increase in demand for smart electronics across the globe is a major factor expected to drive the growth of the global flip chip market size during the forecast period.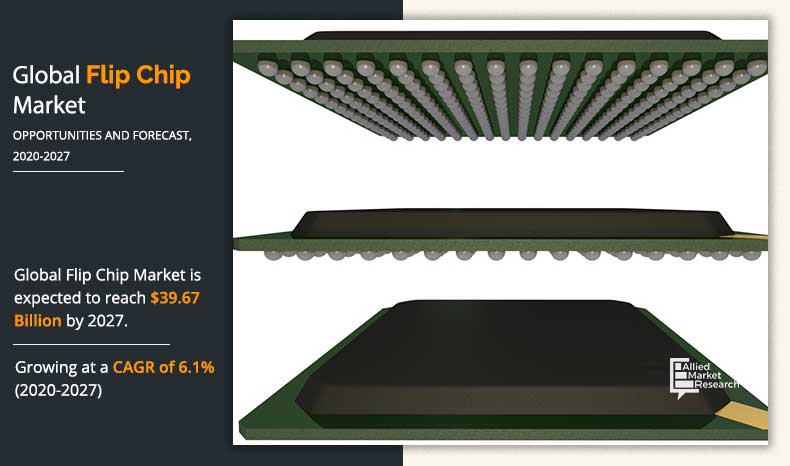 Furthermore, flip chip has revolutionized the portable electronics and electric vehicle industries by proving to be an ideal product for electrical interconnections. 
Increase in trend of real-world gaming is expected to propel the growth of the global flip chip market, as they are incorporated in the processors used inside gaming consoles and graphic cards used in personal computers. Key players such as AMD and Intel are spending considerable amount on intensive research and development for the improvement of these chips. Furthermore, flip chips are incorporated in sensors used in smartphones, which give users a real-life experience while playing games, as they change visuals according to the motion of phone. Surge in demand for these sensors and processors is expected to boost the flip chip market growth during the forecast period.
One major advantage that flip chip offers over other technologies is its ability to provide data transmission between devices on higher frequency. This is attributed to the fact that connections are made through bumps in flip chips, which reduce the length and in turn offer improved electrical efficiency. Surge in demand for high-frequency microwave, ultrasonic frequency operations and rise in demand for high-speed portable devices are expected to contribute toward the growth of the global flip chip market in the near future. 
Flip Chip Market

---
By Packaging Technology
3D IC is projected as one of the most lucrative segments.
However, the use of additional wafer bumping and substrate of higher price restrain the market growth. Furthermore, the number of input output ports provided on these chips cannot be customized after manufacturing, owing to their extremely complex architecture and compact size. Thus, these factors collectively hamper the growth of the overall market. On the contrary, technological advancements through research and development facilities and investment by key players in the market are projected to abate the impact of the restraining factor, thereby offering remunerative opportunities for the expansion of the overall flip chip market.
Flip Chip Market

---
By Bumping Technology
Gold Bumping is projected as one of the most significant segments.
Increase in sales of portable electronic products is the key driving factor of electronics segment. The growth of the flip chip market is further driven by extensive use of flip chips in telecommunication applications, such as network systems, telecommunication switching, cellular base stations, optoelectronics, and wireless products.
Flip Chip Market

---
By Industry
IT and Telecommunication is projected as one of the most significant segments.
The report focuses on the growth prospects, restraints, and market analysis. The study provides Porter's five forces analysis of the flip chip industry to understand the impact of various factors such as bargaining power of suppliers, competitive intensity of competitors, threat of new entrants, threat of substitutes, and bargaining power of buyers on the market.
Flip Chip Market

---
By Region
Asia-Pacific would exhibit the highest CAGR of 7% during 2020-2027.
Segment review
The global flip chip market is segmented into packaging technology, bumping technology, industry, and region. Depending on bumping technology, the market is categorized into copper pillar, solder bumping, gold bumping, and others, including aluminum & conductive polymer bumping. By packaging technology, it is categorized into 3D IC, 2.5D IC, and 2D IC. On the basis of industry, it is fragmented into electronics, industrial, automotive & transport, healthcare, IT & telecommunication, aerospace & defense, and others. Region wise, it is analyzed across four regions, including North America, Europe, Asia-Pacific, and LAMEA.
The market players operating in the flip chip market analysis include 3M, Advanced Micro Devices, Inc., Amkor Technology, Apple Inc., Fujitsu Limited, Intel Corporation, International Business Machines Corporation, Samsung Electronics Co., Ltd., Taiwan Semiconductor Manufacturing Company Limited, and Texas Instruments Incorporated.
COVID Impact Analysis
The global flip chip market revenue has witnessed significant growth in the past years; however, the market is witnessing sudden downfall as the critical electronics manufacturing industries were temporarily shut down mainly to limit COVID-19's spread. In addition, this pandemic majorly affected the global supply chain by impacting both suppliers via shortages of components, materials, and finished goods and consumers by creating reduced spending in China on semiconductor-dependent products such as consumer electronics, automobiles, and others. Furthermore, semiconductor industry is compelled to transform its global supply chain model which in turn will positively impact the growth of the market in the near future.
Top impacting factors
The prominent factors that impact the growth of the global flip chip market include development of the portable electronic market and increase in popularity of Internet of Things (IoT), rise in need for circuit miniaturization in microelectronic devices, technological superiority over wire bonding, higher cost & less customization options available in comparison to wired bonding, and requirement of high-frequency data transmission. However, each of these factors is anticipated to have a definite impact on the growth of the overall flip chip market during the forecast period. 
Rise in need for circuit miniaturization in microelectronic devices 
Upsurge in requirement for size reduction in electronic devices, improved electrical efficiency, and less power consumption drive the adoption of flip chip in microelectronic devices. Flip chip improves the performance of electrical devices operating at high frequencies, which increases its adoption in microwave and ultrasonic operations. Flip chip market exhibits low inductance and high overall system efficiency while consuming smaller space as compared to its alternatives. These specific attributes of flip chips drive its adoption in electronic devices. Furthermore, constant ongoing R&D activities by key players in the global market are expected to offer potential growth opportunities for the flip chip market during the forecast period. 
Technological superiority to wire bonding 
Flip chips have gradually replaced wire bonding packaging, owing to their enhanced features such as compact size, rugged structure, improved efficiency, and high frequency application support at a relatively low cost. Currently, wire bonding is witnessing increased popularity in the overall packaging market. However, flip chip market forecast is expected to witness rapid growth in future, as they are replacing wire bonded technology, owing to their remarkable properties such as higher I/O capability, superior thermal & electrical performance, and substrate flexibility for varying performance requirements. These specifications have enforced the replacement of wire bond technology with flip chips in devices such as smartphones, PC processors, and gaming consoles. Furthermore, increase in usage of flip chip in contemporary devices is expected to augment the flip chip market growth in the near future.
Key Benefits For Stakeholders
This study includes the flip chip market trends, opportunity, analysis, and future estimations to determine the imminent investment pockets.
The report presents information related to key drivers, restraints, and opportunities of the flip chip industry.
The flip chip market share is quantitatively analyzed from 2019 to 2027 to highlight the financial competency of the industry.
Porter's five forces analysis illustrates the potency of the buyers & suppliers in the flip chip market.
 Flip Chip Market Report Highlights
Aspects
Details
By Packaging Technology
By Bumping Technology

Copper Pillar
Solder Bumping
Gold Bumping
OTHERS

By Industry Vertical

ELECTRONICS
INDUSTRIAL
HEALTHCARE
AUTOMOTIVE & TRANSPORT
IT & TELECOMMUNICATION
AEROSPACE & DEFENSE
OTHERS

By Region

North America (U.S., CANADA)
EUROPE (GERMANY, FRANCE, UK, SPAIN, REST OF EUROPE)
ASIA-PACIFIC (JAPAN, CHINA, INDIA, AUSTRALIA, REST OF ASIA-PACIFIC)
LAMEA (LATIN AMERICA, MIDDLE EAST, AFRICA)

Key Market Players
3M, ADVANCED MICRO DEVICES, INC., AMKOR TECHNOLOGY, APPLE INC., FUJITSU LIMITED, INTEL CORPORATION, INTERNATIONAL BUSINESS MACHINES CORPORATION, SAMSUNG ELECTRONICS CO., LTD., TAIWAN SEMICONDUCTOR MANUFACTURING COMPANY LIMITED, TEXAS INSTRUMENTS INCORPORATED