Flying Car Market Statistics 2035 -
The global flying car market is expected to be valued at $215.54 million in 2025, and is projected to reach $3,804.18 million by 2035, registering a CAGR of 34.1%. Europe is expected to be the highest contributor with $77.98 million in 2025, and is estimated to reach $1,618.68 million by 2035, with a CAGR of 37.8%. 
Flying car is the new era of urban mobility solution type that operates on road as well as air, as per the requirements. Majority of the future flying car solutions are expected to be equipped with vertical takeoff and landing systems to avoid long run way requirements to take off, as well as it can be mold with urban infrastructural structure. Policy makers need to introduce regulations and rules to comply the changing need for urban commute solution that involves both, aviation as well as road transportation policies. Flying car have a wide range of applications, including passenger commute, commercial transport such as air taxi, and professional transport such as police, medical service front. In the upcoming era, infrastructural development is expected to be more critical than the product development.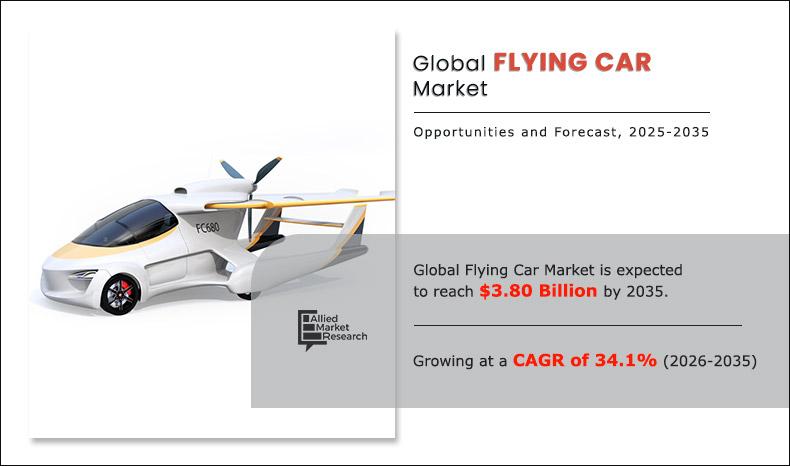 Factors such as changing urban mobility outlook and increasing investment by the market players are expected to drive the growth of the flying car market. However, high development cost of the flying cars and implementation of stringent regulations for aviation license restrain the market growth. On the contrary, increase in agreements & contracts and high untapped potential in Asia-Pacific are projected to offer lucrative growth opportunities for the market players.
The global flying cars market is segmented into mode of operation, end use, seating capacity, and region. By mode of operation, the market is divided into piloted and autonomous. Depending on end use, it is bifurcated into commercial & professional commute and personal commute. On the basis of seating capacity, it is segregated into one, two, four, and more than six. Region-wise, the market is analyzed across North America, Europe, Asia-Pacific, and LAMEA.
Key players operating in the global flying car market include AeroMobil, Airbus S.A.S., Hyundai Motor Company, Klein Vision s. r. o., Lilium, PAL-V N.V., Samson Motors, Inc., Terrafugia, The Boeing Company, and Volocopter GmbH.
Changing urban mobility outlook 
In the recent years, urban mobility is shifting toward digital, high-end technologies along with green mobility initiatives to develop sustainable and resilient transportation system. Moreover, rapid urbanization is demanding for alternative transportation solutions to overcome modern urban transportation issues such as traffic congestion and increased air pollution. This has encouraged companies operating in the mobility sector to focus on developing electric or hybrid propelled transportation medium that can be operated on road as well as an air mobility solution. Moreover, the problem of traffic congestion across the globe has increased to a larger extent with rise in number of automotive fleet operating on the road. Traffic congestion leads to severe impact on the environment by increasing the carbon footprint. Flying cars, which are being developed across the globe at personal as well as commercial front, are operable within the city. Thus, increase in road traffic congestion and rise in need for alternative transportation solution across the globe have led to increase in demand for flying cars.
Stringent regulations for aviation license 
Stringent regulations already exist for attaining the aviation license, which is required to ensure the safety of the passengers while on a flying car. Various aircraft pilots have a flying record, which is helpful to ensure the safety of the passengers. Thus, with the introduction of flying cars across the globe, the need for trained and experienced flying car drivers is expected to increase, thereby affecting the flying car demand in the initial phase. In addition, with the absence of no or less skilled flying car operators, the safety of passenger and flying car itself can be affected, which the flying car owner as well as government could not bear. Thus, implementation of stringent regulations for aviation license is expected to restrain the growth of the flying cars market during the forecast period.
Entering into agreements and contracts for long-term business opportunities
Commercial service providers of air passenger commute solutions, the ultra-rich population, and business executives are expected to create a demand for flying cars solutions, owing to increase in traffic congestion situations and changes in urban commute requirements. Moreover, flying cars in the initial phase are made to order product lines, which are mostly built in less units along with signed contracts and agreements. The commencement of the flying cars solution is expected to be carried out through contracts and agreements between end users and developers of flying cars. These contracts mention a set of requirements that must be met in a certain timeframe. These contracts and agreements are associated with long-term business opportunities with end users. Market participants need to focus on winning the contracts and agreements to gain a competitive advantage in the global market.
Key Benefits For Stakeholders
This study presents the analytical depiction of the global flying car market analysis along with the current trends and future estimations to depict imminent investment pockets.
The overall flying car market opportunity is determined by understanding profitable trends to gain a stronger foothold.
The report presents information related to key drivers, restraints, and opportunities of the market with a detailed impact analysis.
The current market is quantitatively analyzed from 2025 to 2035 to benchmark the financial competency.
Porter's five forces analysis illustrates the potency of the buyers and suppliers in the industry.
Key Market Segments
By Mode of Operation 
By End Use
Commercial & Professional Commute
Personal Commute
By Seating Capacity
By Region
North America
Europe

UK
Germany
France
Spain
Rest of Europe

Asia-Pacific

China
Japan
India
South Korea
Rest of Asia Pacific

LATAM

Latin America
Middle East
Africa
 Key Players
AeroMobil 
Airbus S.A.S. 
Hyundai Motor Company 
Klein Vision s. r. o. 
Lilium
PAL-V N.V. 
Samson Motors, Inc. 
Terrafugia
The Boeing Company 
Volocopter GmbH