The food colors market size was valued at $2.1 billion in 2019, and is estimated to reach $3.5 billion by 2027, registering a CAGR of 12.4% from 2020 to 2027. Food color is any dye, pigment, or substance that imparts color when it is added to food and beverages. Food colors are available in various forms such as liquids, powder, gels, and paste, which find their application in meat products, beverages, dairy, bakery & confectionary, processed food & vegetables, and oils & fats. Food color does not always mean that the ingredients are organic, however, in few cases, it refers to less amount of ingredients used in it. The less ingredients added, the more natural the food product is. The food colors market comprises natural and artificial colors. Natural food colors are derived from a wide range of vegetables, fruits, plants, minerals, and other edible natural sources. These colors are obtained using physical and/or chemical methods, which result in selective extraction of pigments relative to nutritive or aromatic constituents. Artificial color is a chemical compound, which is used to add taste and improve the appearance to food or enhance the food flavoring characteristics. 
The growth of the global food colors market is driven by upsurge in demand for natural colors from various end-use industries, including food & beverages, bakery & confectionery, dairy products, meat & poultry, and seafood. This is expected to have a positive impact on the utilization of natural sources such as carotenoids, curcumin, anthocyanin, and carmine. Natural colors are free of genetically modified organisms (GMO) and allergens, which act as antioxidants & coloring agents and protect the body against cellular damage, chronic diseases, and effects of aging. For instance, red sandalwood offers wound healing properties, and is used in Ayurvedic treatment. Thus, rise in awareness about the health benefits associated with natural colorants drives food colors market growth.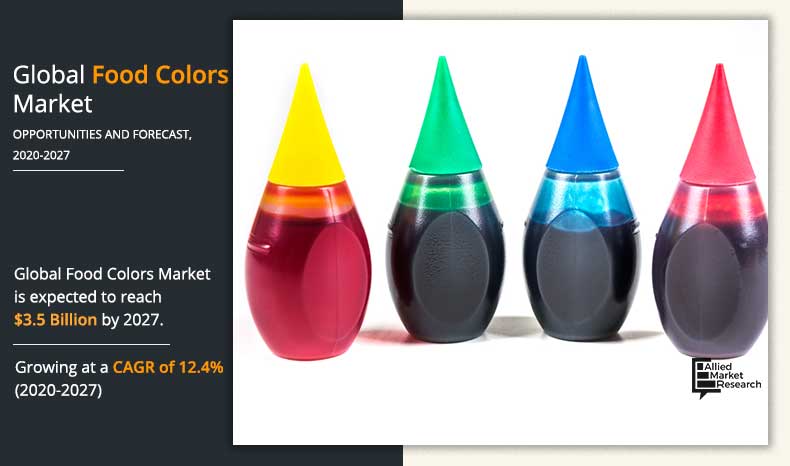 However, consumers are facing many challenges with respect to the cost, process, applications, and quality of natural ingredients. The extraction process of natural ingredients is complicated and time-consuming, in which some amount of natural ingredients are exhausted while the yield of high purity products becomes low. This factor is anticipated to hamper the growth of the food colors market in the coming years. In addition, strong global concerns about the pandemic coronavirus have negatively influenced the global functioning of the food & beverage industry. Although this pandemic is projected to negatively impact the market for a short term, to overcome on economic instability, the prices of food color products is likely to rise in 2020. 
Natural products or ingredients are comparatively expensive than synthetic and artificial ones. Continuous R&D activities by private organizations and governments for developing low-cost natural food colorants such as carmine are anticipated to encourage manufacturers to invest significantly in the market. Thus, all these factors together are expected to create remunerative opportunities to the food color suppliers and dealers. 
The food colors market is segmented into type, application, and region. By type, the market is categorized into natural color and artificial color. The applications covered in the study include meat products, beverages, dairy, bakery & confectionary, processed food & vegetables, oils & fats, and others. Region wise, it is analyzed across North America (U.S., Canada, and Mexico), Europe (Germany, France, UK, Italy, Spain, and rest of Europe), Asia-Pacific (China, Japan, Australia, India, and rest of Asia-Pacific), Latin America (Brazil, Argentina, Colombia, rest of Latin America), Middle East (Saudi Arabia, Egypt, Nigeria, and rest of Middle East), and Africa (South Africa, Nigeria, and rest of Africa).
According to food colors market analysis, on the basis of type, the natural color segment accounted for the around 1/3rd of the food colors market share in 2019, and is expected to continue this trend throughout the food colors market forecast period. The demand for natural food colors is increasing significantly, owing to rise in consumer preference and awareness regarding their health benefits associated with natural colors. For instance, carotenoid-based colors offset age-related muscular degradation and turmeric-based colors aid in preventing cognitive decline. Furthermore, implementation of stringent food & beverage norms regarding the use of synthetic food colors is expected to have a positive impact on the growth of the market.  
Food Colors Market

---
By Type
Natural color segment dominates the global market and is expected to retain its dominance throughout the forecast period.
Depending on food colors market segment, the meat products application accounted maximum food colors market share, owing to increase in consumption of meat products. Carmine, annatto, curcumin, and betanin are some of the major colors used in meat products to enhance appearance, texture, and taste. Color manufacturers are continuously developing innovative solutions to replace artificial colors in meat products, which is further expected to contribute toward the growth of the food colors market. For instance, Givaudan acquired Activ International in 2017, which is a provider of various natural and organic colors & flavors, marine extracts, seafood, and vegetable-based culinary solutions. The acquisition expanded the business of flavors & colors division for Givaudan. 
Food Colors Market

---
By Application
Bakery & confectionary segment is expected to grow at a highest CAGR of 13.8% during the forecast period.
Region wise, Europe food colors market size was valued at $715.11 million in 2019, and is likely to grow at a CAGR of 11.4% from 2020 to 2027. This is attributed to the presence of huge market participants and rise in consumption & production of food color in the region. Furthermore, surge in awareness among the European population about the benefits of food color products, their affordability, and increase in applications areas drive the growth of the market. Moreover, rise in adoption in various end-use applications such as bakery & confectionery, dairy, meat products, seafood, and cosmetics is expected to create numerous opportunities for the food colors market.
Food Colors Market

---
By Region
North America dominates the market and is expected to grow with a CAGR of 11.7% during the forecast period
The players in the food colors industry have adopted various developmental strategies to expand their market share, increase profitability, and remain competitive in the market. The key players profiled in this report include AromataGroup SRL (Fiorio Colori SPA), Givaudan (Naturex S.A.), Kalsec, Inc., Archer Daniels Midland Company, Chr. Hansen A/S, D.D. Williamson & Co. Inc. (DDW), Dohler Group, International Flavors & Fragrances, Koninklijke DSM N.V., and Sensient Technologies Corporation.
Key Benefits For Stakeholders   
The report provides a quantitative analysis of the current food colors market trends, estimations, and dynamics of the market size from 2019 to 2027 to identify the prevailing opportunities.   

Porter's five forces analysis highlights the potency of buyers and suppliers to enable stakeholders to make profit-oriented business decisions and strengthen their supplier–buyer network.

In-depth analysis and the market size and segmentation assist to determine the prevailing food colors market opportunities.   

The major countries in each region are mapped according to their revenue contribution to the market.    

The market player positioning segment facilitates benchmarking and provides a clear understanding of the present position of the market players in the market.  
 Food Colors Market Report Highlights
Aspects
Details
By Type

Natural Colors
Artificial Colors

By Application

Meat Products
Beverages
Dairy
Bakery & Confectionary
Processed Food & Vegetables
Oils & Fats
Others

By Region

North America (U.S., Canada, Mexico)
Europe (Germany, France, Italy, UK, Spain, Rest of Europe)
Asia-Pacific (China, Japan, South Korea, Australia, India, Rest of Asia-Pacific)
Latin America (Brazil, Argentina, Colombia, Rest of Latin America)
Middle East (Saudi Arabia, Egypt, Turkey, Rest of Middle East)
Africa (South Africa, Nigeria, Rest of Africa)

Key Market Players
AROMATAGROUP SRL (FIORIO COLORI SPA), ARCHER DANIELS MIDLAND COMPANY, GIVAUDAN (NATUREX S.A.), CHR HASEN A/S, DDW THE COLOR HOUSE, DOEHLER GROUP SE, INTERNATIONAL FLAVORS & FRAGRANCES INC., KALSEC INC., KONINKLIJKE DSM N.V., SENSIENT TECHNOLOGIES CORPORATION