The global food glazing agents market size was valued at $2,987.8 million in 2020, and is projected to reach $4,521.7 million by 2030, registering a CAGR of 4.3% from 2021 to 2030.
Food glazing agent is a type of food additive, which when applied to the outer layer of the food product gives a shiny appearance and a protective coating. In addition, these agents act as a sealant to prevent moisture loss, oil retention, improve structure, and act as a lubricant. They are commonly used in tablets, supplements, and capsules in pharmaceuticals and nutraceuticals industries. These functional attributes of food glazing agents have increased their use in various food applications, including fruits & vegetables, dairy products, functional foods, and processed foods.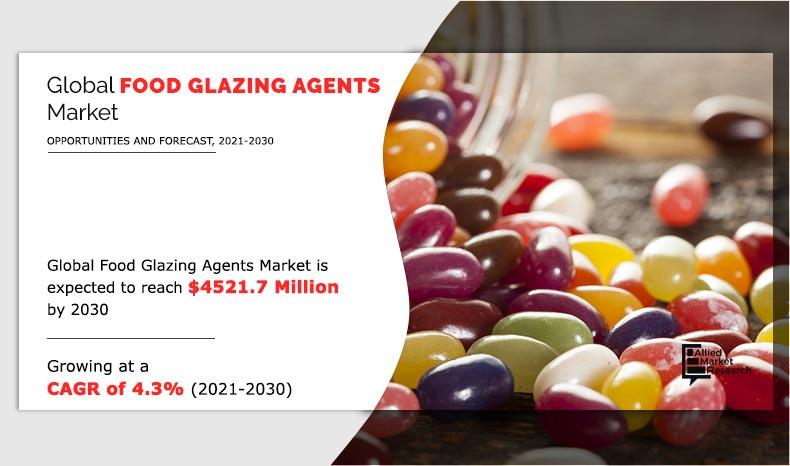 In recent years, subsequent growth has been witnessed of the food & beverages sector in the emerging markets, including India, Mexico, Brazil, Saudi Arabia, South Africa, and other major emerging markets. This, in turn, is expected to offer immense opportunities for the growth of the food glazing agents market during the forecast period.
COVID-19 impact analysis
The outbreak of the COVID-19 pandemic has shown a negative impact on the market. 
Trade restrictions imposed by several countries across the globe to curb the spread of COVID-19 has significantly affected global logistics and transportation, which, in turn, has affected the food glazing agents market.
The global food glazing agents market is segmented is segmented into nature, product type, application, and region. By nature, is the market is bifurcated into organic and conventional. Depending on product type, it is categorized into stearic acid, beeswax, candelilla wax, carnauba wax, shellac, and others. On the basis of application, it is segregated into bakery & confectionery; fruits & vegetables; processed meat, poultry, & fish; and others. Region wise, the market is analyzed across North America (U.S., Canada, and Mexico), Europe (Germany, UK, France, Italy, Spain, Russia, and rest of Europe), Asia-Pacific (China, Japan, India, Australia & New Zealand, South Korea, ASEAN, and rest of Asia-Pacific), and LAMEA (Brazil, Saudi Arabia, South Africa, Argentina, and rest of LAMEA).
By nature, the conventional segment accounted for the highest food glazing agents market share in 2020. This is majorly attributed to easy availability of conventional food glazing agents in the market through distributors. However, the organic segment is expected to grow at the fastest rate during the forecast period in terms of value sales.
On the basis of product type, the others segment was the major share contributor in 2020, as food glazing agents are major used to impart a shiny texture, to retain moisture loss, and to prevent spoilage of food. However, the carnauba wax segment is expected to register the highest growth during the forecast period.
Depending on application, the  bakery & confectionery segment exhibited the largest market share in 2020, due to surge in demand for bakery & confectionery items, owing to busy lifestyle and increase in preference for fresh & ready-to-eat convenience foods. However, the others segment is expected to lead the market in the coming future.
Region wise, Europe garnered the highest market share in 2020, owing to notable development of the food & beverages industry in the region. However, Asia-Pacific is expected to register the highest growth during the food glazing agents market forecast period.
Key players operating in the global food glazing agents market focus on prominent strategies such as product launch, acquisition, and business expansion to sustain the intense competition and to strengthen their foothold in the global market. The major players operating in the global food glazing agents industry include British Wax Refining Company Ltd, Capol GmbH, Colorcon, Koster Keunen, Mantrose-Haeuser Co., Inc., Masterol Foods, Poth Hille & Co., Ltd., Puratos, Stearinerie Dubois, and Strahl & Pitsch, Inc.
Key Benefits For Stakeholders
This report provides a quantitative analysis of the current food glazing agents market trends, estimations, and dynamics of the global market for the period of 2020–2030 to identify the prevailing food glazing agents market opportunities.
The key countries in four major regions have been mapped based on their market share.
Porter's five forces analysis highlights the potency of buyers and suppliers to enable stakeholders to make profit-oriented business decisions and strengthen their supplier–buyer network.
In-depth analysis of the market segmentation assists to determine the prevailing market opportunities.
Major countries in each region have been mapped according to their revenue contribution to the global industry. 
Market player positioning facilitates benchmarking and provides a clear understanding of the present position of market players.
The report includes both regional as well as global the food glazing agents market analysis, key players, market segments, application areas, and food glazing agents market growth strategies.
Key Market Segments
By Nature
By Product Type
Stearic Acid
Beeswax
Carnauba Wax
Candelilla Wax
Shellac
Others
By Application
Bakery & Confectionery
Fruits & Vegetables
Processed Meat, Poultry, & Fish
Others
By Region
North America
Europe

Germany
UK
France
Italy
Spain
Russia
Rest of Europe

Asia-Pacific

China
India
Japan
Australia & New Zealand
South Korea
ASEAN
Rest of Asia-Pacific

LAMEA

Brazil
Saudi Arabia
South Africa
Argentina
Rest of LAMEA