Frozen Yogurt Market Research, 2031
The global Frozen Yogurt Market Size was valued at $10.4 billion in 2021 and is projected to reach $17.1 billion by 2031, growing at a CAGR of 5.2% from 2022 to 2031.
The demand for frozen yogurt is expected to rise significantly in the forthcoming period, as frozen yogurts are known to boost the immune system of humans, and hence increase the consumer awareness regarding flavored frozen yogurt, which is projected to drive the sales.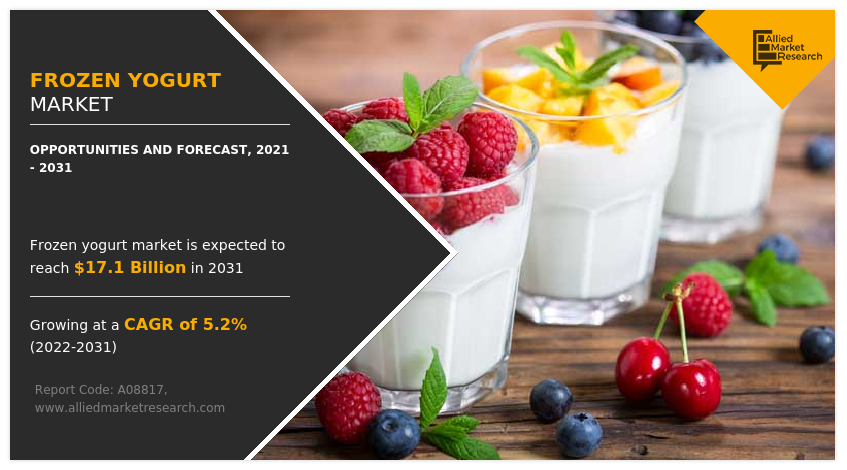 The frozen yogurt market is segmented into Nature, Flavor and Distribution Channel.
Frozen yogurt is obtained from dairy and non-dairy products. It is a cold serving widely consumed in the form of desserts. Frozen yogurt is also manufactured in the form of non-dairy delicacies such as coconut yogurt and soy yogurt. It may consist of fermenting bacterial cultures, sweeteners, flavors, color additives, stabilizers, emulsifiers, and preservatives depending upon the way of production. The various nutrients present in yogurt include good bacteria for the digestive tract, protein, calcium, vitamin B-2, vitamin B-12, potassium, and magnesium. Set yogurt or plain yogurt is the most versatile variety of yogurt with an average of 100 to 160 calories per cup based on fat content. The flavored variety of yogurt available in the market ranges from simple vanilla with added sugar to different fruit-flavored types.
The increase in penetration of various online portals in developing regions and the rise in number of offers or discounts attracts consumers to purchase food products through the online channel. Moreover, online sales channel has increased consumer reach owing to which it has evolved as a key source of revenue for many companies. Furthermore, the online sales market is expected to expand in the near future due to rapid growth in online and mobile user customer bases in emerging markets. Surge in e-commerce sales, improvements in logistics services, ease in payment options, and the facility to enter in new international markets for major brands further boost the Frozen Yogurt Market Growth.
However, the growth in the frozen yogurt market brings about a significant need for governmental intervention and it also strengthens regulations pertaining to the distribution, production, safety testing, & claims related to the effectiveness & efficiency of frozen yogurt. In last couple of years, the governments of various countries across the globe have become stricter with the safety standards and have observed a rise in the number of labelling violation related to frozen yogurt products. Moreover, strict regulatory compliance across all the countries related to frozen yogurt products has further affected the global market.
Retail industry includes companies and individuals involved in selling finished products and goods to end-users. Low unemployment rate and stable electricity prices in the U.S. have led to the growth of the U.S. retail market. Wide range of frozen yogurt and related products are vended through various retail channels such as hypermarkets, supermarkets, convenience stores, discounters, forecourt retailers, and grocery stores. E-commerce, discounters, and convenience stores are the fastest growing retailers in the yogurt industry. These stores act as global marketing tools, which assist in building an impressive premium image and boost the brand exposure of wide varieties of frozen yogurt products. Hence, retail market expansion is a significant factor driving the global frozen yogurt market. Costco, Target Corporation, Walmart, and Menchie's are some of the retailers present in the frozen yogurt industry.
Rapid growth of the fast food industry due to the fast moving life of consumers in the developed and developing countries has driven the low fat frozen yogurt market. The easy accessibility of fast food results in increase in demand for fast food. Moreover, big food chains as well as small vendors are trying to reach out to a large number of people and their shops are popping up like mushrooms everywhere. For instance, in 2019, Subway had approximately 41,600 stores worldwide, similarly McDonalds, Starbucks, KFC, Pizza Hut, Restaurant Brands International, and Dunkin' Donuts had 37,855, 30,000, 23,000, 18,515, 25,809, and 9,200 worldwide stores, respectively.
The number of social media users has increased considerably with rise in internet penetration. Taking this into consideration, stakeholders of frozen yogurt are indulged in the creation of awareness regarding frozen yogurt products and its features by using social media channels such as Instagram, Facebook, and others. Moreover, Marketing and promotion on social media is one of the strategies adopted by the various manufactures on imparting awareness about their product offerings among target customers on social media channels. Thus, through social media awareness strategy, the global frozen yogurt market sights critical opportunity in gaining traction and increasing its customer reach among its target segments.
According to a consumer perception survey undertaken in six diverse countries of Brazil, China, France, Poland, Turkey, and the U.S., majority of citizens in developing nations such as Brazil, China, and Turkey are reported to be eating more frozen yogurt today than they did three years back. Similarly, people who live in other emerging countries such as India, South Korea, Saudi Arabia, and others are aware of the health benefits of frozen yogurt and are adopting it as snack or eat it after having lunch or dinner.
The rise in consumption of yogurt products has simultaneously led to an increase in the influx of fake and counterfeit products in the market. Moreover, counterfeiting refers to fake branding & sale of non-authorized products and signifies a great challenge for the real vendors of frozen yogurt products. Counterfeit brands are usually prevalent in the developing economies where customers are highly price-sensitive. These products of low quality, and often lead to inconvenience & safety issues that subsequently develop negative perceptions among customers. Online distribution channel is one of the major platforms where transaction of counterfeited brands can be easily concealed. Thus, the development of the counterfeited industry is anticipated to hamper the sale of the existing original frozen yogurt brands in the market.
The Frozen Yogurt Market Analysis is segmented on the basis of nature, flavor, distribution channel, and region. By nature, the market is divided into organic and conventional. By flavor, the market is fragmented into mango, chocolate, strawberry, and others. By distribution channel, the market is categorized into hypermarket/supermarket, specialty stores, pharmacies, online sales channel, and others. By distribution channel, the market is classified into hypermarket/supermarket, specialty stores, convenience stores, online sales channel, and others. Region-wise, the market is studied across North America, Europe, Asia-Pacific, and LAMEA.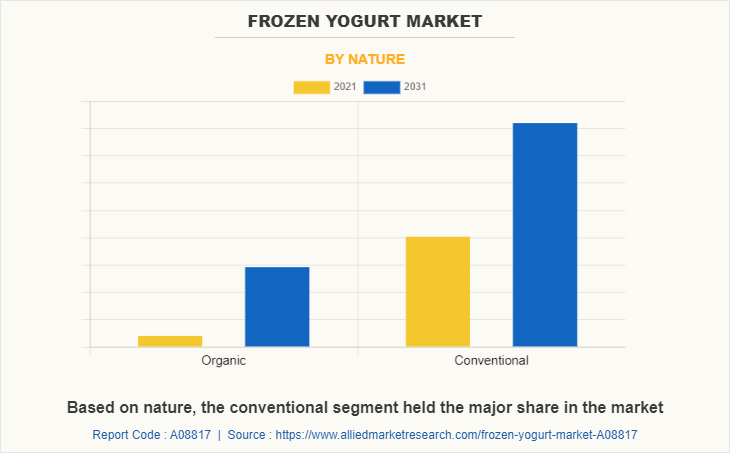 By nature, the conventional segment held major share in the market, and is projected to remain dominant during the Frozen Yogurt Market Forecast period. Conventional frozen yogurt is prepared from various flavors, fruits, sweeteners, thickeners, additives, and stabilizers. The major demand for conventional frozen yogurt is from the commercial segment owing to the bulk requirement at lower prices.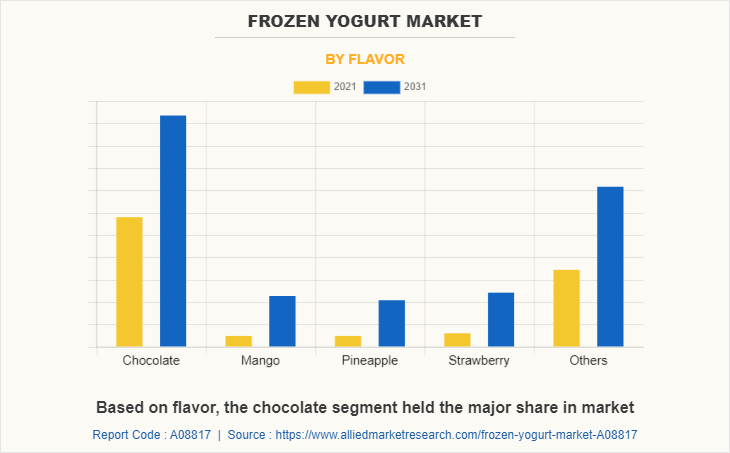 By flavor, the chocolate segment held the major Frozen Yogurt Market Share in the market in 2021. Chocolate flavor is the most widely used and hence it is the most preferred flavor among consumers of all age groups globally. Strawberry segment witnessed major growth rate during the forecast period. It has been the most preferred choice of flavored yogurt among consumer due to fresh color, characteristic sweet taste, and smooth texture.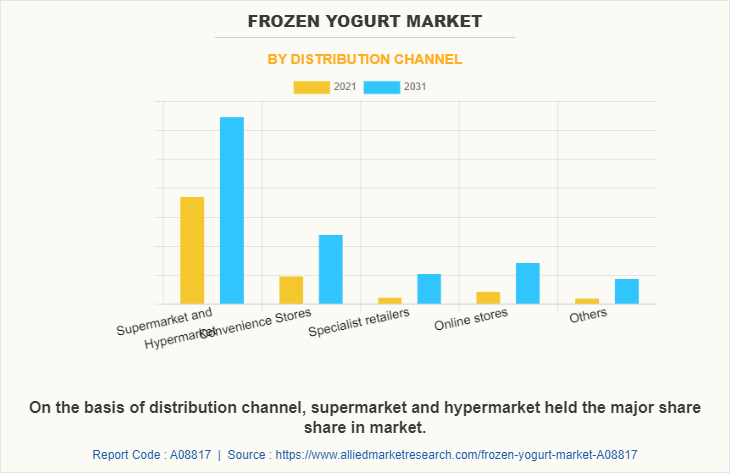 By distribution channel, the hypermarket/supermarket accounted for the highest Frozen Yogurt Market Share in 2021 and is expected to grow at a significant CAGR during the forecast period. Frozen flavor yogurt is widely purchased by consumers through hypermarket/supermarket in bulk volumes. With the shift toward the need for different types of yogurt that are rich in flavor, the hypermarket/supermarket makes available yogurt which is manufactured in different countries. With the development of towns to cities and cities to hyper cities, the trend of hypermarkets/supermarkets is increasing. Thus, frozen yogurt manufacturers have larger opportunities to sell their products and meet the demand of the consumers due to the large population visiting the supermarket.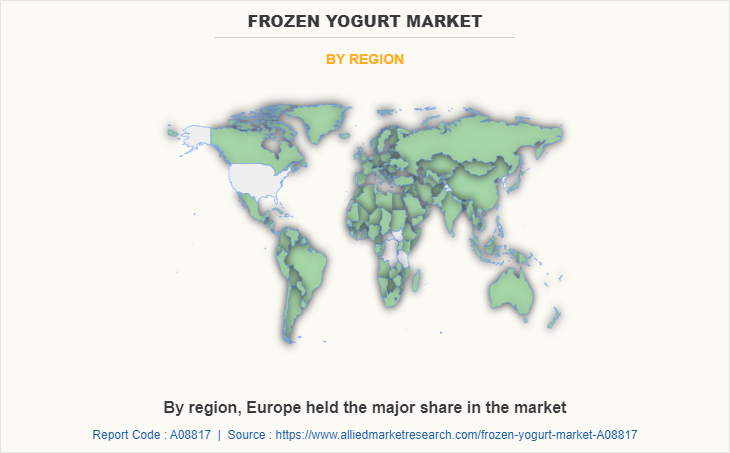 By region, Europe held the major share of the market in 2021. Increase in frozen yogurt product distribution chains and broadening consumer demand for organic frozen yogurt are some additional factors supplementing the growth of the Europe market. Moreover, an increase in consciousness regarding healthy lifestyle adoption and the preference to stay fit has raised consumer indulgence in frozen yogurt products in this region.
Companies operating in the North American frozen yogurt market are innovating new products to sustain in the competitive market. They launch new products to expand their business operations across different countries in this region and increase their customer base. High spending capabilities of individuals due to increased disposable income, and economic stability are some of the major driving factors for the growth of the North America frozen yogurt market. In addition, change in lifestyle of individuals also contributes to the increased sales of frozen yogurt in North America.
Major companies have adopted agreement, product launch, expansion, and merger strategies to sustain the intense market competition. The key players profiled in the report Chr. Hansen Holding, Yakult Honsha Co., Ltd, Nestlé, DuPont, MORINAGA & CO., LTD, BioGaia AB, Protexin, Arla food Amba, Britannia Industries LTD, Chobani LLC, Danone, General Mills, Lactalis Corporation, Saputo INC, and Gujarat Cooperative Milk Marketing.
Key Benefits For Stakeholders
This report provides a quantitative analysis of the Frozen Yogurt Market Segmentation, current trends, estimations, and dynamics of the Frozen Yogurt Market Size from 2021 to 2031 to identify the prevailing frozen yogurt market opportunities.
The market research is offered along with information related to key drivers, restraints, and opportunities.
Porter's five forces analysis highlights the potency of buyers and suppliers to enable stakeholders make profit-oriented business decisions and strengthen their supplier-buyer network.
In-depth analysis of the Frozen Yogurt Market Demand and segmentation assists to determine the prevailing market opportunities.
Major countries in each region are mapped according to their revenue contribution to the Frozen Yogurt Industry.
Market player positioning facilitates benchmarking and provides a clear understanding of the present position of the market players.
The report includes the analysis of the regional as well as global frozen yogurt market trends, key players, market segments, application areas, and market growth strategies.
 Frozen Yogurt Market Report Highlights
Aspects
Details
Market Size By 2031
USD 17.1 billion
Growth Rate
CAGR of 5.2%
Forecast period
2021 - 2031
Report Pages
299
By Nature
By Flavor

Chocolate
Mango
Pineapple
Strawberry
Others

By Distribution Channel

Supermarket and Hypermarket
Convenience Stores
Specialist retailers
Online stores
Others

By Region

North America (U.S., Canada, Mexico)
Europe (Germany, UK, France, Italy, Belgium, Russia, Netherlands, Spain, Rest of Europe)
Asia-Pacific (China, Japan, India, Australia, South Korea, Thailand, Indonesia, Rest of Asia-Pacific)
LAMEA (Brazil, Argentina, UAE, Saudi Arabia, Chile, Turkey, South Africa, Rest of LAMEA)

Key Market Players
Saputo Inc., Britannia Industries Limited, Yogen Fruz Canada Inc., Lactalis Group, Danone Inc., MorinagaCo., Ltd., Yakult Honsha Co., Ltd., General Mills, Inc., DuPont, Chobani Global Holdings, LLC, Yogurtland Franchising, Inc., Menchie's Group, Inc., Arla Foods amba, Gujarat Cooperative Milk Marketing Federation Ltd., Nestle S.A.