Glucuronolactone Market Research, 2032
The global glucuronolactone market was valued at $380.3 million in 2022, and is projected to reach $617.3 million by 2032, growing at a CAGR of 5.2% from 2023 to 2032. Glucuronolactone is a detoxicant and one of the key precursors for the production of vitamin C. It also interacts with toxins in the body to form water-soluble compounds that are excreted via bodily fluids. When combined with other substances, glucuronolactone has been shown to have health benefits on the human body, such as boosting concentration and raising activity levels.
The pandemic of COVID-19 has had significant effects on the glucuronolactone market. Disruptions in global supply chains, limits on industrial operations, and decreased trade activity have all contributed to difficulties in obtaining raw materials and finished goods. Consumer demand fluctuations and economic uncertainty have changed purchasing patterns, impacting market growth.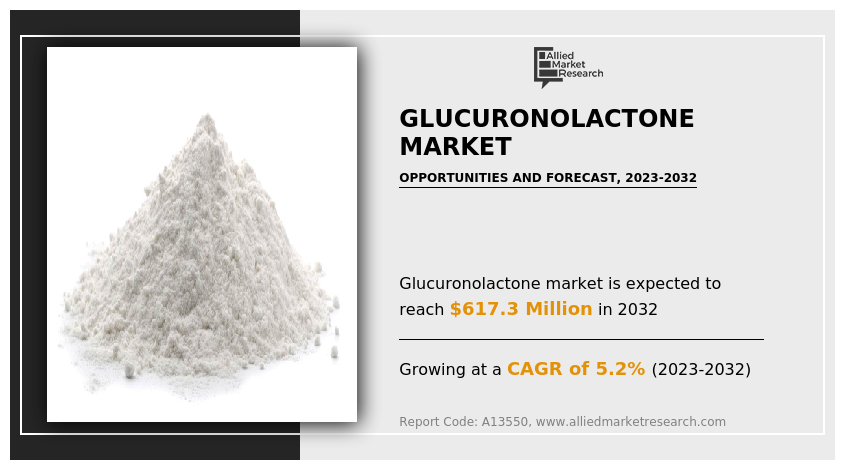 Glucuronolactone is frequently used in nutrition supplemental food (health and fitness supplements) in the form of powders and capsules to boost strength during exercise sessions and strength training. It's also found in skin care and safety goods, as well as personal care and medical products. Glucuronolactone is used to make drugs that are used to treat hepatocirrhosis, arthritis, and hepatitis, among other conditions. Animal and poultry feed also contains D-glucuronolactone.
Increased health awareness, evolving consumer lifestyles, changing consumer behaviour for embracing new products, and a rise in demand for convenience foods have all contributed to an increase in demand for dietary supplements globally. Glucuronolactone is often utilized in energy drinks due to its benefits on the human body, such as enhancing physical performance while also facilitating regeneration and rebound after activity. Energy drinks provide a fast burst of energy to the body. Energy drinks commonly include amino acids, carbohydrates, vitamin B, caffeine, and glucuronolactone. The popularity of these functional beverages has skyrocketed in recent years. A variety of factors have led to the growth in demand for power beverages, including changing customer behaviour in terms of product acceptability and increased need for ready meals. As a result of growing urbanisation, consumer tastes have altered, with a demand for things that provide an immediate energy boost. Another important element driving demand for convenience foods and beverages is the rise in disposable income in developed countries. Demand will grow owing to the thriving healthcare and pharmaceutical sectors, since it is extensively utilized in joint therapy to improve muscular performance. Increased health consciousness as a result of internet usage, as well as a shift in customer purchasing behaviour toward energy drinks are factors projected to drive the Glucuronolactone Market Growth during the forecast period.
One factor hindering the Glucuronolactone market demand  is the detrimental health effects of glucuronolactone in the long run. Moreover, the market expansion is hindered by the high cost of nutritional supplements and the diverse adverse reactions they induce. The primary issue regarding energy drinks is the requirement for extra security precautions. The additives in drinks (such as taurine, ginseng, and guarana) have yet to be well-studied and must be carefully regulated by the FDA (food and drug administration). Additionally, companies that make energy drinks may refer to their goods as "supplements" in order to get around laws that apply to other drinking options. Thus, these factors are restraining the market growth.
Rising health consciousness, changes in consumer lifestyle, and increased knowledge of health and wellness products are all contributing to market growth. Growing living standards and an increase in the demand for alcoholic energy drinks are predicted to drive market expansion throughout the projection period. Additionally, the growing demand and popularity of healthcare drinks and supplements in athletes, sportsmen, and gym professionals are driving the growth of the market. Furthermore, high usage of chemicals or metabolites in food and drug along with the adjuvant drugs for the treatment of rheumatoid arthritis will further drive the market growth.
The key players profiled in this report include Anhui Fubore Pharmaceutical & Chemical Co.Ltd., Hubei Yitai Pharmaceutical Co.Ltd., Shandong Fuyuan Bio-Tech CO.LTD., Shandong Baisheng Biotechnology Co., Ltd., Functional Food chem International Corporation, Shaoxing Marina Biotechnology Co.Ltd., Merck Millipore Corporation, Jungbunzlauer, Shandong Xinhong Pharmaceutical Co., Ltd., Roquette Frères. Investment and agreement are common strategies followed by major market players. For instance, On 2 August 2022, PepsiCo invested USD 550 million in Celsius as part of a goal to enhance its focus on the energy category and capitalize on an opportunity to collaboratively boost industry development and innovation. A long-term strategic distribution collaboration has also been created between the two companies, with PepsiCo taking over US distribution and upgrading to the position of preferred partner globally.
The glucuronolactone market segmentation on the basis of type, application, end use, and region. By type, the market is sub-segmented into powder, liquid, and tablet/capsule. By application, the market is classified into preservatives, antioxidants, processing aids & additives, energy supplements, and others. By end user, the market is classified into food & beverages, pharmaceuticals, and others. By region, the market is analyzed across North America, Europe, Asia-Pacific, and LAMEA.
The glucuronolactone market is segmented into Type, Application and End User.
By type, the liquid sub-segment dominated the market in 2022. The liquid segment of the glucuronolactone market is being propelled by several driving factors. Its convenience and faster absorption in liquid form enhance consumer preference. The rising demand for energy and sports drinks, where glucuronolactone is commonly included, fuels the market growth. Additionally, the formulation's suitability for various applications such as beverages and functional shots further boosts its adoption. As health and wellness trends persist, and consumers seek convenient and effective solutions, the liquid glucuronolactone market is poised to experience sustained expansion. These are predicted to be the major factors affecting the glucuronolactone market size during the forecast period too.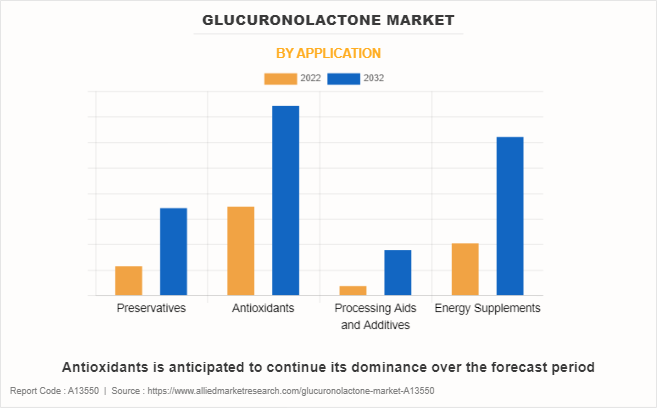 By application, the antioxidants sub-segment dominated the global glucuronolactone market share in 2022. The antioxidants segment within the glucuronolactone market is being propelled by escalating consumer awareness regarding the health benefits of antioxidants. These compounds aid in neutralizing harmful free radicals, mitigating oxidative stress, and supporting overall well-being. As individuals prioritize preventive healthcare measures, demand for antioxidant-rich products, including those containing glucuronolactone, has surged. Scientific research highlighting the potential for reducing chronic diseases and promoting longevity further amplifies this trend. Consequently, the antioxidants segment is experiencing growth due to the compelling link between glucuronolactone and its potential to contribute to a healthier lifestyle through its antioxidant properties.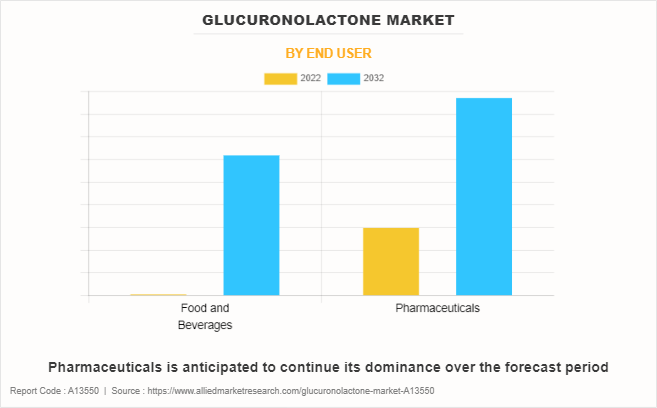 By end use, the pharmaceuticals sub-segment dominated the global glucuronolactone market share in 2022. The pharmaceutical segment of the glucuronolactone market is being driven by several key factors. Glucuronolactone's potential as a precursor in drug metabolism, aiding detoxification and supporting liver health, has spurred pharmaceutical research and development. Its inclusion in formulations targeting fatigue, cognition, and neurological disorders further propels its demand. Additionally, the growing consumer inclination towards natural and plant-based ingredients aligns with glucuronolactone's origin from glucose metabolism. These factors, coupled with its potential therapeutic benefits, are fueling the integration of glucuronolactone into pharmaceutical products, driving the Glucuronolactone Market Forecast.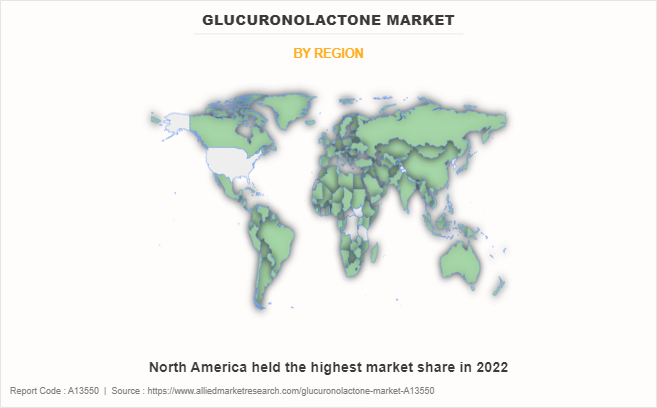 By region, North America dominated the global glucuronolactone market in 2022. The increasing population, along with a deskbound working lifestyle, is propelling market expansion in this region. Furthermore, higher food consumption and increased knowledge of the health advantages of antioxidants are boosting market expansion in this region. Due to China's significant product availability, Asia Pacific is expected to grow at the fastest rate throughout the projection period. Furthermore, government assistance, increased investment in R&D, and changing consumer lifestyles are projected to boost market expansion in this region. Apart from that, changing demographics, consumer tastes and drinking habits, and increased health consciousness are expected to boost market expansion throughout the forecast period.
Impact of COVID-19 on the Global Glucuronolactone Industry
The COVID-19 pandemic has had a significant impact on the glucuronolactone market. The global glucuronolactone market experienced supply chain disruptions due to lockdowns, travel restrictions, and reduced workforce, affecting the availability of raw materials and ingredients.

Manufacturing facilities faced closures and reduced capacity, leading to production slowdowns and potential shortages of glucuronolactone-containing products. Increased focus on health and wellness during the pandemic influenced consumer demand for dietary supplements, impacting the demand for products containing glucuronolactone.

Online sales channels, which gained prominence during the pandemic, are likely to remain a crucial distribution channel for glucuronolactone-containing products as consumers continue to value convenience and safety in their purchasing habits.

The post-COVID-19 impact might vary across regions based on vaccination rates, economic recovery, and regulatory changes, influencing the pace of market rebound.
Key Benefits For Stakeholders
This report provides a quantitative analysis of the market segments, current trends, estimations, and dynamics of the glucuronolactone market analysis from 2022 to 2032 to identify the prevailing glucuronolactone market opportunities.
The market research is offered along with information related to key drivers, restraints, and opportunities.
Porter's five forces analysis highlights the potency of buyers and suppliers to enable stakeholders make profit-oriented business decisions and strengthen their supplier-buyer network.
In-depth analysis of the glucuronolactone market segmentation assists to determine the prevailing market opportunities.
Major countries in each region are mapped according to their revenue contribution to the global market.
Market player positioning facilitates benchmarking and provides a clear understanding of the present position of the market players.
The report includes the analysis of the regional as well as global glucuronolactone market trends, key players, market segments, application areas, and market growth strategies.
 Glucuronolactone Market Report Highlights
Aspects
Details
Market Size By 2032
USD 617.3 million
Growth Rate
CAGR of 5.2%
Forecast period
2022 - 2032
Report Pages
300
By Type

Powder
Liquid
Tablet/Capsule

By Application

Preservatives
Antioxidants
Processing Aids and Additives
Energy Supplements

By End User

Food and Beverages
Pharmaceuticals

By Region

North America (U.S., Canada, Mexico)
Europe (Germany, UK, France, Spain, Italy, Rest of Europe)
Asia-Pacific (China, Japan, India, South Korea, Australia, Rest of Asia-Pacific)
LAMEA (Brazil, Saudi Arabia, United Arab Emirates, South Africa, Rest of LAMEA)

Key Market Players
Shandong Baisheng Biotechnology Co., Ltd., Shandong Xinhong Pharmaceutical Co., Ltd., Hubei Yitai Pharmaceutical Co.Ltd., Anhui Fubore Pharmaceutical & Chemical Co.Ltd., Merck Millipore Corporation, Functional Food chem International Corporation, Shaoxing Marina Biotechnology Co.Ltd., Jungbunzlauer, Roquette Freres, Shandong Fuyuan Bio-Tech CO.LTD.