The HIV drugs market size was valued at $30,891.48 million in 2019, and is expected to reach $36,495.47 million by 2027, registering a CAGR of 3.8% from 2020 to 2027. Human immunodeficiency virus (HIV) is a chronic and life-threatening disease, which can be transferred from one person to another through blood-to-blood and sexual contact. It is a virus, which attacks immune cells known as CD-4 cells, making the body susceptible to infections and other diseases. Over the years, the rise in prevalence of HIV disease worldwide has positively influenced the demand for HIV drugs. HIV drugs help to prevent the multiplication of HIV virus, thereby reducing the risk of its transmission.
COVID-19 lockdowns and other restrictions disrupted HIV testing and in many countries led to steep drops in diagnoses and referrals to HIV treatment worldwide. The pandemic has impacted the growth of HIV drugs market by suspending and resuming drug supplies. Additionally, declines in new prescriptions for patients in the US, Europe and other regions/countries affected by COVID have dampened global demand for antiretroviral and antibiotic products. In addition, failure of suppliers to deliver ARVs (antiretroviral drug) on time, shutdown of land & air transport services, and limited access to health services within countries as a result of the pandemic are anticipated to negatively impact the HIV drugs market in the future.
Limited supply of ARVs (antiretroviral drug) from manufacturers and disruption of land & air transport services is expected to negatively impact the HIV drugs market.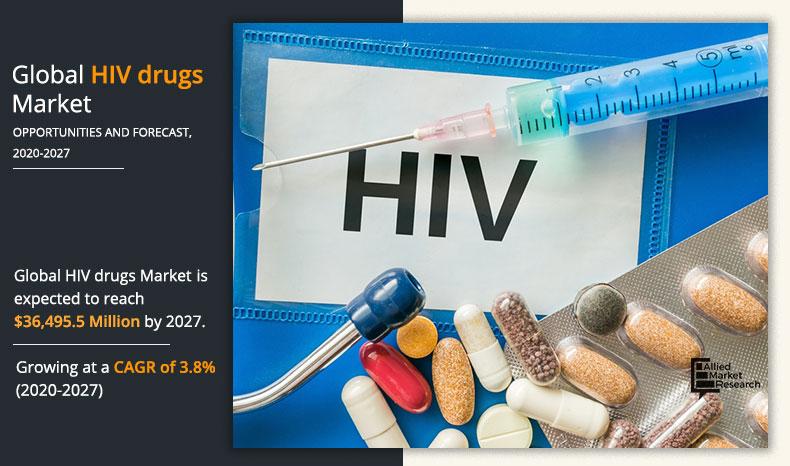 Furthermore, rescheduling of HIV treatment procedures may result in a backlog of patients in the future. Medication and lifestyle changes can be recommended for these cases until further notice. Moreover, in countries, such as the U.S., there are private hospitals and clinics that treat HIV. However, clinics and patients are suggested to maintain social distancing norms. Therefore, all these factors are anticipated to impact the HIV drugs market as well in the future.
The major factors that boost the HIV drug market growth include increase in prevalence of HIV and rise in treatment & diagnosis rate. Moreover, there is an escalation in government initiatives to increase awareness among people about HIV cause, symptoms, available treatment options, and the crucial role of these treatments to control the HIV virus growth. Therefore, rise in awareness through such government initiatives is also expected to drive the HIV drugs market growth. However, stringent government regulations for the approval and commercialization of HIV drugs are expected to restrain the market growth. 
The factors responsible for the growing prevalence rate include unprotected sex, contaminated needles or syringes, and majorly the lack of awareness about the mode of transmission. A vital factor driving the HIV-1 market growth is the concerted efforts of the government and various NGOs to provide at-risk individuals with greater accessibility to disease testing and treatment for infected persons. Moreover, the introduction of generic drugs, which are cost-effective and chemically identical to branded drugs, acts as another factor that contributes to the demand for HIV drugs.
HIV Drugs Market

---
By Medication Class
Multi-class Combination drugs is projected as one of the most lucrative segment.
Get more information on this report :
Request Sample Pages
Hiv Drugs Market Segmentation
The global HIV drugs market is bifurcated into medication class and region. On the basis of medication class, the market is classified into multi-class combination drugs, nucleoside reverse transcriptase inhibitors (NRTIs), non-nucleoside reverse transcriptase inhibitors (NNRTIs), protease inhibitors (PIs), fusion inhibitors (FI), entry inhibitors, and HIV integrase strand transfer inhibitors. Based on region, the market is analyzed across North America (the U.S., Canada, and Mexico), Europe (Germany, the UK, France, Spain, Italy, and rest of Europe), Asia-Pacific (Japan, China, India, Australia, South Korea, and rest of Asia-Pacific), and LAMEA (Brazil, South Africa, Saudi Arabia, and rest of LAMEA).
Segment review
On the basis of medication class, the multi-class combination drugs segment holds the largest market share as it involves the most advanced technique used for the treatment of HIV infection. Furthermore, this is attributed to the increase in adoption of drugs from this medication class owing to their better results in the control of HIV & related co-infections and their ease in consumption & adherence.
HIV Drugs Market

---
By Region
Asia-Pacific region would exhibit the highest CAGR of 4.4% during 2020-2027.
Get more information on this report :
Request Sample Pages
Snapshot of the Asia-Pacific HIV drugs market
Asia-Pacific presents lucrative opportunities for key players operating in the HIV drugs market, owing to increase in population coupled with high growing geriatric population. In addition, rise in healthcare expenditure and developing guidelines are expected to propel the market growth in the region.
The report provides a comprehensive analysis of key players that operate in the HIV drugs market, such as Boehringer Ingelheim International GmbH, Merck & Co., Inc., Pfizer Inc., Gilead Sciences, Inc., GalaxoSmithKline plc., Johnson & Johnson, F. Hoffmann-La Roche Ltd., Teva Pharmaceutical Industries Ltd., AbbVie, and Cipla.
Key Benefits for Stakeholders
This report provides a detailed quantitative analysis of the current HIV drugs market trends and forecast estimations from 2020 to 2027, which assists to identify the prevailing market opportunities.
An in-depth market analysis includes analysis of various regions, which is anticipated to provide a detailed understanding of the current trends to enable stakeholders formulate region-specific plans.
A comprehensive analysis of factors that drive and restrain the growth of the HIV drugs market is provided.
The projections in this report are made by analysing the current trends and future HIV drugs market potential from 2020 to 2027, in terms of value.
An extensive analysis of various regions provides insights that are expected to allow companies to strategically plan their business moves.
Key players within the HIV drugs market are profiled in this report and their strategies are analysed thoroughly, which help in understanding competitive outlook of the market.
Key market segments
By Medication Class
Multi-class Combination Drugs
Atripla
Complera
Prezcobix/Prezista
Stribild
Genvoya
Odefsey
Symtuza
Triumeq
Descovy
Others
Nucleoside Reverse Transcriptase Inhibitors (NRTIs)
Emtriva
Epivir
Epzicom
Truvada
Biktarvy
Others 
Non-nucleoside Reverse Transcriptase Inhibitors (NNRTIs)
Protease Inhibitors(PIs)
Aptivus
Kaletra
Lexiva
Norvir
Viracept
Others 
Entry Inhibitors
HIV Integrase Strand Transfer Inhibitors 
By Region
North America
Europe

Germany
UK
France
Italy
Spain
Rest of Europe

Asia-Pacific

Japan
China
India
Australia
South Korea
Rest of Asia-Pacific

LAMEA

Brazil
Saudi Arabia
South Africa
Rest of LAMEA
Key Players of HIV Drugs Market
Boehringer Ingelheim International GmbH
Merck & Co., Inc.
Pfizer Inc.
Gilead Sciences, Inc.
GalaxoSmithKline plc.
Johnson & Johnson,
F. Hoffmann-La Roche Ltd.
Teva Pharmaceutical Industries Ltd.
AbbVie
Cipla.