Inspection Robots Market Outlook- 2030
The inspection robots market size was valued at $940.0 million in 2020, and is projected to reach $13,942.5 million by 2030, growing at a CAGR of 30.9% from 2021 to 2030. Inspections are a crucial part of operations of many industrial sectors. Conducting regular thorough examinations help to ensure reliable equipment performance, worker safety and more in the manufacturing, piping, transportation, and other industries. Inspection robots are used to detect faults or failure in the manufacturing process, quality of products, leakage through pipelines, transportation of products and several other activities that are carried out in industries. In addition, these inspection robots can be stationary or mobile, depending on nature of their operations.
The COVID-19 pandemic affected the new R&D and manufacturing of inspection robots therefore hampering the Inspection Robots Market. However, the market started recovering by the start of 2021.
Major driving factors of the inspection robots market are that it can inspect things and places that a human cannot inspect though naked eyes. Inspection robots can fit into small spaces, easily climb up walls, and move around machinery or vehicles. This can make inspections more thorough and simpler to perform. In addition, it can inspect things using infrared imaging as well as can scan outer layer and can inspect objects inside packaging. In addition, use of inspection robots in the manufacturing industry ensures safety of workers. Inspection robots allows workers to avoid potentially dangerous inspection sites by enabling them to conduct inspections remotely. Workers can also avoid heavy manufacturing equipment, underwater components of offshore drilling pads, and other potentially hazardous locations. Moreover, inspection robots improve data organization and helps in lowering cost of operations. However, cost of installation of inspection robots can be relatively high. Integration of cameras, sensors, and other electronics with operating software boosts cost of inspection robots. In addition, robots can fail to operate and response in situations and can cause hazardous situations. Moreover, during the outbreak of the COVID-19 pandemic, construction, manufacturing, hotel, and transport industries were majorly affected. Manufacturing activities were halted or restricted. Construction and transportation activities, along with their supply chains, were hampered on a global level. This led to decline in manufacturing of inspection robots as well as their demand in the market, thereby restraining the inspection robots market growth. Conversely, industries are gradually resuming their regular manufacturing and services. This is expected to lead to re-initiation of inspection robots companies at their full-scale capacities, which is likely to help the inspection robots market to recover by end of 2021.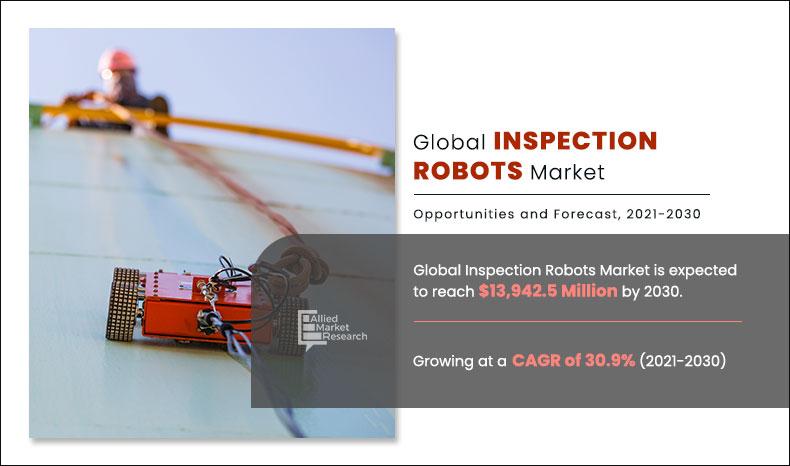 Furthermore, adoption of IoT in inspection robots can make them more advanced and increase their efficiency by integrating Artificial Intelligence (AI). Such advancements are anticipated to open new avenues for the inspection robots market.
The inspection robots market is segmented into type, application, end user, and region. By type, the market is segregated into stationary robotic arm and mobile robots. The testing type covered in the study include automated metrology and non-destructive inspection. On the basis of end user, the market is divided into oil & gas, food & beverages, pharmaceutical, electronics, and others. Region wise, it is analyzed across North America (the U.S., Canada, and Mexico), Europe (Germany, France, Italy, Spain, and rest of Europe), Asia-Pacific (China, Japan, South Korea, India, and rest of Asia-Pacific), and LAMEA (Latin America, the Middle East, and Africa).
Inspection Robot Market

---
By End-user Industry
Pharmaceutical segment is projected to grow at a significant 31.9% CAGR
On the basis of robot type, in 2020, the mobile robots segment dominated the inspection robots market, in terms of revenue, whereas the stationary robotic arm segment is expected to witness growth at the highest CAGR during the forecast period. By testing type, the non-destructive inspection segment led the market in 2020, in terms of revenue; however, the automated metrology segment is anticipated to register highest CAGR during the forecast period. Depending on end user, the oil & gas segment led the market in 2020, in terms of revenue. Conversely, the pharmaceutical segment is anticipated to exhibit the highest CAGR in the coming years. Region wise, the North America segment garnered the highest revenue in 2020; however, LAMEA is anticipated to register highest CAGR during the forecast period.
Inspection Robot Market

---
By Robot Type
Stationary robotic arm segment is expected to grow at a significant rate during the forecast period.
Competition analysis
The major players profiled in the Inspection Robots market include Eddyfi Technologies, Gecko Robotics, Inc., Genesis Systems, Honeybee Robotics, Invert Robotics, JH Robotics, Inc., Montrose Technologies Inc., Shenzhen SROD Industrial Group Co., Ltd., Universal Robots, and Waygate Technologies. Major companies in the market have adopted product launch, business expansion, and partnership as their key developmental strategy to offer better products and services to customers in the inspection robots market.
Inspection Robot Market

---
By Region
North America holds a dominant position in 2020 and Asia-Pacific is expected to grow at a highest rate during the forecast period.
Key Benefits For Stakeholders
The report provides an extensive analysis of the current trends, future estimations, and dynamics of the inspection robots market. 
In-depth inspection robots market analysis is conducted by estimations for the key segments between 2021 and 2030. 
Extensive analysis of the market is conducted by following key product positioning and monitoring of top competitors within the market framework.
A comprehensive analysis of four major regions is provided to determine the prevailing opportunities.
The inspection robots market forecast analysis from 2021 to 2030 is included in the report.
The key market players operating in the market are profiled in this report and their strategies are analyzed thoroughly, which help to understand the competitive outlook of the inspection robots industry.
 Inspection Robot Market Report Highlights
Aspects
Details
By Robot Type

Stationary Robot Arm
Mobile Robots

By Testing Type

Automated Metrology
Non-destructive Inspection

By End User

Oil and Gas
Food and Beverage
Pharmaceuticals
Electronics
Others

By Region

North America (UNITED STATES, CANADA, MEXICO)
Europe (GERMANY, FRANCE, ITALY, SPAIN, Rest of Europe)
Asia-Pacific (CHINA, JAPAN, INDIA, SOUTH KOREA, Rest of Asia Pacific)
LAMEA (Latin America, Middle East, Africa)

Key Market Players
Eddyfi Technologies, Gecko Robotics Inc, Montrose Technologies Inc, JH Robotics Inc, Waygate Technologies, Genesis Systems, Shenzhen SROD Industrial Group Co Ltd, Invert Robotics, Universal Robots, Honeybee Robotics