The global isoflavones market size was valued at $975.0 million in 2020, and is projected to reach $1,707.5 million by 2030, registering a CAGR of 5.8%.
Isoflavones are polyphenolic compounds that have both estrogen-agonist and estrogen-antagonist properties. The most active isoflavones found in soy beans are genistein, daidzein, and glycitein, which are phytoestrogens with strong estrogenic activity. Numerous clinical studies have found genistein and daidzein to be beneficial in the prevention of breast and prostate cancer, cardiovascular disease, and osteoporosis as well as in the relief of postmenopausal symptoms.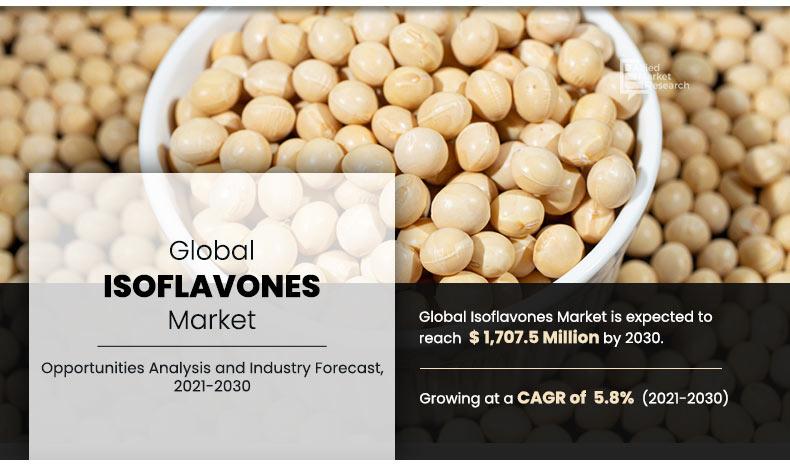 A major factor influencing the market growth is rising consumer preference for natural products. Consumers' growing concerns about preventive healthcare and the efficacy of isoflavones on health are driving the market growth. Isoflavones demand has increased due to an increase in functional food consumption, which, in addition to providing basic nutrition, has the potential to improve health.
Obesity, digestive problems, gastrointestinal infections, vaginal infections, and other ailments affect the vast majority of people today. Taking this into consideration, market players are developing isoflavones products to help with the treatment of such diseases. The impact of growing health concerns on the isoflavones market is moderate at the moment, but it is expected to increase in the near future.
When compared to a placebo, treatment with soy isoflavones improves nonverbal memory, construction abilities, verbal fluency, and dexterity in geriatrics. Geriatrics is the medical care given to older adults, an age group that is difficult to define precisely. Many trials have been carried out to investigate the potential cognitive benefits of soy isoflavones in Alzheimer's disease patients, and every trial resulted in a successful outcome. As a result, the rapidly growing geriatric population will drive the market growth.
The food & beverages industry growth due to increased consumer spending and favorable government support is expected to be a major driving factor in the isoflavones market growth. The isoflavones market demand is expected to be driven by rising demand for fortified foods among health-conscious consumers. However, stringent government regulations in the industry are expected to impede the market growth. 
The growing awareness of the health benefits of isoflavones, combined with aging population, is expected to provide isoflavones market opportunity. The isoflavones market is expected to grow due to an increase in the number of working women and rising consumers' purchasing ability of healthy food products.
COVID-19 had a moderate impact on the isoflavones market. Isoflavones are widely used in a variety of products, including dietary supplements, pharmaceuticals, and nutraceuticals. Products containing isoflavones are used to improve muscle mass and immunity. This factor led to a high demand for isoflavones products in the market.
Growing health concerns and increased consumer awareness have increased consumer demand for isoflavones, resulting in an increase in fortified food demand. In addition to available medical health supplements, consumers prefer isoflavones dietary supplements as they are plant-based.
A significant increase in demand for nutraceutical supplements across all age groups, combined with an increase in global disposable income, is a major driving force for the market growth. Geriatrics is becoming a global trend in both developed and developing countries. Consumers across the world are becoming more concerned with changes in their quality of life and are paying close attention to the foods they consume. Attributed to an increase in the number of working mothers globally, increased consumption of infant formula containing flavonoids is expected to drive the market growth. As a result of the increased demand for isoflavone products from emerging markets, the isoflavones market will have lucrative opportunities for growth.
The isoflavones market is segmented on the basis of source, application, form, and region. On the basis of source, it is categorized into soy, red clover, and others. As per application, it is divided into pharmaceuticals, nutraceuticals, cosmetics, and food & beverages. According to form, it is fragmented into powder and liquid. Region-wise, the isoflavones market analysis is done across North America, Europe, Asia-Pacific, and LAMEA. By considering all these segments, isoflavones market forecast is done.
By source, the soy segment garnered the highest isoflavones market share in 2020 due to rising consumer awareness of the benefits of consuming soy isoflavones in regular diet such as the prevention and treatment of heart disease, asthma, diabetes, and multiple cancers. On the basis of application, the pharmaceuticals segment is anticipated to dominate with the highest market share during the forecast period. This is attributed to the growing application of isoflavones due to their therapeutic and functional properties. By form, the powder segment led the market in 2020. This is attributed to isoflavones market trends such as ease of handling and use of isoflavones in a wide range of pharmaceutical and nutraceutical applications.
The prominent isoflavones industry players include Cargill, Archer-Daniels-Midland (ADM) Company, Badische Anilin und Soda Fabrik (BASF), DSM, International Flavors and Fragrances, Shanghai Freemen, Nexira Inc., Bio-gen Extracts, Sikko Industries, SK Bioland, BioMax, Herbo Nutra, and NutraScience Labs.
The most important growth strategy used by the market players is product launch, which is followed by collaboration, agreement, expansion, and acquisition. To diversify their product offerings, several businesses have developed innovative products. Product launches are used by a variety of businesses to broaden their market reach and serve international customers.
Key Benefits For Stakeholders
This report provides a quantitative analysis of the current trends, estimations, and dynamics of the global isoflavones market from 2021 to 2030 to identify the prevailing market opportunities.
Porter's five forces analysis highlights the potency of the buyers and suppliers to enable stakeholders to make profit-oriented business decisions and strengthen their supplier–buyer network.
In-depth analysis of the market segmentation assists to determine the prevailing market opportunities.
Major countries in each region are mapped according to their revenue contribution to the global industry. The market player positioning segment facilitates benchmarking while providing a clear understanding of the present position of the key market players.
The report includes analysis of the regional as well as global market, key players, market segments, application areas, and growth strategies.
Key Market Segments
By Source
By Application
Pharmaceuticals
Nutraceuticals
Cosmetics
Food & Beverages
By Form
By Region
North America
Europe 

UK
Germany
France
Italy
Spain
Netherlands
Rest of Europe

Asia-Pacific

China
Japan
India
South Korea
Australia
Rest of Asia-Pacific

LAMEA

Brazil
South Africa
Argentina
Saudi Arabia
Rest of LAMEA