The global lycopene market size was valued at $107.2 million in 2020, and is projected reach $187.3 million by 2030, registering a CAGR of 5.2% from 2021 to 2030. The powder segment led in terms of lycopene market share in 2020 and is expected to retain its dominance throughout the forecast period.
Lycopene is type of carotenoid which is most commonly found and extracted naturally from tomatoes. It has several medicinal properties, which has increased its demand in the nutraceutical market. Lycopene has a very high content of antioxidants, which helps fight free radicals in the body. Free radicals cause cell damage in the body, and consumption of lycopene helps in the reduction of these free radicals. Lycopene is also associated with the reduction in heart related diseases, and also, claims to reduce the risk of diabetes and certain types of cancers, such as lung, bone, and prostate cancers. Another advantage of lycopene is that it helps in maintaining cardio-vascular health. The most common source of lycopene in the body is consumption of fruits and vegetables containing lycopene. However, increase in consumption of fast food and adoption of unhealthy lifestyles have promoted the consumption of lycopene in the form of nutraceutical supplements. With growing studies across the world regarding health benefits of lycopene, the demand for the same is expected to rise in the nutraceutical industry.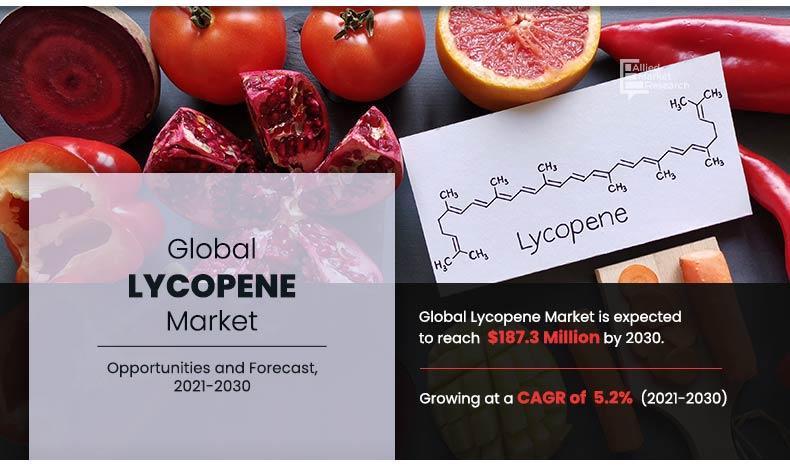 With the growing population in the world, the global demand for animal feed is expected to amplify, owing to surge in consumption of meat products. According to the Food and Agriculture Organization (FAO), supplementation of livestock and poultry feed with natural fruit and plant material and extracts containing bioactive components has shown positive results. These additives are able to improve feed efficiency, antioxidant status, nutrient digestion, animal health, and growth performance. The major concern of the livestock industry is the epidemiological diseases, mainly confined to the immune systems, and digestion. Lycopene improve antioxidant capacity and immune function, and regulate lipid metabolism in chicken. Furthermore, diet supplemented with lycopene decreased the cholesterol content in meat of broilers. Owing to anti-oxidative benefits of lycopene, its demand is expected to witness a surge in the animal feed market.
Segment review
The global lycopene market is segmented on the basis of form, nature, application, and region. Based on form, the global lycopene market is bifurcated into powder and others. By nature, the market is segmented into natural and synthetic. Based on application, the global market is classified into food and beverage, nutraceuticals and pharmaceuticals, and cosmetics and personal care. By region, the global lycopene market is also studied across North America, Europe, Asia-Pacific, and LAMEA.
By form, the lycopene market is segmented into powder and others Powder segment leads in terms of market share due to its high versatility in a myriad of applications and is expected to experience growth with highest CAGR during the forecast period.
By nature, the lycopene market is categorized into natural lycopene and synthetic lycopene. Natural lycopene has become increasingly popular in the last few years. This is attributed to the fact that natural lycopene has witnessed increase in demand in various applications. Moreover, rise in consumer awareness about the side effects associated with synthetic counterparts has shifted their preference toward natural lycopene, which is regarded as safe for consumption.
By application, lycopene can be segmented into food and beverage, nutraceuticals and pharmaceuticals, & cosmetics and personal care. Lycopene is used in food mainly as a coloring agent to impart color to drinks, confectionaries and food items. Food and beverage segment leads in terms of market share however, nutraceutical and pharmaceutical segment is expected to grow with highest CAGR during the forecast period.
The report focuses on the lycopene market growth prospects, restraints, and opportunities of the global lycopene market. The study provides Porter's five forces analysis to understand the impact of various factors such as competitive intensity of competitors, bargaining power of suppliers, threat of substitutes, threat of new entrants, and bargaining power of buyers of the lycopene market.
Some of the major players profiled for in the lycopene market analysis include Allied Biotech Corporation, Archer-Daniels-Midland Company, AromataGroup SRL, BASF SE, Divis Laboratories Ltd., Doehler Group SE, ExcelVite, Givaudan International SA, Kalsec Inc., and Koninklijke DSM N.V. Other prominent players analyzed in the report are Chr Hasen A/S, DDW The Color House, International Flavors & Fragrances Inc., Sensient Technologies Corporation, Cyanotech Corporation, and Kemin Industries, Inc.
COVID-19 Impact Analysis
Lycopene industry was slightly negatively impacted by the pandemic owing to disruption in supply chains.
The COVID-19 pandemic created new growth avenues for the supplement market. As a result, usage of lycopene in nutraceutical industry is projected to gain high traction in coming years. 
However, with changing consumer behavior demand for natural, clean label and premium quality products is anticipated to increase.
KEY BENEFITS FOR STAKEHOLDERS
The report provides an extensive analysis of the current and emerging lycopene market trends and opportunities.
The report provides detailed qualitative and quantitative analysis of the current trends and future estimations that help evaluate the prevailing lycopene market opportunities in the market.
The lycopene market forecast is offered along with information related to key drivers, restraints, and opportunities.
The market analysis is conducted by following key product positioning and monitoring the top competitors within the market framework.
The report provides extensive qualitative insights on the potential and niche segments or regions exhibiting favorable growth.
Lycopene Market Segments
By Form
By Nature
By Application
Food and Beverage
Nutraceuticals and pharmaceuticals
Cosmetics and Personal Care
By Region
North America
Europe

UK
Germany
France
Italy
Spain
Rest of Europe

Asia-Pacific

China
Japan
India
ASEAN
Australia
South Korea
Rest of Asia-Pacific

LAMEA

Brazil
Argentina
Saudi Arabia
South Africa
Rest of LAMEA