The mango butter market size was valued at $100.4 million in 2019, and is projected to reach $163.4 million by 2027, growing at a CAGR of 13.0% from 2021 to 2027. 
Mango butter is a soft, semisolid, creamy textured, organic butter with mild & sweet aroma, which is extracted from shelled kernel of the tropical fruit mango. It was first invented and used for commercial use by All Organic Trading (AOT) in 2011 and became available as a bio-certified ingredient for cosmetics in 2013.  This natural ingredient is emollient, softening, and soothing to the skin along with high oxidative ability, wound healing, and regenerative abilities. In terms of consistency, mango butter is similar to shea & cocoa butter, but differs in fatty acid content.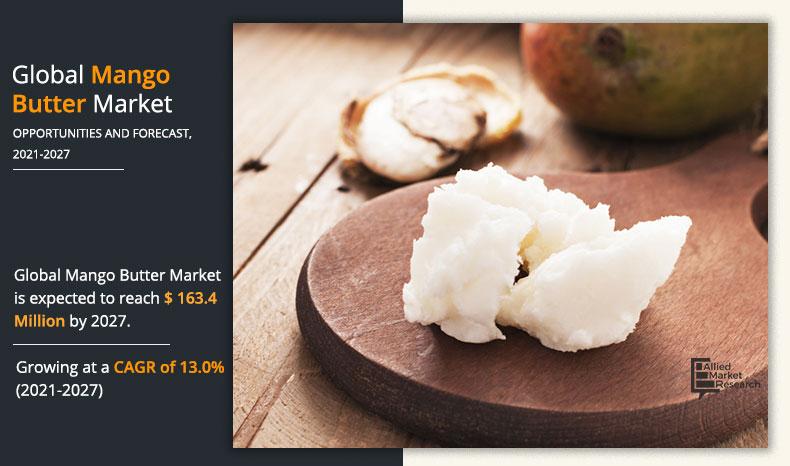 Various applications of mango butter include dry skin & rash treatment, blemishes & wrinkles clearance, itch & sunburn healing, wounds & cracks healing, relive from insect bites, and treatment of eczema & dermatitis. In addition, it is used in the production of skin care lotion, creams, soaps, balms, whipped body butters, lip balms, dermatologic products, shaving cream, and replacement of cocoa butter & shea butter.
The growth of the global mango butter market is majorly driven by increase in demand from the personal care industry, as it is used in the treatment of acne, dry & itchy skin, chapped lips, frostbite, psoriasis, rashes, stretch marks, and sunburn. However, mango butter is a relatively new product, thus, its high cost hampers the market growth. On the contrary, increase in R&D activities to produce mango butter with enhanced attributes and make it available at less cost is expected to provide potential growth opportunities for the mango butter market forecast period.
The rapidly growing cosmetic industry is significantly contributing to strengthen the global economy. Plant-based ingredients such as exotic lipids/fats obtained from de-shelled, pressed fruit kernels of shea, mango, and kokum tree are gaining traction in the cosmetic as well as pharmaceutical industries. This is attributable to the fact that they exhibit multiple properties that make them suitable for skin care. For instance, these natural lipids possess high oxidative resistance and are biocompatible, having no deleterious effects on the skin. 
Mango Butter Market

---
By Type
Refined mango butter segment dominates the global market and is expected to retain its dominance throughout the forecast period.
The mango butter industry is still in its establishment phase, and is growing with a notable rate. Presently, the use of mango butter has been witnessed to increase considerably in cosmetic, pharmaceutical, and food industries. 
North America and Europe are known to be the dominant regions in the mango butter market. Mango butter has gained high traction in European countries, owing to its increased demand from consumers. Rise in social media usage and surge in per-capita income play an important role in contributing toward the overall growth of the mango butter market. However, Asia-Pacific is expected to exhibit significant growth in the future, owing to rise in demand for different types of natural cosmetic products made with mango butter. In addition, the region has witnessed considerable surge in number of millennials, who are forefront consumers of cosmetic products. Therefore, rise in millennial population is anticipated to offer remunerative opportunities for growth of the mango butter market. Technological advancements have helped producers of mango butter in Europe to refine mango butter, hence, the mango butter market in Europe is witnessing considerable development.
Mango Butter Market

---
By Application
Pharmaceutical segment is expected to grow at a highest CAGR of 14.6% during the forecast period.
Furthermore, the global COVID-19 pandemic has caused major disruptions in the trade of mango butter. This development has affected prices and has led delay in deliveries of mango butter to Europe and North America. Imports for mango butter have grown at a double-digit growth rate in the last five years. Demand for mango butter is increasing in Europe especially for organic mango butter. Although some traders in Europe and North America are experiencing decline in demand during the COVID-19 pandemic, this is anticipated to be temporary. 
The global coronavirus pandemic has created a number of challenges for exporters in the developing countries such as India, China, Pakistan, Indonesia, and Vietnam. The challenges mango butter exporters face are likely to remain for the foreseeable future, as different states and governments around the world attempt to tackle COVID-19 with various measures. Import and export restrictions on goods and lockdown measures imposed by governments are key challenges exporters face in Indian and Asian markets, as they disrupt global supply chain.
Some of key companies profiled in the report include All Organic Treasure, Alzo International Incorporated, Avi Natural, Manorama Industries Limited, Ekologie Forte Pvt. Ltd., HallStar Company, Jarchem Industries Inc., Henry Lamotte Oils GmbH, Madina Industrial Corp., and Natural Sourcing, LLC
Mango Butter Market

---
By Region
North America dominates the market and is expected to grow with a CAGR of 12.3% during the forecast period
Key Benefits For Stakeholders
The report provides an extensive analysis of the current and emerging mango butter market trends and opportunities in the market.
The report provides detailed qualitative and quantitative market analysis of current trends and future estimations that help evaluate the prevailing mango butter market opportunities.
The key countries in all major regions are mapped on the basis of mango butter market share.
A comprehensive analysis of the factors that drive and restrict the mango butter market growth is provided.
An extensive mango butter market analysis is conducted by following key product positioning and monitoring the top competitors within the market framework.
The report provides extensive qualitative insights on the potential segments and regions exhibiting favorable growth.
 Mango Butter Market Report Highlights
Aspects
Details
By Type
By Application

Cosmetics
Food
Pharmaceutical

By Region

North America (U.S., Canada, Mexico)
Europe (Germany, France, UK, Italy, Spain, Russia, Rest of Europe)
Asia-Pacific (China, India, Australia, Japan, South Korea, ASEAN, Rest of Asia-Pacific)
LAMEA (Latin America, Middle East, Africa)

Key Market Players
AVI NATURALS, .EKOLOGIE FORTE PRIVATE LIMITED, JARCHEM INDUSTRIES, INC., ALZO INTERNATIONAL INCORPORATED, HALLSTAR COMPANY, HENRY LAMOTTE FOOD GMBH, NATURAL SOURCING, LLC, MADINA INDUSTRIAL CORP, MANORAMA INDUSTRIES LIMITED, ALL ORGANIC TREASURES GMBH (AOT)