Medical Sensors Market Research, 2032
The global medical sensors market size was valued at $16.4 billion in 2022, and is projected to reach $30.1 billion by 2032, growing at a CAGR of 6.7% from 2023 to 2032. Medical sensors are devices that respond to physical stimuli such as sound, heat, light, pressure, and any specific motion and convey the resulting impulse to a clinician for examination. Physical stimuli are converted into electrical impulses by these devices. There are numerous applications for medical sensors in disease detection, treatment, and management. As a result of improvements in these sectors, low-power electronics, power harvesting, MEMS technology, and smart materials have all seen increased use in the healthcare industry.
The disease has spread to over 100 countries after the COVID-19 viral epidemic in December 2019, and the World Health Organization declared it a public health emergency on January 30, 2020. The pandemic affected drug supply and demand directly, disrupted distribution methods, and had a financial impact on businesses and financial markets. As a result of nationwide lockdowns, some countries, including China, India, Saudi Arabia, the United Arab Emirates, Egypt, and others, had difficulty transferring pharmaceuticals from one region to another.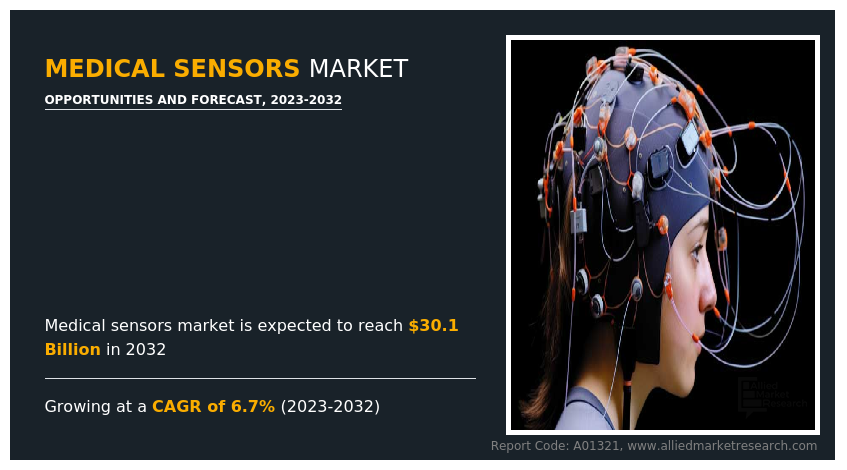 Rapid technological advances in end-use industries enable the development of novel sensor designs and applications, which in turn drives innovation across all sensor types, such as glucose monitoring sensors, through continuous R&D activities centered on technologies such as microfluidics, wireless sensing, and so on. As the population ages, there will be a greater demand for sensors and systems that can monitor a user's health, aid with everyday tasks, and help cut healthcare expenses. With the increasing acceptance of medical wearables, demand for medical sensors will increase further due to new features such as ability to continuous monitoring of vital signs, give real-time alerts, and give warning signals, which are utilized to avert fatal events such as heart attack or stroke.
However, low reimbursements and stringent government restrictions are important issues that could limit the growth of the medical sensors market. In healthcare, many medical sensors and related gadgets are used to monitor and diagnose various illnesses. Insurance reimbursements are frequently used by patients to cover the expenses of these devices and related services. Patients may be unwilling to adopt these technologies if reimbursements are insufficient or unavailable, and healthcare providers may be hesitant to invest in them if reimbursements are insufficient or unavailable. This has the potential to reduce overall demand for medical sensors and stifle market growth.
Many collaborations have been launched in recent years to develop technologically advanced and user-friendly medical sensors, which are projected to provide adequate chances to manufacturers functioning in the worldwide disposable medical sensors market. Medtronic Plc., for instance, teamed with Qualcomm Inc. in May 2016 to develop a continuous glucose monitoring device for type 2 diabetic patients. It aimed to provide clinical data output that might be used to facilitate individualized medicine by enabling continuous monitoring of patients' glucose levels. Medtronic Plc. partnered with the Chengdu city government in January 2016 to expand its manufacturing facilities in China.
The key players profiled in this report include TE Connectivity, Medtronic, Analog Devices, Texas Instruments, STMicroelectronics, Tekscan, NXP Semiconductors, Sensirion, ON Semiconductor Corporation, and Amphenol Corporation. Investment and agreement are common strategies followed by major market players. For instance, in August 2022 - A team at Nottingham Trent University and Nottingham University Hospitals NHS Trust developed a new biosensor capable of accurately monitoring the condition of a chronic wound. The aim is for the technology to be embedded into dressings so that they do not need to be continually removed and replaced to assess how an injury is healing. Additionally, In March 2019, STMicroelectronics developed water-resistant MEMS pressure sensors that can be used for wearable devices. These sensors can be used for monitoring applications and in fitness trackers and other industrial sensing applications.
The medical sensors market is segmented on the basis of type, application, technology, end user, and region. By type, the market is sub-segmented into flow sensor, image sensor, temperature sensor, pressure sensor, and others. By application, the market is classified into diagnostic, therapeutic, monitoring, wellness & fitness, and others. By technology, the market is classified into wearable sensors, implantable sensors, wireless, and others. By end user, the market is classified into hospitals, clinics, home care settings, and others. By region, the market is analyzed across North America, Europe, Asia-Pacific, and LAMEA.
The medical sensors market is segmented into Technology, End User, Type and Application.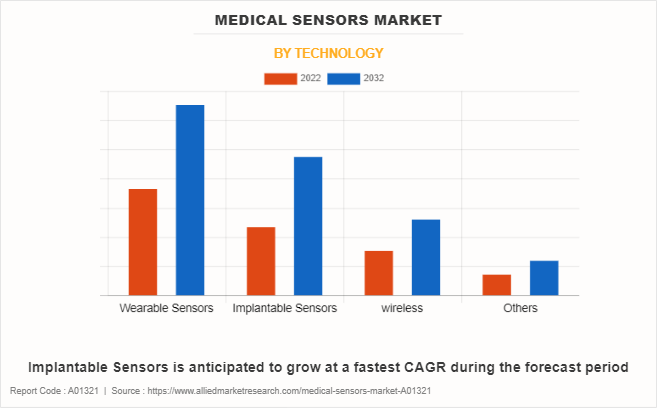 By technology, the wearable sensors sub-segment dominated the global medical sensors market share in 2022. Wearable sensors have gained popularity in the medical sensors industry, providing several benefits that lead to better patient care, remote monitoring, and overall healthcare management. Wearable sensors give continuous, real-time data on a variety of physiological characteristics, including heart rate, blood pressure, oxygen saturation, and activity levels. This continuous monitoring is extremely helpful in tracking changes in a patient's health status over time. Wearable sensors are built for precision and dependability, delivering high-quality data that allows healthcare practitioners to make informed decisions. This is critical in therapeutic situations as well as for research.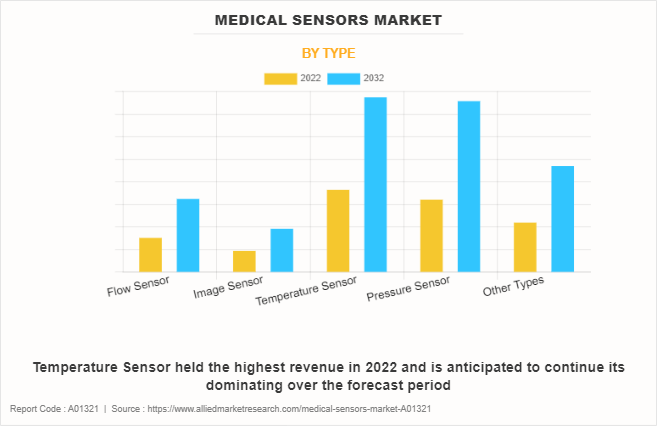 By type, the temperature sensor sub-segment dominated the market in 2022. Temperature sensors are used in a variety of medical applications. These applications include monitoring body temperature during RF hyperthermia treatments and measuring patient surface temperature during MRI, fMRI, or other particularly tailored electro-surgical procedures. These sensors are also commonly used in research and development for NMR/MRI systems. Furthermore, Temperature sensors are essential in healthcare for monitoring patient body temperature, especially in critical care units and during the COVID-19 pandemic for fever detection. For instance, in May 2020, GOQii, a healthcare firm, announced the release of Vital 3.0, which includes temperature sensors capable of measuring heart rate, body temperature, and blood pressure. Vital3.0's temperature sensors reduced the need for frequent contact between COVID-19 patients and caregivers. These sensors aided in the detection of early COVID-19 signs. Moreover, iIn February 2020, Texas Instruments increased their temperature sensor portfolio with the introduction of linear thermistors, which provide about 50% more accuracy than negative temperature coefficient sensors. Even under harsh settings, these sensors provide reliable temperature sensing.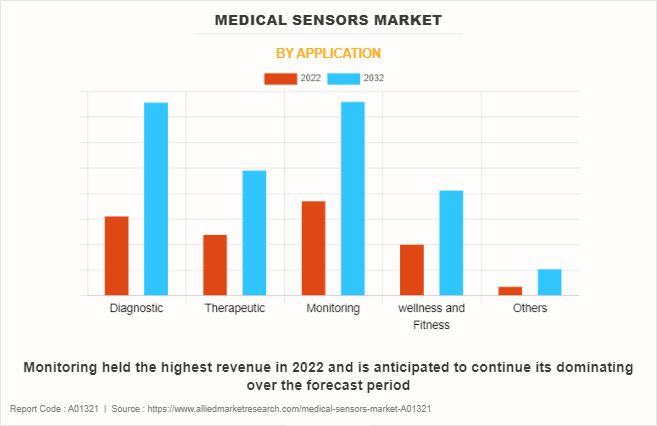 By application, the monitoring sub-segment dominated the global medical sensors market size in 2022. Monitoring sensors are devices or equipment that collect data and information from the environment or specialized systems. They are also known as sensors for monitoring or sensors for surveillance. Monitoring sensors provide real-time data, enabling quick response and decision-making. This is extremely useful in applications where rapid changes must be identified and treated, such as industrial processes and environmental monitoring. These factors are anticipated to drive the monitoring sensors in medical sensors market growth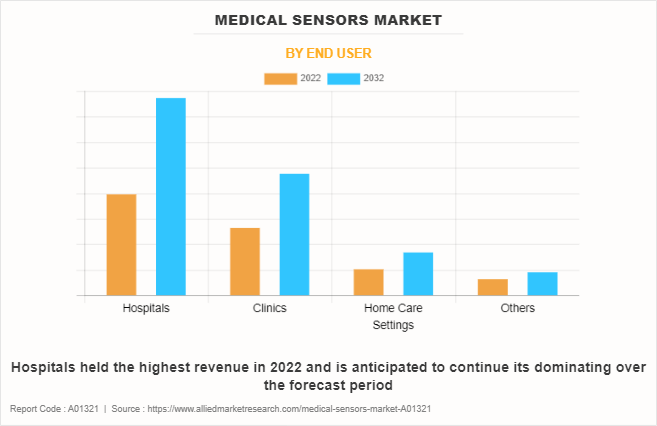 By end user, the hospitals sub-segment dominated the global medical sensors market share in 2022. Greater finance capabilities, high patient numbers, and the availability of sufficient staff has contributed to this segment's supremacy in the sector. The ability to serve a large number of patients is a critical driver in the healthcare business. When a section is able to recruit and serve a large number of patients, it can generate substantial revenue and maintain a strong customer base. High patient volumes are typically the result of high-quality care, a comprehensive range of services, and a solid reputation for healthcare knowledge.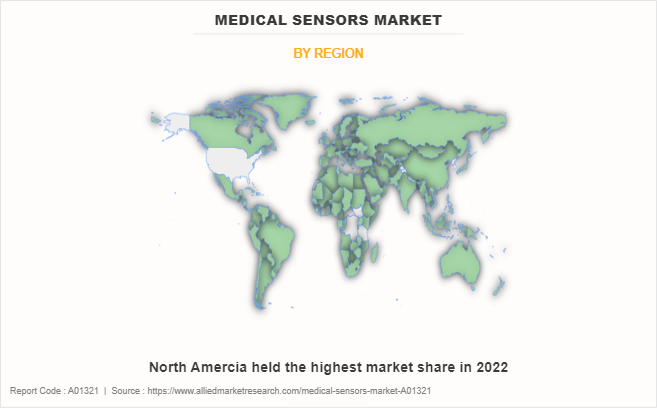 By region, North America dominated the market in 2022 and is projected to maintain its position during the medical sensors market forecast period. The industry's growth is attributed to reasons such as a well-developed healthcare infrastructure, the presence of adequate and advantageous reimbursement regulations, the quick adoption of sophisticated medical technologies, and important companies in the region. Gator Bio Inc. introduced GatorPlus, a next-generation biolayer interferometry (BLI) instrument, as well as two new biosensor products, the Gator Flex SA Kit and the Gator AAVX probe, in September 2021. The GatorPlus complements the existing GatorPrime instrument. The Gator Flex SA Kit and Gator AAVX probe bring the company's off-the-shelf biosensor range in North America to 14 devices. Health Canada has begun an endeavor in recent years to alter its regulatory approach to better accommodate digital health innovations, notably medical devices.
 Additionally, the medical device industry is dependent on various industries where the United States has a competitive advantage, including microelectronics, telecommunications, instrumentation, biotechnology, and software development. Collaborations have resulted in recent developments such as neurostimulators, stent technology, biomarkers, robotic assistance, and implantable electronic devices.
Impact of COVID-19 on the Global Medical Sensors Industry
The COVID-19 pandemic has had a significant impact on various aspects of the healthcare industry, including medical sensors The COVID-19 pandemic raised the global medical sensors demand. Innovative and advanced technology can assist the world tackle sickness in the modern era of artificial intelligence (AI). The medical sensors' ' capacity to capture data such as blood pressure, ECG, body temperature, blood oxygen saturation levels, heart rate, and other parameters aids in the prevention of diseases such as the COVID-19. As a result, wearable technology is expected to progress at a high rate in order to assist patients who have been exposed to the novel coronavirus (COVID-19).
The COVID-19 pandemic had a beneficial impact on the worldwide medical sensor market due to the introduction of new products. For instance, in May 2020, GOQii, a healthcare business, announced the release of Vital 3.0, which has temperature sensors that can assess heart rate, body temperature, and blood pressure. Vital3.0's temperature sensors reduced the need for frequent contact between COVID-19 patients and carers. These sensors aided in the detection of early COVID-19 signs.
Key Benefits For Stakeholders
This report provides a quantitative analysis of the market segments, current trends, estimations, and dynamics of the medical sensors market analysis from 2022 to 2032 to identify the prevailing medical sensors market opportunity.
The market research is offered along with information related to key drivers, restraints, and opportunities.
Porter's five forces analysis highlights the potency of buyers and suppliers to enable stakeholders make profit-oriented business decisions and strengthen their supplier-buyer network.
In-depth analysis of the medical sensors market segmentation assists to determine the prevailing market opportunities.
Major countries in each region are mapped according to their revenue contribution to the global market.
Market player positioning facilitates benchmarking and provides a clear understanding of the present position of the market players.
The report includes the analysis of the regional as well as global medical sensors market trends, key players, market segments, application areas, and market growth strategies.
 Medical Sensors Market Report Highlights
Aspects
Details
Market Size By 2032
USD 30.1 billion
Growth Rate
CAGR of 6.7%
Forecast period
2022 - 2032
Report Pages
320
By Technology

Wearable Sensors
Implantable Sensors
wireless
Others

By End User

Hospitals
Clinics
Home Care Settings
Others

By Type

Flow Sensor
Image Sensor
Temperature Sensor
Pressure Sensor
Other Types

By Application

Diagnostic
Therapeutic
Monitoring
wellness and Fitness
Others

By Region

North America (U.S., Canada, Mexico)
Europe (Germany, UK, France, Spain, Italy, Rest of Europe)
Asia-Pacific (China, Japan, India, South Korea, Australia, Rest of Asia-Pacific)
LAMEA (Brazil, Saudi Arabia, United Arab Emirates, South Africa, Rest of LAMEA)

Key Market Players
Tekscan, Analog Devices, ON Semiconductor Corporation, TE Connectivity, STMicroelectronics, NXP Semiconductors, Medtronic, Amphenol Corporation, Sensirion, Texas Instruments