Metabolomics Market Insight (2021-2030)
The global metabolomics market size was valued at $2,032 Million in 2020, and is projected to reach $6,663 Million by 2030, registering a CAGR of 12.2% from 2021 to 2030. Metabolomics is the study and analysis of the biochemical processes involving intermediates and byproducts of metabolic activities. These products are known as metabolomes, which reflect the cluster of all metabolites involved in various reactions in an organism, which include metabolic intermediates, signaling molecules, secondary metabolites, and hormones. Metabolomics includes the utilization of various analytical techniques for the determination of metabolites such as, spectroscopy, chromatography, and multivariate analysis. Metabolites are closely related to the phenotype of an organism, and can be used for a wide range of applications such as, substantial equivalence testing, phenotyping of genetically modified plants, identification of gene function, and biotic-abiotic stress reaction analysis.
It facilitates researchers and scientists to calculate physiological effects and observe adverse reaction of drugs on an organism. The global metabolomics market is driven by increase in adoption of metabolomics in precision medicine and advent of diagnostics tests for diagnosis of chronic diseases. Moreover, technological advancements in analytical techniques and upsurge in R&D expenditure are expected to boost the market growth.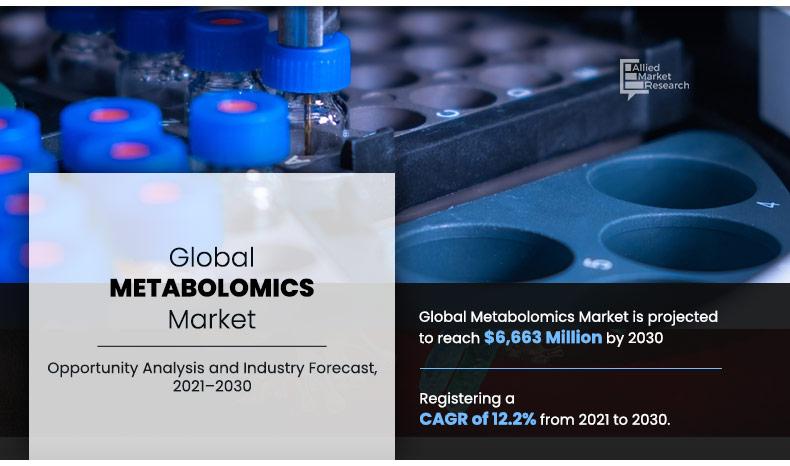 Segment Review
Furthermore, metabolomics has the ability to detect a large number of metabolites from fluid or tissue sample in a single step and it also can yield great amounts, which leads to rise in demand for metabolomics thereby driving the growth of the market. Nuclear magnetic resonance spectroscopy (NMR) and mass spectrometry (MS) are the most common analytical techniques employed for metabolomics applications. Currently, a variety of techniques within these two technological fields is being developed to deal with the type of sophisticated samples examined in metabolomics studies. Owing to such remarkable recognition abilities metabolomics promises huge potential in disease diagnosis, prognosis, and therapeutic development.
Restraints for metabolomics market are high cost of metabolomic instruments and scarcity of professionals. Top notch analytical and separations devices are very expensive as the cost of raw materials and manufacturing costs of such equipment's is very high. For instance, the cost for mass spectrometry and high-performance liquid chromatography devices ranges between million and thousand dollars per device, high cost of metabolomics instruments can slow down the growth of the market in developing and underdeveloped areas as even commercial buyers would be incapable of purchasing such equipment, which in turn hampers the applications of metabolomics technology.
Smart pricing strategy is anticipated to increase the customer base; thereby, positively impacting the growth of the global metabolomics market. Opportunities for metabolomic market are immense in disease diagnosis. Early detection of chronic diseases allows healthcare providers to plan for effective disease treatment, thereby improving patient survival rate and aiding in the complete elimination of the disease from patient's biological system.
What is the Impact of COVID-19 Pandemic on the Metabolomics Market?
The World Health Organization (WHO) on January 30, 2020 declared COVID-19 flare-up a general wellbeing crisis of international concern. Coronavirus has impacted around 210 countries across the globe. Owing to the COVID-19 pandemic, state run administrations across the globe declared inescapable lockdowns as well as friendly distancing measures to forestall breakdown of the healthcare structure. States have additionally given constraints and preventions on undertakings and elective surgeries. These deterrents continue to influence the growth of various industries, and the speedy impact of the episode changes starting with one industry then onto the following. The scattering, production, and store network have been impacted, due to execution of lockdown across the globe. 
COVID-19 has had a positive impact on the metabolomics market. This is due to the fact that metabolomics is applied in research for understanding the diseases, COVDI-19. For instance, alterations in the plasma metabolone reflect the clinical presentation of COVID-19 patients in mild, moderate, and critical COVID-19 cases. The alterations revealed major stage-associated shifts in the metabolome, at least 77 metabolites including amino acids, lipids, polyamines & sugars, as well as their derivatives, were altered in critical COVID-19 patient's plasma as compared to mild COVID-19 patients. Hence, this led to surge in applications of metabolomics in COVID-19 related research thereby leading to a positive impact on the metabolomics market.
Global Metabolomics market Segmentation
The metabolomics market is segmented based on product & service, application, indication, and region. Based on product & service, it is divided into metabolomics instruments and metabolomics bioinformatics tools & services. The metabolomics instruments segment is further divided into separation techniques and detection techniques. The separation techniques segment is further classified into high-performance liquid chromatography, gas chromatography, ultra-performance liquid chromatography, and capillary electrophoresis. The detection techniques segment is further categorized into mass spectrometry, nuclear magnetic resonance spectroscopy, and surface-based mass analysis. 
The metabolomics bioinformatics tools & services segment is further bifurcated into bioinformatics tools & databases and bioinformatics services. Based on application, the metabolomics market is categorized into biomarker discovery, drug discovery, toxicology testing, nutrigenomics, functional genomics, personalized medicine, and others. Based on indication, it is divided into cancer, cardiovascular disorders, neurological disorders, inborn errors of metabolism, and others. On the basis of region, it is analyzed across North America, Europe, Asia-Pacific, and LAMEA.
Metabolomics Market

---
By Product And Services
Metabolomics bioinformatics tools and services segment holds the dominant position
Segment Review
By product segment the largest market for metabolomics is metabolomics bioinformatics due to a huge number of utilization in metabolomics analysis tool and services and due to increasing demand for data management it is anticipated to grow at the highest CAGR during the forecast period.
By application segment the largest market in metabolomics is biomarker discovery as technological advancement in discovery technologies, an upsurge in incidences of chronic diseases, and increase in demand for personalized healthcare and growth in recognitions for modern diagnostics tests the personalized medicine market is anticipated to grow at the highest CAGR during the forecast period.
Metabolomics Market

---
By Application
Personalized medicine segement is expected to be the most lucrative sgment during the forecast period
By indication segment, the largest market for metabolomics is for cancer as metabolomics is widely being developed in oncology sector and it is projected to drive the cancer segment and neurological disorder market is anticipated to grow at the highest CAGR during the forecast period.
By region North America is the largest metabolomics market and Asia-Pacific is anticipated to grow at the highest CAGR during the forecast period.
The key players operating in the global Metabolomics market include Agilent Technologies INC., BiocratesLife Science AG, Bio-Rad Laboratories INC., Bruker corporation, Danaher Corporation, Human Metabolome Technologies INC., LECO Corporation, Metabolon INC., Shimadzu Corporation, Water Corporation. 
Metabolomics Market

---
By Region
Asia-Pacific would exhibit the highest CAGR of 13.9% during 2021-2030
Key Benefits for Stakeholders
The study provides an in-depth analysis of the Metabolomics market, and the current trends &future estimations to elucidate imminent investment pockets.
It presents a quantitative analysis of the market from 2021 to 2030 to enable stakeholders to capitalize on the prevailing metabolomics market opportunities.
Extensive analysis of the market based on procedures and services assists to understand the trends in the industry.
Key players and their strategies are thoroughly analyzed to understand the competitive outlook of the market.