Milk Powder Market Overview:
The global milk powder market was valued at $27,783.3 million in 2017 and is projected to reach $38,086.1 million by 2025, growing at a CAGR of 4.4% from 2018 to 2025. Milk powder is a dry dairy product, manufactured by dehydrating milk using evaporation. The purpose of making milk powder is to increase the shelf life of milk without using the refrigerator. Various types of milk powder include whole milk powder, skimmed milk powder, dairy whitener, and other. It is widely consumed globally due to its nutritional benefits, which has found its application in infant formulas, confectionaries, baked desserts, and savory items.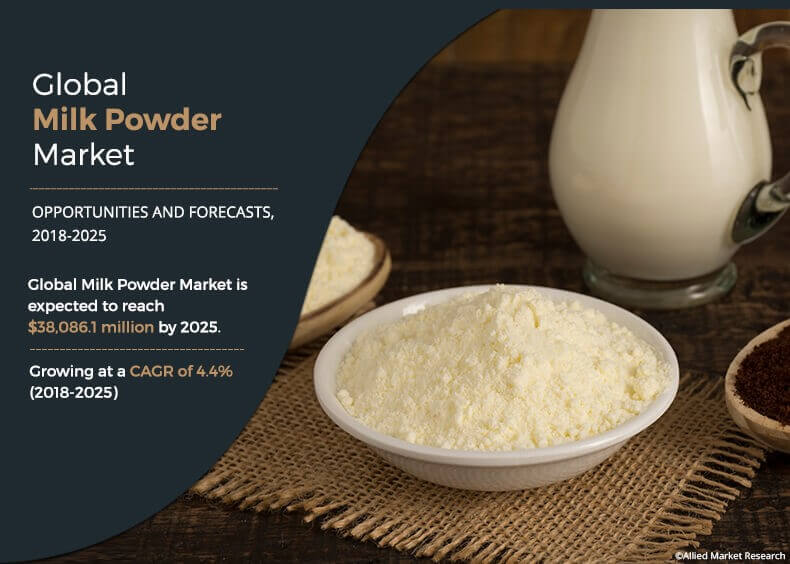 Get more information on this report:
The factors such as increase in use of milk powder in infant foods and the presence of several nutrients such as vitamin C, vitamin B12, thiamin, and high amounts of protein drive the global milk powder market. Furthermore, reduced storage and transportation costs fuel the growth of the milk powder market. However, addition of preservatives, adulteration, and strict regulations related to infant food restrains the growth of the milk powder market. Development of flavored milk powder has led to new opportunities in the market.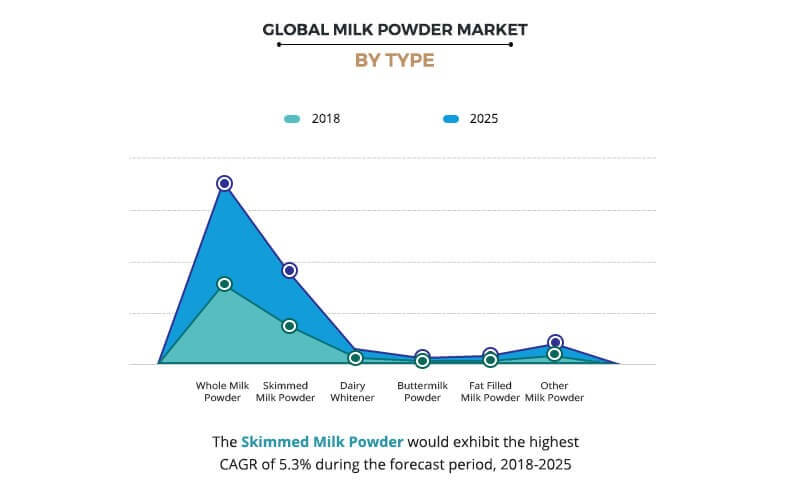 Get more information on this report:
Milk powder is made by dehydrating milk through roller drying and spray drying. Different types of milk are used to derive milk powder, which determines the composition of the milk powder. Based on report, the milk powder market is divided into whole milk powder, skimmed milk powder, dairy whitener, buttermilk powder, fat-filled milk powder, and others. Whole milk is perceived to be the most natural form of milk by a large number of consumers but is far less popular with people who are concerned about their weight or people who are on a special diet. Whole milk powder has higher calories and is suitable for people who require high amounts of calories. It is also used as an ingredient in food items that need thicker consistency.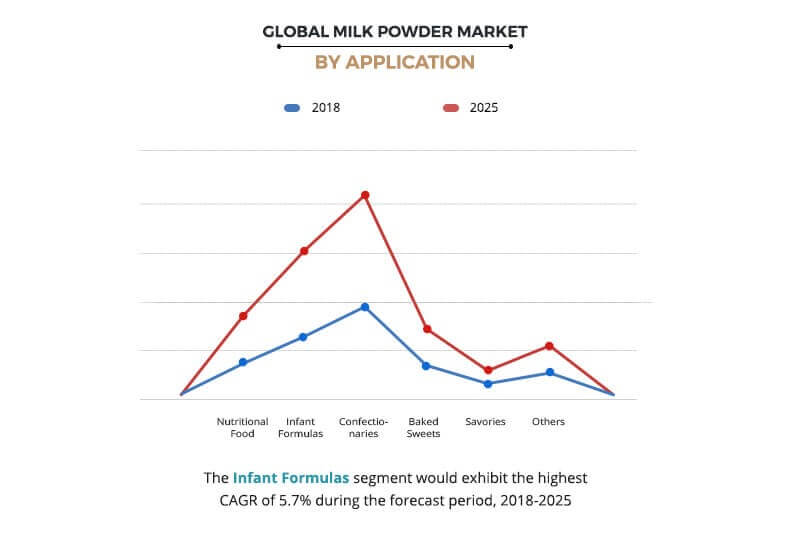 Get more information on this report:
Milk powder is applicable for use in a number of dairy products. It serves as a key ingredient in a number of health products, which are high in protein and essential vitamins. The report segments the application segment into nutritional food, infant formulas, confectionaries, baked sweets, savories, and others. Increase in participation of women in labor force has led to rise in number of women working outside their houses, which drives the growth of the infant formulas market. Infant formulas present an appealing alternative to working mothers for their babies as per the need and convenience.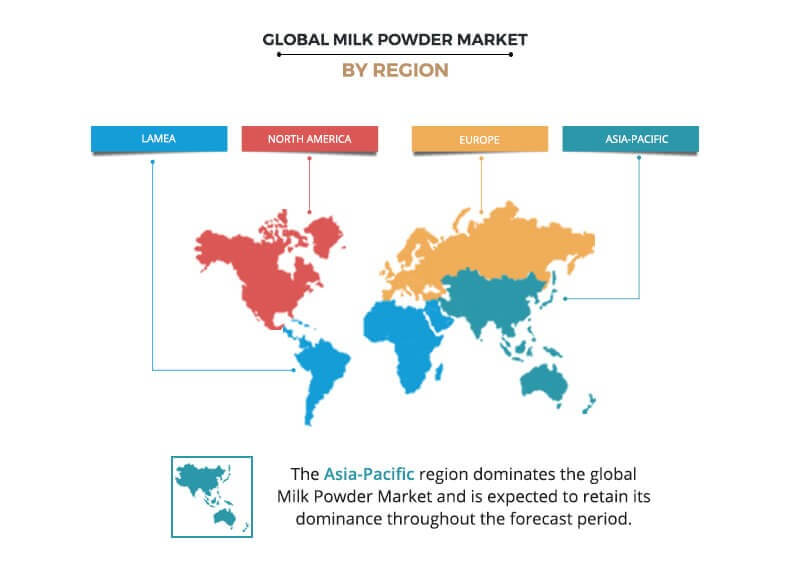 Get more information on this report:
Based on region, the milk powder market is analyzed across North America, Europe, Asia-Pacific, and LAMEA. The milk powder market in the Asia-Pacific is driven by changing lifestyles, which is led by globalization and increase in working population. The rise in the affluent population and increase in penetration of internet and social media drives the consumption of processed and packaged food, which makes way for packaged goods in the region. Whereas, in LAMEA, the milk powder market continues to grow quickly due to changes in consumer work and lifestyles, which as a result has encouraged people in the region to start depending on packaged food item. Moreover, increase in consumption of infant formulas has added to the demand for milk powder in the region.
Key players profiled in the report include Arla Foods amba, Dairy Farmers of America Inc., Danone, Dean Foods Company, Fonterra Co-operative Group, Kraft Foods Inc., Lactalis Group, Nestle S.A, Saputo Inc., and Schreiber Foods Inc.
Key Benefits for Milk Powder Market:
The report provides an extensive analysis of the current and emerging market trends and opportunities in the global milk products market.

The report provides detailed qualitative and quantitative analysis of the current trends and future estimations that help evaluate the prevailing market opportunities.

A comprehensive analysis of the factors that drive and restrict the growth of the market is provided.

An extensive analysis of the market is conducted by following key product positioning and monitoring the top competitors within the market framework.

The report provides extensive qualitative insights on the potential and niche segments or regions exhibiting favorable growth.
 Milk Powder Market Report Highlights
Aspects
Details
By Type

Whole Milk Powder
Skimmed Milk Powder
Dairy Whitener
Buttermilk Powder
Fat Filled Milk Powder
Other Milk Powder

By Application

Nutritional Food
Infant Formulas
Confectionaries
Baked Sweets
Savories
Others

By Region

North America (U.S., Canada, Mexico)
Europe (UK, Germany, France, Spain, Italy, Rest of Europe)
Asia-Pacific (China, Japan, India, Australia, South Korea, Rest of Asia-Pacific)
LAMEA (Brazil, Saudi Arabia, South Africa, Rest of LAMEA)

Key Market Players
ARLA FOODS AMBA (ARLA), DAIRY FARMERS OF AMERICA, INC. (DFA), DANONE, Fonterra Co-operative Group, Groupe Lactalis, Nestle, Royal FrieslandCampina N.V., Saputo Inc., Schreiber Foods, The Kraft Heinz Company