The global monosodium glutamate market was valued at $4.4 billion in 2021, and is projected to reach $9.8 billion by 2031, growing at a CAGR of 8.5%  from 2022 to 2031.
Monosodium glutamate (MSG) E621 is employed as a flavoring compound with an umami flavor. Monosodium Glutamate E621 is used in a variety of products, including food, beverages, pharmaceuticals, health & personal care items, including poultry, animal feed, and agriculture. Use of Monosodium Glutamate E621 in food such meats, poultry, most Chinese meals, sauces, spices, gravies, and soups. The sodium version of glutamic acid, monosodium glutamate (MSG), E621, is not a direct taste enhancer but a complex flavor enhancer. As a flavor enhancer, monosodium glutamate E621 is frequently used in food including sausage, canned vegetables, soups, and processed meats. It is also used in potato chips, frozen dinners, cold cuts, gravies, ranch dressing, and salty flavored snacks.
An important development that will create several opportunities for MSG producers is the rising popularity of the fast food industries. The development in the trend of snacking in developing and emerging regions over the past few years has raised the demand for MSG. Production and consumption in China made up the bulk of both global production and consumption in 2021. MSG is also mostly exported from China across the world.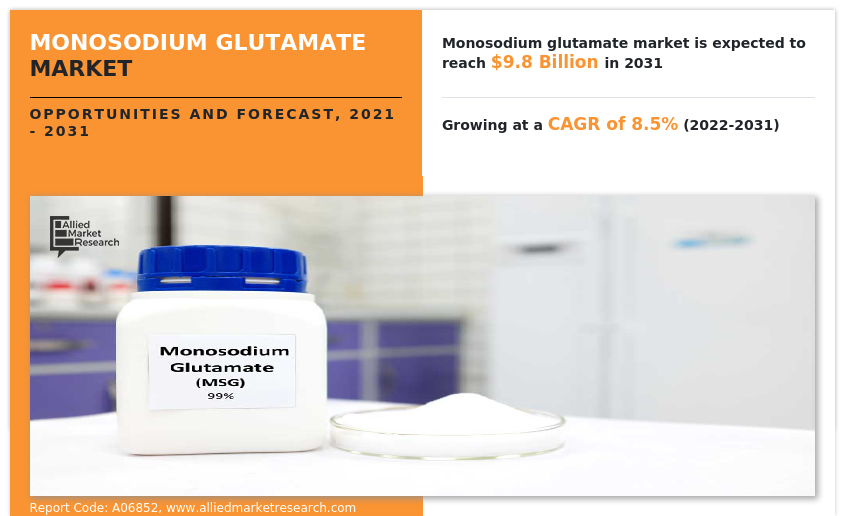 The hectic lifestyles of the urban population as well as a surge in the working population have reduced the time available for the consumption of cooked meals. This has encouraged the population to shift toward the consumption of processed food to fulfill hunger. The demand for MSG in the region is average, however, it is expected to increase, owing to changing lifestyles and eating habits of consumers. Moreover, processed food, fast food and premium food products are becoming increasingly popular among consumers. A variety of food items such as cakes and cookies, fast food, and ice creams are gaining popularity in the market. Hence, monosodium glutamate market demand is expected to rise during the forecast period.
Small amounts of food additives are widely employed in the food business to enhance the flavor, color, taste, appearance, and texture of food. Food flavoring agents are divided into 25 classes in the food sector, each of which contains roughly 230 distinct chemicals. Among them, flavor enhancers are in charge of providing food with a savory, umami, and brothy flavor. One of the most often used flavor enhancers and stabilizers in processed food is monosodium glutamate (MSG). According to an article published by the National Library of Medicine in 2020, the daily glutamate intake varies by area. In developed economies, the daily intake of MSG is thought to range between 0.3 and 1.0 g. It has recently been discovered that other European countries had average daily intakes of glutamate of roughly 1.0 g/day. The average consumption of MSG in the UK was 0.58 g/day and 10.0 g/day in Germany. An average intake of 0.56–1.00 g/day has been recorded in Nigeria, whereas in Asia it is higher with an intake of 1.1–1.6 g/day in Japan, 1.5–3 g/day in Taiwan, and 1.6–2.3 g/day in South Korea.
By 2050, the rapidly expanding food processing industry in India, aided by MSG, would have made the country the world's largest source of type II diabetes. MSG is both a "neurotoxin" and an excitotoxin that can harm the brain. In the 1990s, the Federation of American Societies for Experimental Biology (FASEB) investigated the safety of MSG. In certain sensitive people who eat 3 grams or more of MSG without food, the FASEB research identified some short-term and temporary symptoms such as headache, numbness, flushing, tingling, palpitations, and sleepiness that may occur. MSG can cause brain lesions, leptin insensitivity, obesity, links to sudden cardiac death, strokes, and stimulates the growth of cancer cells. It can also excite brain cells to death. As a result, in order to prevent such illnesses, many strive to limit their regular intake of food that contains MSG. Thus, during the forecast period, the aforementioned factors are expected to restrain the monosodium glutamate market growth.
According to the market analysis, the monosodium glutamate market is segmented into end user, sales channel, and region. By end user, it is segregated into food processing & services industry, livestock & pet food industry, retail sector and others. On the basis of sales channel, it is segmented into business to business and business to consumers. The business to consumer segment is further segregated into supermarket/hypermarket, online stores and others. Region wise, it is analyzed across North America (the U.S., Canada, and Mexico), Europe (UK, France, Spain, Italy, Russia, Germany and Rest of Europe), Asia-Pacific (China, Japan, India, South Korea, Australia and Rest of Asia-Pacific), and LAMEA (Latin America, Middle East and Africa).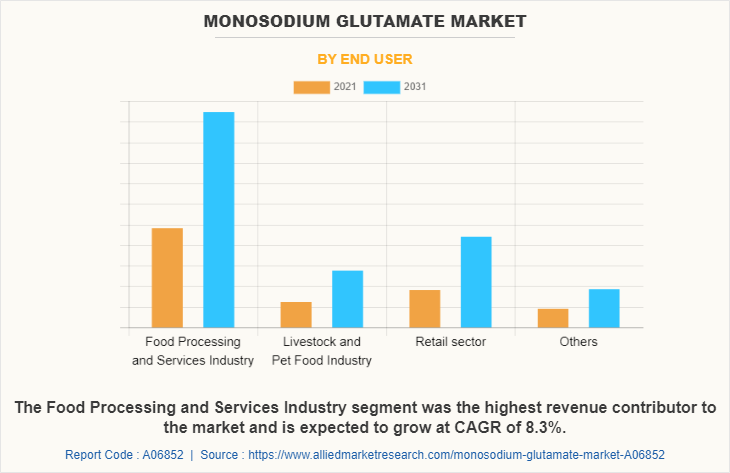 On the basis of end user, the food processing and service industry segment was valued at $2,408.6 million in 2021, and is expected to reach $5,239.6 million by 2031, with a CAGR of 8.3%. The increase in growth rate of the global population propels demand for food products in the market by consumers. Moreover, the hectic schedule of the consumers, lack of time for food preparation, and increase in work pressure encourage consumers to look for healthy alternatives. The bakery products manufacturing companies are trying to improve the quality and nutritional offerings through the food the products to cater to the market demand. Furthermore, owing to busy lifestyles, people are likely to consume more ready-to-eat food globally, which will increase the demand for bakery and confectionery items and MSG over the forecast period. Additionally, growing use of MSG to enhance diverse cuisines, expensive hotel food, and rising trend of fast food are projected to support the growth of the monosodium glutamate market during the forecast period.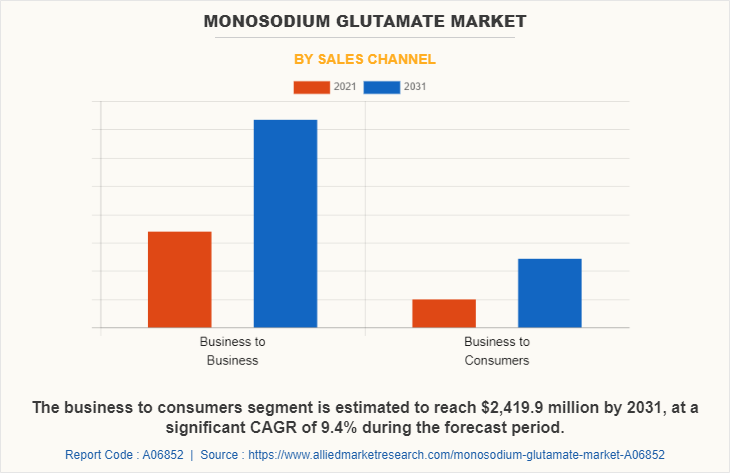 According to the monosodium glutamate market trends, depending on sales channel, the business-to-business segment is expected to reach $7,339.6 million by 2031, with a CAGR of 8.2%. Business to business sales channel of the monosodium glutamate is selling directly to the end user industries such as food processing and food service industry. Due to its high volume of sales and purchases, the business-to-business sales channel segment has accounted for most of the monosodium glutamate market size. Additionally, a number of e-commerce sites that primarily cater to business-to-business transactions, including Alibaba, DHgate, Global Sources, eWorldTrade, EC Plaza, TradeKey, HKTDC, GlobalSpec, Kinnek, and Made-in-China, are also considered.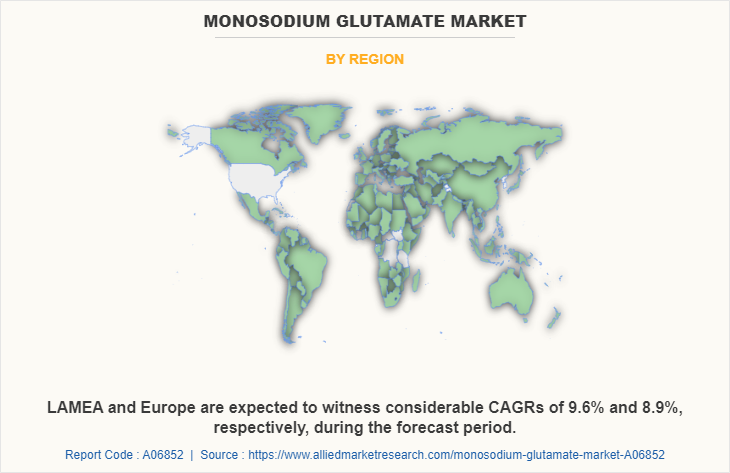 According to monosodium glutamate market opportunity, region wise, Asia-Pacific dominated the monosodium glutamate market size in 2021 and is expected to sustain its dominance throughout the monosodium glutamate market forecast period.  Asia-Pacific is the most lucrative region, owing to large-scale urbanization, increase in foreign investment, and surge in demand for processed food and beverages among millennials. The rise of the processed food market in Asia-Pacific, which in turn serves to produce income for monosodium glutamate. This has been largely attributed to changes in lifestyle and eating habits as well as an increase in purchasing power. From a production standpoint, the MSG market is expanding significantly in the Asia-Pacific area. The bakery industry is expanding at the fastest rate, which boosts consumer demand for products including frozen dough, breads, rolls, and other confectionary items. Another significant reason that has boosted demand for many food additives, including MSG, is the growth of fast-food franchises and hotels. Additionally, busy lifestyles and an increase in the number of working women are contributing to an increase in the consumption of processed food, which supports the market's expansion. MSG is frequently used in processed food to improve the flavor and aroma of food products. Therefore, the aforementioned reasons are expected to influence the growth of the Asia-Pacific monosodium glutamate market share during the forecast period.
Major competitors in the global monosodium glutamate industry employ acquisitions and product launches as their primary development strategies to keep up with expanding consumer demand. Acquisitions assist businesses in sharing the technology requirements for both their current and future products. The monosodium glutamate industry leaders would gain from this since it is expected to provide them with the opportunity to diversify their product offerings for comparably reduced costs, increasing their monosodium glutamate market share. The key players profiled in this report include HIYA INTERNATIONAL, PURAMAT, MEIHUA HOLDINGS GROUP CO., LTD, Fufeng Group, Ningxia Eppen Biotech Co., Ltd, Linghua Group Limited, Vedan International (Holdings) Limited., Arshine Pharmaceutical Co., Ajinomoto, Global Bio-Chem Technology Group Company Limited, Glutamate Association, Cargill, Incorporated, COFCO Biochemical, Foodchem International Corporation and PRAKASH CHEMICALS AGENCIES PVT. LTD.
Key Benefits For Stakeholders
This report provides a quantitative analysis of the market segments, current trends, estimations, and dynamics of the monosodium glutamate market analysis from 2021 to 2031 to identify the prevailing monosodium glutamate market opportunities.
The market research is offered along with information related to key drivers, restraints, and opportunities.
Porter's five forces analysis highlights the potency of buyers and suppliers to enable stakeholders make profit-oriented business decisions and strengthen their supplier-buyer network.
In-depth analysis of the monosodium glutamate market segmentation assists to determine the prevailing market opportunities.
Major countries in each region are mapped according to their revenue contribution to the global market.
Market player positioning facilitates benchmarking and provides a clear understanding of the present position of the market players.
The report includes the analysis of the regional as well as global monosodium glutamate market trends, key players, market segments, application areas, and market growth strategies.
 Monosodium Glutamate Market Report Highlights
Aspects
Details
Market Size By 2031
USD 9.8 billion
Growth Rate
CAGR of 8.5%
Forecast period
2021 - 2031
Report Pages
234
By End User

Food Processing and Services Industry
Livestock and Pet Food Industry
Retail sector
Others

By Sales Channel

Business to Business
Business to Consumers

Subtype

Supermarket/Hypermarket
Online Stores
Others

By Region

North America (U.S., Canada, Mexico)
Europe (Germany, France, UK, Italy, Spain, Russia, Rest of Europe)
Asia-Pacific (China, Japan, India, South Korea, Australia, Rest of Asia-Pacific)
LAMEA (Brazil, South Africa, Saudi Arabia, Rest of LAMEA)

Key Market Players
Foodchem International Corporation, Tate & Lyle, The Glutamate Association, Ajinomoto Co., Inc, Cargill, Incorporated, B&G Foods, Inc, Linghua Group Limited , Meihua Holdings Group Co, Ltd, Puramate, RM Chemicals