The mushroom market size was valued at $33,553.0 million in 2019, and is estimated to reach $53,342.0 million by 2027, registering a CAGR of 9.3% from 2021 to 2027. 
Mushrooms are fleshy and nutritious fruit bodies of certain macro-fungi groups, which can be hand-picked and appear below or above the ground. Its edibility can be described by absence of toxic effects on humans and desired taste and aroma.
The production of button mushrooms was traditionally limited to the winter season, but with the advancement of technology, in small, medium and large farms, these are produced almost throughout the year, adopting different levels of technology. It is a gilled fungus that, although now occurs much more widely, naturally occurs in Europe and North America. It is one of the most commonly cultivated mushrooms in the world, often referred to as the table mushroom, white mushroom, common mushroom, cultivated mushroom, and called champignon de Paris in France. This mushroom is sold by most grocery stores in the Western world in canned and fresh preparations. Button mushrooms are very high in minerals and vitamins. These all factors result in growth of button mushrooms in the market.
In certain types of herbal medicine, shiitake mushrooms are considered a medicinal mushroom. On the decaying wood of deciduous trees, Shiitake grows in groups, particularly shii and other chinquapins, chestnut, oak, maple, beech, sweetgum, poplar, hornbeam, ironwood and mulberry. In Southeast Asia, its natural distribution includes warm and moist climates. Shiitake mushroom helps in reducing the risk of heart disease, diabetes, autoimmune disorders and certain kind of cancers as it contains vitamin D which is essential for health. As this mushroom has medicinal properties as well, it is preferred by many of the doctors. Doctors also recommend patients to eat this type of mushrooms for their good health.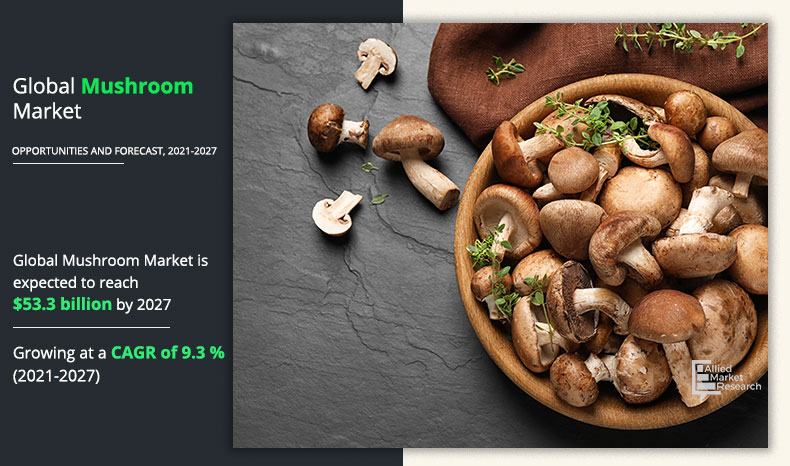 The mushroom market segments are analyzed on the basis of type, form, end use, distribution channel, and region. On the basis of type, the market is categorized into button, shiitake, oyster and others. By form, it is bifurcated into fresh and processed. Depending on end use, it is divided into residential, commercial, and industrial. On the basis of distribution channel, it is divided into hypermarkets &supermarkets, convenience stores, specialty stores, and online sales channel. Region wise, the market is analyzed across North America, Europe, Asia-Pacific, and LAMEA.
In mushroom market analysis, button mushroom market share is higher, according to the type. According to form of mushrooms, fresh mushrooms hold the largest market share. On the basis of end use, commercial segment hold the largest market share. Depending on the basis of distribution channel, specialty stores' market share is the highest.
Mushrooms can be used for medicinal purposes, owing to its nutritional values such as presence of vitamin B & vitamin D, calcium, phosphorus, potassium, and magnesium. In addition, owing to their reliance on other plants for food, mushrooms are considered as parasitic. Moreover, several initiatives have been taken by governments in developing areas, which are expected to assist this small-scale industry and help the underprivileged population involved in the industry's development process, which, in turn, is expected to propel the market growth.
Button segment is expected to grow at highest CAGR of 11.40% during the forecast period
Increase in commercial consumption of mushrooms in restaurants, supermarkets, cafeterias, and hotels is expected to play a vital role in the mushroom market demand and growth during the forecast period. In addition, change in consumer preferences toward vegan food and rise in demand for meat substitutes are also expected to propel the mushroom market growth in the future. For instance, button and shiitake mushrooms are rich sources of protein that make them attractive substitutes for meat among consumers. These are key mushroom market trends. Furthermore, change in customer tastes toward processed food consumption is the major factor expected to boost the growth of the mushroom market. However, mushrooms have a considerably short shelf life, which hampers the market growth .Moreover, cultivation of mushrooms is heavily labor intensive and requires high operational costs, which also restrains growth of the market. In addition, rapid growth in demand has led mushroom producers to use unhealthy methods for cultivation, which involve excessive chemicals and fertilizers. This has led to decline in consumption of mushroom as consumers have become highly health conscious and prefer organic food for consumption. Moreover, mushroom spores cause allergies and other respiratory diseases, which poses a threat for the labors working for the production of mushrooms. Hence, to curb these affects, equipment such as respirators are used, which contributes to the cost of production and hampers growth of the market, especially in developing countries.
Fresh mushrooms segment is expected to grow at highest CAGR of 9.70% during the forecast period.
Growth of the global mushroom market has been adversely affected by the COVID-19 outbreak. Lockdowns across the globe have led to travel restrictions, which have seriously affected distribution channel structure of the fresh mushroom industry. Moreover, manufacturing plants have stopped production, owing to low market demand. This has contributed to tremendous loss for owners of mushroom farms. In addition, it is expected to have a huge effect on farmers and the economy, which is largely dependent on the agricultural sector. During COVID-19, owing to certain circumstances considering safety and precaution measures, laborers had to go back to their homes leaving all the work on the farm. There was a loss of labor on farms due to migration of laborers. Presently, the only distribution channel available for supply of mushrooms is online channel. 
Mushroom Market

---
By End Use
Commercial segment is expected to grow at highest CAGR of 10.4% during the forecast period.
Coronavirus is likely to continue its impact on the food industry and mushroom market. For most food firms, meeting short-term demands is not a major challenge, however, industry experts and analysts have expressed a lack of understanding about the scope and scale of the effect of virus, which have also impacted the mushroom market globally. The F&B sector has encountered product supply delays as a result of this uncertainty. Moreover, rise in trend of veganism and COVID-19 is expected to have a positive effect on growth of the market for mushrooms in the coming years, owing to the fact that mushrooms such as Shiitake, Maitake, and Reishi contain medicinal properties. These mushrooms acts as immunity boosters. 
Mushroom Market

---
By Distribution Channel
Online Sales Channel segment is expected to grow at highest CAGR of 12.20% during the forecast period.
Prominent industry participants include The Mushroom Company, Monaghan Mushrooms, SA Mushrooms, White Prince Mushrooms, NABIA, To-Jo Mushrooms, Basciani Foods, Mush-boom Costa Pty. Ltd, Valley Mushrooms, and Ann Miller's Specialty Mushrooms. 
Mushroom Market

---
By Regions
Asia-Pacific dominates the market and is expected to grow at highest CAGR of 11.80% during the forecast period.
Key Benefits For Stakeholders
This report provides a quantitative analysis of the current trends, estimations, and dynamics of the global mushroom market from 2019 to 2027 to identify the prevailing market opportunities.
Porter's five forces analysis highlights the potency of buyers and suppliers to enable stakeholders to make profit-oriented business decisions and strengthen their supplier–buyer network.
In-depth analysis of the market segmentation assists in determining the prevailing market opportunities.
Major countries in each region are mapped according to their revenue contribution to the global industry. The market player positioning segment facilitates benchmarking while providing a clear understanding of the present position of the key market players.
The report includes analyses of the regional as well as global market, key players, market segments, application areas, and growth strategies.
 Mushroom Market Report Highlights
Aspects
Details
By Type

Button Mushrooms
Shiitake Mushrooms
Oyster Mushrooms
Others

By Form

Fresh Mushrooms
Processed Mushrooms

By End Use

Residential
Commercial
Industrial

By Distribution Channel

Hypermarkets & Supermarkets
Convenience Stores
Specialty Stores
Online Sales Channel

By Region

North America (U.S., Canada, Mexico)
Europe (UK, France, Spain, Italy, The Netherlands, Germany, Turkey, Rest of Europe)
Asia-Pacific (China, Japan, India, South Korea, Australia, Rest of Asia-Pacific)
LAMEA (Brazil, South Africa, United Arab Emirates, Rest of LAMEA)

Key Market Players
MUSH-BOOM COSTA (COSTA PTY LTD.), TO-JO MUSHROOMS (TO-JO), SA MUSHROOMS, VALLEY MUSHROOMS, WHITE PRINCE MUSHROOMS PTY LTD (WHITE PRINCE), NABIA, ANN MILLER'S SPECIALTY MUSHROOMS LTD. (ANN MILLER'S), BASCIANI FOODS INC., MONAGHAN MUSHROOMS, THE MUSHROOM COMPANY