The Vegan Food market size was valued at $19.7 billion in 2020 and is expected to reach $36.3 billion by 2030, registering a CAGR of 6.4 % from 2020 to 2030.
The demand for vegan food was rising before the outburst of COVID-19 pandemic one year ago, vegan, vegetarian, and flexitarian diets were rising rapidly. In addition, concerns regarding planetary sustainability, personal health, and the ethical animal's treatment surged this increased attention towards plant-based diets, and now it appears that the pandemic has only fostered this trend.
Vegan food products are generally dairy free or meat free food products that are derived or processed from plant-based sources. Meat substitutes are products that resemble actual meat in terms of taste, flavor, and appearance but are healthier than meat. Such products are increasingly being used as substitutes for regular meat and meat products. They are primarily composed of ingredients such as soy, wheat, and others. Tofu is probably the most popular meat substitute and is widely used as an alternative for pork, chicken, beef, and other meats. Similarly, dairy free food & beverage products are prepared from sources such as almond, soy, rice, coconut, and others. Popularly consumed dairy alternative based products are milk, ice cream, cheese, butter, and others.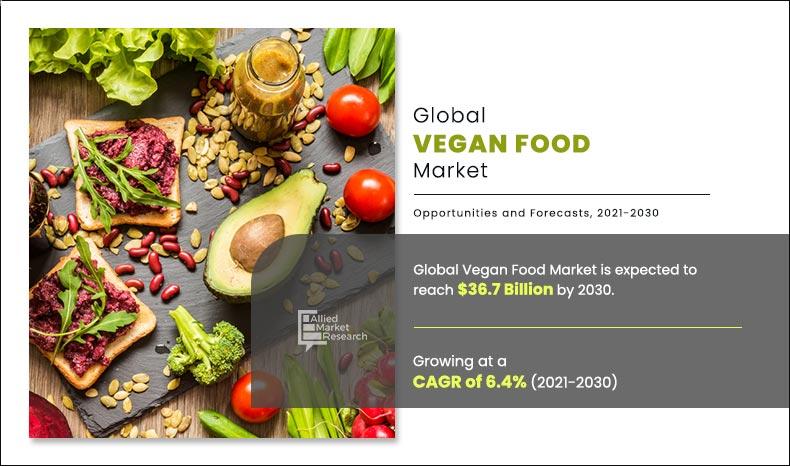 Increase in obesity rates all over the world, growth in health problems such as heart diseases, high blood pressure, diabetes, asthma, and others, have uplifted the overall health consciousness among consumers. This has resulted in increase in demand for different types of healthy food products including vegan food products. Moreover, over the past couple of years, there has been a surge in number of vegan population around the globe specifically in developed regions such as North America and Europe. This set of population is either lactose intolerant or highly conscious about the food intake. Thus, surge in number of vegan population coupled with rise in number of health conscious consumers drives the demand for vegan food products.
The global vegan food market size is segmented on the basis of product type, distribution channel, and region. By product type, the market is classified into meat substitutes, dairy alternatives, and others. By distribution channel, the Vegan Food market is bifurcated into online and offline. By region, the vegan food market is analyzed across North America (U.S., Canada, and Mexico), Europe (Germany, Spain, UK, Italy, France, and rest of Europe), Asia-Pacific (China, India, Japan, Australia, South Korea, and rest of Asia-Pacific), and LAMEA (Brazil, South Africa, Saudi Arabia, UAE, and rest of LAMEA).
Vegan Food Market

---
By Product Type
The meat substitute segment dominates the Global Vegan Food Market and is expected to retain its dominance throughout the forecast period.
Based on product type, Vegan Food market is segmented into dairy alternative, meat substitute and others. Among these natures, the meat substitute segments accounts to higher value vegan food market share. Dairy free cheese and desserts are being considered in the dairy alternative segment. These products generally have low fat and calories, with no cholesterol content. Dairy alternative food products are generally prepared from soy, almond, rice, and other ingredients such as oat, coconut, hazelnut, cashew, and others. Relatively, food products prepared from almond milk are high priced, in comparison to other products such as soy or rice. The increase in demand for naturally prepared plant-based food products such as cheese, ice creams, butter, and others, in countries such as India and China, is driving the market for dairy alternative food in terms of value sales. Moreover, the rise in number of lactose intolerant population specifically in North America, has been another key factor in triggering the demand for dairy alternative food products among the target customers. During the vegan food market forecast period, rise in health awareness among consumers is anticipated to increase new growth opportunities for the segment.
Based on distribution channel, the Vegan Food market is segmented into offline and online. Among the distribution channel, offline segment accounts to higher value vegan food market share. Some of the key retailers such as the large, small retailer including the specialty stores have been considered in the offline stores of vegan food products. The growth of supermarket/hypermarket segment in the dairy alternative market can be attributed to the increase in adoption of supermarket and hypermarket in both the mature and emerging markets. Moreover, the one stop solution provided by these retail formats makes it a very popular option for shopping for consumers. Furthermore, these retail formats offer a wide range of products at a competitive price to customers and are usually located at easily accessible areas, which adds to overall attractiveness of this segment. Moreover, the specialty stores also fulfill immediate gratification for consumers as products bought can be taken home without waiting time.
Vegan Food Market

---
By Distribution Channel
The offline sales channel segment dominates the global Vegan Food market and is expected to retain its dominance throughout the forecast period.
Based on region, the Vegan Food industry is analyzed across North America, Europe, Asia-Pacific, and LAMEA. Europe has emerged to be the largest market of meat substitutes in the world. UK, Germany, France, and other countries, primarily in Western Europe, have witnessed a decline in per-capita consumption of meats since past few years. Majorly marketed food and snack products in the region include canned mock meats, ready meals, burgers, pizza, fillets, patties, sausages, meat free meatballs, and others. Competition in European meat substitute market is intense. The market comprises some of the most renowned brands of meat substitutes such as Quorn Foods, Cauldron Foods, and others. Moreover, the market has witnessed the entry of some of the renowned players from the meat food industry such as Rugenwalder Muhle in recent years. Quorn Foods, a leading player in the European meat substitute market, has focused on market extension while strengthening its production capacity to consolidate its foothold in the market. According to the World Health Organization, around 30% to 70% of the individuals in the European Union countries are overweight. UK has emerged to be the largest market of meat substitutes in the region, owing to the prevalence of highest level of obesity. Moreover, other countries in Western Europe such as Germany and France, have emerged to be major markets of meat substitute food owing to increase in health awareness and growth in adoption of vegetarianism. Thus, the surge in demand for meat substitute products, is expected to drive the vegan food market growth in Europe.
Key players operating in Vegan Food industry include Sun Opta Inc., Whitewave Foods Company Inc., Hain Celestial Group Inc., Bhlue Diamond Growers, Archer Daniel Midland Company, Organic Valley Corporative, Panos Brand LLC., Pascual Group, Earth's Own Food Company Inc., Living Harvest Food Inc., and others.
Vegan Food Market

---
By Region
The European region dominates the global Vegan Food market and is expected to retain its dominance throughout the forecast period.
Key Benefits For Stakeholders
The report provides a quantitative analysis of the current vegan food market trends, estimations, and dynamics of the market size from 2020 to 2030 to identify the prevailing opportunities.
Porter's five forces analysis highlights the potency of the buyers and suppliers to enable stakeholders to make profit-oriented business decisions and strengthen their supplier–buyer network.
In-depth analysis and the market size and segmentation assists to determine the prevailing vegan food market opportunities.
The major countries in each region are mapped according to their revenue contribution to the market.
The market player positioning segment facilitates benchmarking and provides a clear understanding of the present position of the market players in the industry.
 Vegan Food Market Report Highlights
Aspects
Details
By Product Type

Dairy Alternative
Meat Substitute
Others

By Distribution Channel

Online Sales Channels
Offline sales channels

By Region

North America (U.S., Canada, Mexico)
Europe (UK, Germany, France, Italy, Spain, Rest of Europe)
Asia-Pacific (China, India, Australia, New Zealand, Rest of Asia-Pacific)
LAMEA (Latin America, Middle East, Africa)

Corporate Publications and AMR Analysis
PANOS BRANDS LLC (KONINKLIJKE WESSANEN N.V.), PASCUAL GROUP, SUNOPTA INC., WHITEWAVE FOODS COMPANY INC. (DANONE)