The global nisin market size was valued at $317.9 million in 2020, and is expected to garner $638.1 million by 2030, registering a CAGR of 7.3% from 2021 to 2030. In 2020, the powder segment accounted for more than half of the total market share. Nisin is a mixture of closely related natural antimicrobial polypepties produced by strains of lactococcus lactis. Lactis can be digested into amino acids by protease in human intestines and stomach. Nisin is a natural antimicrobial agent, which has been widely studied for food applications such as a dairy preservative.    
Nisin has been used in a wide range of processed foods such as cured meat, dairy products, plant protein foods, canned foods, and heat treated/air-tightly packed foods.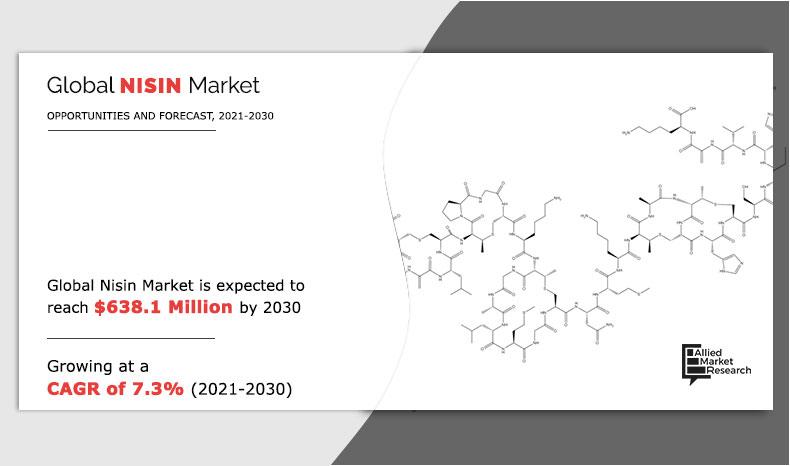 Nisin is a naturally derived additive used in a wide range of products, such as snacks, bakery, confectionery, meat, seafood, poultry, and others, to preserve natural characteristics of food and increase the shelf life of food products for storage. In addition, nisin is used to avoid spoilage during transportation. Traditional natural ways of preservation include freezing, boiling, smoking, pasteurizing, pickling, and others.
Sugar and salt are the earliest natural ways of food preservation that efficiently reduce the growth of bacteria in food.
Increase in disposable income leads to requirement of high standard of living. Further, the demand for nutritional and quality food is increasing due to rise in urbanization, increase in working population, and hectic & busy schedule of people as they do not have much time to prepare food manually. Products, such as instant noodles, frozen meals, packaged snacks, dairy products, soft drinks, energy drinks, and baked food, are integral part of our daily life. The nisin market demand for food preservatives is also expected to rise due the rise in food & beverages products as these foods contain various additives and preservations to increase shelf life of the products, maintain the quality, and reduce the spoilage by various microorganisms. 
Moreover, consumer preference toward organic food and food with zero preservatives over conventional food, such as ready-to-eat food and packaged food, is expected to restraint the nisin market growth.
Strong global concerns about the coronavirus pandemic have largely but negatively influenced the global nisin market. Moreover, due to the high demand and low supply trends, the prices of additives increased in 2020 to overcome economic instability. On the contrary, disruptions to the supply chain in shipping could lead to temporary shortages in the supply, putting upward pressure on prices in the short term.       
According to the nisin market analysis, the market is segmented on the basis of type, application, and region. By type, it is divided into powder and liquid. On the basis of application, the market is split into food & beverages, pharmaceuticals, and cosmetics and personal care. The food & beverages segment is sub-segmented into meat and poultry products, dairy products, beverages, canned products, and others. Region-wise, it is analyzed across North America (the U.S., Canada, and Mexico), Europe (Germany, France, the UK, Spain, Italy, Russia, and rest of Europe), Asia-Pacific (China, Japan, India, Australia, South Korea, Indonesia, Sri Lanka, and rest of Asia-Pacific), and LAMEA (Brazil, Argentina, the United Arab Emirates, Nigeria, Turkey, South Africa, and rest of LAMEA).    
On the basis of type, the powder segment accounted for the maximum share in the global nisin market in 2020, and is expected to remain dominant during the forecast period. The demand for powder form of nisin in the developed markets is growing rapidly due to its antibacterial properties and applications. Moreover, it can be used in processed cheese, dairy goods, flavored milk, cottage cheese, coconut water, meat, sauces, dipping sauces, canned meals, and soy sauce.
The Liquid segment would witness the fastest growth, registering a CAGR of 11.7% during the forecast period.
On the basis of application, the food & beverages segment held the significant nisin market share in 2020, and is expected to remain dominant throughout the nisin market forecast market.  
Nisin Market

---
By Application
Cosmetics & Personal care Segment witnssed a major growth rate of 8.3%
Increase in demand for nisin products in the food & beverages industry is a key factor that drives the market growth. Furthermore, rise in consumer demand for antibacterial products in developed nations is expected to boost the market growth.
On the basis of region, North America dominated the market in 2020, and accounted for maximum share in the nisin market. Attributed to the extreme growing demand for natural preservatives, North America currently is one of the leading markets of nisin. Consumers in this area are more interested in natural preservatives for keeping food safe and healthy as a result of lifestyle changes. Furthermore, it has prompted market participants to invest in bio-preservatives that are made from organic materials. 
North America held the major share of 53.0% in 2020
Players in the nisin market have adopted business expansion and product launch as their key developmental strategies to expand their market share, increase profitability, and remain competitive in the market.
The key players profiled in the report include Cayman Chemical Company, Chihon Biotechnology Co., Ltd., Duke Thomson's India Pvt. Ltd., DuPont de Nemours, Inc., Galactic, Mayasan Biotech, Merck Group, Royal DSM, Santa Cruz Biotechnology, Inc., and Siveele B.V.
Key benefits for stakeholders  
The report provides quantitative analysis of the current nisin market trends, estimations, and dynamics of the market size from 2020 to 2030 to identify the prevailing nisin market opportunity.  
Porter's five forces analysis highlights the potency of buyers and suppliers to enable stakeholders to make profit-oriented business decisions and strengthen their supplier–buyer network.
In-depth analysis and the market size & segmentation assist to determine the market potential.
The major countries in each region are mapped according to their revenue contribution to the market.    
The market player positioning segment facilitates benchmarking and provides a clear understanding of the present position of the market players in the nisin industry. 
Key market segments
By Type
By Application
Food & Beverages
Meat and Poultry Products 
Dairy Products
Beverages
Canned Products
Others
Pharmaceuticals
Cosmetics & Personal Care
By Region
North America
Europe

Germany 
France
UK
Italy
Spain 
Russia
Rest of Europe

Asia-Pacific

China
Japan
Australia
South Korea
Indonesia
Sri Lanka
Rest of Asia-Pacific 

LAMEA 

Brazil
Argentina
UAE
Turkey
Nigeria
South Africa 
Rest of LAMEA
 Nisin Market Report Highlights
Aspects
Details
By TYPE
By APPLICATION

Food & Beverages

Meat and Poultry Products
Dairy Products
Beverages
Canned Products
Others

Pharmaceuticals
Cosmetics and Personal care

By Region

North America (U.S., Canada, Mexico)
Europe (France, Germany, Italy, Spain, UK, Russia, Rest of Europe)
Asia-Pacific (China, Japan, India, South Korea, Australia, Thailand, Malaysia, Indonesia, Rest of Asia-Pacific)
LAMEA (Brazil, South Africa, Saudi Arabia, UAE, Argentina, Rest of LAMEA)

Key Market Players
Mayasan Biotech, .Cayman Chemical Company, DuPont de Nemours, Inc., Merck Group, Royal DSM, Duke Thomson's India Pvt. Ltd., .Chihon Biotechnology Co., Ltd., Siveele B.V., Santa Cruz Biotechnology, Inc., Galactic