The pea starch market was valued at $292.9 million in 2018, and is projected to reach $544.7 million by 2026, growing at a CAGR of 8.3% from 2019 to 2026. North America is one of the prominent regions in the market that solely accounted for approximately 42.1% of the total pea starch market share in 2018.
Pea starch is majorly derived from yellow peas, and is subsequently processed differently from pea flour, which is the common ingredient derived from pea. Peas contain around 40% starch, and is a white powder that is neutral in color and taste. Pea starch can be differentiated from other native starches with the high amylose content present in the pea starch granules. Thus, pea starch possesses strong gelling property, which aids in the formation of gel in water at a much lower dosage than other starches, making it an ideal gelling native starch. Pea starch is thus considered as a key ingredient for food products, which require short, elastic texture such as glass noodles or gummy confectionaries. For meat products, pea starch helps in improving texture for poultry rolls and vegetarian products.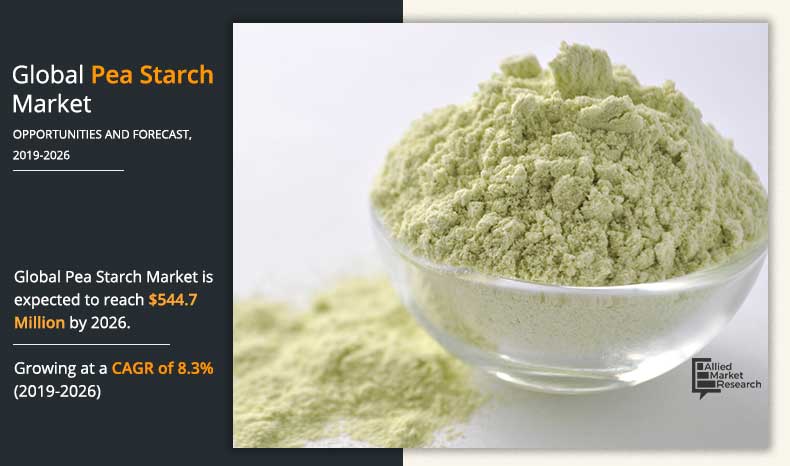 The demand of pea starch as a stabilizing and gelling agent is a key factor that is driving the growth of the global pea starch market. Furthermore, it is free from gluten and lactose, and is considered as an alternative to carbohydrate sources such as potato, while peas, and cereal starches.
Consumers who are intolerant to lactose prefer products that have pea starch as their major ingredient, as it is easy to digest as compared to the products that have lactose. Hence, increase has been witnessed in the demand for pea starch products among individuals suffering from lactose intolerance. In addition, changes in consumption pattern among consumers contribute toward the growth of the market. For instance, consumption of pea starch is expected to increase considerably among health-conscious consumers, as it possesses anti-allergic properties and is low in calories. This factor significantly contributes toward the growth of the global market. Moreover, development of new products with improved taste and benefits, along with high marketing support, boosts the global market growth. 
Upsurge in demand for pea starch in industrial applications is expected to drive the growth of the market during the forecast time period. This is attributed to the fact that its gelling, thickening, and texturizing properties make it ideal for use in pharmaceutical and/or nutraceuticals for film forming and coating tablets and capsules. Furthermore, it is majorly used to produce gelatin-free capsules. In addition, the extracts obtained from pea are used as an ingredient in personal care and cosmetic products. This is attributed to the fact that the skin lightening, skin smoothing, and anti-aging properties obtained from pea starch make it an ideal component for products such as creams & lotions and serums. In addition, surge in demand from consumers for organic and natural skincare and hair care products makes it imperative for manufacturers to incorporate ingredients derived from natural sources. This trend drives the demand for pea starch, thereby augmenting the growth of the global market. However, starch retrogradation causes certain undesirable effects in starch-rich foods such as reduced shelf life, which can pose significant challenges to food processors. It particularly affects bakery products by increasing firmness of crumb, changing flavor & aroma, and causing loss of crispiness.
Native starch portrays promising prospects with regard to industrial applications, owing to its biocompatible and environmentally friendly nature as compared to synthetic polymers. Several industries, including food, textile, paper, and petroleum are progressively consuming modified starch. In addition, the developing countries such as China and India are utilizing native starches due to rapid industrial growth in these countries. Furthermore, changes in consumer appetite owing to rise in health, nutritional, and functional needs are anticipated to increase native starch production and consumption. Hence, in the forthcoming years, rise in demand for starch from unexplored areas of industrial applications is expected to significantly augment the global pea starch market growth.
Pea Starch Market

---
By Type
The conventional segment would witness the fastest growth, registering a CAGR of 8.1% during the forecast period.
The global pea starch market is segmented into type, application, and region. Depending on type, the market is classified into organic/non-GMO and conventional. The applications covered in the study include food & beverages, feed, and others. Region wise, the market for pea starch is studied across North America, Europe, Asia-Pacific, and LAMEA. 
Pea Starch Market

---
By Application
The food and beverage segment would witness the fastest growth, registering a CAGR of 8.3% during the forecast period.
North America and Europe are known to be the dominant regions in the pea starch market. European countries have witnessed higher rate of traction for pea starches owing to the increased demand from the consumers. Some of the macroeconomic factors such as rise in health awareness and surge in per capita income play an important role in contributing toward the overall growth of the market.
Pea Starch Market

---
By Region
The North America segment would witness the fastest growth, registering a CAGR of 7.3% during the forecast period.
The key players in the pea starch industry include Agridient, American Key Food Products, Cosucra Groupe Warconing SA, Emsland Group, Meelunie B.V., Puris Foods, Roquette Frères, Shanghai Bichain Industrial Chemical, the Scoular Company, and Vestkorn Milling AS.
 
Key Benefits For Stakeholders 
This report provides a quantitative analysis of the current pea starch market trends, estimations, and pea starch market forecast based on the market size from 2019 to 2026 to identify the prevailing pea starch market opportunities.

The key countries in all the major regions are mapped depending on their market share.

Porter's five forces analysis highlights the potency of buyers and suppliers to enable stakeholders to make profit-oriented business decisions and strengthen their supplier-buyer network.

A comprehensive analysis of factors that drive and restrict the market growth is provided.

An in-depth analysis of the market helps to determine the prevailing market opportunities.

The report includes details of the pea starch market analysis and pea starch market size of the regional and global markets, key players, market segments, application areas, and growth strategies.
 Pea Starch Market Report Highlights
Aspects
Details
BY TYPE

Organic/Non-GMO
Conventional

BY APPLICATION

Food & Beverages
Feed
Others

BY REGION

North America (U.S, Canada, Mexico)
Europe (Germany, France, UK, Italy, Spain, Rest of Europe)
Asia-Pacific (China, India, Japan, Australia, Rest of Asia-pacific)
LAMEA (Latin America, Middle East, Africa)

Key Market Players
AGRIDIENT INC, AMERICAN KEY PRODUCTS, INC, COSUCRA GROUPE WARCONING SA, EMSLAND GROUP, MEELUNIE B.V, PURIS FOODS, ROQUETTE FRÈRES, SHANGHAI BICHAIN INDUSTRIAL CHEMICAL, THE SCOULAR COMPANY, VESTKORN MILLING AS