The global phospholipid market size was valued at $2,846.1 million in 2020, and is projected to reach $5,647.1 million by 2030, registering a CAGR of 7.1% from 2021 to 2030. In 2020, the soy segment accounted for the highest share in the phospholipid market.   
A phospholipid is a type of lipid molecule, which is made of two fatty acids, a phosphate group, and a glycerol molecule. Phospholipid have several applications such as nutritional, pharmaceutical, and food,. There are many health benefits related to phospholipids, therefore, they are used widely for several studies related to the pharmaceutical industry.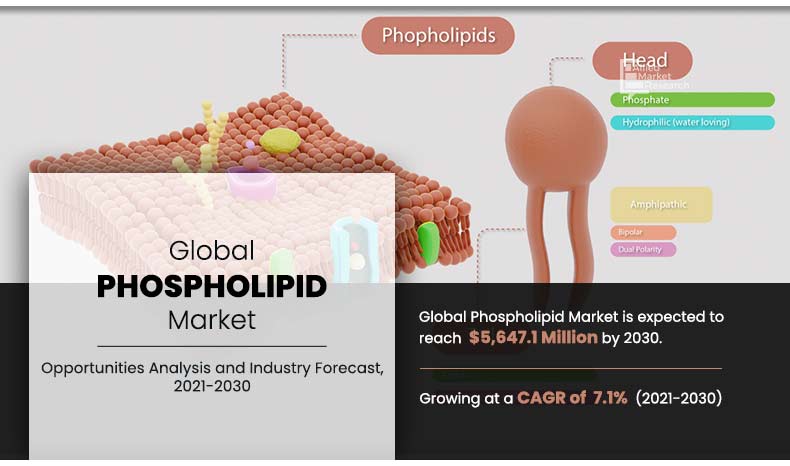 Phospholipid is a promising natural ingredient for health products, owing to rise in consumer demand for natural supplements and ageing population. Many companies are releasing new natural health products, and some are substituting natural chemicals for synthetic ones in product formulations. Customers are more willing to try complementary and alternative medications, which propels demand for natural products. Customers strongly prefer natural and non-synthetic products to prevent ailments. Naturally sourced ingredients are preferred as customers feel safe. Associated health benefits and inclination of customers toward natural ingredients are the key reasons that drive demand for such products in the market. 
Majority of phospholipids from soy sources are genetically modified. Genetically modified foods are a threat to the environment, pollution of soils, and a long-term threat to human health. It may have unknown long-term consequences that result in immunological alterations in the gut, decreased fertility, and exacerbation, and creation of allergies. It contains high concentrations of plant toxicants that represent thousands of plant biochemicals, many of which may have toxic effects on animals.
Ingredient labeling has become mandatory in developed economies such as the U.S. and the EU countries. This is due to increase in consumer awareness. Food labeling is a medium through which consumers acquire knowledge about the food they buy. Consumers are showing greater interest in natural and green labels. Therefore, phospholipid manufacturers are focused on safety and quality of products that are regulated by several governments to be clinically tested and approved to be used as an ingredient in end use products. 
Strong global concerns about the pandemic, coronavirus, have largely but negatively influenced the global phospholipid market growth in 2020. Moreover, owing the high demand and low supply trends, prices of products increased in 2020 to overcome economic instability. On the contrary, disruptions to supply chain in shipping could lead to temporary shortages in the supply, putting upward pressure on prices in the short term.       
COVID-19 Scenario Analysis:
The food and beverages industry has witnessed a high demand in the lockdown period.
Most supermarkets and other stores are closed and manufacturers are facing problems such as lack of resources and labor availability, impacting the scale of production.
All these factors indirectly harm demand for the phospholipid market.
The COVID-19 pandemic has affected the phospholipid market as the lockdown scenario has caused shutdown of many foods and beverages industries, which has led to decline of sales and revenue growth. 
The market players are facing loss in exporting products to other countries due to stringent government regulations imposed on export and import. 
According to the phospholipid market analysis, the market is segmented on the basis of source, form, application, and region. Depending on source, the market is divided into soy, eggs and others. By form, it is divided into powder and granule. By application, it is fragmented into nutrition & supplements, pharmaceuticals, and others. Region wise, it is analyzed across North America (the U.S., Canada, and Mexico), Europe (Germany, France, the UK, Spain, Italy, Russia, and rest of Europe), Asia-Pacific (China, Japan, India, Australia, South Korea, Thailand, Singapore, and rest of Asia-Pacific), and LAMEA (Brazil, Argentina, UAE, Nigeria, South Africa, Turkey and rest of LAMEA).    
On the basis of source, the soy segment accounted for the maximum share in the global phospholipid market in 2020, and is expected to remain dominant during the phospholipid market forecast period. Soy is a natural source of phospholipid. Soya phospholipid, particularly commercial lecithin, are widely used as biological active food additives. It has a wide range of biochemical and physical effects.
Phospholipid Market

---
By Source
Other segment would witness the fastest growth, registering a CAGR of 7.6% during the forecast period.
On the basis of form, the powder segment accounts for a higher value share. Powdered phospholipid is used in commercial applications of food systems. It is easy to handle and can be easily incorporated as compared to other forms. Moreover, it has an advantage of neutral color and flavor. It is an essentially ready nutraceutical that offers nutritional benefits to consumers. Furthermore, it has its role in dietary foods such as capsules & tablets, bakery products, anti-sticking of confections, and convenience foods such as sauces and soups.  
Phospholipid Market

---
By Form
Granule Segment witnssed a major growth rate of 8.0%
On the basis of application, the nutrition & supplements segment held a significant phospholipid market share in 2020. Vitamins, minerals, herbs, meal supplements, sports nutrition products, natural food supplements, and other nutritional supplements are all products that are used to augment nutritional content of food. These supplements can also be used to treat excessive cholesterol, digestive problems, and clogged milk ducts while breast-feeding. 
Phospholipid Market

---
By Application
Nutrition & Supplement Segment held the major share of 43.8% in 2020
On the basis of region, North America dominated the phospholipid market in 2020, and accounted for maximum market share. North America currently is one of the leading markets of the phospholipid industry, owing to extreme demand for phospholipid products in nutrition & supplements industry.  
Phospholipid Market

---
By Region
Asia-Pacific held the major share of 38.2% in 2020
Players in the phospholipid market have adopted business expansion and product launch as their key developmental strategies to expand their market share, increase profitability, and remain competitive in the market. The key players profiled in the report include Archer Daniels Midland Company, Bunge Ltd, Cargill, Incorporated, DuPont de Nemours, Inc, Kewpie Corporation, Lasenor Emul SL, Lipoid GmbH, SojaProtein a.d, VAV Life Sciences Pvt. Ltd, and Wilmar International Ltd. 
Key benefits for stakeholders   
The report provides quantitative analysis of the current Phospholipid market trends, estimations, and dynamics of the market size from 2020 to 2030 to identify the prevailing Phospholipid market opportunities. 
Porter's five forces analysis highlights the potency of buyers and suppliers to enable stakeholders to make profit-oriented business decisions and strengthen their supplier–buyer network. 
In-depth analysis and the market size & segmentation assist to determine the market potential.
The major countries in each region are mapped according to their revenue contribution to the market.     
The market player positioning segment facilitates benchmarking and provides a clear understanding of the present position of the market players in the Phospholipid industry. 
Key market segments 
By Source
By Form
By Application
Nutrition & supplements
Pharmaceuticals
Others
By Region
North America
Europe

Germany 
France
UK
Italy
Spain 
Russia
Rest of Europe

Asia-Pacific

China
Japan
Australia
South Korea
Thailand
Singapore
Rest of Asia-Pacific 

LAMEA 

Brazil
Argentina
UAE
Nigeria
South Africa
Turkey
Rest of LAMEA
 Phospholipid Market Report Highlights
Aspects
Details
By SOURCE
By FORM
By APPLICATION

Nutrition & supplements
Pharmaceuticals
Others

By Region

North America (U.S., Canada, Mexico)
Europe (France, Germany, Italy, Spain, UK, Russia, Rest of Europe)
Asia-Pacific (China, Japan, India, South Korea, Australia, Thailand, Malaysia, Indonesia, Rest of Asia-Pacific)
LAMEA (Brazil, South Africa, Saudi Arabia, UAE, Argentina, Rest of LAMEA)

Key Market Players
Kewpie Corporation, ARCHER-DANIELS-MIDLAND COMPANY, VAV Life Sciences Pvt. Ltd., Wilmar International Ltd., SojaProtein a.d, DuPont de Nemours, Inc., Lipoid GmbH, Bunge Ltd., Lasenor Emul SL, Cargill, Incorporated