Photonic Sensors Market Research, 2030
The global photonic sensors market size was valued at $20,185.8 million in 2020, and is projected to reach $94,267.9 million by 2030, growing at a CAGR of 16.8% from 2021 to 2030.
The photonics sensor market in significantly affected by the emergence of COVID-19, owing to the shutdown of manufacturing units globally. However, the market is expected to register significant growth in the coming years due to the adoption of smart technologies in the regions worldwide.
The photonic sensors market has gone through a drastic change based on the research that has been conducted in the photonic technology in the past. The photonic technology has advanced into a phase where it is being used in varied fields. The innovations in the field of fiber optics have spurred the development of photonic sensors. These developments have expanded the spectral range of sensors being used in several industries. Photonic sensors offer better sensing function and it is expected that this technology would give a high return on investment in the long run.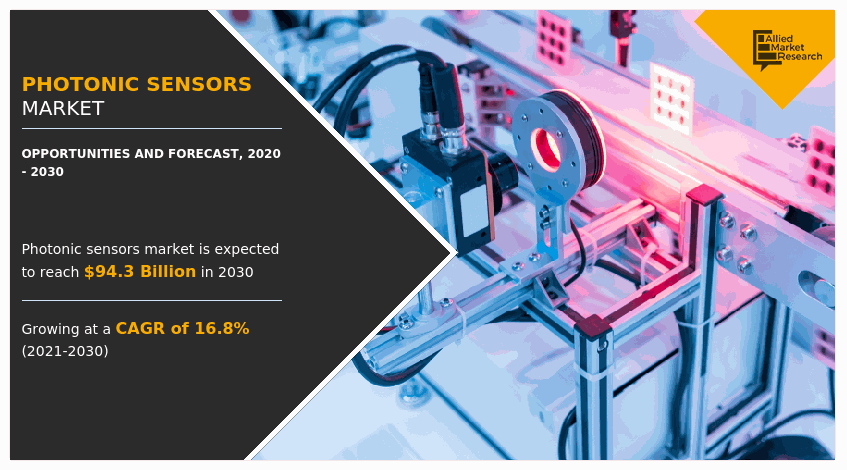 The photonic sensors is now focused on development of efficient products and it is projected that over the next few years, eco-friendly & energy saving photonic sensors would be developed and launched into the market. Need for enhanced safety & security solutions, better alternative for conventional technology, and rise in wireless sensing technology are some of the major factors that act as drivers for the photonic sensors market growth. Similarly, lack of industrial & technological standards, high initial investments, and lack of awareness can be considered as restraints for the photonics sensor market growth.
The biophotonic sensors have wide range of applications in the field of defense and medicine. They are used in the detection of biological & chemical agents, field intelligence, and biowarfare defense & detection of explosives in the defense applications. In the medical applications, they are used in vaccine & drug development, diagnostics, and therapeutics. Biophotonic sensors are also used in oil and natural gas exploration expeditions.
Photonic Sensors Market

---

By Product
Fiber optic sensor segment generated the highest revenue in 2020
The optics and photonics technologies have made a huge impact on the global economy by developing devices and services that can be used in various industrial sectors. A research in laser technology which was initiated in the 1950s, led to several advancements in multiple sectors encompassing transportation, information technology, and defense. Laser technology has been the key in the development of sensors, which transformed the processes of several applications such as wielding, communication, surgery etc. In addition, the developments in the field of fiber optics spurred the development of photonic sensors, which expanded the usage of spectral range of sensors in several industries. These sensors accentuate the sensing functions, thereby demonstrating that the technology would give a high return on investment in the near future.
Photonic Sensors Market

---

By Technology
Laser technology segment is projected as one of the most lucrative segments
The value chain of photonic sensors industry includes various stakeholders such as manufacturers of components, semiconductor manufacturers, original equipment manufacturers, and service providers. Each of these players shares a specific value at their point of operation, which, in turn, contributes toward the competitive value of the product. R&D activities, innovations, marketing strategies, and aesthetic concerns enhance overall value associated with end-deliverables by each of the market players.
SEGMENTATION
The photonic sensors market share is segmented on the basis of product, technology, application, and region. By product, the market is fragmented into fiber optic sensors, image sensors, biophotonic sensors, and others. By technology, the photonic sensor market is classified into fiber optic technology, laser technology, and biophotonic technology. By application, the market is divided into industrial, healthcare, automotive & transportation, safety & security, and others. Region wise, the market is analyzed across North America, Europe, Asia-Pacific, and LAMEA.
Photonic Sensors Market

---
By Region
Asia-Pacific would exhibit the highest CAGR of 19.1% during 2021-2030
The key players mentioned in the photonics sensor market analysis are BAE Systems, BK Technologies, General Dynamic Corporation, Hytera Communications, ICOM Inc, L3 Harris, Leonardo S.P.A., MCS Digital, Motorola Solutions, and Thales Group. These key players have adopted strategies, such as product portfolio expansion, mergers & acquisitions, agreements, geographical expansion, and collaborations to enhance their market penetration.
COVID-19 Impact
COVID-19 pandemic has adversely impacted the photonics sensor market forecast as huge workforce of enterprises across the globe is working from home. This has led to decline in tourism, which, in turn, reduced the demand for defense tactical radio. Although the COVID-19 pandemic has forced field work of several major projects to halt temporarily, hence the market is expected to remain robust with cumulative number of shipments being marginally unaffected in the next three-year period from 2020. The market has been impacted by the COVID-19 outbreak. New projects throughout the world have been stalled, which, in turn, have affected the demand in several industries, including manufacturing, industrial, and retail. Although market players faced minimal impact on procuring raw materials, as time and shipping costs are still major concerns. Moreover, rise in investments in development of smart cities have gained importance during the pandemic. Subsequently, demand for photonics sensor is anticipated to gain momentum post-pandemic. Key market players focus on positioning their companies for a strong recovery post pandemic. Market players have meticulously planned to strengthen their supply chain to benefit from post-pandemic opportunities. They further focus on availing additional opportunities with expanded market usage of defense tactical radio technology, owing to price considerations and additional display offerings using micro-lenses. Hence, market players are anticipated to boost the market growth from various opportunities generated post-pandemic. Although COVID-19 had a major negative impact on growth of the market, the outbreak of COVID-19 is expected to provide numerous opportunities for the photonic sensors market forecast period. These trends include surge in digitization and rise in applications of semiconductors across the globe.
Top Impacting Factors
Significant factors that impact the photonic sensors market opportunity include need for enhanced safety & security solutions, better & enhanced alternatives for conventional technology, and rise in wireless sensing solution that are anticipated to have a positive impact on the photonic sensor market. Growth in number of smart industries and increased adoption of photonics technology in developing economies may act as a potential opportunity for the photonic sensors industry.
Need for enhanced safety and security solution
The photonic sensors offer enhanced safety and security measures, which are major concerns of the end users. Earlier manual systems were used for safety and security, which required continuous physical monitoring; however, these sensors allow round the clock self-operated surveillance, which provides end-users a sense of assurance. The automated system works in a highly efficient way by collecting and storing data on a central server and allows continuous monitoring. These factors encourage various industrial sectors to deploy these smart photonic sensors in their work processes, which is a driving factor for the photonic sensors market outlook.
High initial investment
Initially companies have to make high investments for installing photonic sensors. The cost of these devices is currently very high, as the market is not mature yet. However with the introduction of new technologies and continuous research, the impact of the initial investment factor would reduce in future.
Rise in wireless sensing technology
On the basis of technological advances taking place in the wireless sensing, the market is expected to grow significantly. The ability of these devices to provide remote sensing functions is one of the key factors whose impact on market is expected to continue to grow in future.
Key Benefits For Stakeholders
This report provides a quantitative analysis of the market segments, current trends, estimations, and dynamics of the photonic sensors market analysis from 2020 to 2030 to identify the prevailing photonic sensors market opportunities.
The market research is offered along with information related to key drivers, restraints, and opportunities.
Porter's five forces analysis highlights the potency of buyers and suppliers to enable stakeholders make profit-oriented business decisions and strengthen their supplier-buyer network.
In-depth analysis of the photonic sensors market segmentation assists to determine the prevailing market opportunities.
Major countries in each region are mapped according to their revenue contribution to the global market.
Market player positioning facilitates benchmarking and provides a clear understanding of the present position of the market players.
The report includes the analysis of the regional as well as global photonic sensors market trends, key players, market segments, application areas, and market growth strategies.
 Photonic Sensors Market Report Highlights
Aspects
Details
By Product

Fiber Optic Sensor
Image Sensor
Biophotonic Sensor
Others

By Technology

Fiber Optic Technology
Laser Technology
Biophotonic Technology

By Application

Industrial
Healthcare
Automotive And Transportation
Safety And Security
Others

By Region

North America (U.S., Canada, Mexico)
Europe (U.K., Germany, France, Rest of Europe)
Asia-Pacific (China, Japan, India, South Korea, Rest Of Asia Pacific)
LAMEA (Latin America, Middle East, Africa)

Key Market Players
BAE Systems plc, BK Technologies Corporation, General Dynamics Corporation, Hytera Communications Corporation Ltd, ICOM Incorporation, L3 Harris, Leonardo S.R.L., MCS Digital, Motorola Solutions, omnisys - thales group