Prepared Mustard Market Research, 2030
The global prepared mustard market was valued at $7,589.50 million in 2020, and is projected to reach $11,988.80 million by 2030, growing at a CAGR of 4.9% from 2021 to 2030.
Prepared mustard is a product derived from mustard seeds. The prepared mustard is rich source of numerous essential minerals such as selenium, iron, phosphorus as well as calcium. It has multiple health benefits such as it helps in the production of hemoglobin, may help defend cells against damage caused by unstable molecules, cancer prevention as well as reduce blood sugar level in the human body. Owing to these factors, the prepared mustard is widely used by consumers in daily diet.
The COVID-19 pandemic had negative impact on global prepared mustard market due to supply chain disruptions. But the removal of lockdowns is expected to expand the market in the coming years. The rise in adoption of prepared mustard post-pandemic is creating new opportunities for the growth of market.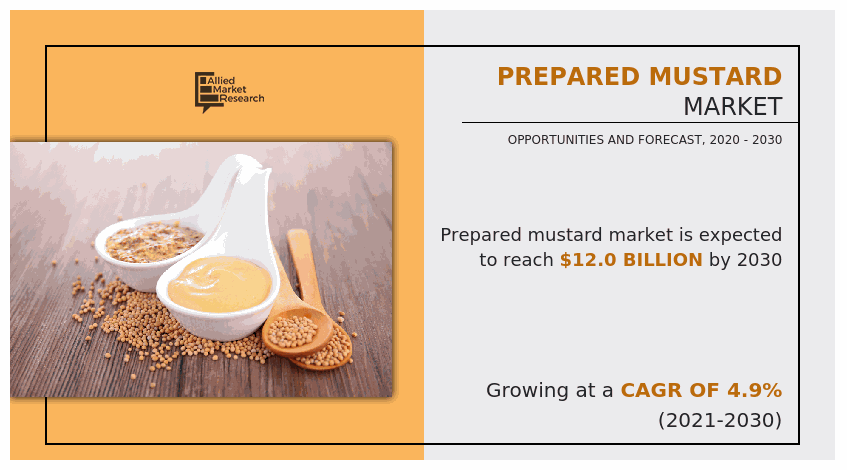 There are numerous companies across the globe that partners with key food companies such as H. J. Heinz Company, Conagra Brands Inc., McCormick Foods, Mustard and Co., Unilever and French's. Prepared mustard is one of the most highly demanded condiments and spices that is extensively used in Asian market including countries such as India, Sri Lanka, Nepal, Thailand as well as Bhutan. The growing demand for prepared mustards as a flavorful spice is the primary factor responsible for driving the growth of the global market. Moreover, the rapid growth of food & beverage industry is expected to propel the prepared mustard market demand in the coming years.
The consumption of prepared mustard combined with various cuisines also boosts the demand for prepared mustard from the food and beverage industry and has become a driving factor for the global prepared mustard market.
There are certain challenges faced by the farmers of mustard crop especially in developing nations. Farmers face difficulties due to lack of storage facilities near the production site, lack of packaging, and non-availability of processing plant. Moreover, due to the lack of proper irrigation system, the production of mustard suffers. Furthermore, the producers of organic mustard face challenges in trade, certification, and marketing of their organic mustard. All these challenges result the farmers to incur extra costs and hence the prepared mustard manufacturers face the problem of raw material price fluctuations in the market. Hence, the fluctuating prices of raw materials may hamper the volumes of prepared mustards and may also result in the rising prices of the prepared mustards. This may hamper the market growth during the forecast period.
However, the growing awareness of the health benefits of prepared mustard, combined with an ageing population, is expected to provide a significant growth opportunity. The market is expected to witness growth, due to an increase in number of rising consumers' purchasing ability of healthy food products. The market is classified on the basis of nature, type, distribution channel, and region.
By nature, the market is segregated into organic and conventional. The conventional segment was the highest revenue generator as it is widely preferred across the food & beverage industry, as well as in regular diets.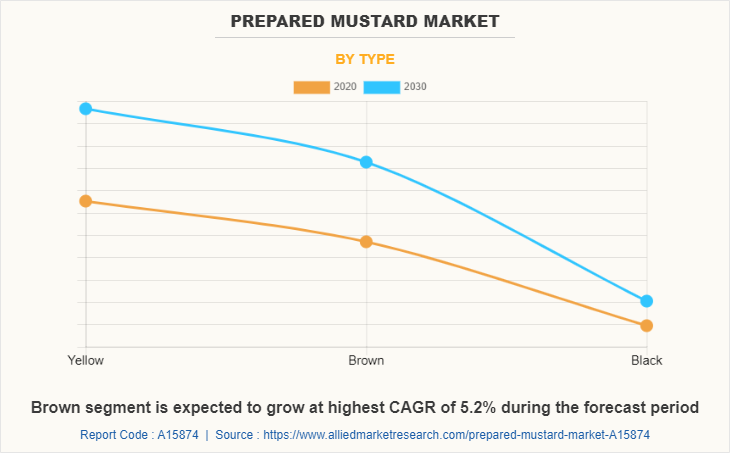 By type, the market is fragmented into yellow, brown, and black. The yellow segment held the largest prepared mustard market share in 2020, owing to its easy availability and wide application in the food & beverage industry.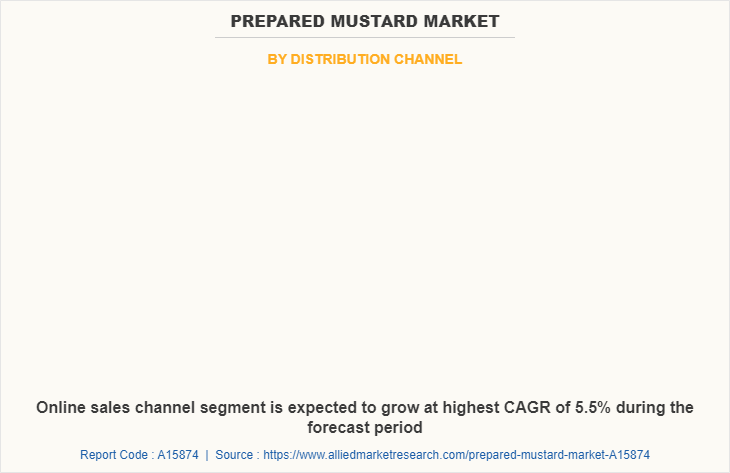 By distribution channel, the market is categorized into supermarkets & hypermarkets, convenience stores, specialty stores, and online sales channel. The specialty stores segment held the largest share in 2020, owing to availability of wide variety of products in stores with benefits such as discounts and free samples.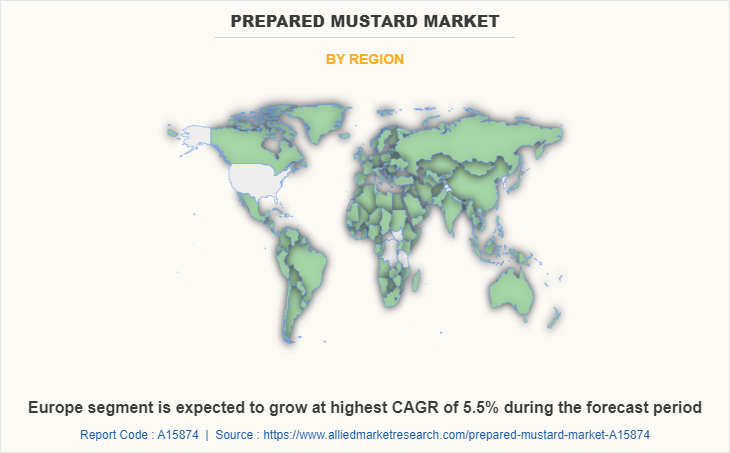 Region wise, the market is segmented into North America, Europe, Asia-Pacific, and LAMEA. North America contributed the highest revenue in 2020, and is expected to dominate the market during the forecast period. U.S. and Canada are top most countries for consumption of fast foods such as hamburger, pizza, and sandwiches. All these food items are combined with prepared mustard products, which propels growth of the prepared mustard market in North America. 
Easy availability of prepared mustard in diversified platforms ranging from modern trade to online sales channel have resulted in expansion of global market. Moreover, increasing penetration of retail sales have augmented the prepared mustard market growth. In parallel, availability of prepared mustard on e-commerce platforms have resulted in convenience to buy goods without any physical constraints to the consumers.
The prominent prepared mustard industry players include H. J. Heinz Company, Conagra Brands Inc., McCormick Foods, Mustard and Co., Unilever, Taylors, Gulden's, Plochman's, Dijon Mustard, Maille, Bertman Foods and French's.
Acquisition is the most important growth strategy used by market players, followed by product launch. Several businesses have created innovative products to diversify their product offerings. Various companies use product launches to expand their market reach and serve global customers. The food and beverage industry players are launching new products in the line of prepared mustard, which is contributing towards the market growth.
Key Benefits For Stakeholders
This report provides a quantitative analysis of the market segments, current trends, estimations, and dynamics of the prepared mustard market analysis from 2021 to 2030 to identify the prevailing prepared mustard market opportunities.
The market research is offered along with information related to key drivers, restraints, and opportunities.
Porter's five forces analysis highlights the potency of buyers and suppliers to enable stakeholders make profit-oriented business decisions and strengthen their supplier-buyer network.
In-depth analysis of the market segmentation assists to determine the prevailing market opportunities.
Major countries in each region are mapped according to their revenue contribution to the global prepared mustard market size.
Market player positioning facilitates benchmarking and provides a clear understanding of the present position of the market players.
The report includes the analysis of the regional as well as global prepared mustard market trends, key players, market segments, application areas, and market growth strategies.
 Prepared Mustard Market Report Highlights
Aspects
Details
By Nature
By Type
By DISTRIBUTION CHANNEL

Supermarkets/Hypermarkets
Convenience Stores
Specialty Stores
Online Sales Channel

By Region

North America (U.S., Canada, Mexico)
Europe (U.K., Austria, Germany, Switzerland, Sweden, Rest of Europe)
Asia-Pacific (China, Japan, India, South Korea, Australia, Rest Of Asia Pacific)
LAMEA (Latin America, Middle East, Africa)

Key Market Players
H. J. Heinz Company, McCormick Foods, Dijon Mustard, Maille, Taylors Inc., Mustard and Co., Gulden's, Plochman's, Unilever, Conagra Brands, Inc.