The global proanthocyanidins market size was valued at $120.3 million in 2020, and is projected reach $207.9 million by 2030, registering a CAGR of 5.7% from 2021 to 2030. The berries segment led in terms of proanthocyanidins market share in 2020 and is expected to retain its dominance throughout the forecast period.
Proanthocyanidins are a type of oligomeric flavonoids that are generally found in cranberries, blueberries, all types of grapes, pine bark, lingonberry, and other fruits, plants and tree barks. They are classified under a group of compounds called polyphenols and are responsible for providing many berries and fruits their blue, red or purplish colors. Proanthocyanidins have high concentrations of antioxidants, which helps fight free radicals in the body and can also help certain types of cancers. Proanthocyanidins are also very helpful in maintaining cardiovascular health and prevent any types of heart diseases. The high antioxidant concentration is also beneficial for the skin as it has anti-inflammatory properties and helps in preventing skin damage and repairing damaged skin. These health benefits of proanthocyanidins have increased their usage in nutraceutical production. These nutraceuticals made from proanthocyanidins are gaining popularity as there is an increase in health awareness amongst consumers.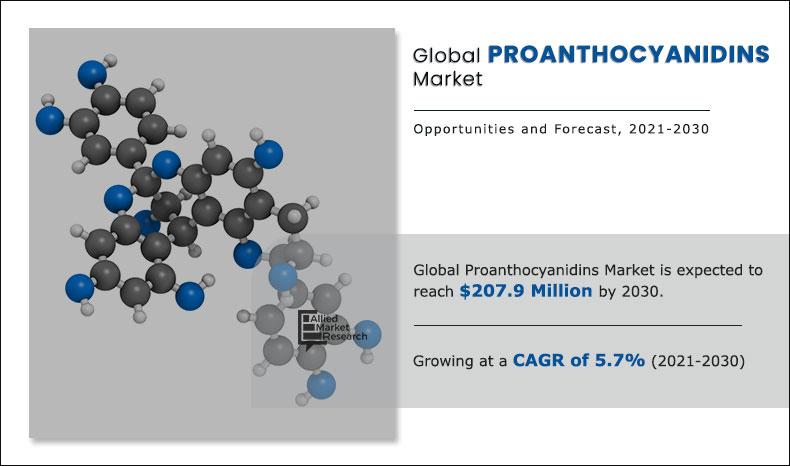 Supplement formats are rapidly changing in diversified ways due to millennial consumer interest in consuming healthy supplement. Extraction of proanthocyanidins through grape seeds has raised as its utilization in nutraceuticals industry is booming. Moreover, brands like Innershine Berry Essence Drink with grape seed extract contains an collection of antioxidants which is ranging from vitamin E to berry extracts and is utilized in liquid shot which is available in supplement form in countries like China and Taiwan. Furthermore, proanthocyanidins energy shots also result in increasing the immunity power, sleep, brain power and few others owing to which its demand has substantially raised in nutraceutical and therefore boosting the growth of proanthocyanidins market
Segment review
The global proanthocyanidins market is segmented on the basis of source, form, sales channel, and region. Based on source, the global market is bifurcated into berries, grapes and others. The report also segments the market on the basis of form mainly powder and tablet. By sales channel, the market is studied across offline channels and online channels. Furthermore, it includes revenue generated from the sales of proanthocyanidins across North America, Europe, Asia-Pacific, and LAMEA.
Proanthocyanidins Market

---
By Source
Berries was the dominant segment in 2020.
Depending on source, proanthocyanidins are extracted from berries, grapes, and other naturally occurring fruits and plants. Berries include cranberries, blueberries, lingonberries, strawberries and more from which cranberry is the most common source. Proanthocyanidins are also extracted from grapes, particularly from grape seed. Berry segment leads in terms of market share and is likely to retain its dominance throughout the forecast period.
Proanthocyanidins Market

---
By Form
Tablet was the dominant segment in 2020.
On the basis of form, proanthocyanidins are classified into powders and tablets. Tablets and capsules of proanthocyanidins are the most commonly available form of proanthocyanidins nutraceuticals. 
Proanthocyanidins Market

---
By Sales Channel
Offline Channel was the dominant segment in 2020.
According to the sales channel, proanthocyanidins are divided into offline channels and online channels. Offline channels include pharmacies, medical stores, specialty stores and other such stores where the customer can physically go to purchase their products. Online channels are made up of e-commerce websites and company websites. The online channels have gaining high traction and is poised o grow with higher CAGR during the forecast period. 
Proanthocyanidins Market

---
By Region
North America was the dominant regional segment in 2020.
The report focuses on the proanthocyanidins market growth prospects, restraints, and opportunities of the global proanthocyanidins market. The study provides Porter's five forces analysis to understand the impact of various factors such as competitive intensity of competitors, bargaining power of suppliers, threat of substitutes, threat of new entrants, and bargaining power of buyers of the proanthocyanidins market.
Some of the major players profiled for in the proanthocyanidins market analysis include Artemis International, Eevia Health, Enomark Biotech, Fruit d'Or, Givaudan International SA, Indena S.p.A, INDOFINE Chemical Company, Inc., Natac, Nexira, and Xi'an Yuensun Biological Technology Co., Ltd. Other prominent players analyzed in the report are Polyphenolics, Botaniex Inc., Now Foods, Bio-Botanica, Swanson Health, Functional Nutritional Inc., and Advanced Functional Nutrition.
Covid-19 Impact Analysis
Preventive healthcare is now been seen as one of the most important lines of defense against Covid thus resulting in high demand for nutraceuticals.
The COVID-19 pandemic had disrupted the sales of proanthocyanidins based nutraceuticals via brick and mortar stores resulting in transition of consumers towards online sales channels to purchase nutraceutical and immunity booster products including proanthocyanidins based products.
Easy access to information, increasing concerns about nutrition and growing consumer awareness regarding role of immunity and dietary supplements to drive market expansion.
The desire for improved immunity will continue in the post Covid world resulting in new opportunities for the engaged stakeholders in the proanthocyanidins industry.
Key Benefits For Stakeholders
The report provides an extensive analysis of the current and emerging proanthocyanidins market trends and opportunities.
The report provides detailed qualitative and quantitative analysis of the current trends and future estimations that help evaluate the prevailing proanthocyanidins market opportunities in the market.
The proanthocyanidins market forecast is offered along with information related to key drivers, restraints, and opportunities.
The market analysis is conducted by following key product positioning and monitoring the top competitors within the market framework.
The report provides extensive qualitative insights on the potential and niche segments or regions exhibiting favorable growth.
 Proanthocyanidins Market Report Highlights
Aspects
Details
BY SOURCE
BY FORM
BY SALES CHANNEL

Offline channels
Online channels

BY REGION

North America (US, Canada, Mexico)
Europe (UK, Germany, France, Italy, Spain, Rest of Europe)
Asia-Pacific (China, Japan, India, Australia, South Korea, Rest of Asia-Pacific)
LAMEA (Brazil, Argentina, Saudi Arabia, United Arab Emirates, South Africa, Rest of LAMEA)

Key Market Players
ARTEMIS INTERNATIONAL, EEVIA HEALTH PLC, ENOMARK BIOTECH (ENOMARK HEALTHCARE), FRUIT D'OR (FRUIT D'OR NUTRACEUTICALS), GIVAUDAN INTERNATIONAL SA (NATUREX S.A.), INDENA S.P.A., INDOFINE CHEMICAL COMPANY, INC., NATAC, NEXIRA, XIAN YUENSUN BIOLOGICAL TECHNOLOGY CO., LTD.