The global probiotics market size was valued at $34.1 billion in 2020, and is projected to reach $73.9 billion by 2030, registering a CAGR of 8.6%.
Probiotics are microorganisms such as bacteria and yeast that help humans and animals by maintaining intestinal microbial balance. Probiotics ingredient stimulates natural digestive juices and enzymes in the body to ensure proper digestive system function. They can be taken orally or as supplements.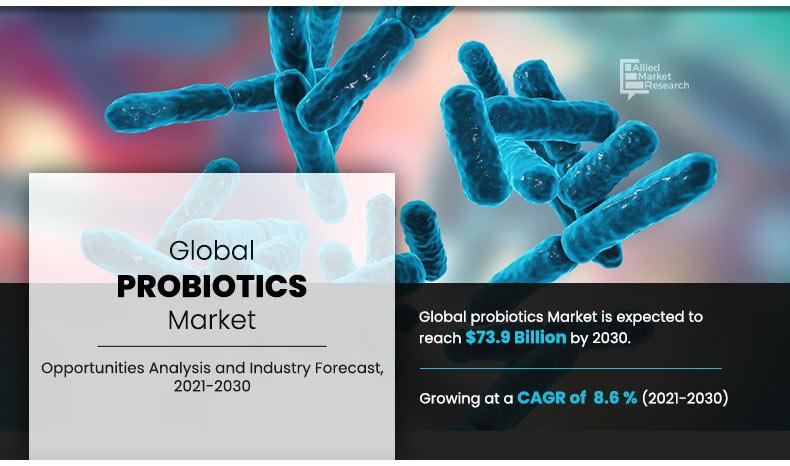 Moreover, probiotics shield healthy organisms from potentially harmful organisms. Probiotics products are now used to diagnose mental illnesses, as well as to treat digestive issues and neurological disorders. Furthermore, they strengthen the human immune system, protect proteins &lipids from oxidative damage, and reduce pathogens in the body.
The increase in consumer preference for natural products is a major factor that influences market growth. Consumers' growing concerns about preventive healthcare and the effectiveness of probiotics bacteria on health drive the market expansion. Probiotics demand has increased due to an increase in the consumption of functional foods, which, in addition to providing basic nutrition, have the potential to improve health.
The majority of people today suffer from obesity, digestive issues, gastrointestinal infections, vaginal infections, and other ailments. Taking this into account, market players have developed probiotics products to aid in the treatment of such diseases. In the probiotics market, the impact of the surge in health concerns is moderate; while, it is expected to grow in the near future.
Many consumers are unaware of the benefits of probiotics. However, several publications, functional food fact sheets, and conferences organized by the International Food Information Council (IFIC) are expected to raise awareness. The significant rise in health-related concerns supplements market growth in developing countries such as India and China. Companies now have their own R&D centers to meet the needs of the industry and stay competitive in the market. Huge investments in R&D are expected in the future to improve the quality of probiotics products.
Growth in the food and beverage industry as a result of increased consumer spending and favorable government support is expected to be a major factor that drives the probiotics market growth. The surge in demand for fortified food among health-conscious consumers is expected to drive probiotics market growth.
The lack of proper regulations in the industry is anticipated to impede market growth. Furthermore, probiotics necessitate proper storage as they are highly sensitive organisms that can easily be weakened by a variety of environmental factors. Moreover, the majority of probiotics are unstable at room temperature. All of these factors hinder the market growth.
The ageing population, combined with growth unawareness of the health benefits of probiotics, is expected to provide a significant growth opportunity. Rise in number of working women, as well as increase in consumer spending on healthy food products, are expected to drive the market growth.
With the unforeseen impact of COVID-19, the market has seen an increase in demand for products that promote immune health, which is expected to benefit the probiotics market. As a result of the factors, significant product launches are taking place to meet the growth in demand.
Probiotics Market

---
By Ingredients
Yeast segment is expected to grow at highest CAGR of 8.9% during the forecast period
The upsurge in health concerns and increased consumer awareness have increased consumer demand for probiotics, which has resulted in an increase in probiotics dairy and food products. In addition to available medical health supplements, consumers prefer probiotics dairy products such as yoghurt, ice cream, and cheese to consume beneficial bacteria.
One of the market's current trends is the use of streptococcus probiotics strains in fortifying animal feeds. It lowers the risk of pox and tuberculosis in animals. Furthermore, probiotics are increasingly being used in the production of supplements to treat various inflammatory skin diseases such as atopic dermatitis and eczema. All of these factors are expected to fuel the growth of the probiotics market.
Probiotics Market

---
By Function
Preventative healthcare segment is expected to grow at highest CAGR of 9.4% during the forecast period.
According to probiotics market analysis, the market is segmented on the basis of ingredient, function, application, end user, and region. On the basis of ingredient, it is categorized into bacteria and yeast. On the basis of function, the probiotics market is fragmented into regular, preventative healthcare, and therapeutic healthcare. As per application, it is divided into food & beverage, dietary supplement, and animal feed. As per end user, it is bifurcated into human and animal. Region-wise, the probiotics market is analyzed across North America, Europe, Asia-Pacific, and LAMEA. 
By ingredient, the bacteria segment garnered the highest probiotics market share in 2020due to surge in demand for bacteria derived probiotics food products. Based on function, preventative healthcare segment led the market with the highest market share according to probiotics market forecast. This is attributed to the growth in health issues that have encouraged market players to invest in R&D and launch new &innovative probiotics products. On the basis of application, the dietary supplements segment is anticipated to acquire the top position with the highest market share during the forecast period. This is attributed to some of the diet supplements' manufacturers focus on adding special form of dietary fiber that contains probiotics & prebiotics (FOS and Sunfiber). Such supplements battle diarrhea, gas, eczema, and yeast infections.
Probiotics Market

---
By Application
Dietary supplements segment is expected to grow at highest CAGR of 9.2% during the forecast period.
By end user, the human segment led the market in 2020. This is due to the surge in health concerns and rise in awareness to keep the gut healthy, which has augmented the demand for probiotics among consumers. Region-wise, Asia-Pacific is expected to dominate the market. Japan is the largest market of probiotics in Asia-Pacific owing to the upsurge in demand for food and health products that contain probiotics ingredient.
Probiotics are live microorganisms that provide health benefits to humans when consumed in sufficient quantities. Human probiotics are used to treat digestive problems. They are even used to treat antibiotic-induced diarrhea and cramps.
Probiotics Market

---
By End User
Animal segment is expected to grow at highest CAGR of 9.1% during the forecast period.
The prominent probiotics industry players include BioGaia AB, Danone, Chr. Hansen Holding A/S, Yakult Honsha Co. Ltd., Probi AB, Lifeway Foods, Inc., Nestle S.A., Ganeden, Inc., E. I. du Pont de Nemours and Company, and Protexin.
Product launch is the most important growth strategy used by market players, followed by collaboration & agreement, expansion, and acquisition. Several businesses have created innovative products to diversify their product offerings. Various companies use product launches to expand their market reach and serve global customers.
Probiotics Market

---
By Regions
Asia-Pacific dominates the market and is expected to grow at highest CAGR of 9.0% during the forecast period.
Key Benefits for Stakeholders
This report provides a quantitative analysis of current probiotics market trends, estimations, and dynamics of the global probiotics market from 2021 to 2030 to identify the prevailing probiotics market opportunities.
Porter's five forces analysis highlights the potency of buyers and suppliers to enable stakeholders to make profit-oriented business decisions and strengthen their supplier–buyer network.
In-depth analysis of the market segmentation assists to determine the prevailing market opportunities.
Major countries in each region are mapped according to their revenue contribution to the global industry. The market player positioning segment facilitates benchmarking while providing a clear understanding of the present position of the key market players.
The report includes analysis of the regional as well as global market, key players, market segments, application areas, and growth strategies.
 Probiotics Market Report Highlights
Aspects
Details
By Ingredient
By Function

Regular
Preventative Healthcare
Therapeutic

By Application

Food & Beverages
Dietary Supplements
Animal Feed

By End Use

Human Probiotics
Animal Probiotics

By Geography

North America
Europe

UK
Germany
France
Italy
Rest of Europe

Asia-Pacific

China
Japan
India
Rest of Asia-Pacific

LAMEA

Latin America
Middle East
Africa

Key Market Players
Ganeden, Inc., BioGaia AB, Protexin, Danone, Probi AB, Yakult Honsha Co., Ltd., Nestle S.A., E. I. du Pont de Nemours and Company, Lifeway Foods, Inc., Chr. Hansen Holding A/S