RF Isolator Market Research, 2032
The global RF isolator market was valued at $0.7 billion in 2022 and is projected to reach $1.3 billion by 2032, growing at a CAGR of 5.9% from 2023 to 2032.
An RF isolator is an electronic device that is used to isolate or separate radio frequency (RF) signals in a circuit. The primary function of an RF isolator is to allow RF signals to flow in only one direction while isolating or attenuating signals flowing in the opposite direction. RF isolators are commonly used in various RF applications, including RF amplifiers, mixers, and antennas, to prevent unwanted signal reflections, improve signal quality, and protect sensitive circuit components from damage due to high-frequency power.
The basic construction of an RF isolator typically includes a ferrite material that provides a high magnetic field and a unidirectional flow of RF energy. The RF signal is transmitted through the ferrite material in one direction only and is absorbed or reflected in the opposite direction. RF isolators are available in several types and sizes depending on the application requirements, frequency range, and power level. Some common types include coaxial, waveguide, and surface-mount isolators.
The COVID-19 pandemic has had a mixed impact on the RF isolator market. The increased demand for wireless communication systems due to remote work and virtual learning has driven the need for reliable signal isolation, which has increased the demand for RF isolators.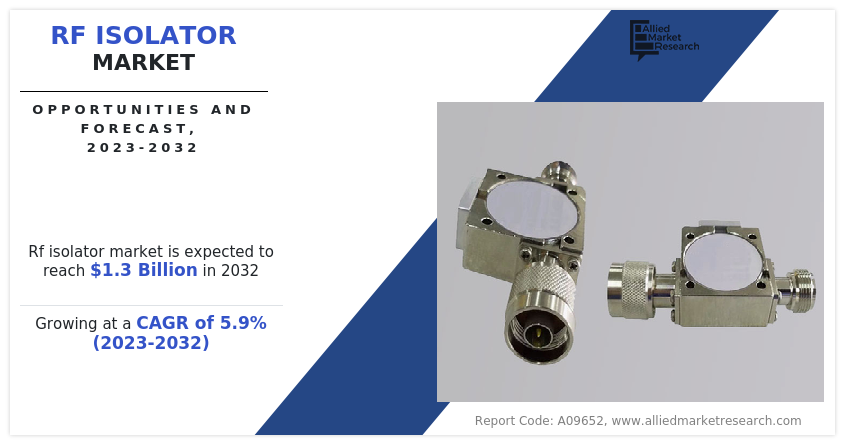 The emergence of 5G technology drives the demand for RF isolators due to the need for higher bandwidths and faster data transfer rates. 5G networks operate at higher frequencies than previous generations of wireless communication systems, which presents several challenges. One challenge is that higher-frequency signals are more susceptible to interference and signal degradation due to obstacles such as buildings and trees. Another challenge is that higher-frequency signals have shorter ranges and require more cell towers to maintain coverage. RF isolators help overcome these challenges by isolating the signals and preventing interference from other signals and electronic components. This allows for more reliable and efficient communication in 5G networks. Furthermore, the use of RF isolators in 5G networks may help increase the  capacity of network by reducing interference, which allows for more devices to be connected simultaneously. The demand for RF isolators is expected to grow in parallel as 5G networks continue to be deployed and expanded.
Fiber optic communication technology is a factor that may limit the need for RF isolators. Fiber optic communication uses light to transmit information, which is immune to electromagnetic interference (EMI) and radio frequency interference (RFI) unlike traditional RF communication methods. This means that fiber optic systems do not require RF isolators to protect against EMI/RFI, which may be a significant cost and space-saving factor in some applications. Furthermore, fiber optic systems may also provide much higher data rates and longer transmission distances than traditional RF systems, which make them a preferred choice for many applications. However, fiber optic systems require specialized equipment and expertise and may be more expensive to install and maintain than traditional RF systems, which may limit their use in certain applications.
The increase in deployment of small satellites for communication and remote sensing applications presents an opportunity for RF isolator growth despite the potential limitations of fiber optic systems. Small satellites operate in low-earth orbit and are susceptible to electromagnetic interference from various sources. RF isolators may be used to protect the sensitive equipment on board from such interference by allowing RF energy to pass through in one direction while blocking it in the other direction. The small size and weight of RF isolators make them an attractive option for small satellite missions where space and weight constraints are critical. The increase in deployment of small satellites thus drives the demand for compact and lightweight RF isolators that may provide the necessary level of isolation and protection for sensitive RF systems in space.
The RF isolator market is segmented into type, application, and end user.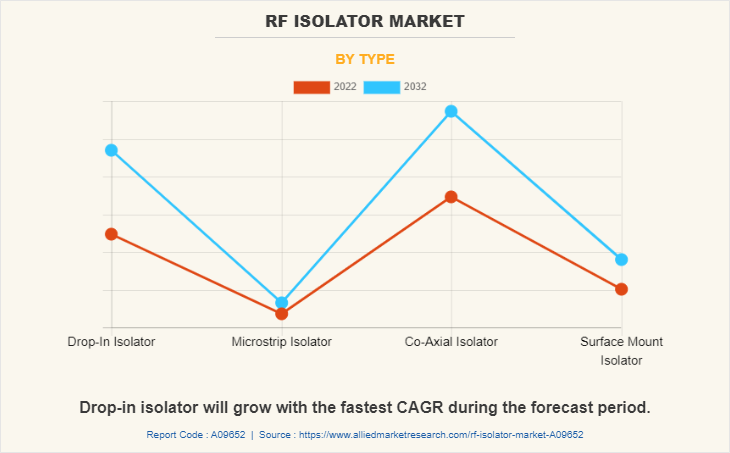 By type, the market is divided into drop-in isolator, microstrip isolator, co-axial isolator, and surface mount isolator. In 2022, the co-axial isolator segment dominated the market, in terms of revenue, and will acquire major market share till 2032.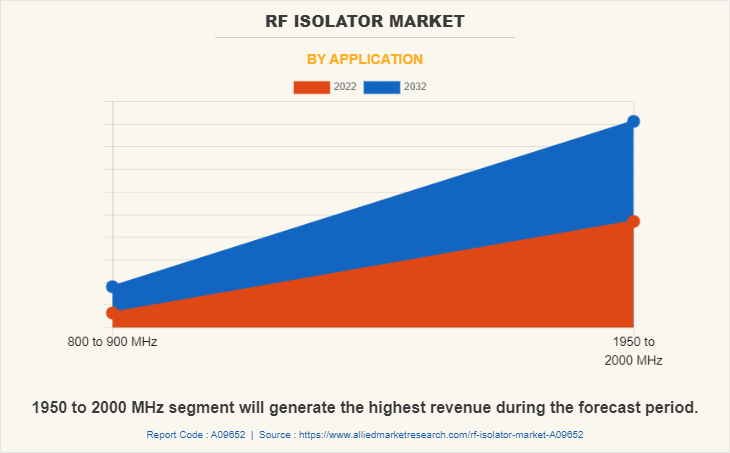 By application, the market is bifurcated into 800-900 MHz, and 1950-2000 MHz. In 2022, the 1950-2000 MHz segment dominated the market, in terms of revenue, and will acquire major market share till 2032.
By end user, the market is segregated into electronics, IT, telecommunications, military, healthcare, and others. In 2022, the telecommunication segment dominated the market, in terms of revenue, and will acquire major market share till 2032.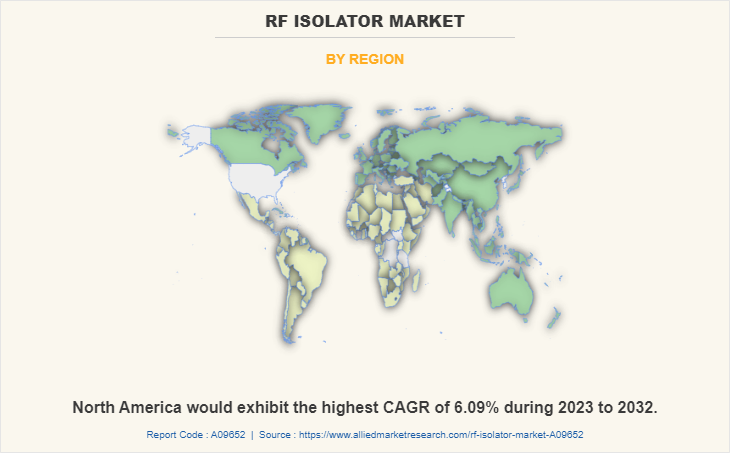 Region-wise, the RF Isolator market trends are analyzed across North America (U.S., and Canada), Europe (France, Germany, Italy, Spain, UK, and Rest of Europe), Asia-Pacific (China, Japan, India, South Korea, and rest of Asia-Pacific), and LAMEA (Latin America, the Middle East, and Africa). North America, specifically the U.S. region, remains a significant participant in the global RF Isolator industry.
Country Analysis
Country-wise, the U.S. acquired a prime share in the RF Isolator market in the North American region and is expected to grow at a significant CAGR during the forecast period of 2023-2032. The U.S. plays a significant role in the global and provides a RF Isolator market opportunity, with numerous examples of their use in various industries. In the medical field, the Mayo Clinic, a renowned medical institution in the U.S., uses RF isolators in its MRI machines. The RF isolators prevent interference from other electronic devices, ensuring accurate diagnostic imaging. The use of RF isolators in medical applications is crucial in maintaining the accuracy and reliability of medical equipment.
In Europe, UK, dominated the RF Isolator market share, in terms of revenue, in 2022 and is expected to follow the same trend during the forecast period.  The RF Isolators market in the UK is a significant and growing industry, with a range of manufacturers and suppliers operating in the country. One example of a company that produces RF isolators in the UK is Microwave Marketing Limited (MML). They offer a range of high power RF isolator products, including coaxial isolators, waveguide isolators, and drop-in isolators. Isolators of MML are designed to operate in frequency ranges from 10 MHz to 40 GHz, with power handling capacities ranging from a few watts to kilowatts. Their RF isolators are used in applications such as radar systems, satellite communications, and medical equipment.
In Asia-Pacific, China is expected to emerge as a significant market for the RF Isolator industry. China has a significant market for RF isolators, driven by the growth in the electronics industry of the country and increase in demand for wireless communication devices. In recent years, the Chinese government has made significant investments in the development of its electronics industry, including RF technology. This has led to the establishment of several research institutes and universities that focus on the research and development of RF technology and related applications. For instance, the National Key Laboratory of Electromagnetic Environmental Effects and Electro-Optical Engineering, located at the University of Electronic Science and Technology of China, conducts research on the design and development of advanced RF isolators.
In the LAMEA region, Latin America countries garner significant RF isolator market outlook in 2022 due to several factors. One of the significant factors is the strong automotive industry of the region which relies heavily on RF communication systems for vehicle safety and navigation. This has resulted in an increase in demand for RF isolators in the region.
Top Impacting Factors
There is a growth in demand for RF isolators due to the increase in need for reliable signal isolation and interference prevention in wireless communication systems. The need for RF isolators becomes essential to prevent interference between competing signals as the use of wireless communication devices increases in crowded urban areas. Furthermore, advancements in semiconductor technology are expected to enable the development of more efficient and smaller RF isolators that are more affordable and accessible to a wider range of applications. The high cost of RF isolators remains a significant barrier to their growth and adoption in the RF isolator market growth despite these advancements. However, the adoption of Industry 4.0 and increase in automation in manufacturing are expected to create new opportunities for RF isolators in industrial applications, where reliable and efficient communication systems are critical for optimizing the production process and reducing downtime.
Competitive Analysis
The global RF Isolator market size is highly competitive, owing to the strong presence of existing vendors. Vendors of the RF Isolator market with extensive technical and financial resources are expected to gain a competitive advantage over their competitors because they can cater to market demands. The competitive environment in this market is expected to increase as branding, new product development, acquisition, product launch, and agreement like different strategies adopted by key vendors increase. Competitive analysis and profiles of the major global RF Isolator market players that have been provided in the report include ADMOTECH Inc., Atlantic Microwave, Bird Technologies, Cernex Inc., Quantic Corry, DiTom Microwave, ECHO Microwave, JQL Technologies Corporation, Kete Microwave Electronics Co., Ltd., and Narda-MITEQ.
Key Developments/ Strategies
According to the latest RF isolator market forecast, JQL Technologies Corporation, Quantic Corry, DiTom Microwave, Cernex Inc., and Bird Technologies are the top 5 key players in the RF Isolator market. Top market players have adopted various strategies, such as branding, new product development, acquisition, product launch, and agreement to expand their foothold in the RF Isolator market.
In March 2023, Quantic Electronics and its businesses exhibited at the SATELLITE 2023 Conference and Exhibition in Washington, D.C. Their offerings included resistor technologies, RF passive and filter solutions, and other RF & Microwave, power, sensing, and magnetic solutions for mission-critical applications. The event provided Quantic with an opportunity to showcase their portfolio and connect with industry professionals. Highlights of Quantic's offerings at the event included proven thin-film resistor technologies, RF Microwave filters and switched-filter solutions, passive RF & Microwave components and subsystems, and fully integrated beamformers and butler matrices. 
In January 2022, Narda-MITEQ acquired Intelligent RF Solutions (IRF), a market leader in the design, engineering, and manufacturing of RF and microwave systems and subsystems for mission-critical military and intelligence community applications. This acquisition significantly expands Narda-MITEQ's product portfolio, with an increased focus on the development of system and subsystem capabilities for SIGINT/ELINT/EW applications, which are key growth areas for the business.
Key Benefits For Stakeholders
This report provides a quantitative analysis of the market segments, current trends, estimations, and dynamics of the rf isolator market analysis from 2022 to 2032 to identify the prevailing rf isolator market opportunities.
The market research is offered along with information related to key drivers, restraints, and opportunities.
Porter's five forces analysis highlights the potency of buyers and suppliers to enable stakeholders make profit-oriented business decisions and strengthen their supplier-buyer network.
In-depth analysis of the rf isolator market segmentation assists to determine the prevailing market opportunities.
Major countries in each region are mapped according to their revenue contribution to the global market.
Market player positioning facilitates benchmarking and provides a clear understanding of the present position of the rf circulator isolator market players.
The report includes the analysis of the regional as well as global rf isolator market trends, key players, market segments, application areas, and market growth strategies.
 RF Isolator Market Report Highlights
Aspects
Details
Market Size By 2032
USD 1.3 billion
Growth Rate
CAGR of 5.9%
Forecast period
2022 - 2032
Report Pages
260
By End User

Electronics
IT
Telecommunications
Military
Healthcare
Other

By Type

Drop-In Isolator
Microstrip Isolator
Co-Axial Isolator
Surface Mount Isolator

By Application

800 to 900 MHz
1950 to 2000 MHz

By Region

North America (U.S., Canada)
Europe (France, Germany, Italy, Spain, UK, Rest of Europe)
Asia-Pacific (China, Japan, India, South Korea, Rest of Asia-Pacific)
LAMEA (Latin America, Middle East, Africa)

Key Market Players
Kete Microwave Electronics Co.,Ltd., ECHO Microwave, Cernex Inc, ADMOTECH Inc., Narda-MITEQ, DiTom Microwave, Bird Technologies, JQL Technologies Corporation, Quantic Corry, Atlantic Microwave
Analyst Review
The global RF isolator market is poised to experience significant growth in the coming years due to the rise in demand for wireless communication and the increase in number of cellular subscribers across the globe. The expansion of the IoT ecosystem and the growth in the adoption of small cell base stations contribute to the market growth. Key players focus on introducing technologically advanced products and implementing various strategies such as product launches, acquisitions, partnerships, and expansion, to stay ahead in this competitive market.
However, the market may be negatively affected by fluctuations in raw material prices, which may make it challenging for companies to manufacture cost-effective RF isolators. Since these components require a significant quantity of raw materials for production, the impact of price fluctuations is amplified. Companies explore new materials and technologies, to mitigate these challenges, such as graphene and metamaterials, which may enhance the performance of RF isolators and expand their frequency range.
In 2022, North America dominated the RF isolator market, driven by the presence of major players in the region. The region is expected to exhibit the highest compound annual growth rate (CAGR) due to the increase in adoption of RF isolators in various fields. Overall, the global RF isolator market is expected to continue its growth trajectory in the coming years, driven by the increase in demand for wireless communication and advancements in semiconductor technology.