Sales Intelligence Market Statistics: 2030
The global sales intelligence market size was valued at $2.78 billion in 2020, and is projected to reach $7.35 billion by 2030, growing at a CAGR of 10.6% from 2021 to 2030. 
The COVID-19 pandemic has positively impacted the sales intelligence market, owing to rise in investments by various companies in emerging technologies, like AI & machine learning and growing need of sale intelligence software among enterprises to identify potential customers and to improve their growth opportunities.
Sales intelligence is the use of data collection and software to aid salespeople in lead generation, creating an ideal customer profile data quality management. It helps companies use internal and external data to increase sales and improve sales processes. In addition, it improves quality and quantity of sales leads by using data to find new opportunities and provide salespeople with the information they need to take advantage of them. This type of software is used by marketing and sales executives to define and implement sales strategies based on their data combined with external data in their CRM software such as lists of prospects and databases of contacts.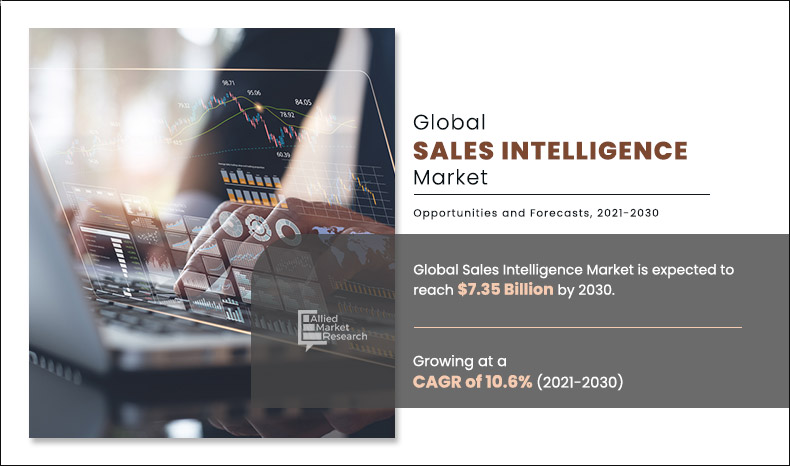 Rapid adoption of advanced solutions for improved customer targeting propels growth of the global sales intelligence market. In addition, surge in demand for content optimization and data enrichment tools positively impacts growth of the market. However, variation in industry-specific requirements and data privacy and accuracy rate of company/client information hampers the market growth. On the contrary, infusion of AI and ML capabilities to automate pre-sales processes is expected to offer remunerative opportunities for expansion of the market during the forecast period.
In terms of component, the software segment holds the largest share of the sales intelligence market. The developers are adopting sales intelligence software by utilizing analytical algorithms and natural language processing (NLP) technology to find meaning in huge amounts of unstructured textual data. This is the main reason that drives growth of the software sales intelligence in the market. However, the services segment is expected to grow at the highest rate during the forecast period, owing to growing demand for advanced technologies, content optimization, and data enrichment tools, which develops sales intelligence algorithms techniques. 
 Region wise, the sales intelligence market was dominated by North America in 2020, owing to growing adoption of sales intelligence solutions across end-user industries, such as BFSI, retail, and healthcare. However, Asia-Pacific is expected to witness significant growth during the forecast period, owing to increase in demand for sales intelligence solutions in the BFSI sector to improve customer experience. Sales intelligence is becoming a feasible solution for the detection of customer behavior in the regional insurance industry, which is expected to drive the sales intelligence market in Asia-Pacific.
The report focuses on growth prospects, restraints, and trends of the global sales intelligence industry. The study provides Porter's five forces analysis to understand impact of various factors, such as bargaining power of suppliers, competitive intensity of competitors, threat of new entrants, threat of substitutes, and bargaining power of buyers, on the global sales intelligence market share.
Segment review
The global sales intelligence industry is segmented on the basis of component, deployment model, enterprise size, application, industry vertical, and region. By component, the market is bifurcated into software and services. By deployment model, it is categorized into on-premises and cloud. By enterprise size, it is divided into large enterprises and SMEs. By application, it is segmented into analytics and reporting, data management, lead management, and others. By industry vertical, it is fragmented into BFSI, IT & telecom, retail & e-commerce, healthcare, media & entertainment, and others. Region wise, it is analyzed across North America, Europe, Asia-Pacific, and LAMEA.
Sales Intelligence Market

---
By Component
Software segment is projected as one of the most lucrative segments.
The key players profiled in the sales intelligence market analysis are Clearbit, Demandbase, Inc., Dun & Bradstreet Corporation, Data Axle, HG Insights, InsideView, LinkedIn Corporation, Oracle Corporation, ZoomInfo Technologies LLC, and Zoho Corporation. These players have adopted various strategies to increase their market penetration and strengthen their position in the sales intelligence industry.
COVID-19 impact analysis
The sales intelligence industry has witnessed stable growth during the COVID-19 pandemic, owing to rise in investments in emerging technologies, like AI and machine learning, among others, are expected to create scope for the sales intelligence market. In addition, the U.S. has a strong foothold of sales intelligence vendors, which contributes to the market's growth. Some of them include IBM Corporation, SAS Institute Inc., Luminoso Technologies Inc., and Microsoft Corporation, among others. Moreover, sales intelligence is being widely adopted by small and medium-sized enterprises (SMEs) to gain results in real-time, make strategic decisions, and resolve customer issues at priority basis. In addition, sales intelligence also identify actionable insights by aggregating analysis results and incorporating business intelligence (BI) tools for easy-to-understand reports and graphics. This is positively influencing its utilization in the media, retail, healthcare, travel and tourism, military and defense, information technology (IT) and telecommunication, and banking, financial services, and insurance (BFSI) sectors.
Sales Intelligence Market

---
By Application
Lead Management segment is projected as one of the most lucrative segments.
Top impacting factors
Rapid adoption of advanced solutions for improved customer targeting
The sales intelligence market growth is attributed to factors such as rise in demand for improved customer targeting and customer acquisition, which boosts growth of the sales intelligence market. In addition, growing technological advancements is creating several growth opportunities as it is helping enterprises by providing accurate picture of their customers, which is very important for effective sales and marketing. Furthermore, demand for sales intelligence tools has been increased by deep sales insights as per the needs of target needs for audiences, responsibilities, and challenges. It also helps evaluating vendors to build accurate personas and establish value propositions. Furthermore, it enables businesses identify sales triggers and present their offers to customers at the right time with the most convincing sales arguments. In addition, limiting the population funnels research and budgets to customers with highest profit potential is helping companies improve their ROI, which, in turn, drives growth of the market. 
Surge in demand for content optimization and data enrichment tools
Data enrichment helps companies to optimize their data will open new possibilities for marketing campaigns, communication channels, and improve customer targeting. In addition, together with email verifiers, data enriching tools help businesses cleanse their data, and keep enriched list accurate and usable. Furthermore, content optimization is gaining importance as 68% of all online experiences begin with a simple search. Thus, content optimization is one of the best ways for business pages to rank well on search engines. In addition, content optimization tools help pick the right topics and hit correct keywords for content. Moreover, more than 90% of businesses use content marketing to connect with audiences and about 4.4 million blog posts are published each day. With so much new content being produced every day, the chances of content overload increases. Thus, sales intelligence help businesses achieve top ranking for content pieces that a business is publishing each day or week, as between 70% to 90% of web traffic goes to the first page of the search results.
Sales Intelligence Market

---
By Region
Asia-Pacific would exhibit the highest CAGR of 12.5% during 2021-2030.
Key Benefits For Stakeholders     
The study provides an in-depth analysis of the global sales intelligence market forecast along with current & future trends to explain the imminent investment pockets.
Information about key drivers, restraints, & opportunities and their impact analysis on global deep learning market trend is provided in the report.
Porter's five forces analysis illustrates the potency of the buyers and suppliers operating in the industry.
The quantitative analysis of the market from 2021 to 2030 is provided to determine the sales intelligence market potential.
 Sales Intelligence Market Report Highlights
Aspects
Details
By Component
By Deployment Model
By Enterprise Size
By Application

Lead Management
Data Management
Analytics & Reporting
Others

By Industry Verticals

BFSI
IT & Telecom
Retail & E-Commerce
Healthcare
Media & Entertainment
Others

By Region

North America (U.S., Canada)
Europe (UK, Germany, France, Italy, Spain, Netherlands, Rest of Europe)
Asia-Pacific (China, Japan, South Korea, Australia, India, Rest of Asia-Pacific)
LAMEA (Latin America, Middle East, AfricaKEY MARKET PLAYERS)

By Key Market Players

Clearbit
Demandbase, Inc.
Dun & Bradstreet Corporation
Data Axle
HG Insights
InsideView.
LinkedIn Corporation
Oracle Corporation
ZoomInfo Technologies LLC
Zoho Corporation