Seaweed Protein Market Research, 2030
The global seaweed protein industry was valued at $550.40 million in 2021, and is projected to reach $1.51 billion by 2030, growing at a CAGR of 11.6% from 2022 to 2030. The global seaweed protein market size is increasing, owing to rising demand for plant-based foods. Seaweeds are healthy as they are rich in minerals, vitamins, and micronutrients, all of which aid in the promotion of good health. As a result, the global seaweed protein demand is estimated to increase during the forecast period. The need for healthy plant-based products is majorly driving the global expansion of plant-based protein supplements and is anticipated to drive the seaweed protein market growth.
Numerous businesses, including farming, have been adversely affected by COVID-19, which has resulted in a sharp drop in the supply of food items. Due to the widespread usage of seaweed in the food business, seaweed demand decreased significantly on a global scale.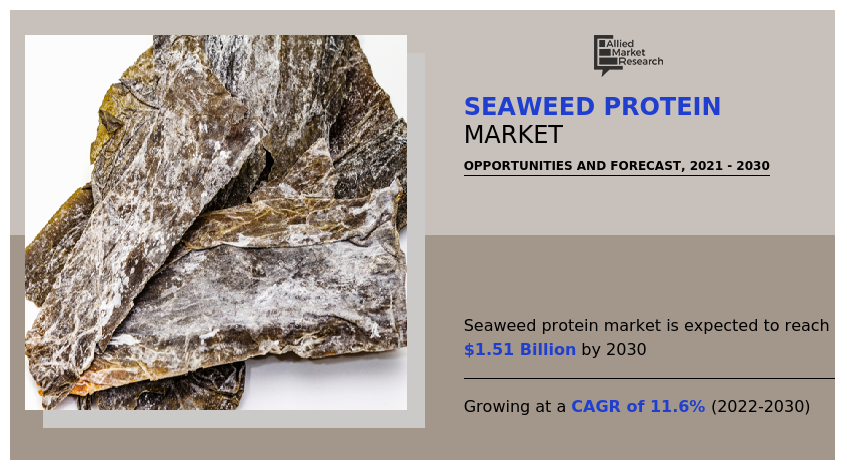 Seaweed farming is considerably expensive than land farming, which could hamper the global seaweed protein market revenue growth. Furthermore, due to presence of harmful minerals, excessive consumption of seaweed might create health concerns.  Most of the seaweed contains high levels of iodine that may affect the human body, if consumed excessive seaweed products over an extended period. People can suffer due to high levels of iodine as some are more vulnerable to its effects, which can include hyperthyroidism. This condition may cause drastic weight change or swelling and tightness around the neck.
 Popularity of seaweed protein as a plant-based protein in food products is rising as it has a number of benefits. Seaweed protein is rich in nutrients which is anticipated to generate excellent opportunities for the key players operating in the market. Seaweed farming's high expenses, on the other hand, are expected to hamper the market revenue growth. Seaweed output has increased year after year as customers seek a better lifestyle, resulting in higher demand for seaweeds. Seaweeds are pure, safe, secure, high-quality, and nutritious based. the aforementioned factors are anticipated to propel the market over the forecast period.
Some of the leading market players are CP Kelco, Cargill, Incorporated, Qingdao Gather Great Ocean Algae Industry Group CO. LTD, Mara Seaweed, ASL, Irish Seaweeds, AtSeaNova, ALGAIA, Seasol, and Maine Coast Sea Vegetables.
The seaweed protein market is segmented on the basis of type, application, and region. By type, the market is sub-segmented into red, brown, and green. By application, the market is classified into food, animal feed & additives, cosmetics & personal care, and others. By region, the market is analyzed across North America, Europe, Asia-Pacific, and LAMEA.
The seaweed protein market is segmented into Source and Application.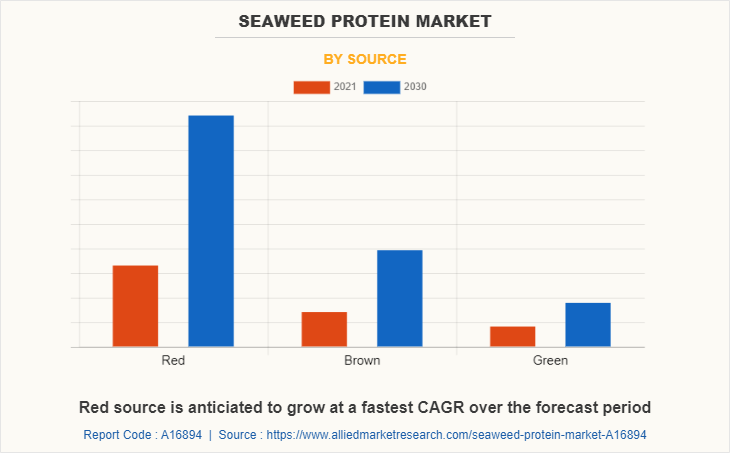 By type, the red sub-segment dominated the market in 2021. Red seaweed has the highest protein content. Also, red seaweed has higher level of minerals, vitamins, trace elements, and essential fatty acids. Red seaweed is commonly used as a raw ingredient in Asian cuisines, salads, and soups. Furthermore, in nations such as Korea, the U.K., and Japan, several well-known red seaweeds with high nutritional content, such as gim seaweed, dulse seaweed, and nori/porphyra seaweed, are commonly consumed.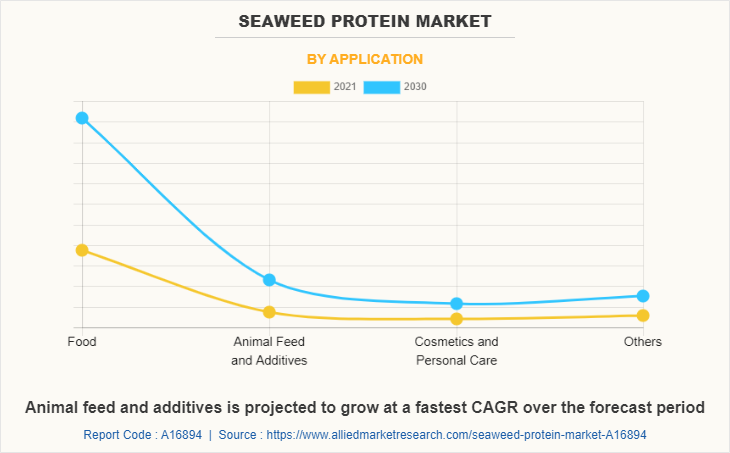 By application, the food sub-segment dominated the market 2021. This increase in the market can be attributed to the use of seaweed in the food industry, as red and brown seaweeds can be used to make three different types of hydrocolloids, which are non-crystalline substances that thicken (viscous) solutions when dissolved in water, such as carrageenan, agar, and alginate. Hydrocolloids are primarily utilized in the food industry to emulsify, gel, preserve, and thicken foods and beverages. All of these factors are projected to drive the seaweed protein market share in food applications and accelerate market expansion.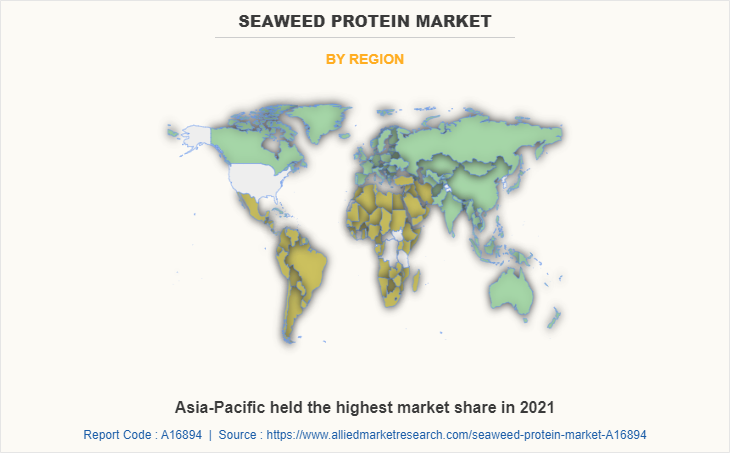 By region, North America is projected to remain the fastest-growing sub-segment during the forecast period. Plant-based products are in high demand in the North America region. The U.S. has a monopoly in the seaweed market in the region. The market for seaweed protein in North America is predicted to grow at a CAGR of 12.9%, creating $432.4 million in sales. Seaweeds are rich in minerals, vitamins, and micronutrients, all of which contribute to good health which is attracting the U.S. population. In addition, major players are seeking for strategic alliances and collaborations to help them increase their product reach in the global market. In April 2020, Acadian, a Canadian food supply chain company, announced that its seaweed extract products can help farmers boost plant productivity. As a result of these factors, the demand for seaweed protein is expected to rise in the next years.
Impact of COVID-19 on the Global Seaweed Protein Market
COVID-19 has negatively impacted various industries such as farming that has led to a drastic decline in availability of food products. As seaweed is widely used in the food industry, there was significant reduction in the seaweed demand globally.
North America is the leading producer and exporter of seaweed food products as they are rich in minerals, vitamins, and micronutrients. However, as North America was severely impacted due to the COVID-19 pandemic, its export trade was affected, leading to a decline in seaweed production.
In February2022, seaweed farming formed a major livelihood activity of the fisherfolk community of the Ramanathapuram district of India where seaweed farming is done on a commercial scale. The COVID-19 pandemic restrictions and lockdown across the globe severely affected the farming activities and the supply chain was disrupted.
Key Benefits For Stakeholders
This report provides a quantitative analysis of the market segments, current trends, estimations, and dynamics of the seaweed protein market analysis from 2021 to 2030 to identify the prevailing seaweed protein market opportunities.
The market research is offered along with information related to key drivers, restraints, and opportunities.
Porter's five forces analysis highlights the potency of buyers and suppliers to enable stakeholders make profit-oriented business decisions and strengthen their supplier-buyer network.
In-depth analysis of the seaweed protein market segmentation assists to determine the prevailing market opportunities.
Major countries in each region are mapped according to their revenue contribution to the global seaweed protein market forecast.
Market player positioning facilitates benchmarking and provides a clear understanding of the present position of the market players.
The report includes the analysis of the regional as well as global seaweed protein market trends, key players, market segments, application areas, and market growth strategies.
 Seaweed Protein Market Report Highlights
Aspects
Details
By Source
By Application

Food
Animal Feed and Additives
Cosmetics and Personal Care
Others

By Region

North America (U.S., Canada, Mexico)
Europe (Germany, United Kingdom, France, Spain, Italy, Rest of Europe)
Asia-Pacific (China, Japan, India, South Korea, Australia, Rest of Asia-Pacific)
LAMEA (Brazil, Saudi Arabia, United Arab Emirates, South Africa, Rest of LAMEA)

Key Market Players
Maine Coast Sea Vegetables, acadian seaplants, Atseanova, Irish Seaweed, Qingdao Gather Great Ocean Algae Industry Group Co Ltd, cargill, algaia, cp kelco, seasol international pty ltd, Mara Seaweed