Security Screening Market Outlook - 2027
The global security screening market size was valued at $8.35 billion in 2019, and is projected to reach $19.18 billion by 2027, registering a CAGR of 10.2% from 2020 to 2027.
Security screening devices are used for security & safety purpose such as metal detectors and explosive detectors. Security screening allows individuals to access classified information by thorough search and background check. Increasing terrorism and fraudulent activities coupled with stringent government norms have led to rise in growth of security screening systems. These systems have significant adoption rate in the military & defense sector due to increased threat of terrorism and cross-border intrusions.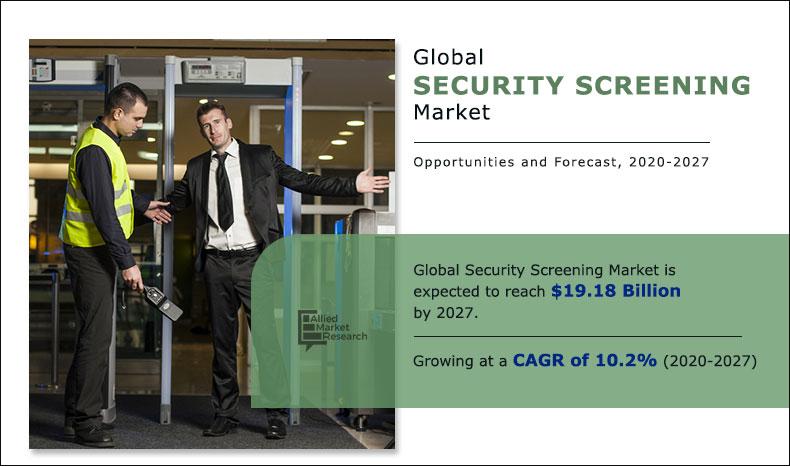 Technological advancements, such as internet connectivity, have enabled real-time surveillance at remote and critical locations with enhanced accuracy. These devices are cost-effective and help to highlight criminal activities. Increasing cross-border terrorism and smuggling have resulted in the growth of the use of intrusion detection systems across the globe. These systems help verify the identity of an individual and allow people to access the information. Furthermore, the key factors expected to drive the market growth are increasing domestic as well as foreign threats, illegal activities, and crime. Therefore, security has become an important aspect across the globe. 
In addition, the drivers of the security screening market growth are increasing security concerns among regions, introduction of automation in security and screening, and increase in need of large-scale surveillance at public gatherings. The hurdles of the security screening market are the high cost associated with installation of full body scanners and increase in health problem due to X-ray radiations in X-ray body scanners. However, many technologies & trends are coming up in security screening, such as emerging trends toward IoT-based security cameras and increasing demand for automatic explosive detection in airports, thereby creating lucrative security screening market opportunity.
Segmentation
The security screening market share is segmented on the basis of type, end use, and region. By type, it is divided into X-ray system, metal detectors, explosive detectors, biometric system, and other. By end use, it is categorized into government buildings, airports, educational institutes, public places, and others. By region, the market is studied across North America, Europe, Asia-Pacific, and LAMEA.
The key players profiled in the security screening industry include Smiths Group plc., L-3 Communications Holdings, OSI Systems Inc., Honeywell International Inc., Lockheed Martin Corporation, Raytheon Company, Security Electronic Equipment Co. Limited., United Technologies Corporation, Safran S.A, and Argus Global Pty.
These key players have adopted strategies, such as product portfolio expansion, mergers & acquisitions, agreements, geographical expansion, and collaborations, to enhance their market penetration.
COVID-19 Banner:
The ongoing spread of COVID-19 has become one of the biggest threats to the global economy and is causing widespread concerns and economic hardship for consumers, businesses, and communities across the globe. The "new normal" that includes social distance and working from home has created challenges with daily activities, regular work, needs, and supplies, causing delayed initiatives and missed opportunities.
The COVID-19 pandemic is impacting the society and overall economy across the global. The impact of this outbreak is growing day-by-day as well as affecting the supply chain. It is creating uncertainty in the stock market, falling business confidence, massive slowing of supply chain, and increasing panic among customers. European countries under lockdowns have suffered major loss of business and revenue due to shutdown of manufacturing units in the region. Operations of production and manufacturing industries have been heavily impacted by the outbreak of COVID-19, which led to slowdown in the growth of the security screening market analysis in 2020.
According to security screening market trends, the COVID-19 pandemic has severely impacted the global manufacturing and industrial sector as production facilities have stalled, which, in turn, have led to significant demand in industries. 
Security Screening Market

---
By Device Type
Biometric system segment is projected as one of the most lucrative segments.
Emergence of COVID-19 has forced the security organizations to change the way they operate. Attributed to the pandemic, enhanced airport security became more critical than ever, wherein biometric system is in demand at airports due to COVID-19 as it is an effective tool for access control, allowing for contactless identity checks. Security organizations have to focus on the cost-performance of safety screening products and services. 
Top Impacting Factors
The notable factor positively affecting the global security screening market outlook includes extensive checking at many places, including airports, hospitals, and government building for safety & security of individuals. Growing infrastructure also boosts the security screening market.
Major areas contributing to the market growth include educational institutes, airports, retail stores, banks, seaports, railway stations, and more. Biometric technology has a significant market share, owing to several choices available to the consumer such as fingerprint verification and face recognition for identification. Increase in illegal activities and fraud has escalated the need of security & safety, thereby boosting the global security screening market.
Security Screening Market

---
By End Use
Educational Institute segment is projected as one of the most lucrative segments.
Increase in adoption of security screening in government buildings 
Widespread use of security screening by governments and law enforcement agencies to improve security drives the growth of the global security screening market. The security screening market includes the person's security at spots and in government building where security & safety is crucial to protect individual and data or information. Governments are installing many security screening devices, such as walk-through metal detectors, handheld detectors, X-ray systems, and biometric systems, for checking and security purposes.
Advancement in technology in security screening
New technologies in security screening have increases the growth of devices such as alarm system for detection and 3D scanning for deep checking. Ease of installation & handling is one of the major advancement. 
Increasing terrorism and illegal activities
Increased terrorism, crime, illegal, & fraud activities boost the security screening market growth as extensive checking is important for safety of the individual, property, and privacy.
Security Screening Market

---
By Region
Asia-Pacific would exhibit the highest CAGR of 11.3% during 2020-2027
Key Benefits For Stakeholders
This study includes the analytical depiction of the global security screening market forecast along with the current trends and future estimations to determine the imminent investment pockets.
The report presents information regarding the key drivers, restraints, and opportunities in the global security screening market analysis.
The global security screening market trends are quantitatively analyzed from 2019 to 2027 to highlight the financial competency of the industry.
Porter's five forces analysis illustrates the potency of the buyers and suppliers in the industry.
 Security Screening Market Report Highlights
Aspects
Details
By Type

X-Ray System

Body Scanners
Baggage Scanners
Others

Metal Detectors

Hand Held Metal Detectors
Walk-Through Metal Detectors

Explosive Detectors
Biometric System

Face Recognition
Voice Recognition
Fingerprint Recognition
Others

By End Use

Government Buildings
Airports
Educational Institutes
Public Places
Others

By Region

North America (U.S., Canada, Mexico)
Europe (UK, Germany, France, Italy, Rest of Europe)
Asia-Pacific (China, Japan, India, Australia, Rest of Asia-Pacific)
LAMEA (Latin America, Middle East, Africa)

Key Market Players
SMITHS GROUP PLC., L-3 COMMUNICATION HOLDINGS., OSI SYSTEMS INC, HONEYWELL INTERNATIONAL INC, LOCKHEED MARTIN CORPORATION, RAYTHEON COMPANY, SECURITY ELECTRONIC EQUIPMENT CO., LIMITED, UNITED TECHNOLOGIES CORPORATION, SAFRAN S.A, ARGUS GLOBAL PTY LTD