The shea butter market size was valued at $655.2 million in 2020 and is estimated to reach $2,408.7 million by 2030, registering a CAGR of 14.1% from 2021 to 2030.
Shea butter is a natural vegetable fat, light yellowish or ivory, derived from the African tree nut Vitellaria paradoxa. The nozzle contains saturated and unsaturated fatty acids, vitamins E, A, F, and carotene. Vitamin E and Vitamin A are recognized as collagen enhancers known to soothe and moisturize skin. Shea butter provides an appropriate basis for hair and skin hydrating products. It is commonly used as a moisturizer, salve or lotion in cosmetics, and it has well-known protecting qualities against environmental skin-damaging effects such as dryness, rash, and others. .  It is expected that the market for cosmetic shea butter to increase over the predictive period due to the increased use of cosmetics in the young and elderly population. However, the availability of alternatives in the cosmetics industry, such as mango butter and shea oil, limits the expansion of the cosmetic shea butter market.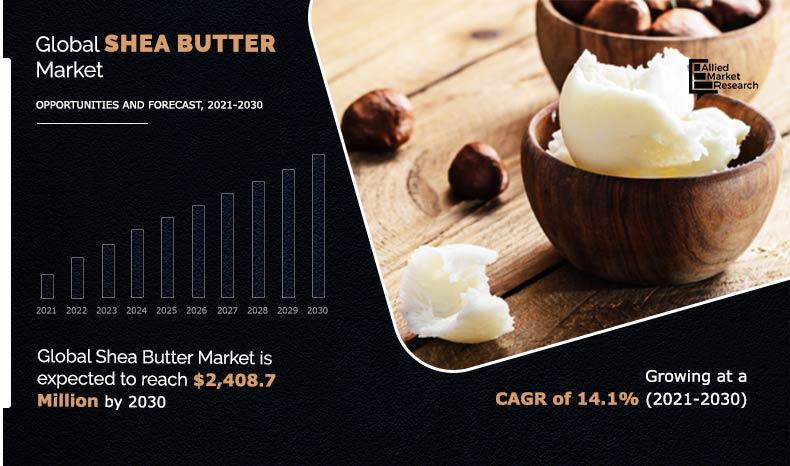 Shea Butter is majorly produced in West, Central and East African countries including enin, Burkina Faso, Cameroon, Central African Republic, Chad, Ethiopia, Eritrea, Ghana, Guinea Bissau, Ivory Coast, Mali, Niger and Nigeria, and Shea butter market is now attractive for markets across Europe, America and Asia. A crucial market exists in the European Union, USA which purchases shea butter mainly for producing cosmetics and chocolate formations.
Shea butter is majorly used in cosmetic, food, and pharmaceutical industries. It delivers improved benefit to skin and hair that helps in nourishment and hydrating the skin. Furthermore, it is used for treating skin rash, eczema, insect bites, and poison ivy. In addition, it helps in reducing fine lines and wrinkles, and is particularly effective at treating rough skin.
Outbreak of COVID-19 has negatively impacted the growth of the shea butter market demand. The shea nut supply is one of the major parts in the value chain of the shea butter market, where the key players and the vendors are facing the problems due to poor logistics, traffic control, and restrictions on public movement in the affected countries across the globe, which can lead to supply disruptions. Trade restrictions imposed by several countries across the globe to curb the outbreak of COVID-19 has significantly affected global logistics and transportation, which has affected the shea butter market.
According to the shea butter market analysis, the market segmented into type, application and region. On the basis of type, the market is categorized into raw & unrefined and refined & ultra-refined. By application, market is categorized into, food and cosmetics. Region wise, it is analyzed across North America (the U.S., Canada, and Mexico), Europe (Germany, France, UK, Italy, Spain and Rest of Europe), Asia-Pacific (China, India, Japan, South Korea, Australia, ASEAN and Rest of Asia-Pacific), and LAMEA (Latin America, Middle East and Africa).
On the basis of type, the raw & unrefined segment was the highest contributor to the market, with $515.6 million in 2020, and is estimated to reach $1,786.2 million by 2030, at a CAGR of 13.4% during the forecast period. Consumer demand for less processed oils is growing, as multiple benefits are associated with unrefined or cold pressed oils. For instance, unrefined shea butter keeps the skin young by stimulating the tissues and helps the skin make its own collagen. In addition, it possesses soothing, moisturizing, and nourishing properties, which make it suitable for dry damaged hair and skin. Raw & unrefined shea butter is a chemical-free alternative for many cosmetic products and helps to ease the inflammation. Owing to this ability, raw & unrefined shea butter is useful for treating acne, anti-aging, dry & itchy skin, chapped lips, frostbite, psoriasis, rashes, stretch marks, and sunburn. Thus, all these factors collectively boost the shea butter market growth.
Shea Butter Market

---
By Type
Raw & Unrefined segment helds the major share of 78.7% in 2020
According to the shea butter market trends, on the basis of application, the food segment has highest share in global product market. The food segment accounts for nearly 84.3% of shea butter sales. shea butter exhibits functional and enhanced nutritional properties, which fuel its demand in the food industry. For instance, shea butter can be used as a natural antioxidant, trans-fat free edible oil, food additive and functional food ingredient. It contains vitamins A, E, and F vitamins that promote circulation and healthy skin cell growth. Shea kernel fat—alone or when blended with other nut fats like almond, palm stearin—can act as dairy butter replacer in many food products, hence, these useful properties of shea butter are expected to boost its demand in the food industry during the forecast time period.  
Shea Butter Market

---
By Application
Food segment helds the major share of 84.3% in 2020
According to the Shea butter market opportunities. Region wise, North America garnered a major share in product market in 2020, and is expected to maintain it's share throughout Shea butter market forecast period.  Rise in health conscious population and improved lifestyle are the key factors driving the growth of the shea butter market. Increase in purchasing power in this region majorly boosts the sale of shea butter products. Moreover, consumers are increasingly opting for natural and organic cosmetic and food products.  From a growth perspective, shea butter is a new product introduced in the market; therefore, the number of producers operating in the market is considerably low. Thus, new entrants are anticipated to exhibit high growth potential in North America during the forecast period.
Shea Butter Market

---
By Region
North America region helds the major share of 49.2% in 2020
The players operating in the global product market have adopted various developmental strategies to expand their market share, increase profitability, and remain competitive in the market. The key players profiled in this report AAK AB, Bunge Ltd., FUJI OIL HOLDINGS INC, 3F Industries Ltd, ADM, Stern-Wywiol Gruppe GmbH & Co. KG, Akoma Cooperative, StarShea, Ghana Nuts Ltd and Shebu Industries.
Key Benefits For Stakeholders
The report provides a quantitative analysis of the current trends, estimations, and dynamics of the market size from 2020-2030 to identify the prevailing opportunities.
Porter's five forces analysis highlights the potency of buyers and suppliers to enable stakeholders to make profit-oriented business decisions and strengthen their supplier–buyer network.
In-depth analysis and the market size and segmentation assist to determine the prevailing market opportunities.
The major countries in each region are mapped according to their revenue contribution to the shea butter market share.
The market player positioning segment facilitates benchmarking and provides a clear understanding of the present position of the market players in the shea butter industry.
Key Market Segments 
By Type
Raw & Unrefined
Refined & Ultra-Refined
By Application
By Region
North America
Europe

Germany
France
UK
Italy
Spain
Rest of Europe

Asia-Pacific

China
India
Japan
South Korea
Australia
ASEAN
Rest of Asia-Pacific

LAMEA

Latin America
Middle East
Africa