The smart bathroom market size was valued at $3,774.6million in 2020, and is projected to reach $10,882.1million by 2030, registering a CAGR of 11.2% from 2021 to 2030. Sanitary ware has become an important lifestyle statement for customers. Bathroom fixtures have evolved significantly in recent years as a result of technology advancements. Smart cities have shown a tendency in terms of demand for smart bathroom. Customers have become more interested in smart bathroom with a greater focus on energy and water conservation. Furthermore, as technology advances, bathroom fixture makers have shifted their attention from traditional bathroom accessories to sensor-enabled bathroom accessories. Smart bathroom includes sensor-enabled soap dispensers, automatic hand dryers, automated cistern systems, touchless faucets, and other smart bathroom technologies. 
The COVID-19 outbreak has affected the growth of the smart bathroom industry owing to the lockdown measure in the countries and delay in production and manufacturing of smart bathroom which are utilized in commercial & residential spaces.
The smart bathroom market is predicted to increase significantly among nonresidential and residential users owing to the desire to maintain hygiene and conserve energy. Increase in consumer awareness regarding health hygiene, water conservation, and energy conservation is likely to drive the global market forward throughout the forecast period. In addition, the growth in use of touch less faucets in nonresidential facilities is likely to boost demand for smart bathroom globally. Smart windows are another element of smart bathroom that is projected to contribute significantly to the global market's growth. Smart windows are fitted in bathrooms to manage heat inflow &outflow and keep the bathroom at a comfortable temperature. In addition, the global market is predicted to expand owing to increase in disposable income, change in consumer lifestyle, and increased expenditures in creating smart &energy efficient houses throughout the forecast period. The high cost of installation and maintenance is likely to be a key constraint on the global smart bathroom market growth.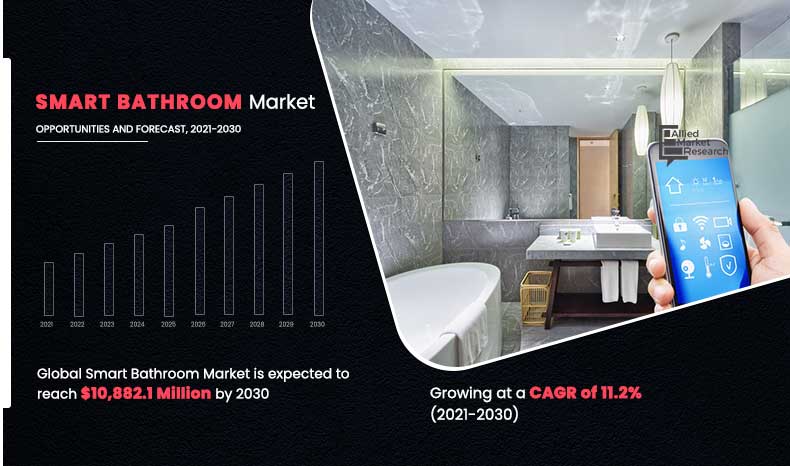 In addition, leading market players are focused on manufacturing advanced faucets and toilets with smart sensors and latest technology. For instance, in March 2020, Delta Faucets launched Pivotal series collection, which offers faucets or various heights and showers with H2Okinetic Technology. It also offers wall-mounted tub fillers and Roman tub fillers. Such advanced products provide lucrative growth in the global market. 
The novel coronavirus has rapidly spread across various countries and regions, causing an enormous impact on lives of people and the overall community. It began as a human health condition and has now become a significant threat to global trade, economy, and finance. The COVID-19 pandemic has halted production of many products in the smart bathroom business, owing the lockdowns. Furthermore, the number of COVID-19 cases is expected to reduce in the future as the vaccine for COVID-19 is introduced in the smart bathroom market. This has led to the reopening of smart bathroom companies at their full-scale capacities. This is anticipated to help the market recover by the start of 2022. After COVID-19 infection cases begin to decline, equipment & machinery producers must focus on protecting their staff, operations, and supply networks to respond to urgent emergencies and establish new methods of working.
Smart Bathroom Market

---
By Product Type
Faucet segment is projected to grow at a significant CAGR
The market is segmented on the basis of product type, sales channel, application, and region. Byproduct, the market is classified into toilet, faucet, shower, and others. By sales channel, the market is divided into in-store, and online. By application, it is classified as residential and commercial. Region wise, the global market analysis is conducted across North America (the U.S., Canada, and Mexico), Europe (the UK, France, Germany, Italy, and Rest of Europe), Asia-Pacific (China, Japan, India, South Korea, and Rest of Asia-Pacific), and LAMEA (Latin America, the Middle East, and Africa).
Smart Bathroom Market

---
By Application
Commercial segment holds dominant position in 2020
Competition Analysis
The key players operating in the global smart bathroom market are Toto Ltd., Jacuzzi Brand LLC, Roca Sanitario, Kohler CO., Jaquar, Cera Sanitaryware Ltd., LIXIL Corporation, Pfister (Spectrum Brands), MASCO Corporation and Delta Faucet Company.
Smart Bathroom Market

---
By Region
North America holds a dominant position in 2020 and Asia-Pacific is expected to grow at a significant rate during the forecast period.
Key Benefits For Stakeholders
The report provides an extensive analysis of the current and emerging smart bathroom market trends and dynamics.  
In-depth smart bathroom market analysis is conducted by constructing market estimations for key market segments between 2021 and 2030. 
Extensive analysis of the smart bathroom market is conducted by following key product positioning and monitoring of top competitors within the market framework.
A comprehensive analysis of all the regions is provided to determine the prevailing opportunities.
The global smart bathroom market forecast from 2021 to 2030 is included in the report.
The key players within market are profiled in this report and their strategies are analyzed thoroughly, which help understand the competitive outlook of the smart bathroom industry.
 Smart Bathroom Market Report Highlights
Aspects
Details
By Product Type

Toilet
Faucet
Shower
Others

BY SALES CHANNEL
BY APPLICATION
By Region

North America (U.S., Canada, Mexico)
Europe (Germany, UK, France, Italy, Rest of Europe)
Asia-Pacific (China, India, Japan, South Korea, Rest of Asia-Pacific)
LAMEA (Latin America, Middle East, Africa)