Sodium Citrate Market Research, 2031
The global sodium citrate market size was valued at $813.6 million in 2021, and sodium citrate market size is projected to reach $1.2 billion by 2031, growing at a CAGR of 4.1% from 2022 to 2031.
Sodium citrate is a vegan food ingredient as the raw materials and production process is free from animal products. Thus, the growing demand for vegan food will propel the use of sodium citrate in food and beverage products. Also, it doesn't include wheat, rye, barley, or crossbreeds of these grains, it is gluten-free and can be consumed by those who have celiac disease.
Sodium citrate is a sodium salt obtained from citric acid. Monosodium citrate, disodium citrate, and trisodium citrate are the sodium salts of citric acid. These three types of salts are collectively known as E 331. In contrast, sodium citrate generally refers to the third variety, trisodium citrate. It is commonly used as a food preservative, urine alkalizer to avoid kidney stones, anticoagulant for preserved blood, and buffer.
Sodium citrate is nothing more than a sodium salt with a citric acid base. Sodium citrate medicine is used to make the urine less acidic. As a result, the kidneys can eliminate uric acid, which can aid in the prevention of kidney stones and gout. Sodium citrate can also be used to treat and prevent certain renal disorders as well as metabolic issues like acidosis. In coagulation tests, it also acts as an anticoagulant. It can help prevent coagulation by producing a calcium ion complex. It is used to treat and prevent illness in all of these ways. Moreover, it is used as a buffering agent in a variety of food & beverages to maintain precise pH levels. Citric acid is used for cleaning in some industries. It aids in the removal of calcium and rust deposits from steam boilers and hot water systems. It is also used in electroplating techniques as a buffering and complexing agent. The chelating properties of citric acid and lack of toxicity benefit the textile and construction industries.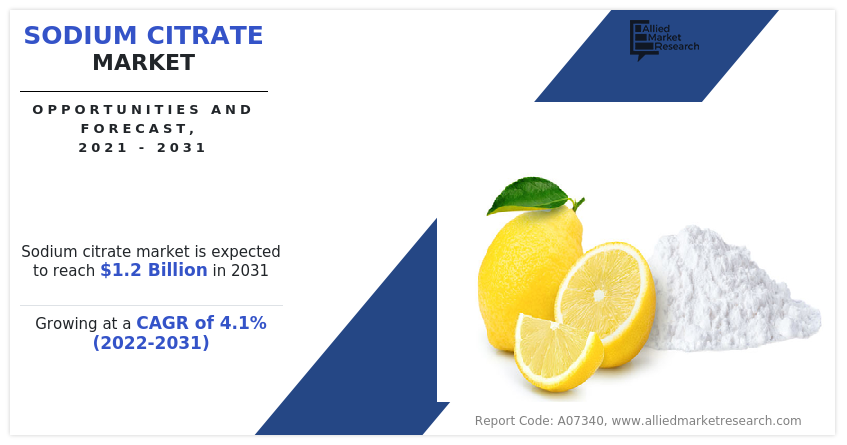 Citric acid adds a sour taste to dairy products, but it is a strong sour taste, and the sour taste can be eased with the addition of sodium citrate, so these two ingredients are frequently used together in yogurt to adjust and improve the sour taste. Cheese is an emulsion of dairy fat, protein, and water that degrades at high temperatures. Sodium citrate acts as an emulsifier while melting, keeping fat and protein together and binding calcium ions in the cheese to prevent curdling or separation of fat and protein. The usage of cheese is around 3%, depending on the recipe. Cheese containing sodium citrate melts evenly and produces a smooth and creamy sauce. This property enables the use of portable and sliceable cheese in home cooking. Thus, the wide applications of sodium citrate among food & beverage, pharmaceutical, and other industrial uses are anticipated to boost the sodium citrate market growth.
Companies need to develop increasingly innovative and creative ideas to meet the high demand for convenience food. Manufacturers and retailers must reach out to an increasingly time-pressed audience with high expectations of food quality, flavors, and formats. As a result of the busy lifestyles of the consumers, high demand for convenience food is expected to drive the food additives such as sodium citrate market forecast.
Citrus fruits contain citric acid, a potent organic acid. Sodium citrate is derived from plants and animals and is labeled clearly on the product thus, can be known as a clean-label ingredient. It is used as an acidic (sour) flavoring for food and soft drinks in addition to being a natural preservative. It plays an important role in biochemistry as an intermediary in the citric acid cycle, and thus appears in the metabolism of almost all living organisms. The sodium citrate industry is wide and has a large number of market players to keep up with the competition, hence, the usage of low-quality raw material is used in the manufacturing of sodium citrate. There is an increase in consumer demand for fresh and nutritional products, for the past decade. Customers examine food & beverage labels these days, as a result of greater understanding and conscience, and food ingredients such as sodium citrates are no exception. Manufacturers are offering clean-label, and natural food ingredients goods to the market to meet customer demand. The market availability of clean-label products tempts customers and increases sales of food products that are expected to provide benefits. Consumers can distinguish between organic and low-quality food products on the market, as they are informed and aware of the ingredients used in food products.
When consumed in small amounts, sodium is beneficial, but when consumed in large amounts, it can be harmful. A healthy diet should contain 1,500 to 2,300 milligrams of sodium. However, the average person consumes about 3,400 milligrams of sodium per day. Excess sodium consumption can contribute to a variety of health problems, including high blood pressure, heart disease, kidney disease, stroke, and congestive heart failure. The Centers for Disease Control and Prevention (CDC) recommended that Americans are anticipated to consume less than 2,300 milligrams of sodium as part of a healthy diet from 2020 to 2025. However, the average daily sodium intake of the American population is more than 3,400 milligrams, with processed and restaurant food accounting for roughly 70% of sodium consumption.
High sodium levels in processed and restaurant food contribute to high rates of hypertension, heart attack, and stroke. Lowering sodium consumption could save thousands of lives because high blood pressure kills nearly 500,000 people each year. As a result, the health risks associated with consuming too much sodium in the daily diet are expected to restrain the sodium citrate market demand during the forecast period.
Sodium citrate, the trisodium salt of citric acid, has emerged as the preferred material for detergent application since the introduction of liquid heavy-duty detergents. It is suitable for use as a builder in heavy-duty laundry detergents due to its ability to sequester positively charged calcium and magnesium ions found in tap water, and unlike phosphate builders, it is environmentally safe. Trisodium citrate is particularly well-suited for inclusion in liquid detergent formulations because it is soluble in liquid detergent, unlike other environmentally friendly detergent builders. Sodium citrate can be used as the sole builder in anionic detergent formulations intended for high-temperature cleaning. A combination of anionic and nonionic surfactants is commonly used for optimal performance. In general, anionics are effective at removing particulate soil while nonionics are effective at removing greasy soil. As a result of the increased use of sodium citrate as an environmentally friendly material in detergents, is providing sodium citrate market opportunity.
The sodium citrate market analysis is done into type, application, and region. On the basis of type, the market is categorized into monosodium citrate, disodium citrate, and trisodium citrate. On the basis of application, the market is divided into food & beverages, pharmaceuticals, cosmetics, soaps and detergents, and others. The food & beverage sub-segment is further divided into beverages, dairy, meat and fish, jams, jellies, preserves, and others. On the basis of region, it is analyzed across North America (the U.S., Canada, and Mexico), Europe (Germany, the UK, France, Italy, Spain, and Rest of Europe), Asia-Pacific (China, India, Japan, South Korea, Australia, and Rest of Asia-Pacific), and LAMEA (Brazil, Argentina, South Africa, and Rest of LAMEA)
On the basis of type, the trisodium citrate segment holds the largest market share in 2021 and is projected to grow at the fastest CAGR during the forecast period. Trisodium citrate anhydrous can be used as a carrier in moisture-sensitive formulations, because of its ability to absorb water and its free-flowing nature, providing a longer shelf life due to its low water content. As a result, this type of sodium citrate is most popular among end-use application industries, driving sodium citrate market share. Furthermore, the environmentally friendly nature of the product makes it an excellent choice for eco-friendly detergent. It is used as a substitute for trisodium phosphate in eco-friendly detergents. For this reason, the increased demand for such products is anticipated to boost market growth.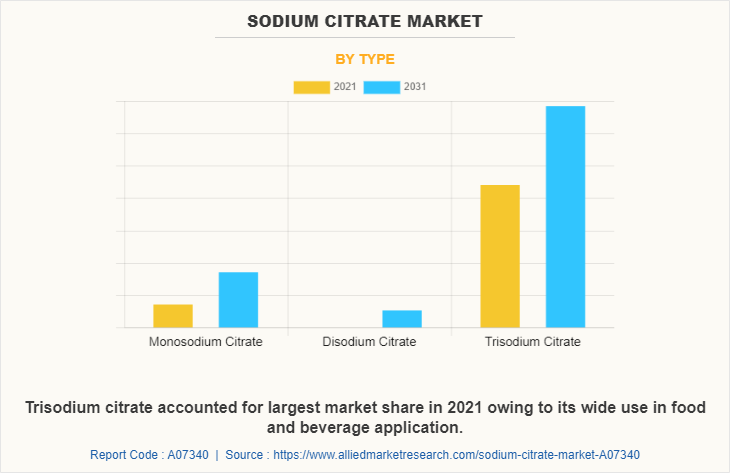 On the basis of application, the food & beverage segment holds the largest market share in 2021. In the food & beverage industry, sodium citrate is used as an additive, buffer, chelate agent, emulsifier, binder, and anticoagulant. The rise in demand for processed, ready-to-eat, and convenience food & beverage products is one of the primary drivers of the expansion of this segment. According to AMR analysis, the e-commerce food & beverage industry was valued at $440 billion in 2017 and is expected to grow to $860 billion by 2025, with a CAGR of 19% from 2022 to 2025. Sodium citrate is used as an antioxidant, flavoring agent, and preservative, and to improve the quality and stability of food. It is also used as an emulsifier in processed cheese. It melts without becoming greasy because the cheese contains sodium citrate. The expansion of the food & beverage industry, as well as an increase in product use in various processed products, are thus anticipated to drive demand for sodium citrate during the forecast period.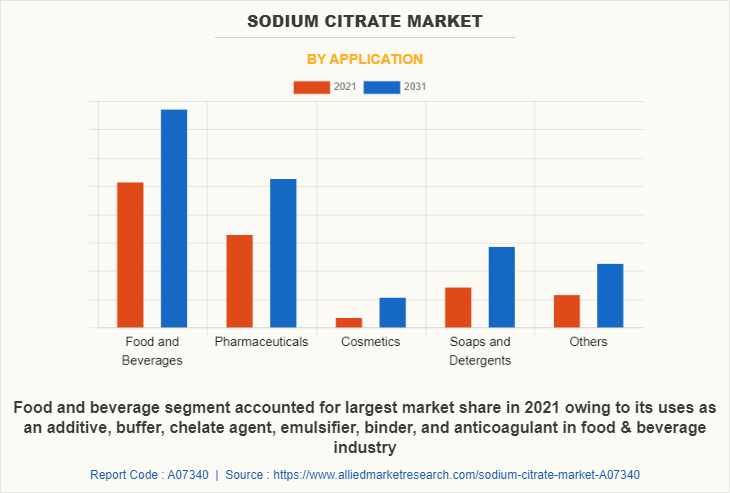 On the basis of region, Asia-Pacific was the highest revenue contributor and is estimated to reach $ 510.27 million by 2031. Asia-Pacific consumers appreciate packaged food because they save time and satisfies hunger. Furthermore, food manufacturing companies are promoting the product through digital mediums in order to increase awareness of processed food products in developing countries, which is expected to drive market growth. Furthermore, evolving regulatory dynamics in the area, such as JAS Law (the Law Concerning the Standardization and Proper Labeling of Agriculture and Forestry Products) in Asia-Pacific, have permitted the use of food additives such as sodium citrate in food & beverage applications, resulting in the requirement of naturally derived ingredients. The growth in the use of sodium citrate in various industrial applications such as textile and construction is expected to drive the market during the forecast period.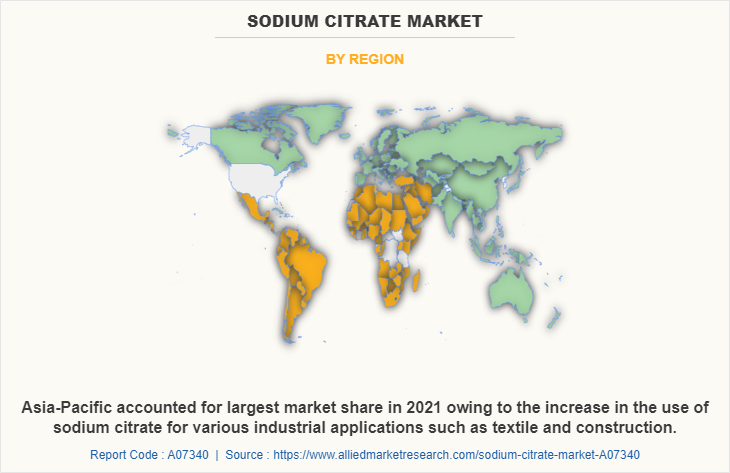 The key players operating in the global sodium citrate market include the Archer-Daniels-Midland Company, Wang Pharmaceuticals and Chemicals, FBC Industries, Inc, Hunan Dongting Citric Acid Chemicals Co.Ltd, Jiangsu Mupro IFT Corp., Cargill Incorporated, Natural Biological Group Co. Ltd., Citribel NV, Huangshi Xinghua Biochemical Co. Ltd., Pan Chem Corporation, Gadot Biochemical Industries Ltd., Jungbunzlauer Suisse AG, Laiwu Taihe Biochemistry Co. Ltd., Fuso Chemical Co. Ltd., and ATPGroup.
COVID-19 Impact Analysis
COVID-19 is an infectious disease that originated in Hubei province of Wuhan city in China in late December 2020.

Sodium citrate market is one of the least negatively impacted markets due to the pandemic.

Countries across the globe-imposed lockdowns, and curfews, which has hugely impacted lifestyles, health & well-being, and also affected the manufacturing industries.

Import and export restrictions on goods and lockdown measures imposed by governments are key challenges exporters face during the pandemic.
Key Benefits For Stakeholders
This report provides a quantitative analysis of the market segments, current trends, estimations, and dynamics of the sodium citrate market analysis from 2021 to 2031 to identify the prevailing sodium citrate market opportunities.
The market research is offered along with information related to key drivers, restraints, and opportunities.
Porter's five forces analysis highlights the potency of buyers and suppliers to enable stakeholders make profit-oriented business decisions and strengthen their supplier-buyer network.
In-depth analysis of the sodium citrate market segmentation assists to determine the prevailing market opportunities.
Major countries in each region are mapped according to their revenue contribution to the global market.
Market player positioning facilitates benchmarking and provides a clear understanding of the present position of the market players.
The report includes the analysis of the regional as well as global sodium citrate market trends, key players, market segments, application areas, and market growth strategies.
 Sodium Citrate Market Report Highlights
Aspects
Details
Market Size By 2031
USD 1.2 billion
Growth Rate
CAGR of 4.1%
Forecast period
2021 - 2031
Report Pages
380
By Type

Monosodium Citrate
Disodium Citrate
Trisodium Citrate

By Application

Food and Beverages

Food and Beverages

Beverages
Dairy
Meat and Fish
Jams, Jellies, and Preserves
Others

Pharmaceuticals
Cosmetics
Soaps and Detergents
Others

By Region

North America (U.S., Canada, Mexico)
Europe (Germany, France, UK, Italy, Spain, Rest of Europe)
Asia-Pacific (China, Japan, India, Australia, Rest of Asia-Pacific)
LAMEA (Brazil, South Africa, Argentina, Saudi Arabia, Rest of LAMEA)

Key Market Players
ATPGroup, Hunan Dongting Citric Acid Chemicals Co., Ltd., Cargill, Incorporated, FBC Industries, Inc., Wang Pharmaceuticals and Chemicals, Citribel nv, Gadot Biochemical Industries Ltd., Pan Chem Corporation, Jungbunzlauer Suisse AG, Jiangsu Mupro IFT Corp., Huangshi Xinghua Biochemical Co. Ltd., Natural Biological Group Co., Ltd., Laiwu Taihe Biochemistry Co.,Ltd., FUSO CHEMICAL CO., LTD., Archer Daniels Midland Company