Structured Cabling Market Outlook – 2030 
The global structured cabling market size was valued at $10.62 billion in 2020, and is projected to reach $20.88 billion by 2030, registering a CAGR of 7.4% from 2021 to 2030. Structured cabling is an electric wiring infrastructure that contains several standardized smaller electrical elements. It also provides a predictable performance as well as has the flexibility to accommodate additions, changes, maximizes system availability, and provides redundancy for the cabling system. 
The manufacturing segment has been adversely impacted by the COVID-19 pandemic outbreak.
The growth of the global structured cabling market is anticipated to be driven by factors such as surge in investments in communication infrastructure, and rising trend of data center convergence. In addition, increasing demand for high-speed connectivity devices & systems, boosts the overall market growth. However, fluctuating raw material prices acts as a major restraint of the global structured cabling industry. On the contrary, growing acceptance of 5G technology & improving broadband infrastructure globally is expected to create lucrative opportunities for the structured cabling industry.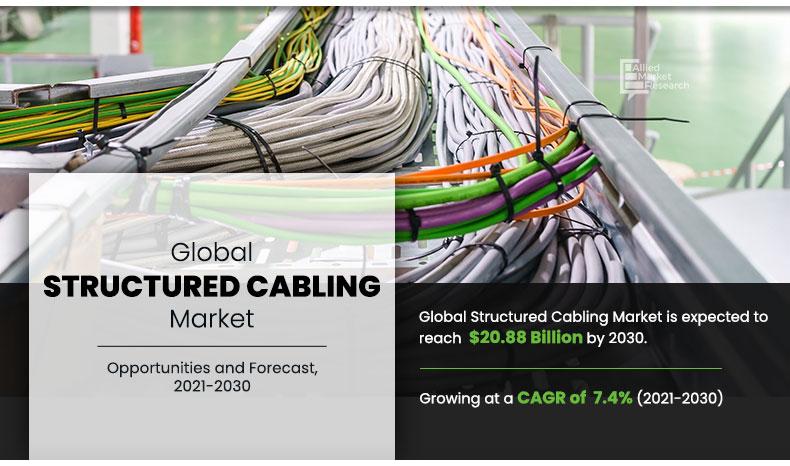 The global structured cabling market is segmented into offering, cable type, industry vertical, and region. By offering, the market is classified into hardware, services, and software. Depending on cable type, the market is categorized into category 5E, category 6, category 6A, and others. On the basis of industry vertical, the market is classified into IT & telecommunications, residential, commercial, government, manufacturing & automation, military & defense, energy, oil & gas, and others. 
Region wise, the structured cabling market trends are analyzed across North America (U.S., Canada, and Mexico), Europe (UK, Germany, France, Italy, Russia, Spain, and rest of Europe), Asia-Pacific (China, Japan, India, Australia, South Korea, and rest of Asia-Pacific), and LAMEA (Latin America, Middle East, and Africa). North America dominated the structured cabling market in 2020, and is projected to register significant growth rate during the forecast period, owing to growth of the IT & telecommunications sector. However, Asia-Pacific is expected to witness significant growth rate by the end of the forecast period, followed by LAMEA.
Leading structured cabling market manufacturers such as Belden, Inc., Cisco Systems, Inc., and CommScope Holding Co., are focusing on their investment on technologically advanced, cost-effective, and more secure products and solutions for various applications.
Structured Cabling Market

---
By Offering
Hardware segment is expected to secure leading position during forecast period.
Top Impacting Factors
The prominent factors that impact the structured cabling market growth are increasing demand for high-speed connectivity devices systems, and growing expansion of data centers. In addition, growth in demand for structured cabling due to technological advancements drives the structured cabling market. However, emergence of wireless communication systems restricts the market growth. On the contrary, growth of IT & telecom sector, and increase in investment in Asia-Pacific region is expected to create lucrative opportunities for the market.
Competition Analysis
Competitive analysis and profiles of the major structured cabling market players such as Belden, Inc., Cisco Systems, Inc., CommScope Holding Co., Corning Inc., Furukawa Electric Co., Ltd., Legrand, Nexans S.A., Schneider Electric, Siemon, and TE Connectivity, have been covered in the report. These key players have adopted strategies, such as product portfolio expansion, mergers & acquisitions, agreements, regional expansion, and collaboration, to enhance their market penetration.
Structured Cabling Market

---
By Type
IT & Telecommunications segment is projected as one of the most lucrative segments.
COVID-19 Impact Analysis
The outbreak of COVID-19 has significantly affected the electronics and semiconductor sector. Business and manufacturing units across various countries were closed, owing to increase in number of COVID-19 cases, and are expected to remain closed in 2021. Furthermore, partial or complete lockdown has disrupted global supply chain posing challenges for manufacturers to reach customers.
The COVID-19 pandemic is impacting the society and overall economy across the globe. The impact of this outbreak is growing day-by-day as well as affecting the overall business globally. The crisis is creating uncertainty in the stock market and is resulting in falling business confidence, massive slowing of supply chain, and increasing panic among the customer segments.
Asian and European countries under lockdowns have suffered major loss of business and revenue, due to shutdown of manufacturing units. The operations of the production and manufacturing industries have been heavily impacted by the outbreak of the COVID-19 disease, which further impacted the growth of the structured cabling market.
In addition, the COVID-19 pandemic has impacted the electronics sector, as the production facilities have halted, which, in turn, have boosted the demand for electronics and semiconductor products in the industries. Its major impact includes a large manufacturing interruption across Europe and interruption in Chinese parts exports, which may hinder the structured cabling market. 
Structured Cabling Market

---
By Region
Asia-Pacific would exhibit the highest CAGR of 9.2% during 2021-2030
Key Benefits for Stakeholders
This study comprises analytical depiction of the global structured cabling market size along with the current trends and future estimations to depict the imminent investment pockets.
The overall structured cabling market analysis is determined to understand the profitable trends to gain a stronger foothold.
The report presents information related to key drivers, restraints, and opportunities with a detailed impact analysis.
The current structured cabling market forecast is quantitatively analyzed from 2020 to 2030 to benchmark the financial competency. 
Porter's five forces analysis illustrates the potency of the buyers and the structured cabling market share of key vendors.
The report includes the market trends and the market share of key vendors.
Structured Cabling Market Key Segments
By Offering
Hardware

Cables

Copper Cable
Fiber Optic Cable

Communication Outlets
Patch Cords & Cable Assemblies
Racks & Cabinets
Others

Services

Installation & Consulting
Maintenance & Support
Managed Services

Software
By Cable Type
Category 5E
Category 6
Category 6A
Others
By Industry Vertical 
IT & Telecommunications
Residential
Commercial
Government
Manufacturing & automation
Military & Defense
Energy
Oil & Gas
Others
By Region
North America
Europe

UK
Germany
France
Italy
Russia
Spain
Rest of Europe

Asia-Pacific

China
Japan
India
Australia
South Korea
Rest of Asia-Pacific

LAMEA

Latin America
Middle East 
Africa
Key Market Players
Belden, Inc.
Cisco Systems, Inc.
CommScope Holding Co.
Corning Inc.
Furukawa Electric Co., Ltd.
Legrand
Nexans S.A.
Schneider Electric
Siemon
TE Connectivity