Sulfamic Acid Market: Global Opportunity Analysis And Industry Forecast, 2020–2027 Market Research, 2031
The global sulfamic acid market forecast: global opportunity analysis and industry forecast, 2020–2027 market was valued at $375 million in 2021, and is projected to reach $1.4 billion by 2031, growing at a CAGR of 15% from 2022 to 2031. Sulfamic acid, also known as amidosulfonic acid, amidosulfuric acid, aminosulfonic acid, sulphamic acid, and sulfamidic acid, is a molecular compound with the formula H3NSO3.
The COVID-19 impact on sulfamic acid is various industries were completely and partially shut down, Sulfamic acid is widely used as electrolytes, cleaning agents in industries like agriculture, chemical, automotive, and oil & gas. With the worldwide shut down of transportation sector, the supply of sulfamic acid in these industries were severely disrupted. Also, the demand for the product was minimized owing to the shutdown of the industries.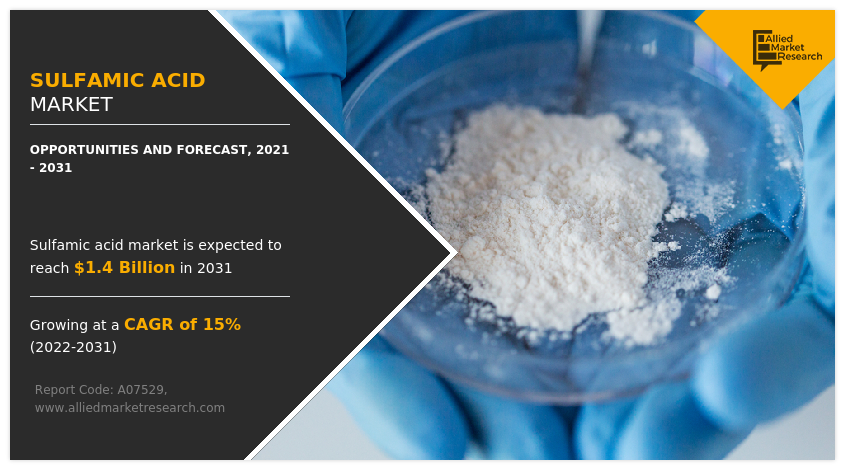 The main drivers of the sulfamic acid market growth are the high demand for sulfamic acid across a range of industrial applications and the rising consumer demand for personal care products. The possibility of purchasing cosmetics is not much affected by a downturn at this time since consumer preferences tend to shift to minimum priced market products. Furthermore, growth in the personal care industry is projected shortly because it is a highly coveted and promising market. As a result, it is projected that the demand for sulfamic acid will rise in the years to come. Although sulfamic acid has been demonstrated to be a safe ingredient in personal care products, the cosmetics industry still views it as posing a small risk.
The main reasons limiting the market overall growth for sulfamic acid are health-related issues including, if taken for a long time and in accordance with regulatory rules, it may also result in cellular level alterations that affect health. Sulfamic acid is a dangerous material as it is harmful to the skin owing to which it is anticipated to restrain the market growth.
In industrial processes, sulfamic acid is used to descale equipment and remove scale from water. It is also used to clean many objects, including household metals and other items. It serves as a chlorine stabilizer in swimming pools as well as a fading-added component in the paper and pulp industry. Sulfamic acid is also used as a solubilizing agent when dyeing leather and creating polymers. It helps in the production of pigments that are more vibrant and more consistent across the multiple dye batches produced. Additionally, a number of end-use industries, including paper and textiles, use it as a fire sealing operator as well. This factor is projected to boost the sulfamic acid market trend.
The key players profiled in this report include Nissan Chemical Corporation, ShanDong Mingda Chemical Technology Co., Ltd, BASF SE, AkzoNobel N.V., DuPont, Jiangsu Yazhong, Palm Commodities, Yantai Sanding, Raviraj Group, and Shree Sulphamic Chemicals.
The global sulfamic acid market analysis is segmented based on form, application, and region. By form, the market is sub-segmented into powder and liquid. By application, the market is classified into metal finishing, dyes &pigments, paper & pulp, plastic, and others. By region, the market is analyzed across North America, Europe, Asia-Pacific, and LAMEA.
The global sulfamic acid market is segmented based on Form, Application, and Region.
Sulfamic Acid Market

---
By Form
Powder sub segment held the highest market share in 2021.
By form, the powder sub-segment dominated the market in 2021. As a substitute for hydrochloric acid, the demand for sulfamic acid powder is increasing as an acidic cleaning agent for metals and ceramics. In addition, the sulfamic acid powder is used to remove lime scale and other debris from domestic appliances, flooring, tiles, and other things, in detergents and toilet cleansers. Furthermore, increasing use of sulfamic acid globally is anticipated to boost segment revenue growth over the forecast period. Owing to the increasing use of sulfamic acids for eliminating precipitated deposits and iron waste for maintenance of water systems, big machinery, and tanks. The increasing use of powder is predicted to be the major factor affecting the sulfamic acid market size during the forecast period too.
Sulfamic Acid Market

---
By Application
Metal Finishing sub-segment to have highest market share in 2021.
By application, the metal finishing sub-segment dominated the global sulfamic acid market share in 2021. Sulfamic acid is a very powerful descaling agent that is employed to clean a variety of industrial products, including metal finishing. Beer and milk stones, protein accumulation, beer scale, light rust, and copper corrosion can all be removed with its help. Cleaning of metal and ceramics, amine sulfa mates, pH regulation, hard water scale removal at room temperature, and the diluted aqueous sulfamic acid solution is stable for a long period, but at high temperatures, it hydrolyzes quickly. Its solution is less corrosive to metals than other mineral acids. During the analysis timeframe, these factors are predicted to accelerate the expansion of the metal finishing sub-segment.
Sulfamic Acid Market

---
By Region
Asia-Pacific region to have highest market share in 2021.
By region, Asia-Pacific dominated the global market in 2021 and is projected to remain the fastest-growing sub-segment during the forecast period. Asia-Pacific is expected to generate the largest revenue share during the forecast period, due to its increasing population, fast urbanization, and rising demand for a variety of consumer goods. The demand for sulfamic acid is also increasing significantly as a result of recent developments in a number of industries, including the chemical and textile sectors. For example, it is predicted that the expansion of China's chemical sector will drive regional revenue growth. Technical developments in end-use industries such as the local agricultural, food and beverage, and pharmaceutical industries are expected to contribute to the market revenue growth over the forecasted period.
Impact of COVID-19 on the Global Sulfamic Acid Industry
COVID-19 has long-term closures and decreased output in the manufacturing sectors ha

s

hampered

the chemical industry, especially sulfamic acid

Sulfamic acid is frequently employed in the production of pesticides and cleaning products, which is essential in the event of a pandemic. In a pandemic crisis, cleaning is crucial, and demand for cleaning supplies spiked during this time.

The sulfamic acid market growth rate has slightly decreased due to the global lockdown. But when the number of instances decreased globally, the government lifted the lockdown, and the sulfamic acid market quickly recovered its demand and sales.

However, during the pandemic, an increase in demand for toilet cleansers, detergents, and other cleaning supplies is anticipated to boost market growth over the anticipated timeframe. Sulfamic acid is a descaling chemical used in detergents and cleansers to remove lime scale.
Key Benefits For Stakeholders
This report provides a quantitative analysis of the market segments, current trends, estimations, and dynamics of the sulfamic acid market: global opportunity analysis and industry forecast, 2020–2027 market analysis from 2021 to 2031 to identify the prevailing sulfamic acid market: global opportunity analysis and industry forecast, 2020–2027 market opportunities.
The market research is offered along with information related to key drivers, restraints, and opportunities.
Porter's five forces analysis highlights the potency of buyers and suppliers to enable stakeholders make profit-oriented business decisions and strengthen their supplier-buyer network.
In-depth analysis of the sulfamic acid market: global opportunity analysis and industry forecast, 2020–2027 market segmentation assists to determine the prevailing market opportunities.
Major countries in each region are mapped according to their revenue contribution to the global market.
Market player positioning facilitates benchmarking and provides a clear understanding of the present position of the market players.
The report includes the analysis of the regional as well as global sulfamic acid market: global opportunity analysis and industry forecast, 2020–2027 market trends, key players, market segments, application areas, and market growth strategies.
 Sulfamic Acid Market Report Highlights
Aspects
Details
Market Size By 2031
USD 1.4 billion
Growth Rate
CAGR of 15%
Forecast period
2021 - 2031
Report Pages
250
Form
Application

Metal Finishing
Dyes & Pigments
Paper & Pulp
Plastic
Others

By Region

North America (U.S., Canada, Mexico)
Europe (Germany, United Kingdom, France, Spain, Italy, Rest of Europe)
Asia-Pacific (China, Japan, India, South Korea, Australia, Rest Of Asia Pacific)
LAMEA (Brazil, Saudi Arabia, UAE, South Africa, Rest of LAMEA)

Key Market Players
Raviraj Group, Shandong Mingda Chemical Technology Co., Ltd., Laizhou Jinxing Chemical Co. Ltd., Nanjing Jinzhang Industrial Co., Ltd., Jiangsu Yazhong Group Co. Ltd., Nissan Chemical Corporation, Palm Commodities International, LLC, Yantai Sanding Chemical Co. Ltd., Shandong Xingda Chemical Co. Ltd., Laizhou Guangcheng Chemical Co. Ltd., DuPont, BASF SE, AkzoNobel N.V.