The global sweet spread market size was valued at $1,205.0 million in 2020, and is projected to reach $1,647.1 million by 2030, registering a CAGR of 3.2%. Europe was the highest revenue contributor, accounting for $507.3 million in 2020, with a CAGR of 2.7% in the sweet spread market.   
A spread is a food that is spreadable properties, generally with a knife onto food such as bread and crackers. Sweet spreads are available in various forms, including jams, marmalades, jellies, chocolate spreads, honey and nut-based spreads. They have become a part of the daily diet across countries, hence generating high their demand.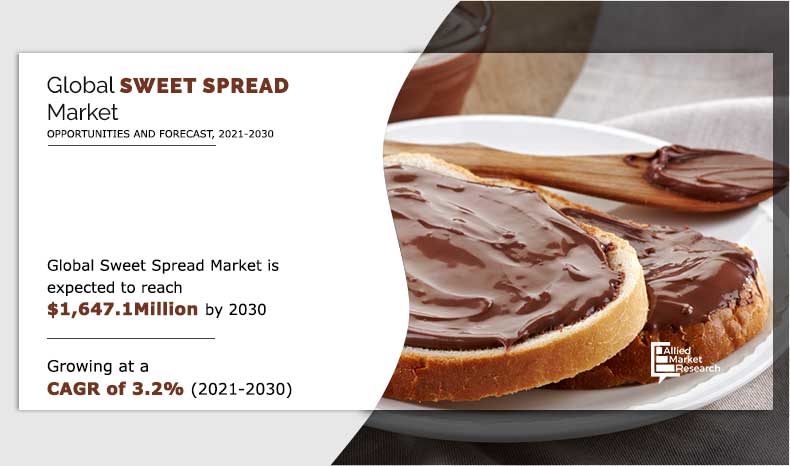 Increase in popularity of healthy convenience food products among consumers in the recent past has propelled the demand for sweet spreads. Consumers are shifting their preference toward portable, convenient, and inventive ways to eat more fruit, generally with premium, indulgent and exotic products, which significantly contributes toward the growth of the sweet spread market. Furthermore, consumers today demand enhanced taste experience with high quality, sustainable diets that have perceived health benefits. Due to this reason, there has been a noticeable shift from unhealthy products to healthy food products. This has consequently augmented the demand for sweet spread, especially that are nut and seed-based. However, the use of preservatives and artificial sweeteners in sweet spreads can potentially hinder the sweet spread market growth. This is because consumers are gradually becoming health conscious and informed about the ingredients in their food products.
Amidst the outbreak of COVID-19 pandemic, there was an increase in the demand for sweet spread products among consumer. This is attributed to the fact that consumers have been looking forward to simplifying their routines and hence shifting to products that can provide them multidimensional support. Therefore, during the pandemic, consumers were more concerned regarding their health & immunity and were actively looking for ways to maintain wellness. Sweet spread products contain iron, magnesium and is also a source of protein, which has enabled the product to gain a major demand during the pandemic. Although the out-of-house consumption of food & beverages witnessed a standstill, the at-home consumption of food has significantly increased; thereby, observing a significant share in the global food & beverages market.
Sweet Spread Market

---
By Product Type
Others segment would witness the fastest growth, registering a CAGR of 4.8% during the forecast period.
According to the sweet spread market analysis, the market comprises of product type, packaging, distribution channel, and region. Depending on product type, the market is categorized into chocolate spread, jam jelly & preserves, nut butter and others. By packaging, it is bifurcated into glass and plastic. According to distribution channel, it is classified into supermarket & hypermarket, grocery & convenience store, online retail and others. Region wise, it is studied across North America, Europe, Asia-Pacific, and LAMEA.
By product type, the jams, jelly & preserves sweet spread category was the dominant segment in 2020 with 47.1% share in the sweet spread market. This is attributed to the fact that has a wide product offering as compared to other sweet spreads and is hence largely consumed. In addition, with the rise in trend of snackification among millennials consumer, the demand for jams, jellies and preserves has gained higher traction. However, the others segment is anticipated to grow at a faster rate during the forecast period, owing to the rising popularity of seed-based spreads due to its high protein and good fat content. These factors essentially contribute to the growing health consciousness among consumers.   
Sweet Spread Market

---
By Packaging
Plastic Segment witnssed a major growth rate of 3.7%
On the basis of packaging, the glass category was the dominant segment in 2020 with 64.6% share in the sweet spread market. This is due to consumers perception towards glass as a premium, non-toxic and reusable material. However, the plastic segment is anticipated to grow at a faster rate during the sweet spread market forecast period. This is because plastic containers are lightweight, durable, and are more suitable for transportation than glass.
As per distribution channel, the supermarket & hypermarket segment accounted for the maximum sweet spread market share in 2020. This is attributed to the fact that supermarkets & hypermarkets provide high visibility and attractive assortment of spread products to consumers. This enables them to discover new variety and understand the labels and differentiate better among products. Furthermore, supermarket chains are one of the frequently visited stores for purchasing grocery items. Hence, this factor is expected to boost the sales of sweet spread in the market. However, the online segment is anticipated to grow at a faster rate during the forecast period, owing to rising convenience for consumers and wider consumer reach due to brand websites.
Sweet Spread Market

---
By Distribution Channel
Supermarket & Hypermarket Segment held the major share of 47.1% in 2020
Region wise, Europe was the prominent region in 2020 due to tremendous popularity and substantial consumption of sweet spreads in the region. In addition, this region is one of the largest producers and consumers of sweet spread and its products. Consumption of spreads in countries like Germany, France and U.K. is very high as compared to other countries of the world. Wide range of application in bakery and dessert, which are the leading markets in Europe, is a prime factor contributing to the sweet spread market growth. However, Asia-Pacific is expected to witness a significant CAGR, owing to the factors such as increasing applications in food products, rising demand for sweet spread products from young consumers, and consumer focus towards quality and safe, natural products and those with natural ingredients.
The key players profiled in sweet spread market include ConAgra Foods Inc., Duerr& Sons, Pioneer Foods, Unilever Group, Ferrero Group, Mondelez International, Dabur India Limited, Hormel Foods, Andros, and HERSHEY'S.
Sweet Spread Market

---
By Region
Europe held the major share of 42.1% in 2020
Key benefits for stakeholders     
The report provides quantitative analysis of the current sweet spread market trends, estimations, and dynamics of the market size from 2020 to 2030 to identify the prevailing sweet spread market opportunities.  
Porter's five forces analysis highlights the potency of buyers and suppliers to enable stakeholders to make profit-oriented business decisions and strengthen their supplier–buyer network.  
In-depth analysis and the market size & segmentation assist to determine the market potential.
The major countries in each region are mapped according to their revenue contribution to the market.    
The market player positioning segment facilitates benchmarking and provides a clear understanding of the present position of the market players in the sweet spread industry.
 Sweet Spread Market Report Highlights
Aspects
Details
By Product Type

Chocolate spread
Jam, Jelly & Preserve
Nut-spread
Others

By Packaging
By Distribution Channel

Supermarket & Hypermarket
Grocery & Convenience store
Online Retail
Others

By Region

North America (U.S, Canada, Mexico)
Europe (Germany, France, UK, Italy, Spain, Russia, Rest of Europe)
Asia-Pacific (China, Japan, Australia, South Korea, Thailand, Singapore, Rest of Asia-Pacific)
LAMEA (Brazil, Argentina, UAE, Nigeria, Saudi Arabia, South Africa, Rest of LAMEA)

Key Market Players
ConAgra Foods Inc., Premium Vegetable Oils SdnBhd, Pioneer Foods, Unilever Group., Ferrero Group, Mondelez International, Dabur India Limited, Hormel Foods, Andros, HERSHEY'S