Voice Cloning Market Research, 2032
The global voice cloning market was valued at $1.5 billion in 2022, and is projected to reach $16.2 billion by 2032, growing at a CAGR of 27.3% from 2023 to 2032.
Voice cloning is the process of generating a digital copy of an individual's voice. Voice cloning technology uses AI software methods that are capable of generating artificial speech, which is closely comparable to a specific human voice. In addition, voice cloning technology provides a number of benefits, such as the ability to create customized voices for different applications, enhance user experiences, and improve interactions with voice-based systems. In addition, the integration of intelligent AI assistants in various applications has the potential to create several benefits for companies and end users. Voice cloning technology can help to provide personalized and customized experiences to the user, as well as reduce costs. Moreover, it can provide enhanced convenience and a better voice cloning experience for consumers. In addition, the use of natural language processing in conjunction with the IoT can help to improve multilingual applications, as well as provide enterprises with a better understanding of the products and services. Such enhanced factors are expected to provide lucrative opportunities for market growth during the forecast period.
Moreover, the surge in trend of digital technologies and the rise in the need for intelligent virtual assistants and an increase in the adoption of advanced technologies are positively impacting the growth of the market. In addition, the surge in the adoption of smart devices, advancements in creative applications, and growing demand for virtual chatbots are expected to fuel the growth of the market during the forecast period. Furthermore, the expansion of smart applications in various industries and rising conversational AI technology is expected to provide lucrative growth opportunities for the market in the upcoming years. Moreover, creating a unique and recognizable voice for a brand helps in building brand identity, strengthening brand recognition, and creating a cohesive user experience across different touchpoints. These factors are also anticipated to create lucrative opportunities for market growth.
Furthermore, the growth in demand for personalized experiences across several industries and an increase in the number of initiatives in voice cloning projects positively impact the growth of the market in the future. In addition, the rise in popularity of virtual assistants and chatbots in various applications help in driving the global market growth. However, high cost and scalability concerns, and increasing risks associated with mock speech are expected to hamper market growth. Furthermore, advancements in artificial intelligence (AI) and machine learning (ML) create opportunities for voice cloning solutions to optimize and replicate the improved voice processes with the integration of advanced technologies. Such factors are expected to offer remunerative opportunities for the expansion of the global market during the forecast period.
Owing to the COVID-19 pandemic, the entertainment sector was positively affected by considerable lockdown measures, and demand for the media sector has increased due to lockdown measures. In addition, as the pandemic-related restrictions were lifted, people are increasingly favoring personalized experiences as they spend more time at home and interact with digital devices, which is expected to recover the growth of the entertainment industry. This factor has significantly impacted the demand for global voice cloning among individuals.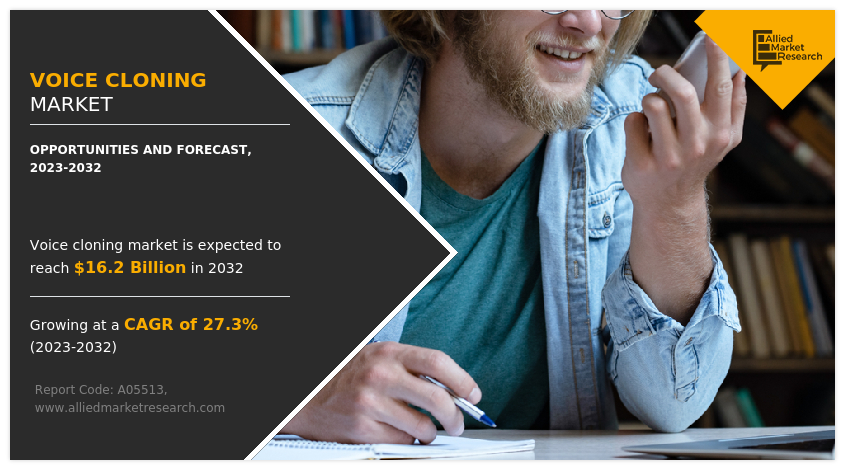 The voice cloning market is segmented into component, deployment Mode, application and industry vertical.
Segment Review
The voice cloning market is segmented into component, deployment mode, application, industry vertical, and region. By component, it is bifurcated into solution and service. By deployment mode, it is divided into on-premise and cloud. By application, it is partitioned into digital games, accessibility, chatbots and assistants, interactive games and others. By industry vertical, the market is classified into BFSI, IT & telecom, education, media and entertainment, healthcare, travel and hospitality, and others. Region wise, it is analyzed across North America, Europe, Asia-Pacific, and LAMEA.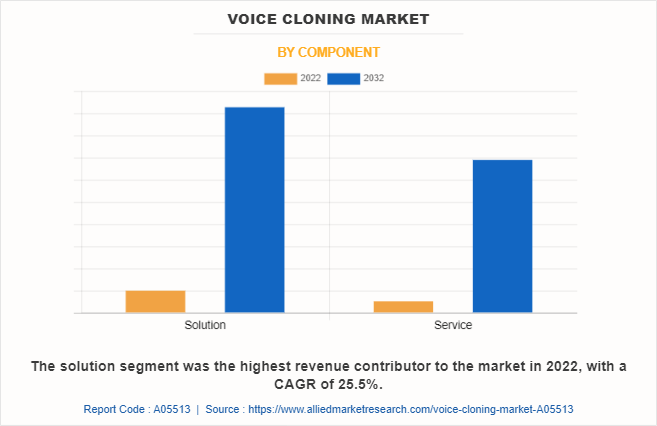 On the basis of component, the global voice cloning market share was dominated by the solution segment in 2022 and is expected to maintain its dominance in the upcoming years, owing to the increasing collaboration strategies adopted by key players in the market. It further enables companies to offer comprehensive solutions and strengthen their competitive position. However, the services segment is expected to witness the highest growth, as voice cloning services help to grow the digital transformation initiatives and increase the focus on customer experience.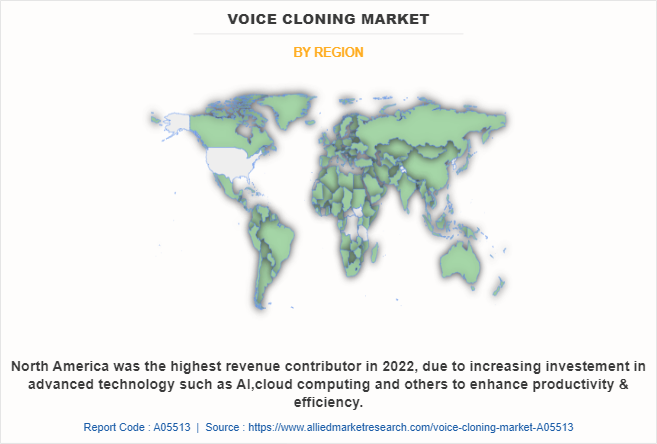 By region, North America dominated the market share in 2022 for the voice cloning market. The increasing investment in advanced technologies from companies and research institutions, and universities that have made significant investments in voice cloning research and development is anticipated to propel the growth of the voice cloning market. However, Asia-Pacific is expected to exhibit the highest growth during the forecast period. The region is home to a large and diverse market with a significant population and a wide range of languages and accents further expected to provide lucrative growth opportunities for the market in this region.
COVID-19 Impact Analysis
The global COVID-19 pandemic significantly impacted several industries including the voice cloning market, due to increased demand for remote communication and virtual interactions during lockdowns. There has been an upsurge in demand for remote solutions across businesses because of lockdowns, social isolation strategies, and remote work becoming more common during the pandemic. Speech cloning technology help with remote speech creation and modification, enabling businesses to continue with the operations and produce audio content without being physically present. However, the pandemic has caused a significant decline and the production of supply chain activities.
On the other hand, the pandemic has increased the adoption of virtual assistants and chatbots as companies strive to provide contactless customer service and support. For instance, in May 2021, Veritone launched a new platform namely "marvel.AI", which enables creators, media figures, and others to generate imitate clones of the voice to license appropriate for them. These factors are expected to have a less negative impact on the growth of the global voice cloning market in the pandemic.
Top Impacting Factors  
Growth in demand for personalized experiences across several industries:
The growth in the trend of personalized experience across several industries to improve optimization is directly influencing the growth of the global voice cloning market. In addition, this technology has discovered applications in several industries, including entertainment, advertising, customer service, and more. Consequently, voice cloning technology is gaining significant adoption to increase the use of media-specific systems among industry operators, particularly IoT and other digital technologies. Increased use of IoT and digital solutions helps industries to improve personalized experience. These factors are likely to contribute to the increased installation of voice cloning market trends globally.
Furthermore, the integration of voice cloning technology allows companies to create consistent branding and advertising campaigns by using the voice of a specific spokesperson or brand ambassador. This contributes to the creation of a distinctive and recognizable brand identity, increasing brand recognition and consumer engagement. In addition, by employing the consumer's preferred voice, voice cloning enables businesses to personalize customer interactions. Hence, these multiple benefits offered by voice cloning technology will boost the demand for the global market. Moreover, private and public companies are adopting various strategies such as partnership, collaboration, and product launches to improve their product portfolio in voice cloning industries. For instance, in May 2023, Apple launched a range of new accessibility features for its devices, including iPhones, iPads, and Mac computers. One of these features, personal voice, aims to assist individuals with difficulty speaking clearly or confidently. Such innovations pooling in the improving the personalized experience in various industries will fuel the demand for voice cloning technology, which in turn, augment the market growth on a global scale.
Increase in initiatives in voice cloning projects:
The increase in investment by public and private authorities to expand voice cloning projects is impacting voice cloning market growth. Several enterprises are taking strategic initiatives in expanding voice cloning research and development. This is attributed to the rise in the number of initiatives by businesses, it leads to advancements in technology, expanded applications, and increased market opportunities. Further, the rise in demand for voice cloning initiatives encourages research and development activities aimed at enhancing voice cloning algorithms, methodologies, and models. For instance, in January 2023, Zoom launched chatbot virtual assistant to its contact center-as-a-service (CCaaS) offering. The Zoom virtual agent chatbot uses machine learning, proprietary AI, and conversational language to facilitate customer service. Therefore, such strategies are further propelling the global voice cloning market forecast.
Moreover, the growth in initiatives in synthetic voice initiatives promotes innovation and supports the investigation of new uses and applications. As more businesses invest in voice cloning research, they explore innovative ways to utilize the technology in industries such as entertainment, advertising, customer service, virtual assistants, and others. For instance, Philips partnered with Orbita, through this alliance the companies will co-create next-generation conversational virtual assistants for Philips' consumer health and patient support applications. The partnership will observe Orbita's technology rolled out to digital health applications that enhance the patient experience and increase efficiency throughout the health continuum. Such advancements in synthetic voice will eventually contribute to the growth of the global voice cloning industry.
KEY BENEFITS FOR STAKEHOLDERS
The study provides an in-depth voice cloning market analysis along with the current trends and future estimations to elucidate the imminent investment pockets.

Information about key drivers, restraints, and opportunities and their impact analysis on the voice cloning market size is provided in the report.

The Porter's five forces analysis illustrates the potency of buyers and suppliers operating in the voice cloning industry.

The quantitative analysis of the global voice cloning market for the period 2022–2032 is provided to determine the voice cloning market potential.
 Voice Cloning Market Report Highlights
Aspects
Details
Market Size By 2032
USD 16.2 billion
Growth Rate
CAGR of 27.3%
Forecast period
2022 - 2032
Report Pages
302
By Component
By Deployment Mode
By Application

Digital Games
Accessibility
Chatbots and Assistants
Interactive Games
Others

By Industry Vertical

BFSI
IT and Telecom
Education
Media and Entertainment
Healthcare
Travel and Hospitality
Others

By Region

North America (U.S., Canada)
Europe (UK, Germany, France, Italy, Spain, Rest of Europe)
Asia-Pacific (China, Japan, India, Australia, South Korea, Rest of Asia-Pacific)
LAMEA (Latin America, Middle East, Africa)

Key Market Players
LumenVox, Amazon Web Services, Inc., CereProc ltd., Google LLC, CandyVoice, Descript, AT&T Inc., iSpeech, Inc., IBM Corporation, Microsoft Corporation
Analyst Review
As the voice cloning industry continues to evolve, CXOs are evaluating the opportunities and challenges regarding this emerging technology. The voice cloning industry has grown rapidly in response to the enhanced customer experience across various touchpoints, and the need for AI-powered devices and virtual networks. CXOs consider the benefits that voice cloning offers, such as the ability to provide personal assistance services for managing and processing voice assistance solutions. In addition, voice cloning helps organizations provide a more human-like experience and improve customer experience by leveraging voice cloning in virtual assistants, chatbots, and customer service applications. Such factors are expected to provide lucrative opportunities for market growth during the forecast period.
Furthermore, voice cloning enables data-driven predictive chatbots to offer personalized intelligent capabilities by providing a personalized, human-like interaction. However, CXOs recognize the challenges associated with voice cloning. One significant challenge is the ethical consideration and reputation management, which makes it challenging for organizations to select the right solution for their needs. In addition, businesses must stay informed about the legal and regulatory frameworks surrounding voice cloning technology, which is expected to be a barrier to entry for small and medium-sized enterprises (SMEs).
Furthermore, data privacy and security must be addressed, as well as the need for a strong ecosystem of partners and developers to build and integrate applications and services. CXOs must evaluate the platform based on their organization's specific needs and requirements, including factors such as scalability, reliability, and security. By addressing these challenges, CXOs unlock the full potential of voice cloning to transform their media operations, create value, and gain a competitive advantage in their industry.
For instance, in October 2022, Stats Perform partnered with Veritone, Inc., to deliver new gaming updates. The collaboration further combines Stats Perform's dependable Opta sports data with Veritone's synthetic speech AI technology to provide localized AI voice capabilities to content producers, media outlets, brand agencies, teams, leagues, and betting platforms across the globe.