The global warehousing and distribution logistics market was valued at $12,019 billion in 2021, and is projected to reach $25,788.7 billion by 2031, growing at a CAGR of 7.7% from 2022 to 2031.
Warehousing, also referred as storage, is a system which is utilized to store goods that need to be sold or distributed later. A distribution logistics is referred as a service, which include end to end movement of goods. Warehousing and distribution logistics deals with packaging, storage, transportation, stock control, and inventory management services. The warehousing and distribution logistics is used to reduce the cost of supplying finished products to customers, maintaining or improving the level of service provided. The global warehousing and distribution logistics market is growing significantly due to the rise in demand for efficient and cost-effective supply chain with reduced lead time. The various companies across the globe are building warehouses and distribution center in order to create efficient supply chain infrastructure. For instance, in April 2022, Abrdn's AIPUT fund (Airport Industrial Property Unit Trust) completed construction of its 360,000 sq ft dnata City East warehouse campus opposite Heathrow's Cargo Terminal. The new warehouse campus is expected to strengthen logistics infrastructure, ensuring high value time-critical products are moved more quickly, safely, and sustainably from gateway location.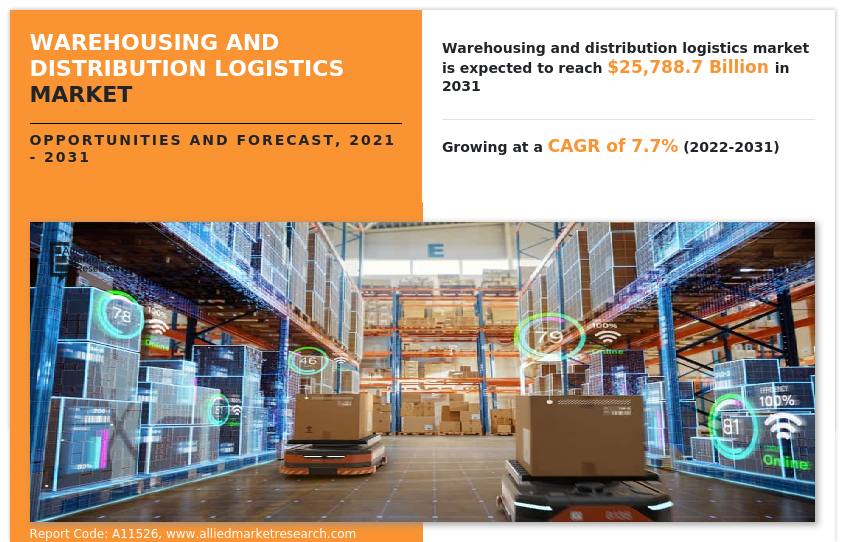 Factors such as increase in demand for warehousing and distribution logistics in e-commerce industry, surge in demand for refrigerated warehouses, and emergence of last mile deliveries coupled with logistics automation are anticipated to boost the growth of the global warehousing and distribution logistics market during the forecast period. However, lack of control of manufacturers on logistics service and poor infrastructure and higher costs are expected to hinder the growth of the global market during the forecast period. Moreover, rise of tech-driven warehousing & logistics services, and cost cutting and lead time reduction due to adoption of multi-modal system are expected to create an opportunity for the warehousing and distribution logistics industry in near future.
Warehousing and distribution logistics market is segmented basis of end use, business type, mode of operation, type, and region. By end use, it is divided into healthcare, manufacturing, aerospace, telecommunication, government & public utilities, banking & financial services, retail, media & entertainment, trade & transportation, and others. By business type, it is divided into warehouse, distribution, and value-added services. By mode of operation, it is categorized into storage, roadways distribution, seaways distribution, and others. By type, it is divided into solution, and services. By region, the market is analyzed across North America, Europe, Asia-Pacific, and LAMEA.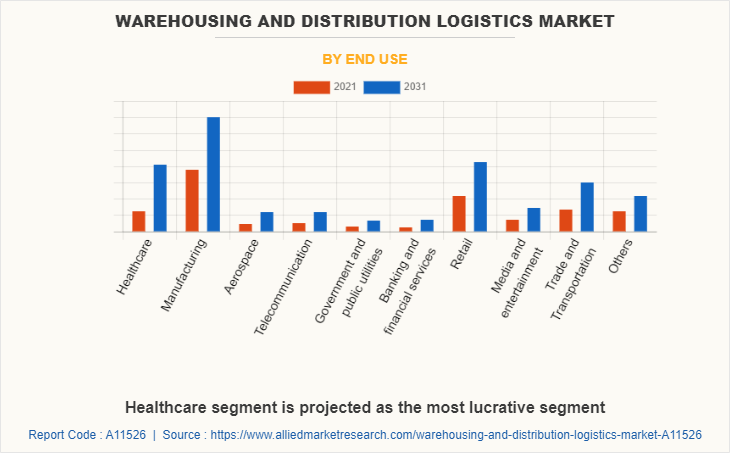 The key players that operate in this warehousing and distribution logistics market are Agility, Ceva Logistics, CJ Century Logistics, CWT Ltd., DB Schenker, DHL Supply Chain, Gemadept, Keppel Logistics, Kerry Logistic, Kuehne+Nagel, Singapore Post, Tiong Nam Logistics, WHA Corp., YCH Group, and Yusen Logistics.
Increase in demand for warehousing and distribution logistics in e-commerce industry
The global logistics and e-commerce market has experienced tremendous growth in the recent years owing to the rise in connectivity solutions. The growth in e-commerce and logistics industries drives the demand for time-efficient delivery and return services for the transportation of goods in forward and reverse logistics worldwide. For instance, in May 2021, XPO Logistics, Inc. has announced the launch of an automation solution in France. The automation solution is anticipated to facilitate high-volume reverse logistics in the French fashion e-commerce industry. The unprecedented growth of online shopping in the recent years has promoted the development and adoption of warehousing and distribution logistics services and solutions by the leading retail, e-commerce, and third-party logistics companies (3PLs). Moreover, e-commerce companies are heavily investing and building their warehouses in order to reduce a lead time of delivery. For instance, Amazon is building two more mega warehouses of 4.1 million-square-foot and 3.8 million-square-foot in Ontario, California, U.S. and in Loveland, Colorado, U.S. respectively. Moreover, in June 2022, company announced that, the company will invest $300 million to build 3.1 million-square-foot distribution center in Niagara, New York, U.S. Such development in the e-commerce industry has become a critical component to enhanced retail customer services and thereby drives the market for of warehousing and distribution logistics across the e-commerce industry during the forecast period.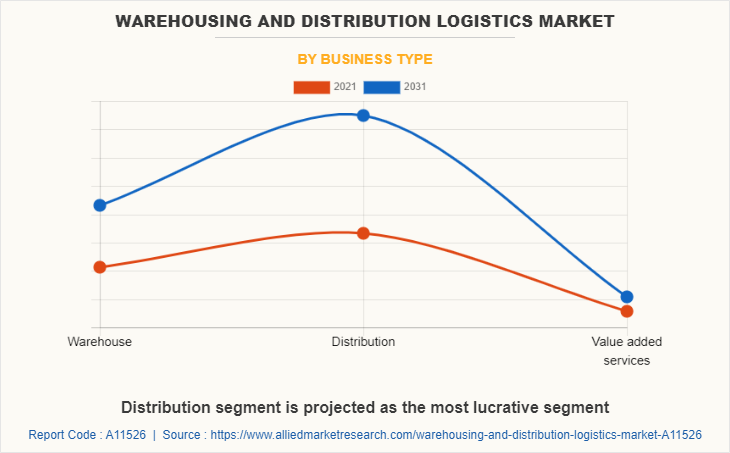 Growth of e-commerce industry
Refrigerated warehouses are designed to protect perishable products from external temperature variation. Consumers are becoming aware of the importance of health and wellness. They are also aware about the impact that food components, especially protein has on the complete physical and mental growth and development. This has resulted in shift in perishable food consumption patterns such as fruits, vegetables, and other protein-based products. Moreover, due to Covid-19 pandemic the demand for vaccines and pharmaceutical products are increased significantly. Majority of these vaccines need to be stored in the refrigerated storage facility. Owing to this the demand for refrigerated warehouses is expected grow significantly during the forecast period.
In addition, emerging economies are witnessing a high demand for perishable products owing to rapid urbanization, changing taste & preferences of consumers in these countries. The market potential for processed and frozen food products is also high in these countries owing to their lower adoption rates. The consumption of ready-to-eat meals such as frozen pizzas, and snacks is surge in steadily in these countries, which in turn is increasing the demand for refrigerated warehouse facilities. Thus, increase in demand for refrigerated is driving the growth of the warehousing and distribution logistics market during the forecast period.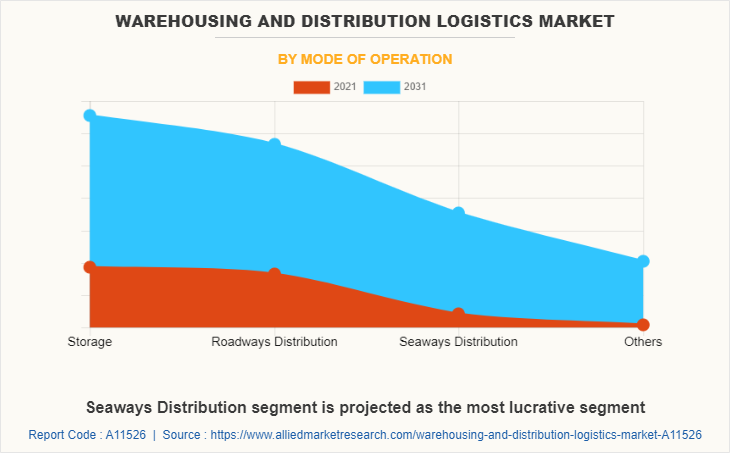 Surge in demand for refrigerated warehouses
In the developing sector of freight forwarding, direct-to-consumer (DTC) logistic plays a critical role. Increased demand for domestic and international goods fuels the growth of logistics. In addition, the goal of digital freight forwarding is to get those goods to their final destination as quickly as possible, while assisting in the creation of enhanced customer experiences. Freight forwarding digitization further aids the modern supply chain by automating several activities for business owners. DTC e-commerce helps streamline shipping and other services in a number of ways. The use domestic freight forwarders helps with overall communication. On-demand tracking allows freight forwarders for real-time monitoring of shipments, making it easier for shippers to see the process. Real-time data monitoring allows data to be accessed at all levels of the transportation process, potentially saving thousands of errors that would otherwise go undiscovered. However, DTC logistics services eliminate the need for a middleman such as freight brokers, allowing firms to connect with customers directly. Owing to this DTC logistics are expected to hinder the growth of the global warehousing and distribution logistics market during the forecast period.
Rise of tech-driven warehousing and logistics services
The change in technological trends and implementation of advanced technologies in FMCG, pharmaceutical, and other industries have revolutionized the warehousing and distribution logistics market globally. The increase in penetration of Internet of things (IoT) solutions in logistics operations enables direct access to the company network through the internet for the customers and freight companies. In addition, the evolution of state-of-the-art technologies such as artificial intelligence (AI), machine learning, radio-frequency identification (RFID), and Bluetooth coupled with other newly introduced technologies is being witnessed by the logistics industry. For instance, in February 2021, Sensitech has launched IoT Supply Chain Monitoring Devices. These multi-modal, real-time IoT solutions devices will be utilized for realtime tracking of the shipments traveling by aircraft. Moreover, the digital transformation of supply chains across the world reduces inefficiency and waste which promotes the use of IoT-enabled devices in warehousing and logistics services. For instance, the SmartDisposition platform developed by Optoro uses machine learning to determine the most profitable channel for routing each returned unit. The rise in technological advancements acts as a catalyst to the growth of the market.
Warehousing and Distribution Logistics Market

---

By Region
Asia-Pacific would exhibit the highest CAGR of 9.3% during forecast period.
Get more information on this report :
Request Sample Pages
The pandemic affected almost every dimension of economic activity and individuals globally. As a consequence of the coronavirus outbreak, important supply chains in the logistics and transportation industry are hampered, though differently across air, freight, and sea sectors. As B2B logistics industry suffered and came to a halt, B2C emerged during the pandemic, owing to the growth of online retail and e-commerce industry. Attributed to the lockdown and social distancing impact, the demand for online retailing has increased compared to offline retailing. In addition, there has been increasing demand for healthcare and FMCG supplies such as hospital supplies, gloves, sanitizers, vaccinations, and perishable food items, propelling the growth of the cold chain warehousing and logistics during the pandemic. For instance, according to new data from IBM's U.S. Retail Index, the pandemic has accelerated the shift away from physical stores to digital shopping.
Key Benefits For Stakeholders
This report provides a quantitative analysis of the market segments, current trends, estimations, and dynamics of the warehousing and distribution logistics market analysis from 2021 to 2031 to identify the prevailing warehousing and distribution logistics market opportunities.
The market research is offered along with information related to key drivers, restraints, and opportunities.
Porter's five forces analysis highlights the potency of buyers and suppliers to enable stakeholders make profit-oriented business decisions and strengthen their supplier-buyer network.
In-depth analysis of the warehousing and distribution logistics market segmentation assists to determine the prevailing market opportunities.
Major countries in each region are mapped according to their revenue contribution to the global market.
Market player positioning facilitates benchmarking and provides a clear understanding of the present position of the market players.
The report includes the analysis of the regional as well as global warehousing and distribution logistics market trends, key players, market segments, application areas, and market growth strategies.
 Warehousing and Distribution Logistics Market Report Highlights
Aspects
Details
Market Size By 2031
USD 25788.7 billion
Growth Rate
CAGR of 7.7%
Forecast period
2021 - 2031
Report Pages
424
By End Use

Healthcare
Manufacturing
Aerospace
Telecommunication
Government and public utilities
Banking and financial services
Retail
Media and entertainment
Trade and Transportation
Others

By Business Type

Warehouse
Distribution
Value added services

By Mode of operation

Storage
Roadways Distribution
Seaways Distribution
Others

By Type
By Region

North America (U.S., Canada, Mexico)
Europe (Germany, France, Russia, Netherlands, UK, Poland, Spain, Rest Of Europe)
Asia-Pacific (China, India, Japan, South Korea, Asean, Rest Of Asia-Pacific)
LAMEA (Brazil, UAE, Saudi Arabia, South Africa, Rest Of LAMEA)

Key Market Players
Gemadept, DHL Supply Chain, Keppel Logistics, Kerry Logistics, CWT Ltd, CJ Century Logistics, Kuehne + Nagel, CEVA LOGISTICS, Ych Group, WHA Corp, DB Schenker, AGILITY, Tiong Nam Logistics, Singapore Post, Yusen Logistics