The global wheat fiber market was valued at $864.1 million in 2020, and is projected to reach $1,632.6 million by 2030, registering a CAGR of 6.5% from 2021 to 2030.  Many countries have acknowledged lifestyle-related diseases as a major concern in the recent years, which has led to rise in health consciousness among consumers. Rise in consumer awareness regarding health benefits associated with wheat fiber such as benefits against chronic diseases, to promote optimal health, longevity, and quality of life fuels the demand for wheat fiber. Increase in geriatric population, surge in life expectancy rates, and growth in instances of chronic diseases have changed eating patterns of consumers. Furthermore, owing to busy lifestyles, consumers prefer wheat fiber supplements products that provides the consumers with essential nutrition and helps improve physical and mental health. All the aforementioned factors are expected to boost the growth of the wheat fiber market.
The market in the Asia-Pacific region offers lucrative growth opportunities for the operating players owing to the presence of countries such as India, China, Australia, New Zealand, and others. Increase in adoption of western lifestyle, surge in population, and rise in disposable income of consumers majorly drive the growth of the wheat fiber market. Moreover, increase in awareness regarding wheat fiber products and its associated benefits have further augmented the growth of the market. Developing regions offer potential growth opportunities to the market players for launching innovative wheat fiber products. Moreover, countries in Latin America, such as Brazil, are anticipated to unfold attractive business opportunities owing to high prevalence of obesity in this region. However, the increase in the consumption of wheat fiber supplement has  led to an increase in the fake and counterfeit supplements in the market. Moreover, counterfeiting refers to fake branding and sale of non-authorized products and signifies a great challenge for the real vendors of wheat fiber supplements. Counterfeit brands are usually prevalent in the developing economies where customers are highly price-sensitive. These brands are of low quality, and often lead to inconvenience & safety issues that subsequently develop negative perceptions among customers. Online distribution channel is one of the major platforms where transaction of counterfeited brands can be easily concealed. Thus, development of the counterfeited industry is anticipated to hamper the sale of the existing original wheat fiber supplement brands in the market.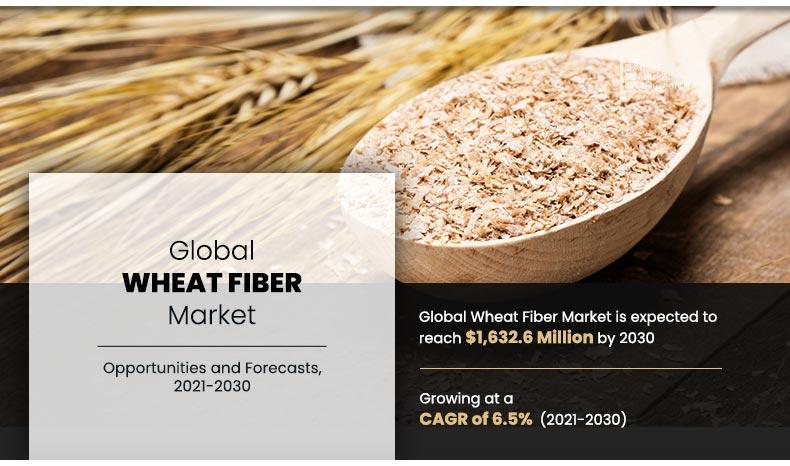 The wheat fiber market is segmented into nature, application and region. By nature, the market is bifurcated into organic and conventional. By application, it is categorized into food & beverages, pharmaceuticals, and animal feed. By region, it is analyzed across North America (U.S., Canada, and Mexico), Europe (UK, Germany, France, Russia, Italy, Spain and rest of Europe), Asia-Pacific (China, Japan, India, Australia & New Zealand and rest of Asia-Pacific), and LAMEA (Brazil, South Africa, Turkey, Saudi Arabia and rest of LAMEA).
By nature, the conventional segment constitutes a major market share; however, the organic segment is projected to experience growth at the highest CAGR during the wheat fiber market forecast period. The major demand for conventional wheat fiber is from the commercial segment owing to the bulk requirement in less prices. Moreover, conventional wheat fiber is used in food & beverages, cosmetics, personal care and others which also result in expanding the growth of the wheat fiber market. 
Wheat Fiber Market

---
By Nature
Conventional segment dominates the global market and is expected to retain its dominance throughout the forecast period.
By application, the food & beverages segment accounts for the largest share of wheat fiber market and is expected to dominate the market with a highest CAGR during the forecast period. The surge in demand for fiber rich food among the consumers, desire for healthy and active lifestyle, rise in disposable income, and increase in awareness regarding dietary fiber consumption are the factors that drive the growth of the food & beverage segment in the global wheat fiber market. Moreover, rise in population along with increase in demand for food is propelling the growth of the wheat fiber market across the globe.
Wheat Fiber Market

---
By Application
Animal feed segment is expected to grow at a highest CAGR of 8.8% during the forecast period.
The key players profiled in the market report are Archer-Daniels-Midland Company, Cargill, Inc., DuPont de Nemours, Inc., Grain Processing Corporation, Ingredion Incorporated, J. RETTENMAIER & SÖHNE GmbH + Co KG, Roquette Frères, Südzucker AG, SunOpta, Inc. and Calyxt, Inc. 
Wheat Fiber Market

---
By Region
North America dominates the market and is expected to grow with a CAGR of 5.0% during the forecast period
COVID-19 Impact Analysis
COVID-19 is an infectious disease that originated in Hubei province of the Wuhan city in China in late December 2020.
During the COVID-19 outbreak, consumers have become more concerned about the overall health and wellness as COVID-19 has impacted mental and physical well-being of almost everyone across the globe. Moreover, consumers are now more conscious about their immunity and weight gain, which has become an issue during the pandemic as people have become extremely inactive. Such factors lead to various chronic diseases such as diabetes and obesity and thus people prefer healthy alternatives to combat this issue. 
The wheat fiber industry is expected to benefit from consumers, who want to lead healthier lifestyles and improve the dietary habits during COVID-19. Consumers with the belief that wheat fiber increases the immunity and could help them fight against coronavirus disease boost the adoption of wheat fiber, which, in turn, propels the market growth. Thus, COVID-19 has positively impacted the wheat fiber market, as production and sales of companies have increased in 2020, owing to COVID-19 pandemic across the globe.
Key Benefits For Stakeholders
This report provides a quantitative analysis of the market segments, current trends, estimations, and dynamics of the wheat fiber market analysis from 2020 to 2030 to identify the prevailing market opportunities.
The market research is offered along with information related to key drivers, restraints, and wheat fiber market opportunities.
Porter's Five Forces analysis highlights the potency of buyers and suppliers to enable stakeholders make profit-oriented business decisions and strengthen the supplier–buyer network.
In-depth analysis of the wheat fiber market segmentation assists to determine the prevailing market opportunities.
Major countries in each region are mapped according to their revenue contribution to the global market industry. 
Market player positioning facilitates benchmarking and provides a clear understanding of the present position of the market players.
The report includes the analysis of the regional as well as global wheat fiber market trends, key players, market segments, application areas, and wheat fiber market growth strategies.
 Wheat Fiber Market Report Highlights
Aspects
Details
BY NATURE
BY APPLICATION

Food & Beverages
Pharmaceuticals
Animal Feed
Others

BY REGION

North America (U.S., CANADA, MEXICO)
Europe (UK, GERMANY, FRANCE, RUSSIA, ITALY, SPAIN, REST OF EUROPE)
Asia-Pacific (CHINA, JAPAN, INDIA, AUSTRALIA & NEW ZEALAND, SOUTH KOREA, REST OF ASIA-PACIFIC)
LAMEA (BRAZIL, SOUTH AFRICA, TURKEY, SAUDI ARABIA, REST OF LAMEA)

Key Market Players
ARCHER-DANIELS-MIDLAND COMPANY, CALYXT, INC., CARGILL, INC., DUPONT DE NEMOURS, INC., GRAIN PROCESSING CORPORATION, INGREDION INCORPORATED, RETTENMAIER & SÖHNE GMBH + CO KG, ROQUETTE FRÈRES, SÜDZUCKER AG, SUNOPTA, INC.