Winter Footwear Market Research, 2031
The global winter footwear market size was valued at $8.6 billion in 2021, and is projected to reach $13.6 billion by 2031, growing at a CAGR of 4.7% from 2022 to 2031.
A rise in per capita income, an increase in the popularity of winter footwear among consumers and a surge in population density in outdoor activities such as hiking are likely to generate demand for winter footwear across the globe. Furthermore, growing disposable income especially in developing countries including India and China is likely to boost the growth of the winter footwear market.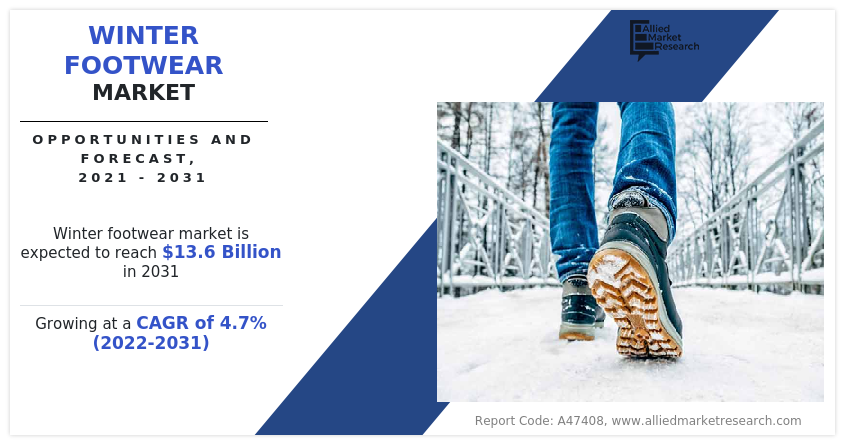 Winter footwear products are worn on the feet and often protect from environmental hazards such as temperature changes and wear from different ground textures. Therefore, winter footwear in the form of shoes, boots, and sandals primarily serves to facilitate movement and reduce accidents. The status or rank of a person within a social system can also be indicated by their footwear, in addition to being utilized for fashion and ornamentation. For added comfort and relief, socks and other hosiery are frequently worn in addition to such footwear. 
Customers across the globe desires readily tolerate the physiological constraints brought on by cold weather readily tolerate the physiological constraints brought on by cold weather winter boots that are warm, waterproof, vapor permeable, and dry to use in colder climates. Additionally, carelessness in cold weather can harm one's health. Additionally, a person's body can readily tolerate the physiological constraints brought on by cold weather more readily if they are physically fit and healthy. These, which often readily tolerate the physiological constraints brought on by cold weather n affect persons who already have a health concern and increase throughout the winter months. As body temperature drops, blood flow is concentrated in the center of the body, increasing blood pressure and taxing the heart. The body uses more energy to produce heat when it is cold to keep the body warm. The increase in heart rate and blood pressure that comes with activity, as well as the effect of the cold in constricting arteries to reduce blood supply, are particularly dangerous for older people, those with heart or circulatory disease, and those who are unfit from a sedentary lifestyle and are not used to vigorous exercise. Customers require winter apparel and footwear due to the impact of the cold weather in the area and their desire for warmth. As a result, the market for winter footwear is anticipated to rise over the forecast period. 
The popularity of trekking is increasing, and it is now thought to be a profitable industry in and of itself. Due to the country's growing young population, social media, and changes in travel preferences, people are turning away from leisure travel and tourist locations. This has resulted in the global popularity of trekking. Winter boots and shoes are also frequently chosen for trekking and hiking activities since they have the added benefits of being lightweight and supportive and offer comfort, breathability, and traction. Winter shoes also provide higher support, giving strong foot and ankle support from the midway of the ankle to the beginning of the calf (High). They are also lighter and easy to use. Its included hooks or laces allow for customization for better support. As a result, these qualities of winter footwear are very helpful for trekking and hiking, which is one of the winter footwear market trends across the globe. 
However, according to research by the European Union's (EU's) Intellectual Property Office and Organization for Economic Co-operation and Development (OECD), the footwear industry is the one that is most affected by the counterfeiting problem. Brands such as Nike, Asics, Reebok, Adidas, and Sketchers are among those that have been impacted by fake goods. There has been an increase in demand for various kinds of winter footwear products over the last few years. Manufacturers in the market are taking advantage of the situation by allowing their items to be branded and promising similar benefits. However, these goods are actually being advertised and sold by unreliable third parties. Losing consumer loyalty and, more significantly, the customer base are the results of this. Therefore, the availability of counterfeit products eventually hinders the market's overall growth. 
Leather is one of the most widely traded commodities in the world. It is highly prized throughout a wide range of global industries, including textile, furniture, footwear, and interior design. However, the leather sector is regarded as one of the most polluting. It generates solid waste and industrial sewage at various stages of production. The environment and human health are seriously endangered by chromium and other toxic materials found in tannery waste generated by the leather industry. Governments in nations like India integrate custom duties to lessen the manufacture and commerce of leather products within the nation due to the negative effects for the leather industry. Additionally, leather is a material that is used in the production of the vast majority of winter footwear goods worldwide. As a result, the market expansion for winter footwear is anticipated to be hampered by different rules and limits on the leather sector and its goods. 
On the other hand, newspaper print, television, and radio advertisements are powerful, however they can no longer be the only component of a marketing plan since modern consumers need more individualized experience and conventional advertising in the digital age comes off as inactive. With the rise in internet usage, there has also been an increase in the number of users on various social media platforms. Given this, the majority of the major companies in the winter footwear market plan to advertise their goods and services on these social media channels. In order to spread knowledge of their product offers among their target customers on social media platforms, a number of businesses and industries, including the market for wearable products, use social media marketing. Thus, the global winter footwear market views social media marketing as a crucial tool for obtaining momentum and subsequently increasing its registration among its target demographics. 
The changing fashion trends and fashion statements have heightened the interest of fashion enthusiasts in footwear. Today's fashion-conscious populous uses footwear not only as a necessity but also as a means of exhibiting their personality and sense of style to others, leaving them with a lasting impression. Consumers, irrespective of gender, consider all aspects before choosing the best pair for them, including design, comfort, sustainability, style, and craft. Additionally, manufacturers in the market are embracing product innovation to meet consumer demand. Numerous shoe firms are also growing more  interested in incorporating innovation throughout their whole business strategy, from enhanced and automated production techniques to new product design methodology. Furthermore, 3D printing, and virtual reality are two technological developments that are now making waves in this industry. The accuracy and efficiency of 3D printers are improving, which lowers production costs. Additionally, VR and AR will improve the shoe-buying experiences of consumers since they will be able to view, touch, and experience shoes in a gratifying and immersive way. 
It is expected that the demand for winter footwear will continue to expand in the post-pandemic period. The market's active participants will use their innovations to develop cutting-edge winter footwear goods that will attract customers and expand the market. Moreover, the expansion of the market will be facilitated by the rise in online penetration. Additionally, it is anticipated that demand for winter footwear would increase due to the resumption of all commercial operations in the post-pandemic period. Additionally, as active participants in the footwear sector introduce new technologies to the footwear market in order to give seamless manufacturing to the manufacturers, consumer spending on winter footwear is anticipated to rise. In the post-pandemic period, these technical advancements and an improvement in the scope of winter footwear and accessories will present the winter footwear industry with several potential opportunities.
The winter footwear industry is segmented on the basis of type, end user, distribution channel, and region. By type, the market is categorized into boots. shoes and others. According to the end user, the winter footwear market is fragmented into men, women, and children. As per the distribution channel, the market is divided into E-Commerce and offline channels. Moreover, the winter footwear market is further classified into third-level segmentation through the distribution channel. By offline channel, the market is classified into hypermarkets/supermarkets, brand outlet, specialty stores and others. Region-wise, the market is analyzed across North America (the U.S., Canada, and Mexico), Europe (Germany, France, the UK, Italy, Spain, Switzerland, and the rest of Europe), Asia-Pacific (China, India, Japan, South Korea, Australia, and the rest of Asia-Pacific), and LAMEA (Brazil, South Africa, the UAE, and the rest of LAMEA). 
Winter Footwear Market

---
By Type
Boots holds largest share in the market due to multiple benefits associated with winter boots. In addition, it include various boots such as desert leather boots, snow boots, tactical boots and work boots.
By type, boots were the highest revenue contributor in 2021 with a CAGR of 4.7%. Various types of boots, such as desert leather boots, snow boots, tactical boots, and work boots, are included in the category of winter boots. Winter boots keep the feet warm and dry while providing excellent traction when hiking through snow and ice. Additionally, they stand out from other winter footwear owing to their tall top, insulation, and distinctive non-slip soles. 
The linings can prevent feet from feeling chilly thus, consumers all over the world tend to favor lined winter boots. One example of an insulating layer found in some winter boots that helps to keep away cold is the G-Loft Fit insulating fleece in the HANWAG Abisko GTX adventure boot. Such products are most extensively used in colder locations. Also, winter boots provide several advantages such as ankle support, which is expected to fuel winter footwear market expansion. In addition, a sturdy boot makes it easier to walk sideways on the snow and stabilizes snowshoes. As a result, the increased preference for winter boots is predicted to drive up the winter footwear market demand. 
Winter Footwear Market

---
By End User
Men segment is expected to share the highest revenue in 2031, owing to the availability of various types of winter footwear such as winter leather shoes, winter slippers offered by the various winter footwear brands.
By end user, the men were the highest revenue contributor in 2021 i.e., $3,568.1 million in 2021, and is expected to reach $5,607.1 million by 2031 at a CAGR of 4.7%. Due to rising male participation in sports such as mountain biking and rising desires for high-end, comfortable footwear, men's winter footwear is becoming more  popular. Additionally, because males participate in sports at a larger rate than women, winter footwear is in demand. Moreover, demand for men's winter boots has been fueled by the desire for fashionable footwear such as chukka boots, combat boots, and cowboy boots. Due to the rise in the number of men participating in corporate jobs, professions, and sports globally, practically all men use winter formal footwear. Over the course of the projection period, Winter Footwear Market Growth is anticipated to be aided by the rising employment rate and high male population. 
Winter Footwear Market

---
By Distribution Channel
Offline channel holds largest share in the market due to easy accessibility and heavy discounts & offer provided by these online platforms boost the adoption of winter footwear.
By distribution channel, offline channel was the largest winter footwear market share in 2021 and are expected to have the largest market share in 2031 due to winter footwear being widely available to consumers through offline channel, which covers big sets of winter footwear. In addition, it has organized stores with a broad selection of winter footwear and a presence both domestically and abroad. Customers can find several kinds of winter footwear at these kinds of shops, including boots and shoes that are on the market. These kinds of stores provide customers with access to niche products that are available on the market. As a result, the development of offline channels in several regions creates profitable openings for the expansion of the winter footwear market. Through these channels, manufacturers provide exclusive discounts and encourage supermarket and hypermarket chains to sell their own goods, which helps to increase the demand for winter footwear market forecast period.  
Winter Footwear Market

---
By Region
Europe holds largest share followed by Asia-Pacific, North America and LAMEA. Moreover, inclination towards winter footwear is expected to drive the European winter footwear market.
By region, Europe holds the largest winter footwear market size in 2021 i.e., $3,441.6 million in 2021, and is expected to reach $5,450.8 million by 2031 at a CAGR of 4.8%. To survive in the cutthroat industry, corporations have been influenced by the high penetration of winter footwear in the European market to introduce new and inventive models. Additionally, by engaging well-known athletes to represent their businesses, winter footwear manufacturers in Europe are boosting brand awareness. The expansion of the working population, rise in disposable income, the presence of more billionaires in Europe, and the development in fashion consciousness among Europeans are all significant drivers of the winter footwear market in the region. 
The market is being driven by factors such as rapid growth in infrastructural development as well as various advancements in developing countries. The major players operating in the global winter footwear are UGG, Hoka, Nike, Adidas, New balance, Salomon, Norse Projects, The North Face, Teva, Merrell, Danner, Ecco, Sorel, Prada, Reebok, Suicoke, Blundstone, Xtratuf, Dr. Martens, Puma. 
Key Benefits For Stakeholders
This report provides a quantitative analysis of the market segments, current trends, estimations, and dynamics of the winter footwear market analysis from 2021 to 2031 to identify the prevailing winter footwear market opportunities.
The market research is offered along with information related to key drivers, restraints, and opportunities.
Porter's five forces analysis highlights the potency of buyers and suppliers to enable stakeholders make profit-oriented business decisions and strengthen their supplier-buyer network.
In-depth analysis of the winter footwear market segmentation assists to determine the prevailing market opportunities.
Major countries in each region are mapped according to their revenue contribution to the global market.
Market player positioning facilitates benchmarking and provides a clear understanding of the present position of the market players.
The report includes the analysis of the regional as well as global winter footwear market trends, key players, market segments, application areas, and market growth strategies.
 Winter Footwear Market Report Highlights
Aspects
Details
Market Size By 2031
USD 13.6 billion
Growth Rate
CAGR of 4.7%
Forecast period
2021 - 2031
Report Pages
401
Type
End User
Distribution channel

E-Commerce
Offline channel

Sub type

Brand Outlet
Hypermarket/Supermarket
Specialty Store
Others

By Region

North America (U.S., Canada, Mexico)
Europe (Germany, UK, France, Italy, Spain, Switzerland, Rest of Europe)
Asia-Pacific (China, India, Japan, South Korea, Australia, Rest of Asia-Pacific)
LAMEA (Brazil, South Africa,, UAE, Rest of LAMEA)

Key Market Players
SOREL Corporation, Nike Inc., Deckers Outdoor Corporation, Danner, Norse Projects, Amer Sports Corporation, New Balance Athletics, Inc., Wolverine World Wide, Inc., Dr. Martens plc, Rocky Brands, Inc.