The algae protein market size was $361.4 million in 2020, and is projected reach $709.0 million by 2028, registering a CAGR of 8.9% from 2021 to 2028. The spirulina segment led the marketin 2020, and is expected to retain its dominance throughout the forecast period.
Algae are aquatic plants that contain chlorophyll but lack vascular tissue, roots, true stems and leaves.Itcan be found in both freshwater and saltwater. Major types of algae includes red algae, green algae, and blue green algae. Some algae such as spirulina and chlorella compose high protein content and are used as nutraceuticals as well as in functional food and feed. Algae has proven to be reliable and promising source of protein and have emerged as alternative proteins.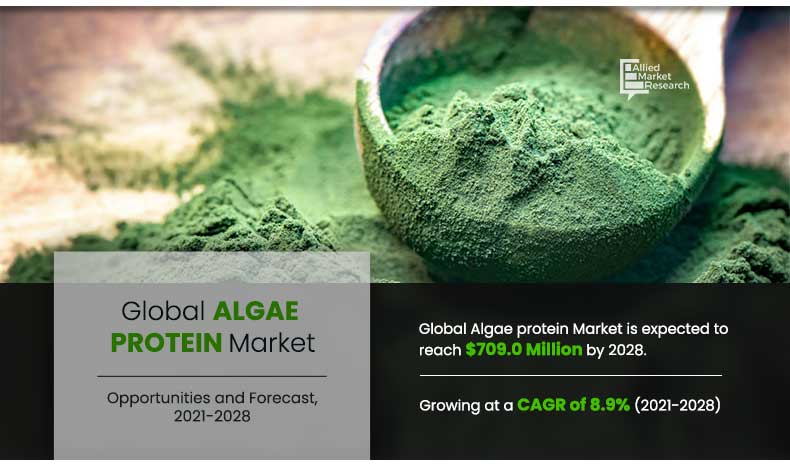 Get more information on this report : Request Sample Pages
Developed economies such as the U.S. and Europe have seen high traction for plant-based proteins as consumers are increasingly inclining toward vegan and plant-based foods. In addition, around10% of Europe population is vegetarian and vegan and the percentage is expectedto increase steadily in the upcoming years. Consumers around the world are willing to change their eating habits and are shifting toward plant-based foods. According to Google trends,interest in 'veganism' haswitnessed 7X between 2014 and 2019. On the similar lines,around10 million U.S. population isvegan. Ethical and environmental concerns are the key drivers for consumers to stop consumption ofmeat. Increase invegan population is expected to increase demand for alternative proteins including algae, which propels the algae protein market growth.
Cultivation of algae severely depends upon climatic conditions and air moisture content. Warm climate affects cultivation of blue green algae, as it causes evaporation of water and prevents formation of thicker algae. Whereas, moisture content is responsible for providing algae with minerals and nutrients. Climate change causes draught and change in salinity of freshwater, which results in death of algae, which hampers their production capacity. Change in rainfall pattern caused due to climate change leads to intense storms, which leads to loss of essential nutrients from cultivation ponds and hampers production of algae. Coastal upwelling pushes deep sea water from sea to surface, bringing nutrients from ocean bed to earth surface. This coastal upwelling hampers production of algae species harvested from seabed. Hence, various climate changes affect cultivation of algae, which eventually affects its market growth negatively.
Segment review
The global algae protein market is segmented on the basis of type, application, and region. By type, the market is bifurcated into spirulina and chlorella. By application,it is segmented into nutraceuticals/supplements, food &beverages,andothers. Region wise, algae protein market is studied across North America, Europe, Asia Pacific, and LAMEA.
Algae Protein Market

---
By Type
Spirulina segment would exhibit the highest CAGR of 9.2% during 2021-2028.
Get more information on this report : Request Sample Pages
On the basis of type, the global algae market is segmented to spirulina and chlorella. Spirulina dominates the global algae protein market share. Spirulina have higher protein content than Chlorella and associated with myriad of health benefits, including but not limited to improvement in blood sugar management and lower risk factors for heart disease.
Algae Protein Market

---
By Application
Nutraceuticals/Supplements segment would exhibit the highest CAGR of 9.1% during 2021-2028.
Get more information on this report : Request Sample Pages
By application, thenutraceuticals/supplements segment leads in terms of market share, and is expected to retain its dominance throughout the forecast period. High protein density of spirulina and chlorella have resulted in increased adoption ofdietary supplements.Growth in population coupled with increase in nourishment demand for essential supplement including proteins to boost the demand for algae protein in nutraceutical and supplement segment. Furthermore, increased demand of alternative proteins from vegan population will further propel algae protein market demand and expansion.
Algae Protein Market

---
By Region
Asia-Pacific region would exhibit the highest CAGR of 11.4% during 2021-2028.
Get more information on this report : Request Sample Pages
Based on region the global algae protein market is studied across, North America, Europe, Asia-Pacific and LAMEA. High product awareness and increasing vegan population in North America and Europe have resulted in increased demand for alternative protein including algae protein. Nevertheless, the Asia-pacific region is likely to gain market share in upcoming years with demand arising from China, Japan and India.
The report focuses on growth prospects, restraints, and opportunities of the global algae proteinmarket. The study provides Porter's five forces analysis to understand impact of various factors such as competitive intensity of competitors, bargaining power of suppliers, threat of substitutes, threat of new entrants, and bargaining power of buyers of the algae protein market.
Some of the major players profiled for in the algae protein market analysis includes Cyanotech Corporation, C.B.N. Bio-engineering Co., Ltd, Far East Microalgae Industries, Co., Ltd. , Fuqing King Dnarmsa Spirulina Co., ltd., Gong Bih Enterprise Co., Ltd., Algenol biotech, Sun Chlorella Corporation, NB Laboratories, Taiwan Chlorella Manufacturing Company Ltd, and Tianjin Norland Biotech Co., Ltd
COVID-19 Impact Analysis
Algae protein industry is positively impacted by the pandemic, owing to increased health consciousness among consumers.
First few months of the COVID-19 pandemic had disrupted supply chains for the algae protein industry.
Online sales channels have gained high traction in the last year as a result, players operating in the industry are strengthening their digital presence.
COVID-19 have altered consumer behavior with more consumer transitioning toward vegetarian and vegan diet resulting in increased adoption of alternative proteins such as algae protein.
COVID-19 has caused widespread disruption across regions, resulting in consumer behavioral changes. As a result, operating players in the industry are recalibrating their consumer segment, establishing product portfolio, prioritizing on omnichannel approach, repositioning their brands, and deploying new service models
Key Benefits For Stakeholders
The report provides an extensive analysis of the current and emerging algae protein markettrends and opportunities.
The report provides detailed qualitative and quantitative analysis of the currenttrends and future estimations that help evaluate the prevailing algae protein market opportunities in the market.
The algae protein marketforecast is offered along with information related to key drivers, restraints, and opportunities.
Thealgae protein market analysis is conducted by following key product positioning and monitoring the top competitors within the market framework.
The report provides extensive qualitative insights on the potential and niche segments or regions exhibiting favorable growth.
Algae Protein Market Segments
By Type
By Application
Nutraceuticals/Supplements
Food &Beverages
Others
By Region
North America
Europe

UK
Germany
France
Italy
Spain
Rest of Europe

Asia-Pacific

China
Japan
India
ASEAN
Australia
Rest of Asia-Pacific

LAMEA

Latin America
Middle East
Africa