Analgesics Market Research, 2030
The global analgesics market was valued at $26.7 billion in 2020, and is projected to reach $50.7 billion by 2030, growing at a CAGR of 6.6% from 2021 to 2030. Analgesics, also known as painkillers, are used to treat and reduce pain in the body. They are used when the pain is severe and becomes unbearable for the patient. Non-opioids, opioids, and compound analgesics (a combination of both, opioids and non-opioids) are the major topical analgesic products used globally. Opioid drugs, which are derived from opium, are the most powerful painkillers. They're mostly used to treat moderate to severe pain, and are only available with a prescription. Non-opioid medications, on the other hand, do not include opium and instead contain acetaminophen. Non-steroidal anti-inflammatory medications (NSAIDs) are another type of drugs that is commonly used to treat mild to severe pain.
The COVID-19 outbreak is anticipated to have a positive impact on growth of the global analgesics market. The COVID-19 pandemic has stressed healthcare systems in the world and increased the need for advanced hospitals. Implementation of the spread of COVID-19 infection increased the demand for analgesic drug such as paracetamol, and drive the growth of the market.
The growth of the global analgesics market size is majorly driven by increase in incidences of chronic diseases, such as tuberculosis (TB), cancer, cardiovascular diseases, and arthritis. In addition, there is a substantial rise in the number of patients due to infectious diseases such as gastrointestinal, respiratory, and neurology. Increase in these diseases in turn increases the demand for painkillers, which is expected to further drive the analgesics market share. In addition, increase in funding from private & government organizations for development of pharmaceutical manufacturing segments and rise in R&D activities for advancement of analgesic products surge the growth of analgesics industry. According to the World Health Organization, in 2020, it was reported that approximately more than 1.5 million of deaths occurred due to AIDS and malaria. Every year, 10 million people fall ill with tuberculosis (TB). Despite being a preventable and curable disease, 1.5 million people die from TB each year, making it the world's top infectious killer. Also, cardiovascular diseases and cancer too generate demand for analgesics, which mainly includes opioid drugs.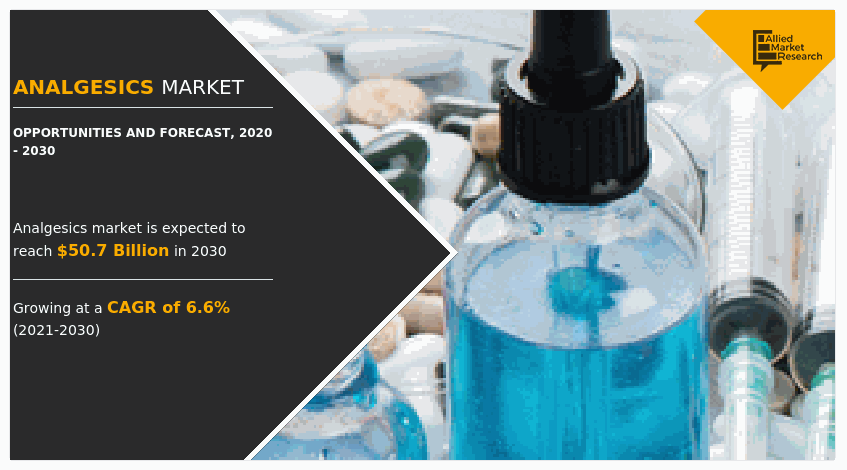 In addition, increase in number of clinical studies for evaluating safety and efficiency of a wide range of therapeutic drugs propel the analgesics market growth. Moreover, rise in old age population coupled with cardiovascular diseases, cancer, and arthritis is the major factor that fuels the analgesics market trends. Ageing population also faces frequent issues of pain and aches, which favors in the growth of the market. Furthermore, technological development in the pharmaceutical industry to manufacture advanced analgesic drugs is expected to provide remunerative opportunities for expansion of the global analgesic market during the analgesics market forecast period. Moreover, presence of key manufacturing companies to manufacture and distribute analgesic drugs, increase in demand for over the counter drug and rise in expenditure on healthcare products propel the growth of the OTC analgesics market.
Initiatives taken by government and private organizations to develop the pharmaceutical industry and analgesics industry propel the growth of the market. Opioids are generally available globally through prescriptions. However, people tend to avail fake prescriptions and get these drugs easily, which is a global concern and the factor that restrains the growth of the market.
 Analgesics Market Segmentation
The analgesics market is segmented on the basis of type, route of administration, and region. By type, the market is categorized into opioids and non-opioids.
Depending on route of administration, it is categorized into oral, intravenous, rectal, transdermal, topical.
Region-wise, the market is analyzed across North America (the U.S., Canada, and Mexico), Europe (UK, Germany, Spain, Sweden, France, Russia, Denmark, and rest of Europe), Asia-Pacific (Japan, China, India, Indonesia, and rest of Asia-Pacific), and LAMEA (Saudi Arabia, Brazil, UAE, Chile, Morocco, Kenya, Nigeria, and rest of LAMEA).
Segment Review
By type, the non-opioids drugs segment was the major contributor in 2020, and is expected to maintain its lead during the forecast period, due to high use of non-opioid analgesics for pain relief along with lower adverse effects and initiatives taken by government and private organization about the use of non-opioids drugs as a painkiller. However, the opioids drugs segment is expected to witness considerable growth during the forecast period, as opioids have analgesic, anti-inflammatory, and antipyretic actions, Also, increase in incidences of chronic diseases such as tuberculosis (TB), cardiovascular diseases, arthritis, and cancer is expected to drive the growth of the opioid segment during the forecast period.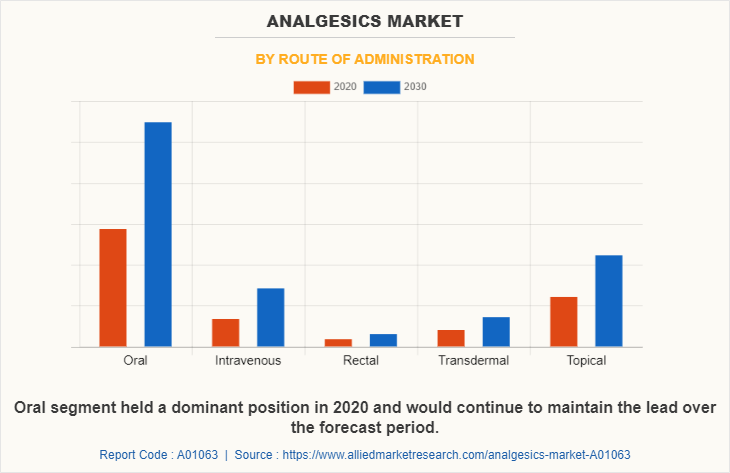 On the basis of route of administration, the oral administration segment dominated the market in 2020, and this trend is expected to continue during the anagesics market forecast period, due to simple administration of analgesics by oral route, non-invasive in nature, and is effective as compared to other routes of administration. In addition, rise in number of the U.S. FDA approvals for drug, and advancements in R&D activities in pharmaceutical sectors, drive the growth of oral administration segment. However, the topical administration segment is expected to witness considerable growth during the forecast period, owing to advancement in technology in the healthcare sector and rise in number of analgesics drugs. The topical analgesics are rubbed or sprayed on the skin over painful muscles or joints.
North America garnered a major share in the analgesics market in 2020, and is expected to continue to dominate during the forecast period, owing to increase in demand for non-opioids drugs, presence of key players, and development in R&D activities in the healthcare sector in the region. However, Asia-Pacific is expected to register highest CAGR of 7.3% from 2021 to 2030, owing to increase in use of pain killers, rise in awareness about the use of analgesics drugs, growth in healthcare expenditures, increase in OTC analgesics market growth and rise in adoption of analgesics  product.
Key players in this market include, Bayer AG, Novartis AG, Glaxosmithkline PLC, Pfizer Inc., Johnson & Johnson, Reckitt Benckiser, Endo Pharmaceuticals, Bristol Myer's Squibb, Eli Lily and Company, and Sanofi.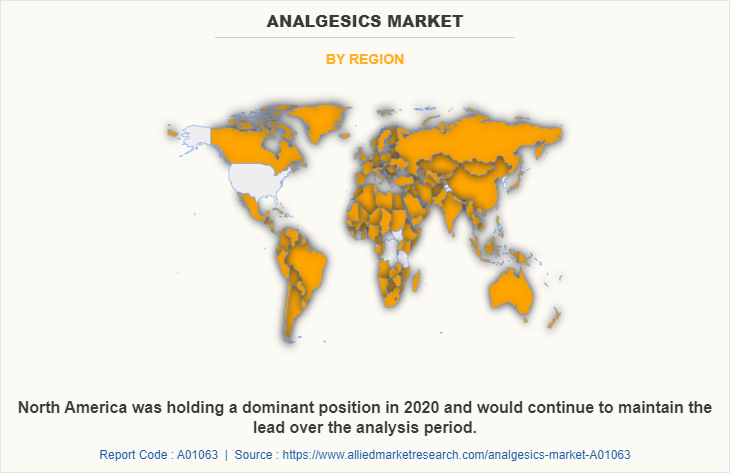 Key Benefits For Stakeholders
This report provides a quantitative analysis of the market segments, current trends, estimations, and dynamics of the analgesics market analysis from 2020 to 2030 to identify the prevailing analgesics market opportunity.
The market research is offered along with information related to key drivers, restraints, and opportunities.
Porter's five forces analysis highlights the potency of buyers and suppliers to enable stakeholders make profit-oriented business decisions and strengthen their supplier-buyer network.
In-depth analysis of the analgesics market segmentation assists to determine the prevailing market opportunities.
Major countries in each region are mapped according to their revenue contribution to the global market.
Market player positioning facilitates benchmarking and provides a clear understanding of the present position of the market players.
The report includes the analysis of the regional as well as global analgesics market trends, key players, market segments, application areas, and market growth strategies.
 Analgesics Market Report Highlights
Aspects
Details
By Type
By Route of Administration

Rectal
Transdermal
Topical
Oral
Intravenous

By Region

North America (U.S., Canada, Mexico)
Europe (United Kingdom, Germany, Spain, Sweden, France, Russia, Denmark, Rest of Europe)
Asia-Pacific (Japan, China, India, Australia, Indonesia, Rest of Asia-Pacific)
LAMEA (Saudi Arabia, UAE, Morocco, Kenya, Nigeria, Brazil, Venezuela, Chile, Rest of LAMEA)

Key Market Players
Pfizer, Inc., endo pharmaceuticals, Reckitt Benckiser Group, Bayer AG, Sanofi, johnson and johnson md&d, Eli Lilly and Company, AbbVie Inc., Abbott Laboratories, Glaxosmithkline plc