Arthroscopy Devices Market Research, 2030
The global arthroscopy devices market size was valued at $18.0 billion in 2020, and is projected to reach $41.9 billion by 2030, growing at a CAGR of 8.5% from 2021 to 2030. An arthroscope is a medical device used to visualize, examine, and execute therapeutic interventions inside the body joints, including knee, hip, spine, shoulder, and elbow. Arthroscopy devices can examine bone joints for specific conditions, such as osteoarthritis, rheumatoid arthritis, tendinitis, and bone tumor.
The arthroscopy devices market has been negatively impacted by COVID-19, due to lockdown in several countries globally.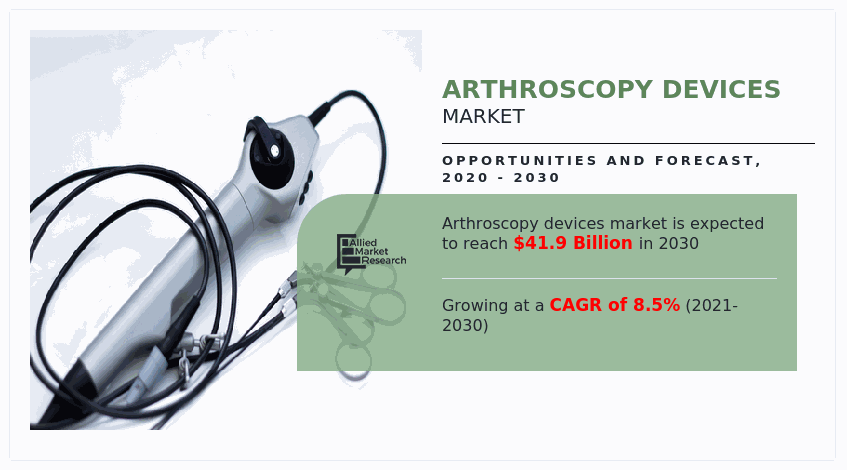 Prevalence of musculoskeletal disorders, including osteoarthritis and rheumatoid arthritis, owing to geriatric population, drives the demand for arthroscopy procedure. Moreover, increase in number of sport injuries requiring arthroscopy procedure to prevent complete joint replacements propels the arthroscopy devices market growth. In addition, arthroscopic implants dominate the global arthroscopy devices market share, and is expected to maintain its dominance during the forecast period. This is attributed to diverse applications of these implants with improved designs, including smart and customized implants to treat different conditions and increase in adoption of implants in arthroscopy procedures of damaged joints.
According to the World Health Organization, the number of people aged 60 years and above was 1 billion in 2019, and is expected to reach 1.4 billion by 2030 and 2.1 billion by 2050. This will increase number of patients suffering from musculoskeletal disorders, thereby increasing the demand for arthroscopy devices. Furthermore, as of 2021, 1.71 billion people suffer from musculoskeletal conditions, and it is the leading cause of disability across the globe. This creates a demand for medical devices that can effectively examine and treat bone and joint conditions. In addition, expenditure on healthcare facilities in significantly increasing in emerging economies. For instance, according to the India Brand Equity Foundation, the hospital industry in India is expected to reach $132.84 billion in FY22 up from $61.79 billion in FY17 registering a CAGR of around of 16–17%. Furthermore, the use of arthroscopy devices enables patients to recover in short time with minimal complications.
Arthroscopy Devices Market

---

By Type
The visualization systems segment is expected to exhibit the fastest growth rate throughout the study period.
The novel coronavirus rapidly spread across various countries and regions, causing an enormous impact on lives of people and overall community. It began as a human health condition and has now become a significant threat to global trade, economy, and finance. The COVID-19 pandemic increased importance of government healthcare facilities, thereby increasing healthcare expenditure across the globe. Furthermore, number of COVID-19 cases is expected to reduce in the future as vaccine is introduced in the market. This has led to reopening of research facilities for arthroscopy devices at their full-scale capacities. This will help the market to recover by start of 2022. Companies involved in manufacturing of arthroscopy devices must focus on protecting their staff, operations, and supply networks to respond to urgent emergencies and establish new methods of working post pandemic.
Furthermore, rise in number of sports-related injuries, owing to increase in number of sports tournaments has increased the use of arthroscopy devices. In addition, there is increase in demand for invasive treatments. Furthermore, advancements in technologies enabled use of arthroscopy devices for a wide range of bone and joint ailments, thereby being a major arthroscopy devices market opportunity.
Arthroscopy Devices Market

---

By Application
The knee arthroscopy segment is expected to lead the market throughout the study period.
The arthroscopy devices market is segmented on the basis of product, application, and region. Depending on the product, the market is categorized into arthroscopic implants, arthroscopes, fluid management systems, radiofrequency systems, visualization systems, powered shaver systems, and other arthroscopy equipment. According to the application, it is classified into knee arthroscopy, hips arthroscopy, shoulder & elbow arthroscopy and others. Region wise, the market is analyzed across North America, Europe, Asia-Pacific, and LAMEA. North America dominated the market in 2020, accounting for the largest arthroscopy devices market share, and is anticipated to maintain this trend throughout the forecast period. This is attributed to rise in geriatric population and increase in healthcare expenditure.
Arthroscopy Devices Market

---

By Region
North America holds the dominant position throughout the study period.
Key Benefits for Stakeholders
The report provides an extensive analysis of the current and emerging

arthroscopy devices market

trends and dynamics. 

In-depth

arthroscopy devices market

analysis is conducted by constructing market estimations for key market segments between 2021 and 2030.

Extensive analysis of the

arthroscopy devices market

size is conducted by following key product positioning and monitoring of top competitors within the market framework.

A comprehensive analysis of all the regions is provided to determine the prevailing opportunities.

The global arthroscopy devices market

forecast analysis from 2021 to 2030 is included in the report.

The key players within

arthroscopy devices

industry are profiled in this report and their strategies are analyzed thoroughly, which help understand the competitive outlook of the

arthroscopy devices

industry.
 Arthroscopy Devices Market Report Highlights
Aspects
Details
BY TYPE

Arthroscopes
Arthroscopic Implants
Fluid management systems
Radiofrequency systems
Visualization systems
Powered Shavers
Others

By Application

Knee Arthroscopy
Hip arthroscopy
Shoulder and elbow arthroscopy
Others

By Region

North America (U.S., Canada, Mexico)
Europe (Germany, France, Uk, Spain, Rest of Europe)
Asia-Pacific (China, Japan, India, Australia, Rest Of Asia Pacific)
LAMEA (Latin America, Middle East, Africa)

Key Market Players
Arthrex, Inc., Conmed Corporation, Henke Sass Wolf GmbH, Johnson & Johnson, Karl storz GmbH & Co. KG, Medtronic plc, Richard Wolf GmbH, Smith & Nephew plc, Stryker Corporation, Zimmer Biomet Holdings, Inc.